The 2022 Millinery Australia Design Award celebrates the work of the Fellow Members. The theme for this year's award was Counter Balance.
Each piece was judged by an expert panel on the criteria of innovative design, quality workmanship, wearability and relevance to the theme. The judging panel include Georgia Skelton, Melissa Jackson and Janice Breen Burns
---
1st Place – Peacock Millinery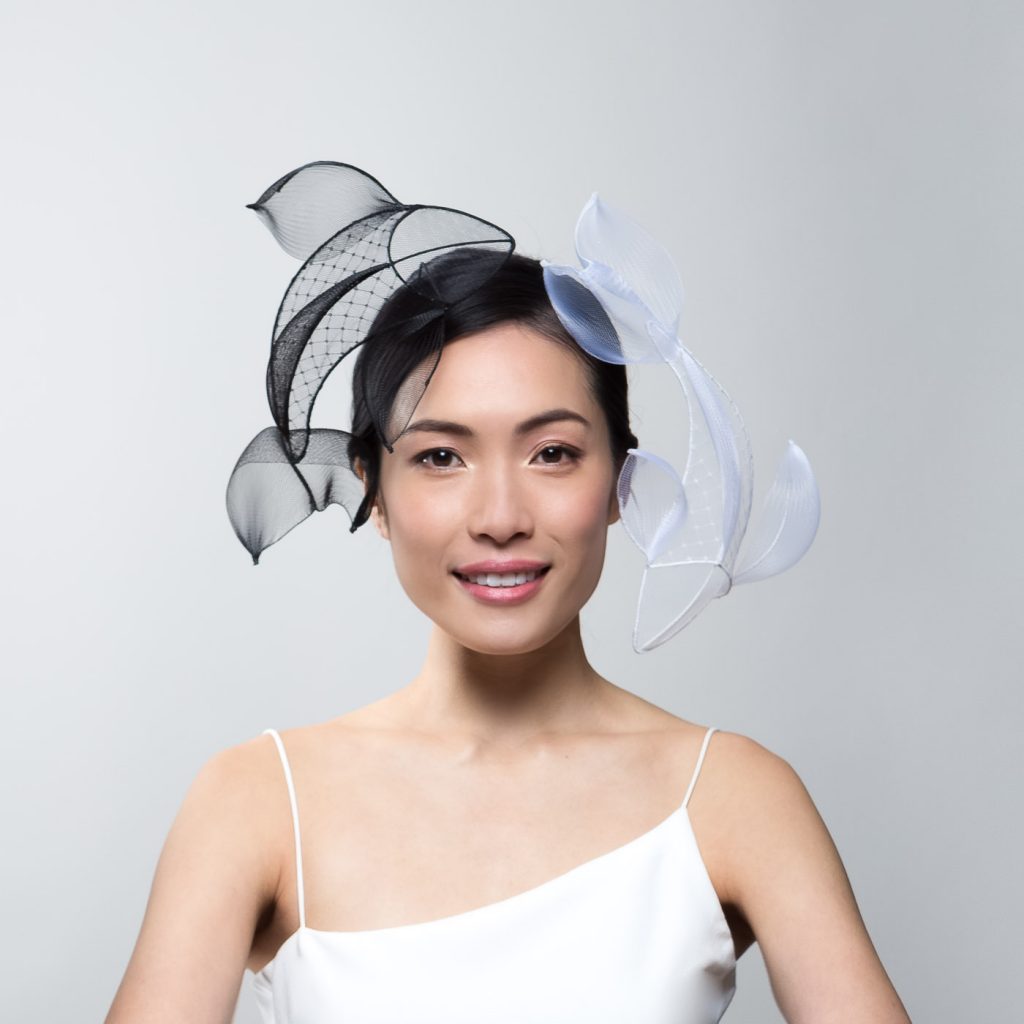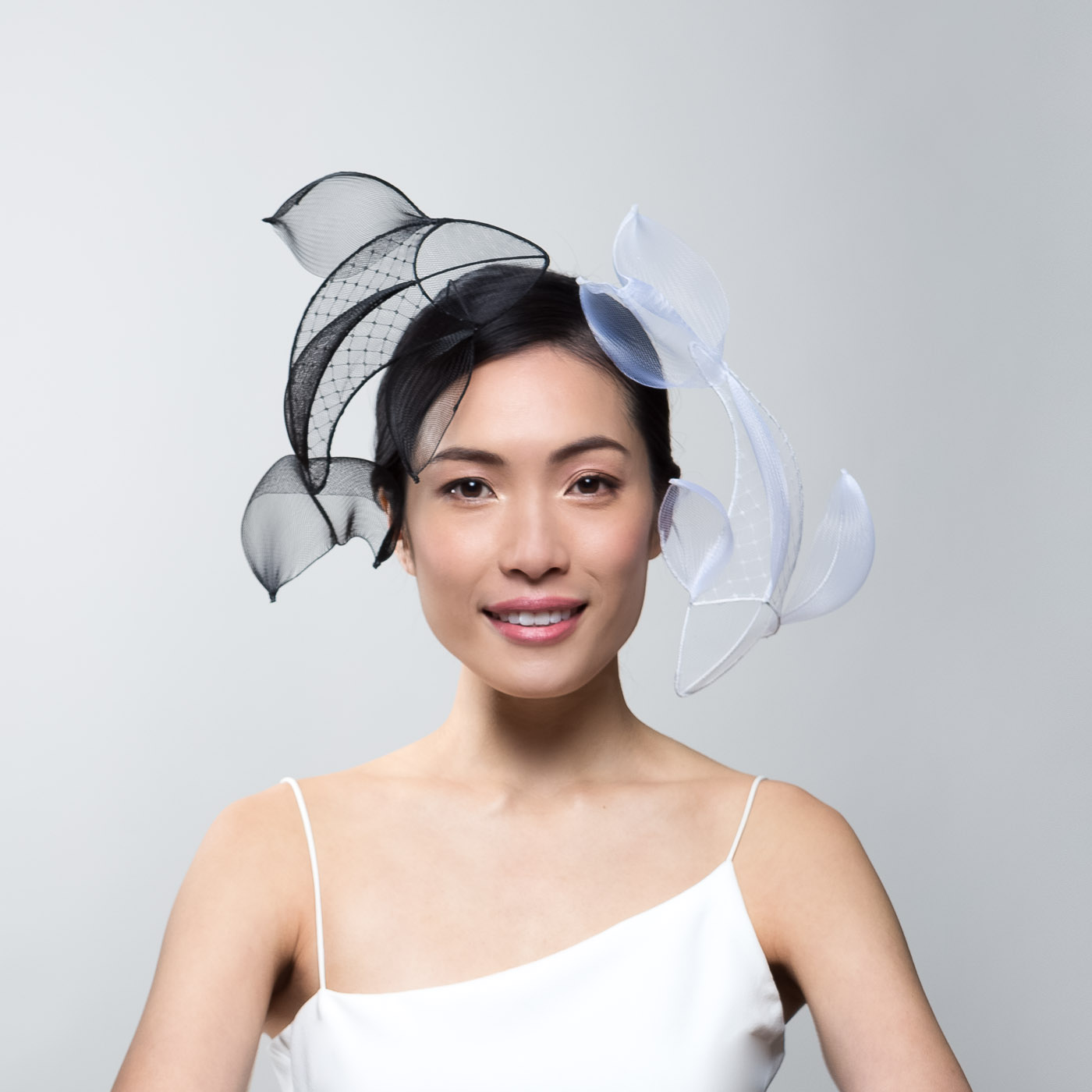 Belinda Osborne 'Yin Yang'
Yin Yang – Light and Darkness – a world balanced. The Yin Yang Koi fish represent the convergence of opposite energies. They counterbalance one another. One male, one female. Day and night. Sun and moon. Fire and water, North and South and so on. They are the duality and harmony of life itself.
2nd Place – Lauren Ritchie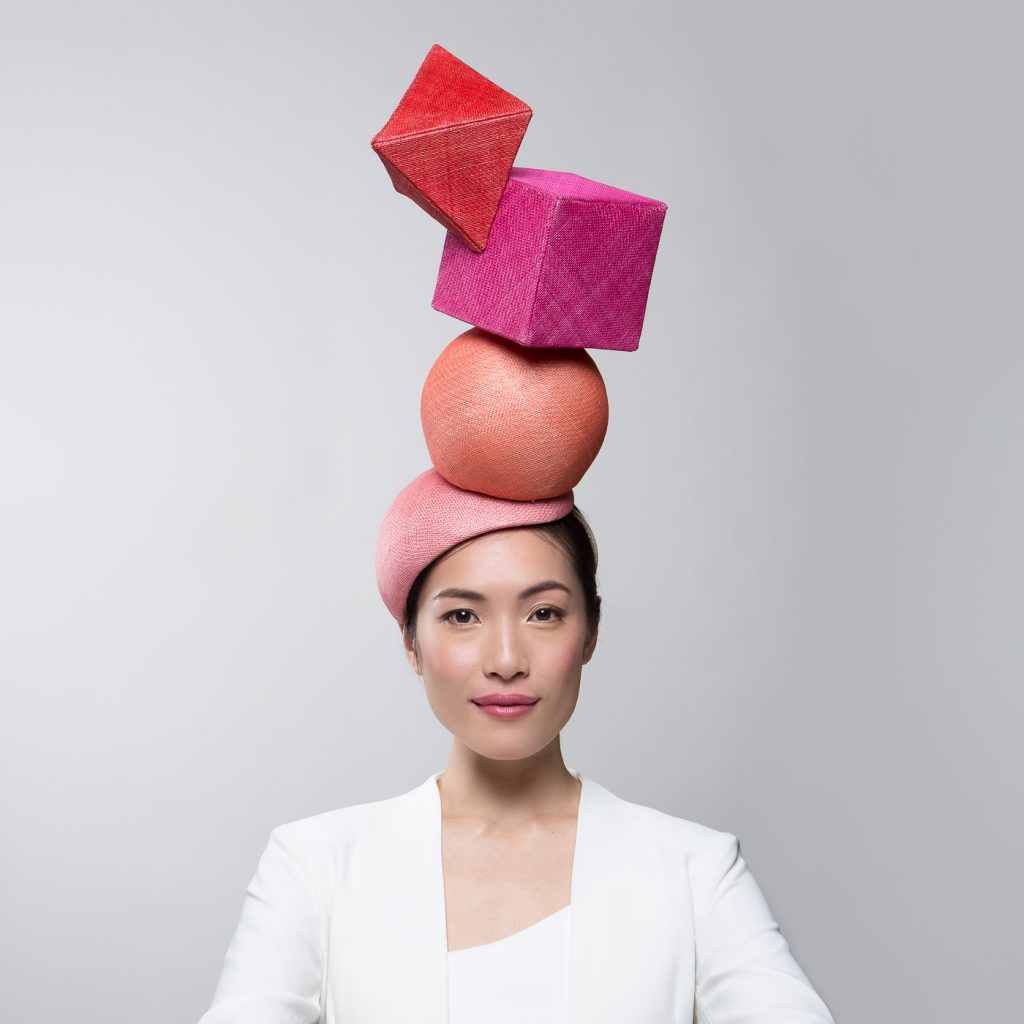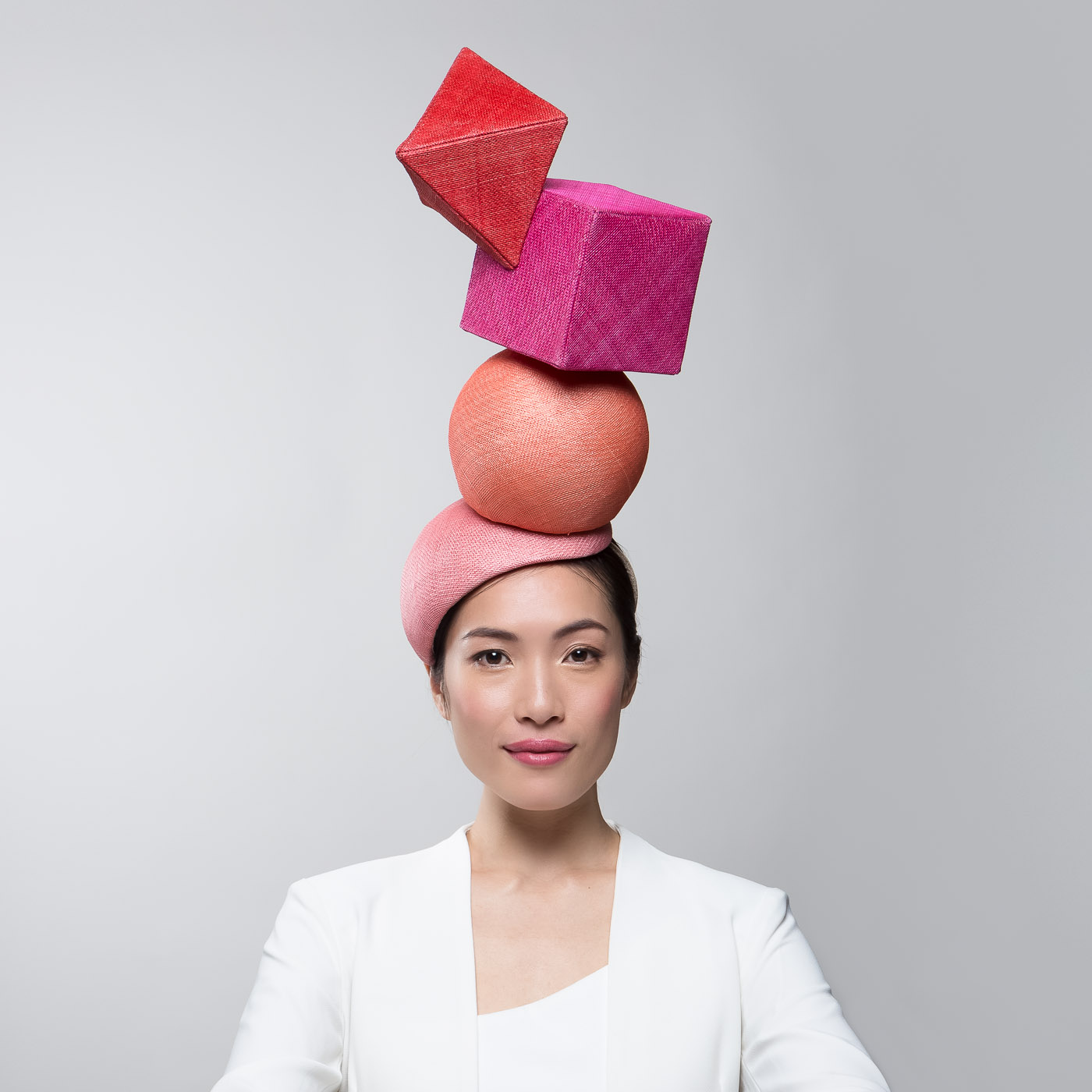 Lauren Ritchie 'Balancing Act'
I wanted to create a physical representation of Counter Balance through shapes. The pieces constructed of straw materials were created using a series of blocking and pattern cutting techniques. The shapes were there strategically placed in an off-kilter tower delicating balancing and relying on each other for support. The strong direction and angle of one shape forces the next shape to compensate in the opposite direction.
3rd Place – Rachel Henry Millinery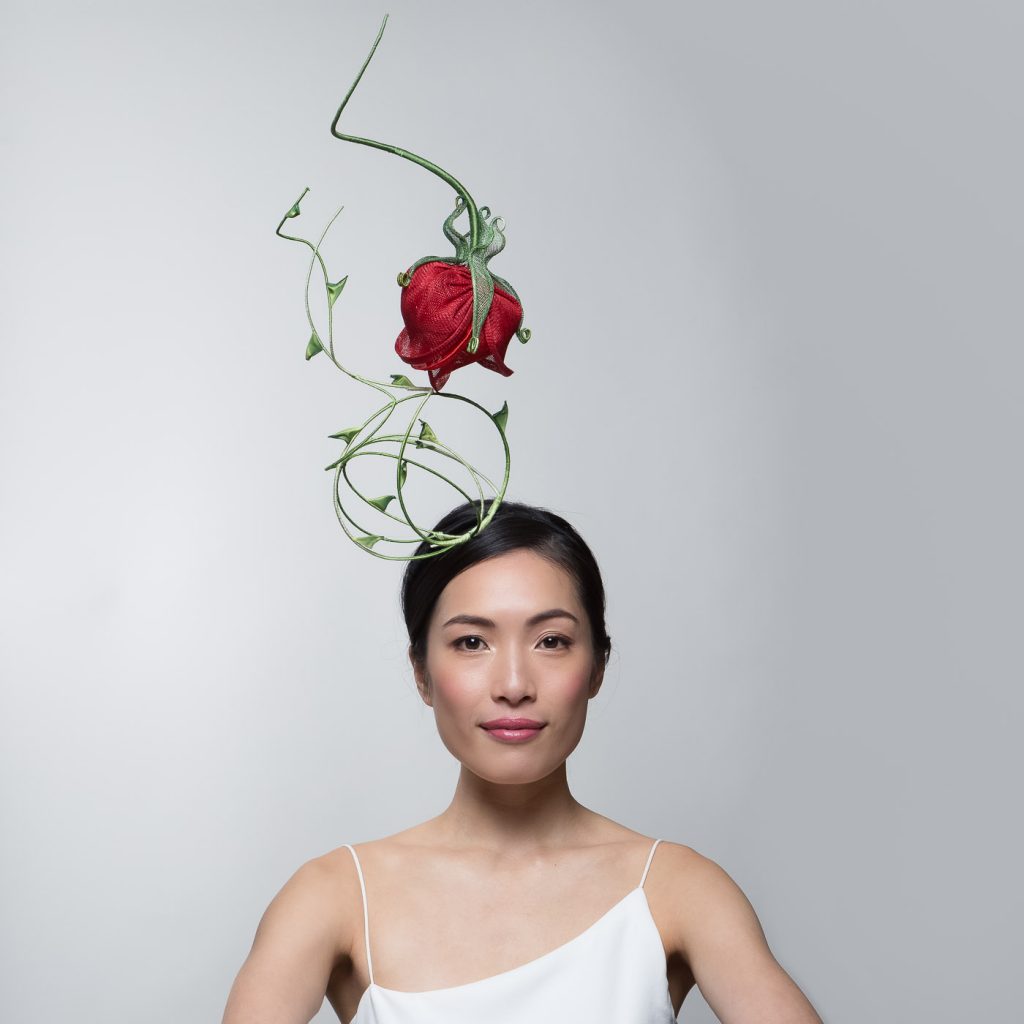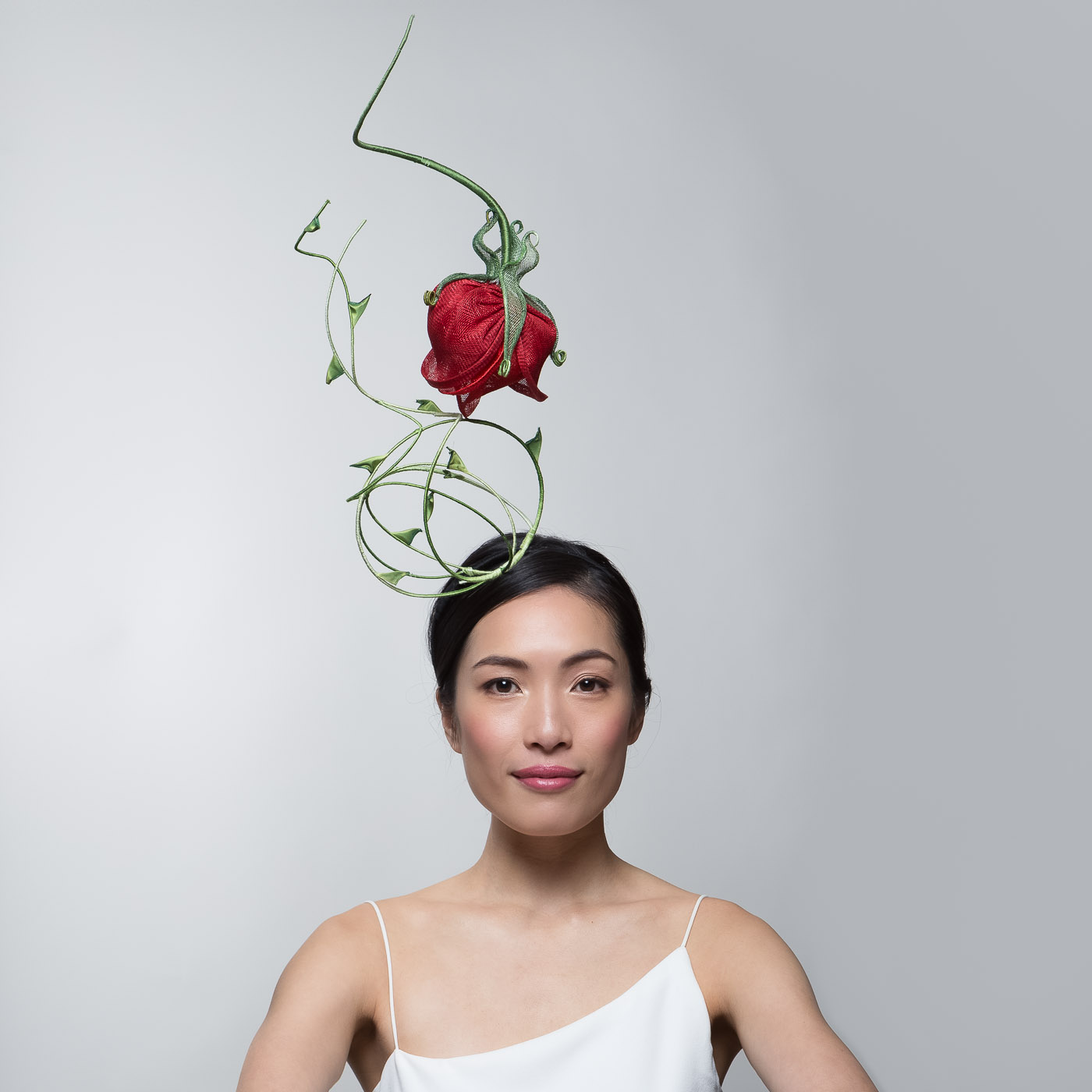 Rachel Henry 'Every Rose Has Its Thorn'
The beauty of the rose is counter balanced by the sharpness of the thorns.
Without a thorn there is no rose. Without a rose there is no thorn.
---
Patron's Pick selected by Stephen Jones – Chris Mullane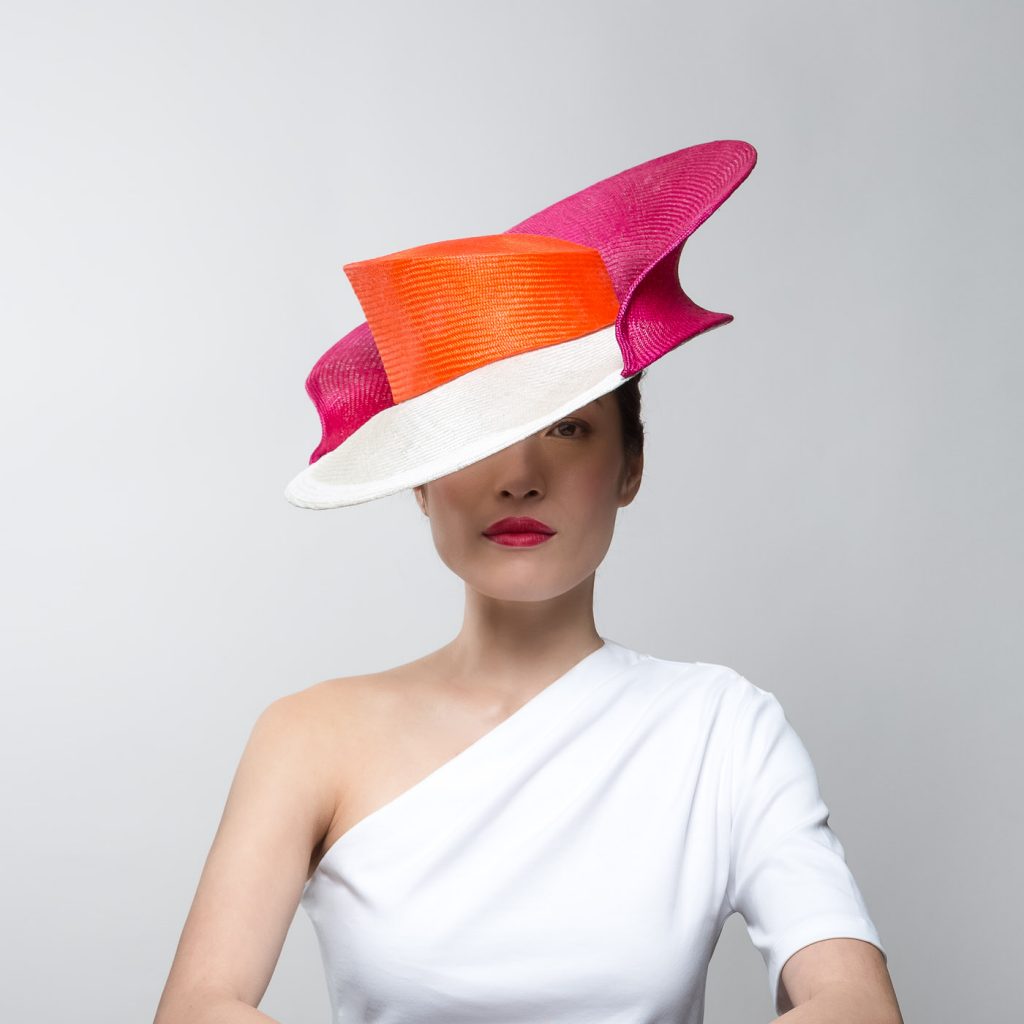 Stephen's comments: A perfect balance and in dense materials Chris has made the hat look effortless by a perfect balance.
---
People's Choice – Zia Pazza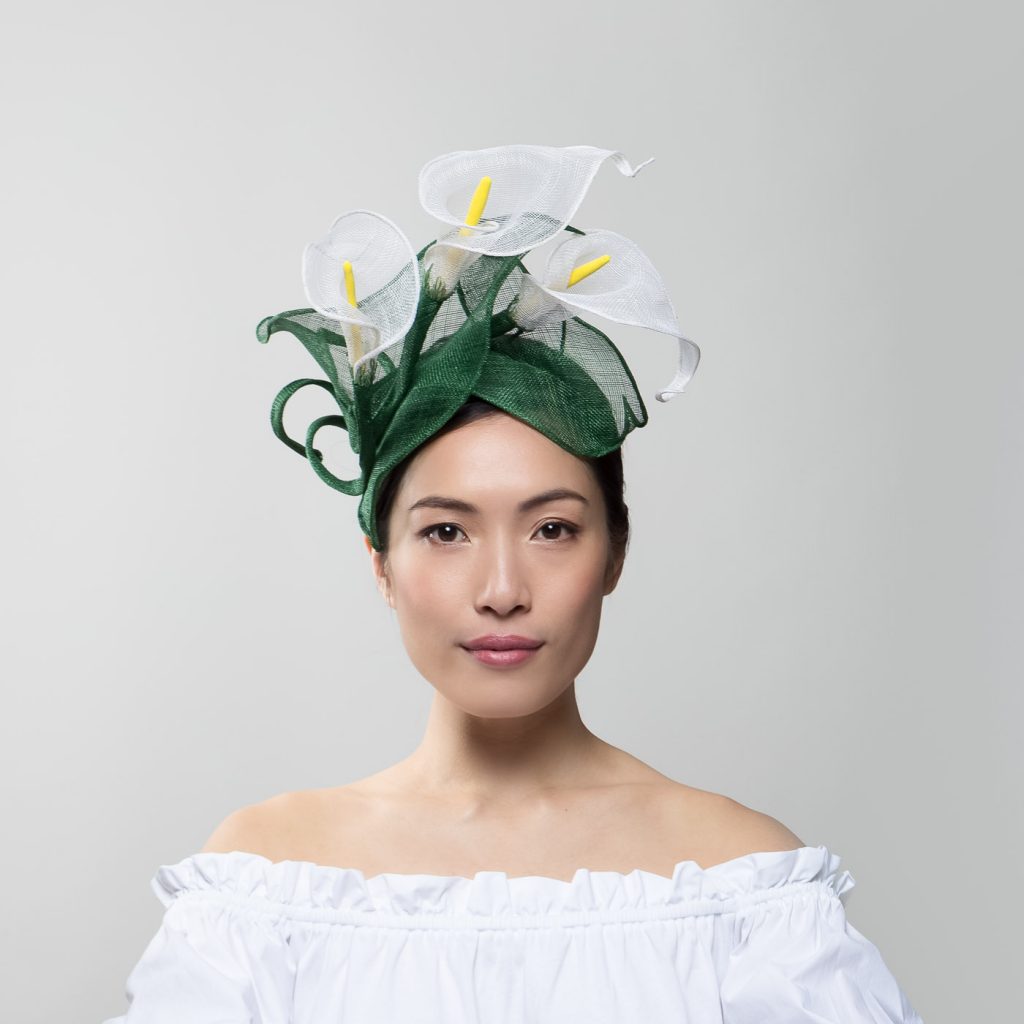 Inspired by a bunch of artificial lilies my sister has sitting on her table which stand free because they are balanced against each other; this piece uses rolling technique which was the first millinery technique I learned in my course. I wanted to revisit this technique as it is a favourite.
---
Top 10 – Millinery LAA LAA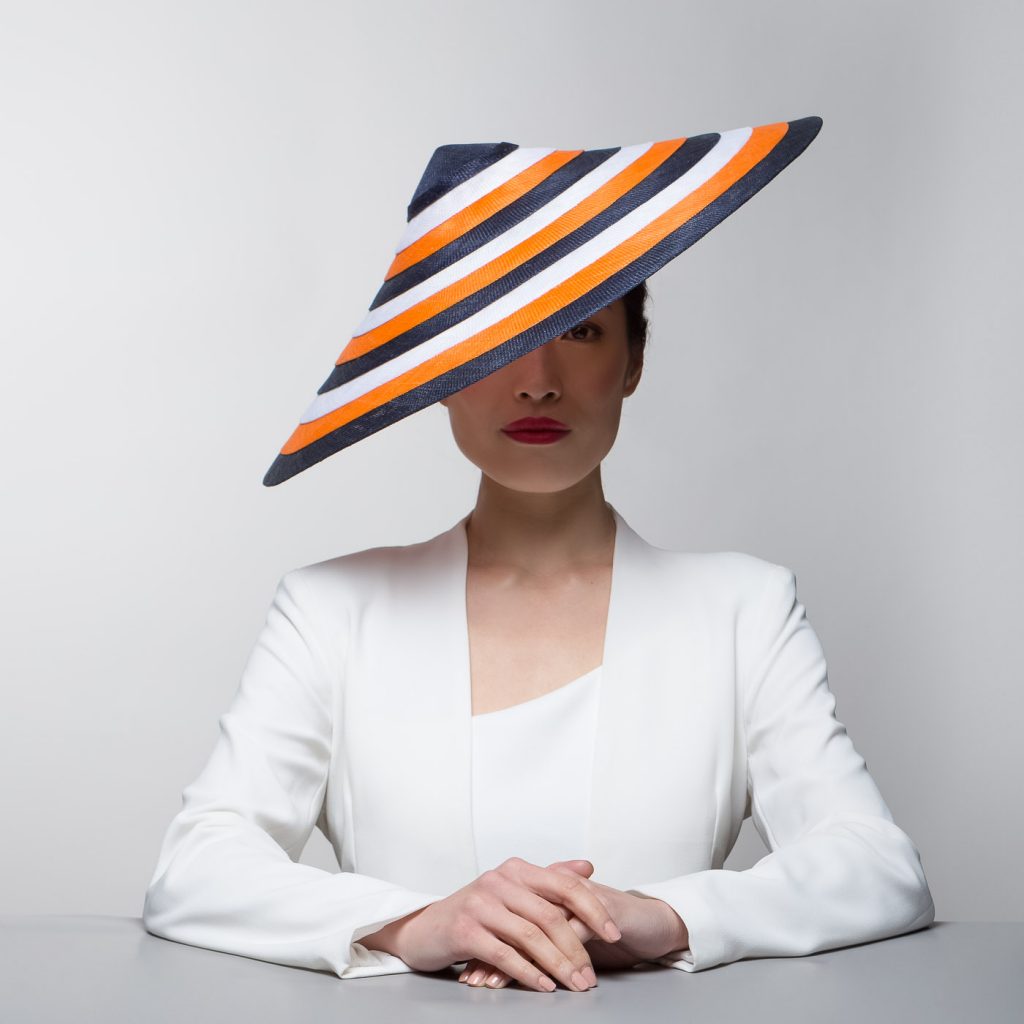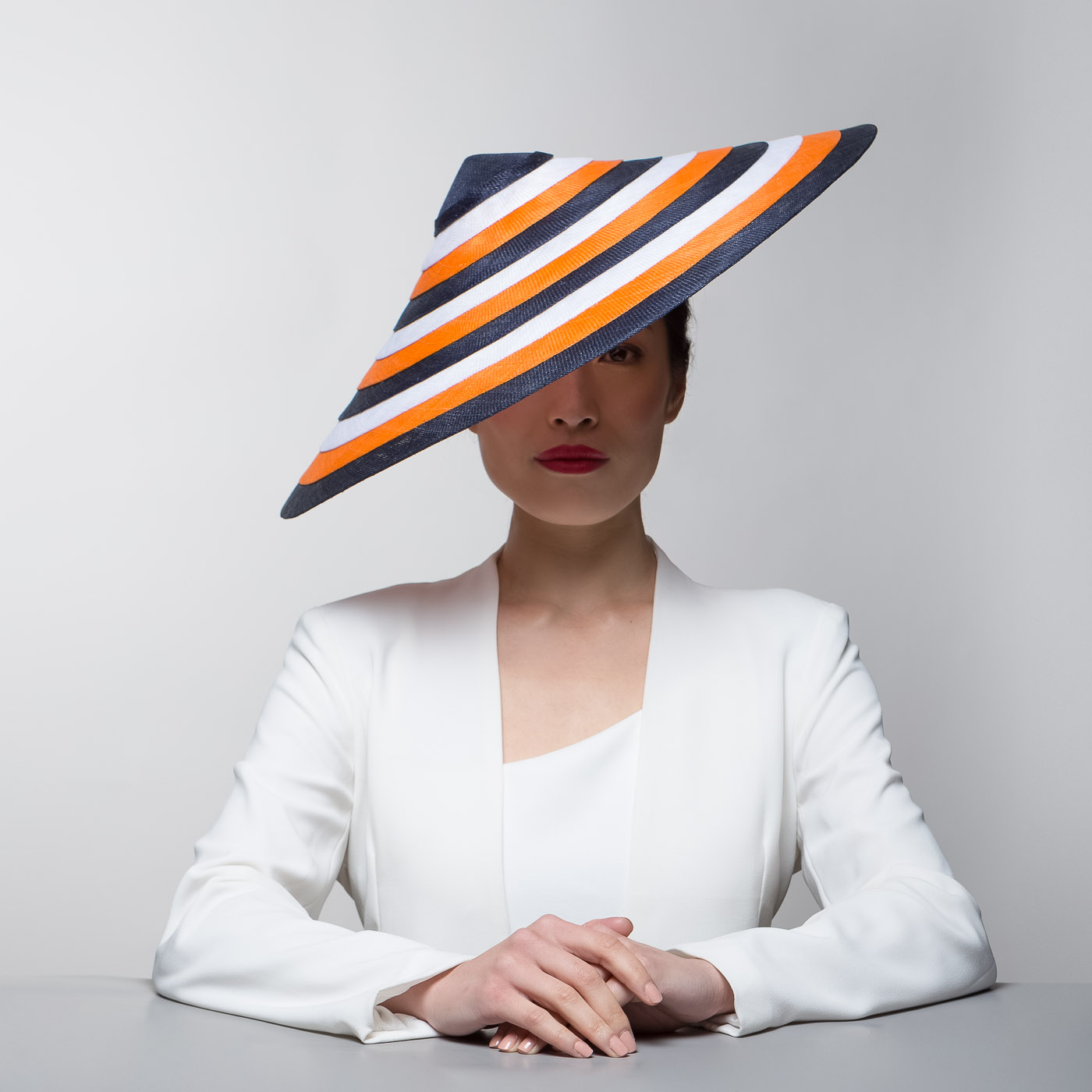 Fiona Cooper '3 Sisters'
As a triplet, I have sisters either side – our unique bond creates a natural counterbalance with myself in the middle balancing the relationships between each sister. The 3 colours depict each of us that formulate concentric rings showing we are individuals while still being connected.
Top 10 – Lisa Hughes Millinery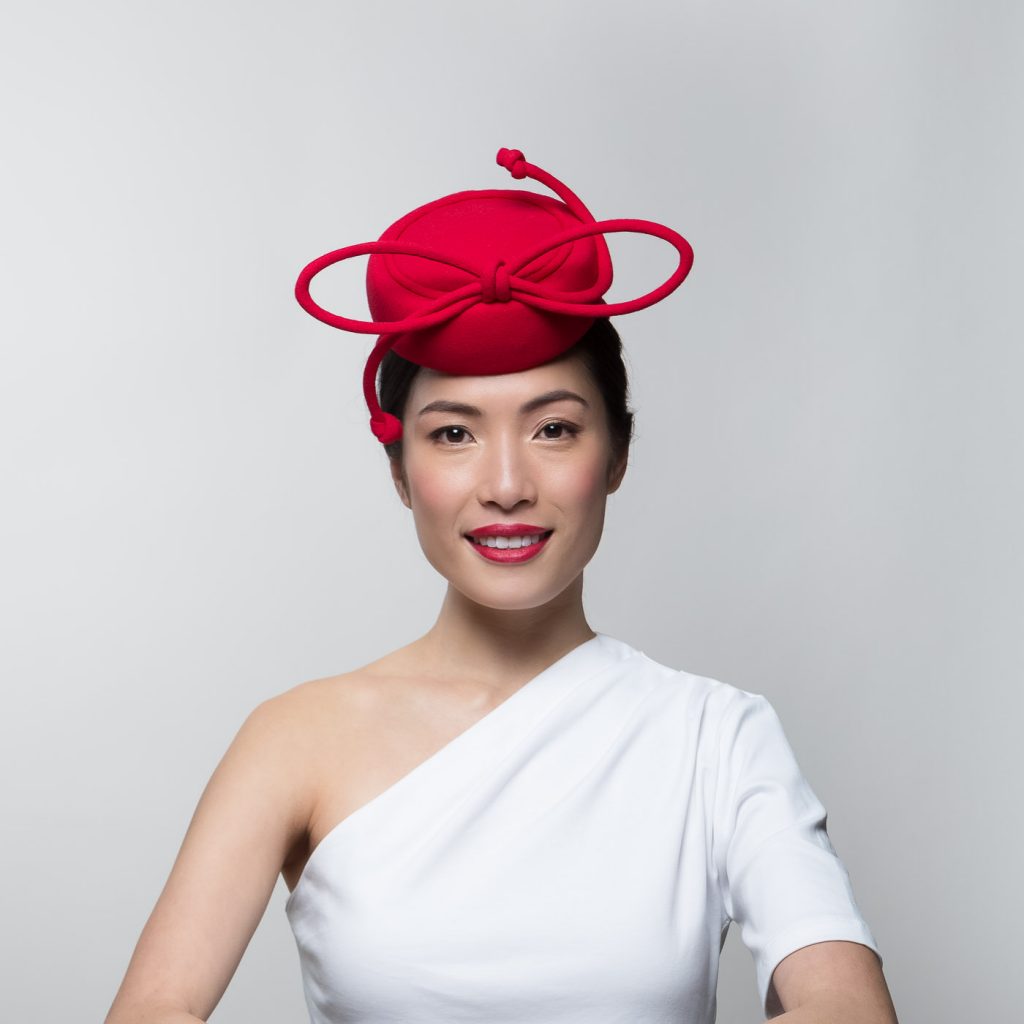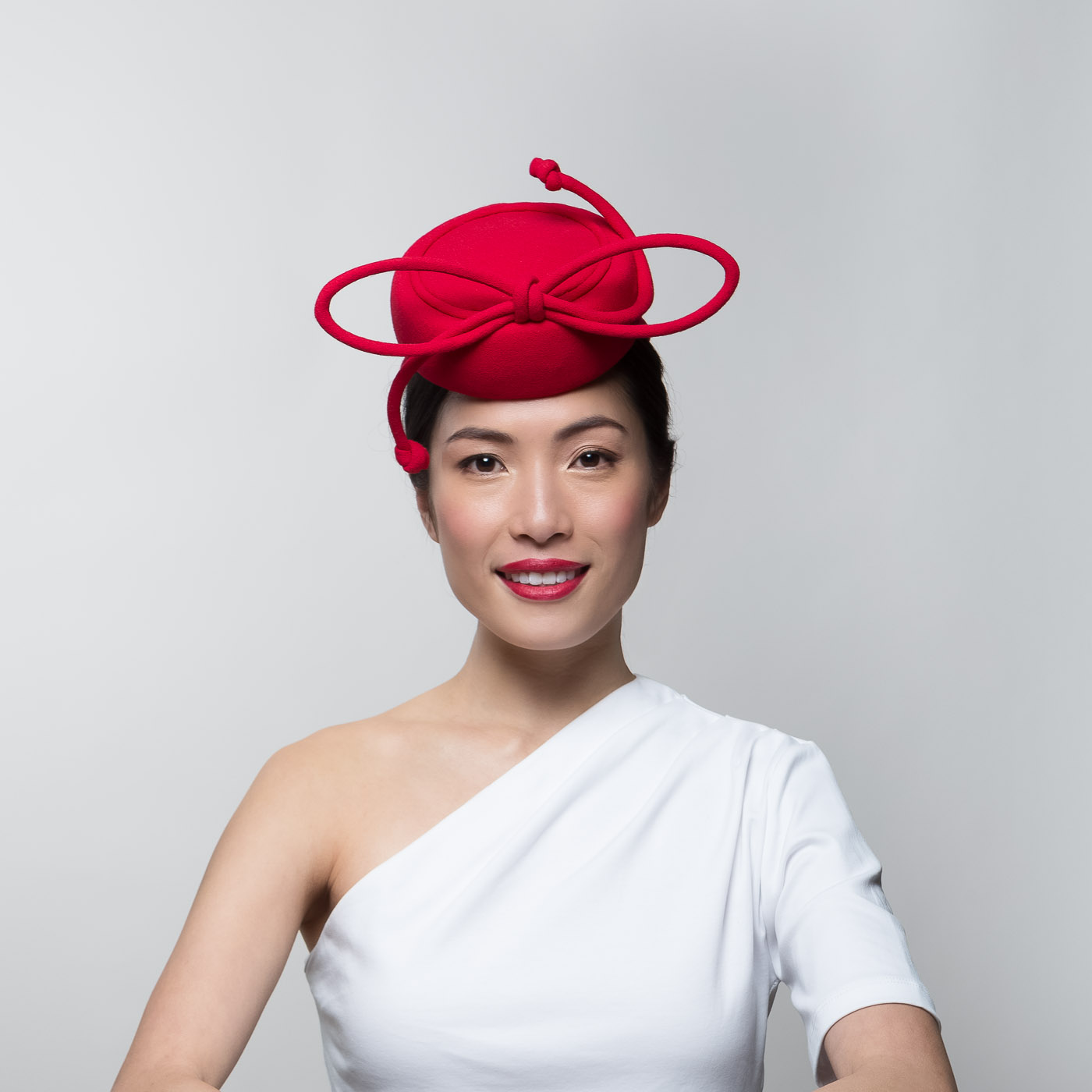 Lisa Watt 'Love Knot'
One of the most enduring subjects for artworks throughout the ages, here is my contribution to the conversation of love. The design represents the love that binds and the balance between two.
Top 10 – Rose Hudson Millinery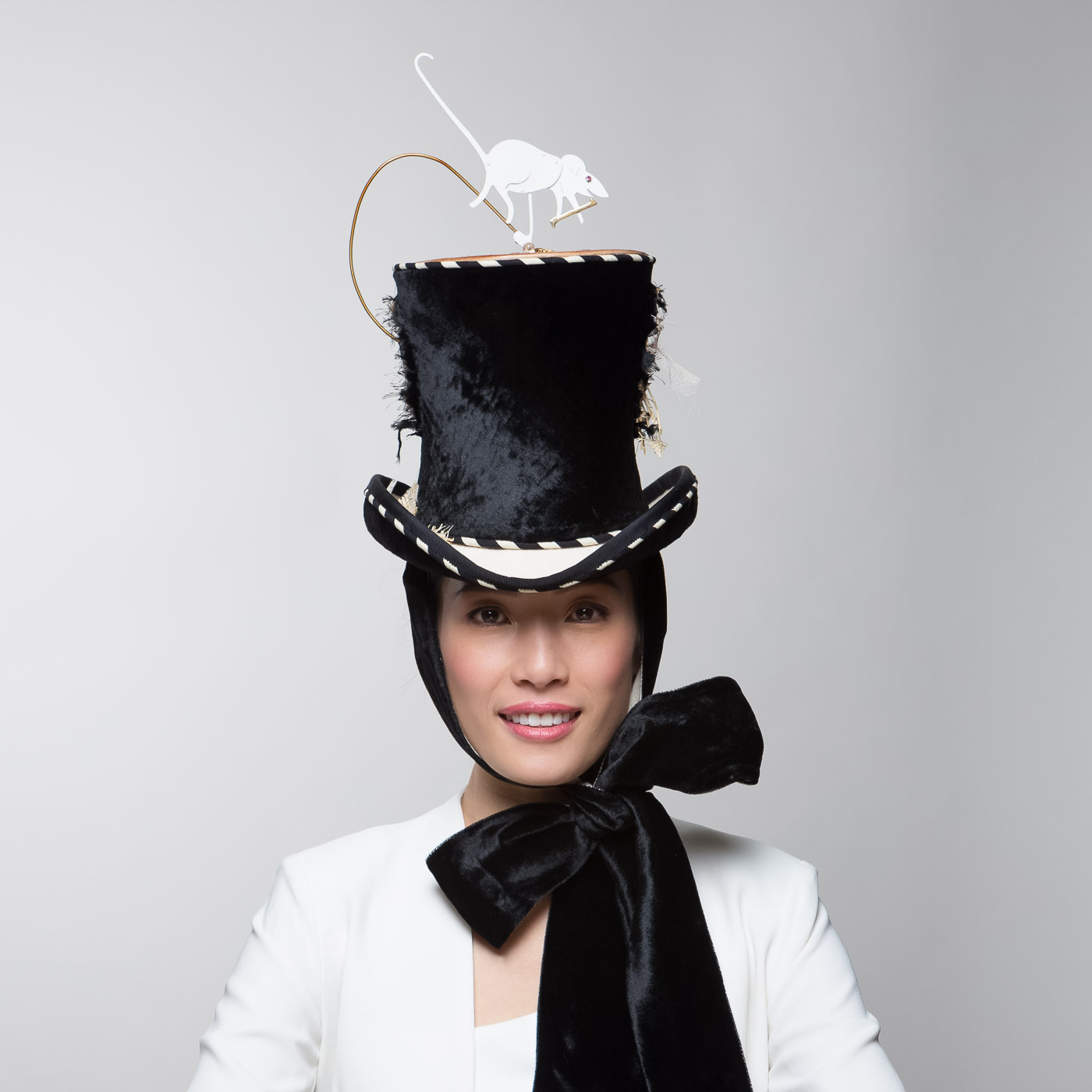 Rose Hudson 'In the Pink'
With an eye to the future and a nod to the past, this genderless wearable art piece incorporates a balancing toy mounted on a hat made with traditional materials rarely used in modern millinery manufacturing today. Skills acquired in more than four decades of workroom experience happily collide in this work of shimsey.
Top 10 – Louise Macdonald Millinery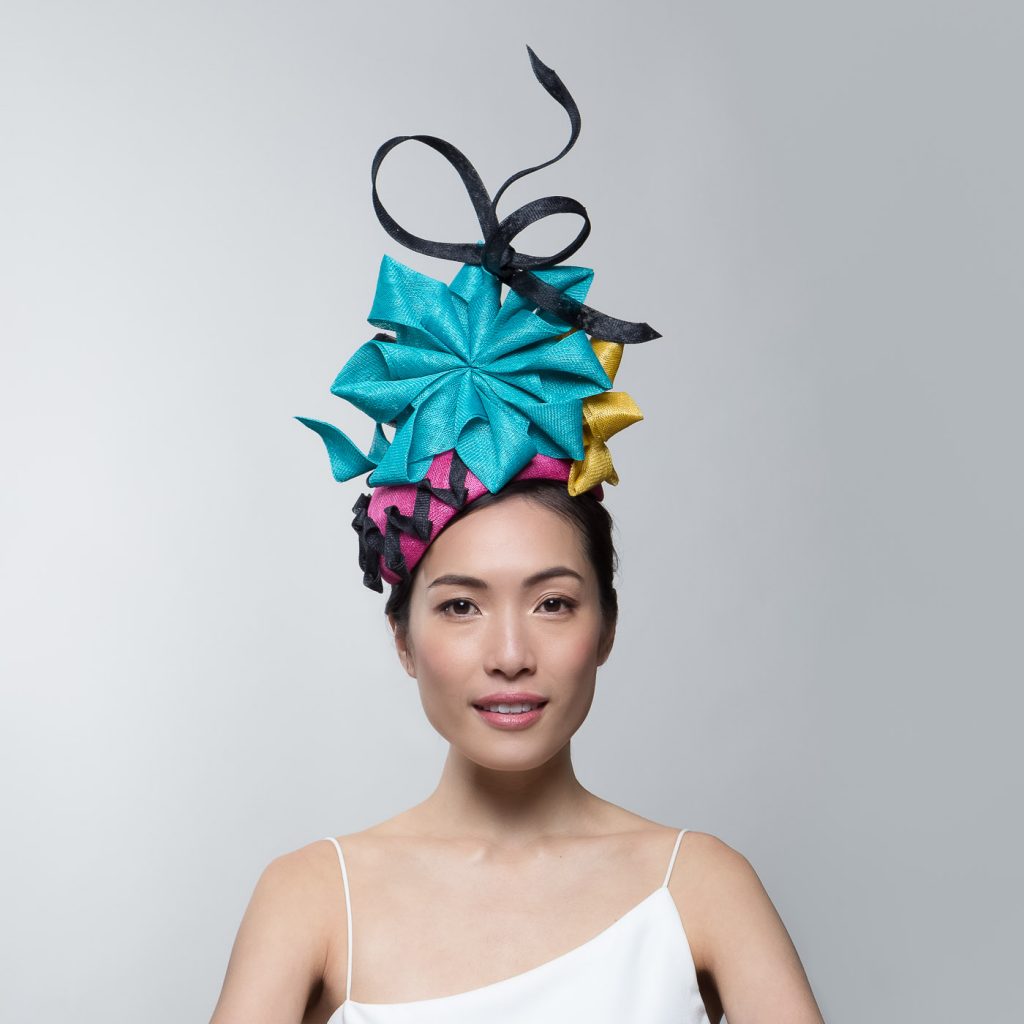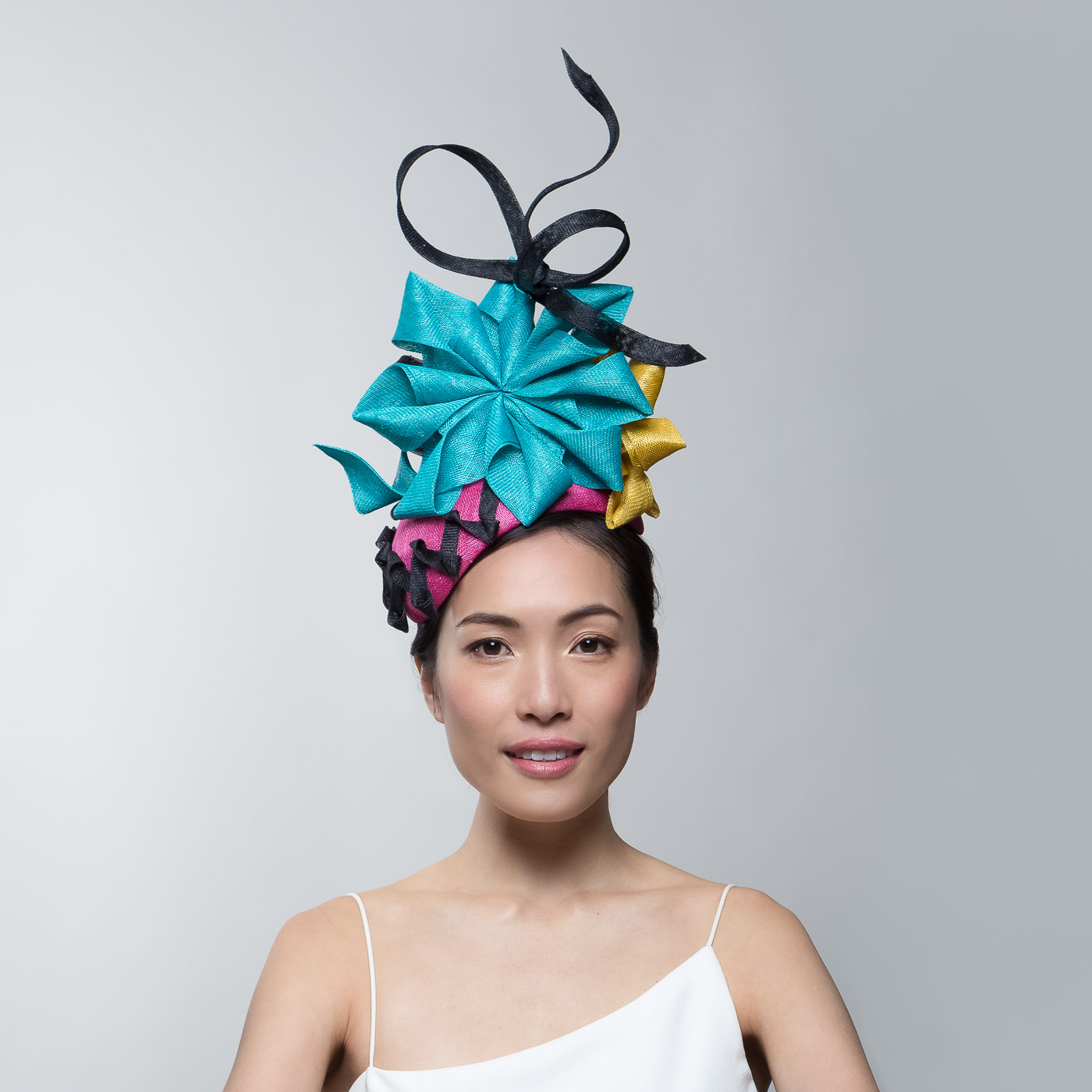 Louise Macdonald 'Cockade Chaos'
I have used traditional ribbon folding techniques, common in 1920's fashion and applied them to a more sculptural material, sinamay. This has given the cockades more structure and strength, creating a colourful base to the bow balancing on top.
Top 10 – Silky Flora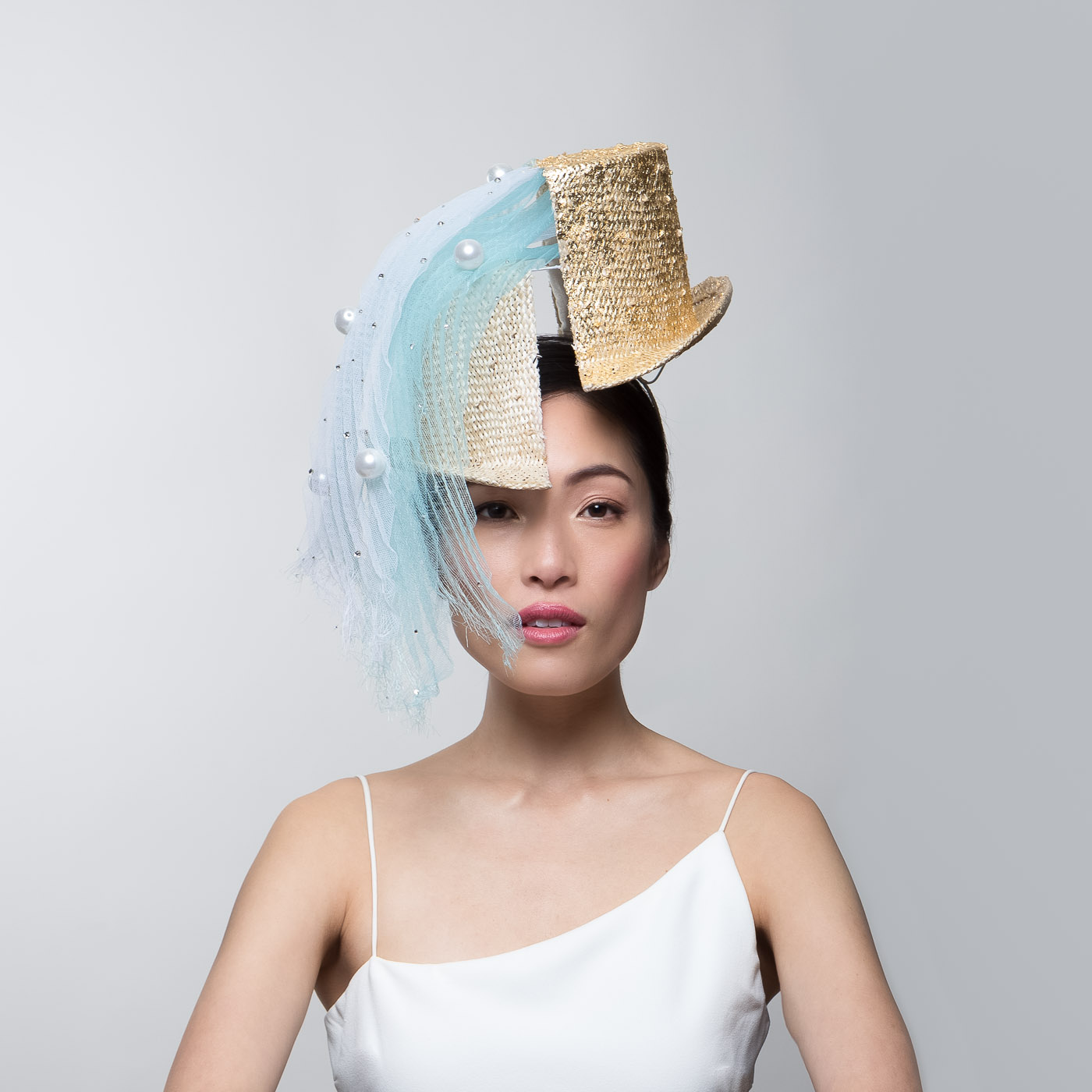 Elena Kornienko 'Waterfall Cascade'
The inspiration for my entry "Waterfall Cascade" became the Morialta Falls in Adelaide. Being impressed with colours of water and rocks, I created the top hap which represents cascade of rocks one side of which is brightly shined with the sun rays (I used gilding, the technique to express the sunshine). Ever flowing water represents life, whereas the cascade of rocks keeps memories and history of this life.
Top 10 – Hats By Tracy Mac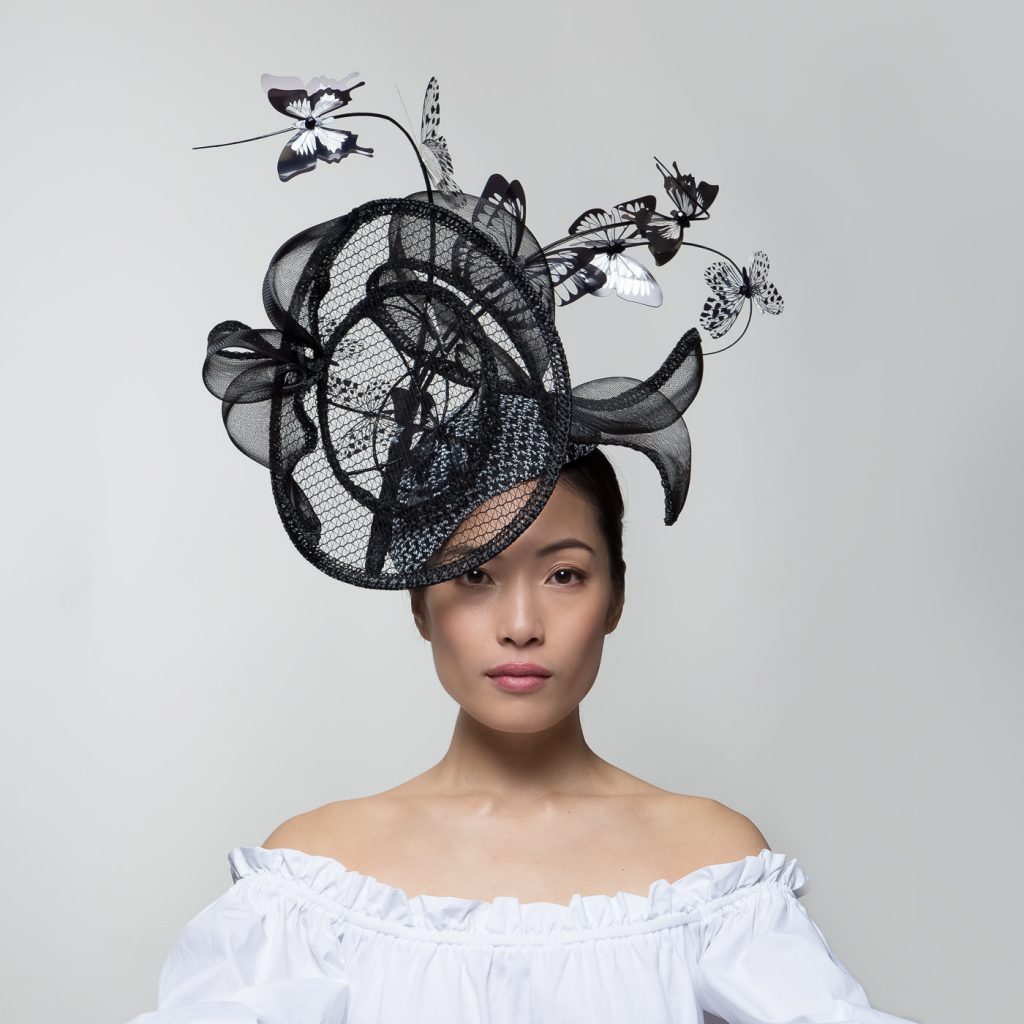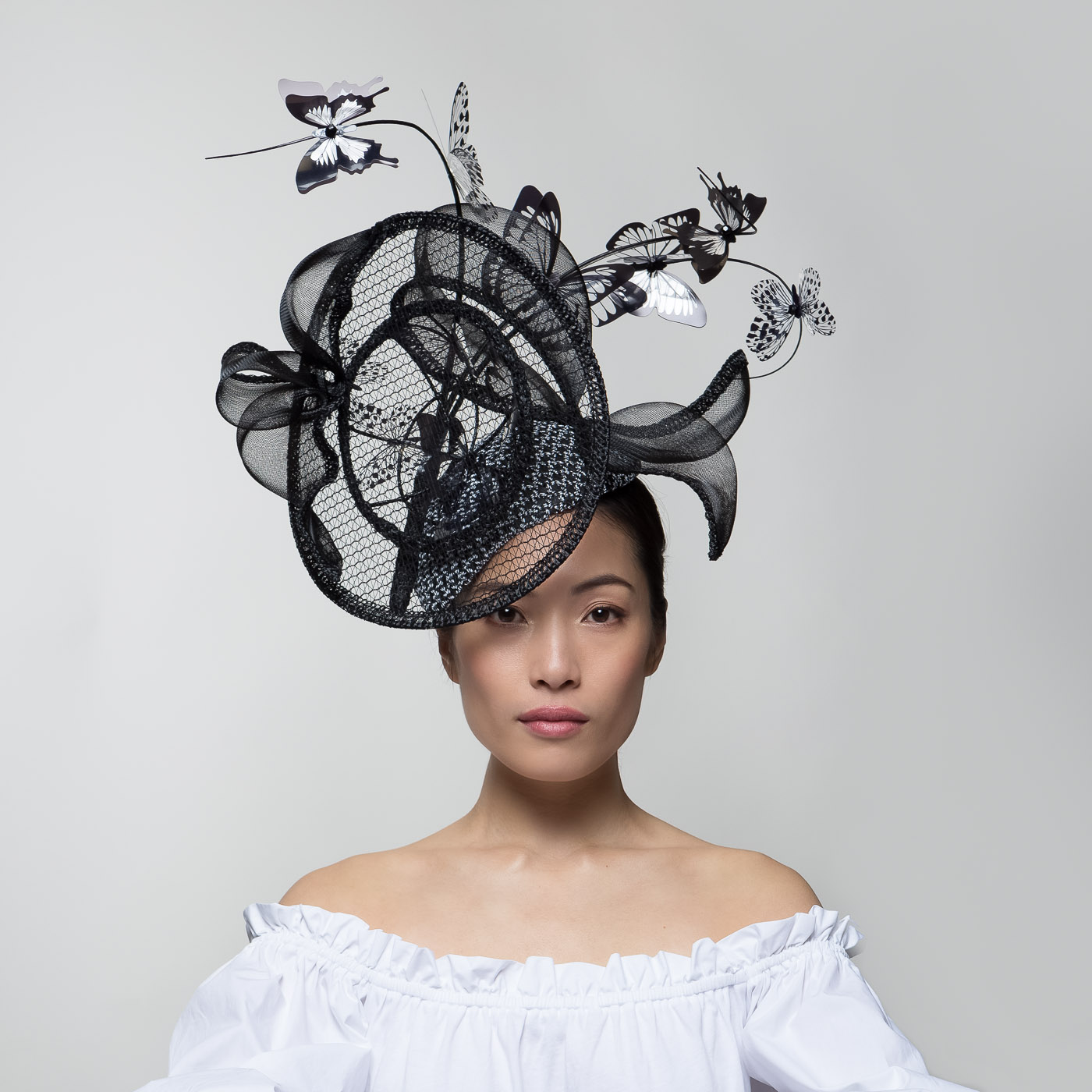 Tracy Mackinnon 'Hope'
My piece is called 'Hope'. "Just when the caterpillar thought the world had ended…….it became a butterfly". Butterflies embody spiritual rebirth, transformation, freedom, hope and life.
The caged butterflies, beautiful in vintage crinoline, are counter balanced by those who fly free resting on branches made with quills, that pass through the gift of a bow.
The selected materials from modern thermoplastic to vintage straw cloth chosen to influence and off set each other. The dark and light colours counter balance each other reflecting recent times for us all. A time where we have been confined and controlled and now there is light at the end of the tunnel with freedoms being restored and taken.
---
Possum Ball Millinery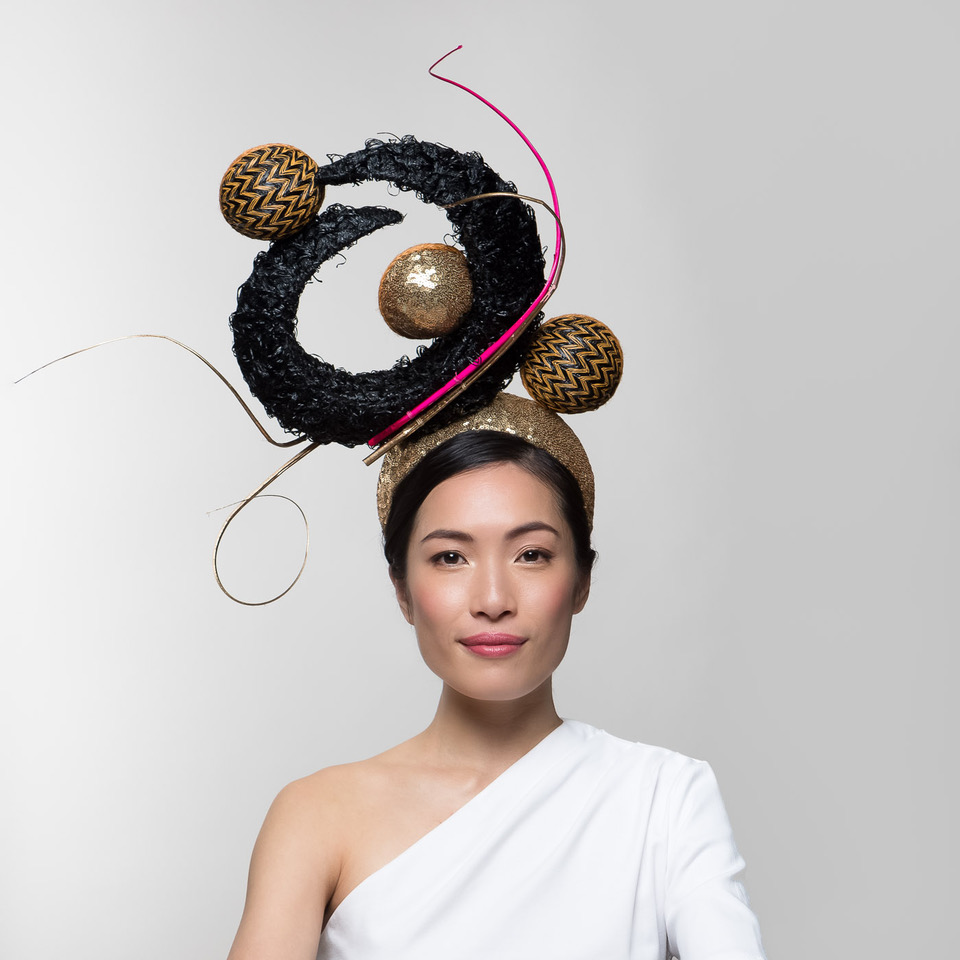 Possum Ball 'Harmony'
The MAA brochure for this competition really lit my imagination on fire and it was definitely my inspiration when making this piece. I have lined up the three straw spheres to create the illusion of "counter balancing" the weight of the off-centre black crescent-shape. The four feather quills are counter balancing each other, with the pink added to provide a "counter balance" of colour. I used only vintage and second hand materials as an additional "counter balance" for environmental impacts of the fashion industry.
---
JWH Millinery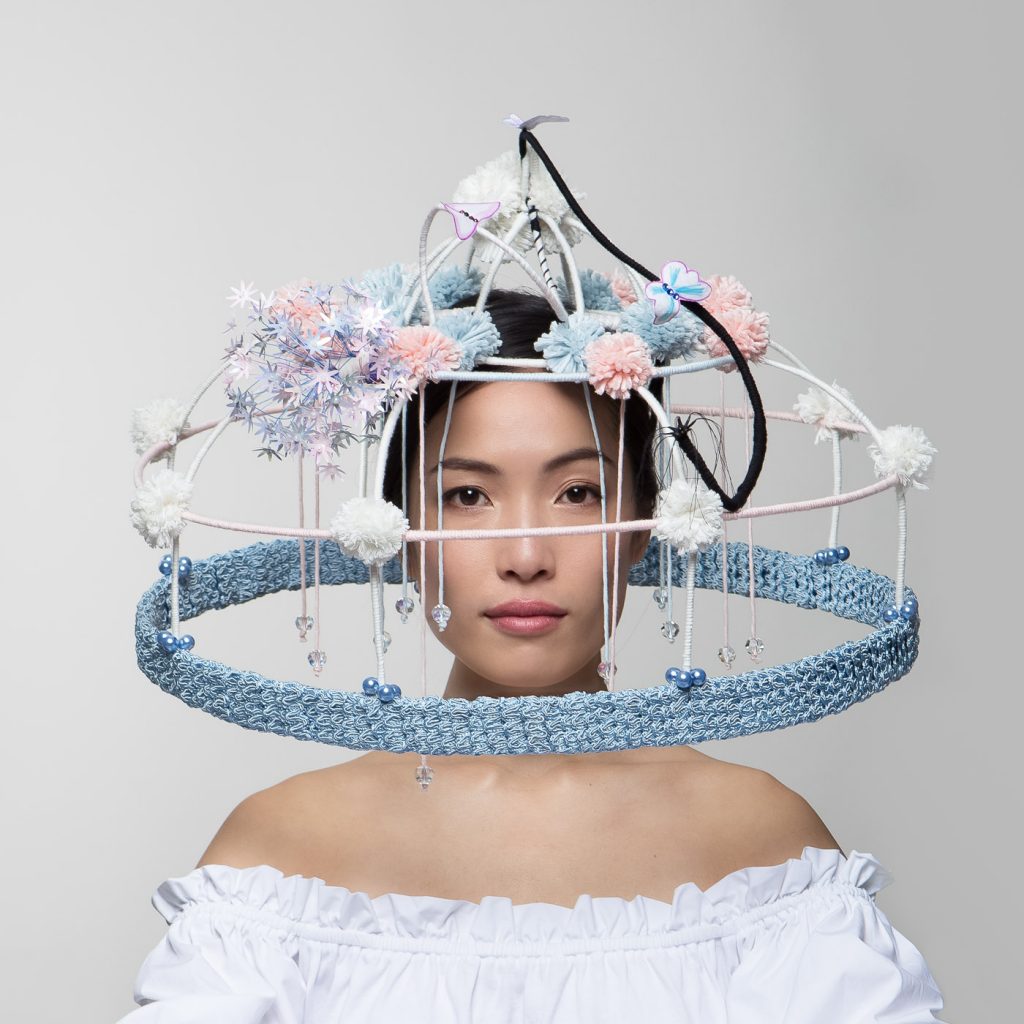 John Westwood-Hill 'Different Is The New Normal'
I wanted to focus on the counterbalance that most Trans women/men have to go through to achieve some sense of "normality". I am a non-binary gay person. My gender is always in constant flux. However, until recently I have always had to hide that and wear a gender that is uncomfortable for me, whilst still trying to pass as a straight person in public.
Wearing this hat, with the droplets, the movement, the not quite sure if "its" straight, evokes that and gives the wearer a peek into the mind of someone, that a small but loud portion of society doesn't like and wants to curb.
---
Catherine Storm Millinery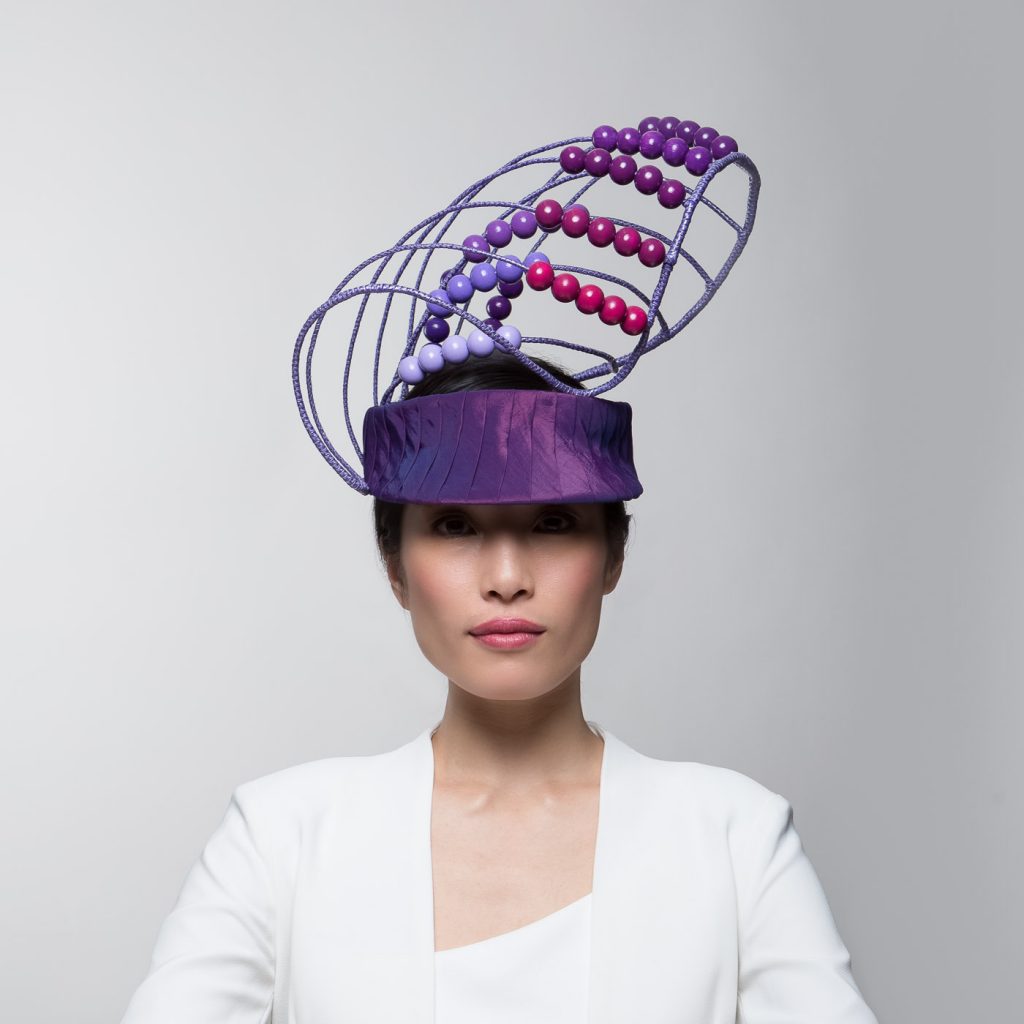 Catherine Storm 'Abacus'
Using the abacus as inspiration, this headpiece explores balancing counters.
Wired Swiss braid, adorned with hand painted wooden beads, forms a curvy abacus. The bead counters, in various hues of pink, plum, magenta and purple, are positioned to balance the headpiece on the visor base.
The hat's base recalls a bookkeeper's visor, worn when balancing the books. It is created with pleated purple shantung shot with hot pink. The pleat positioning balances the curves and angles of the abacus above.
---
Millinery By Karin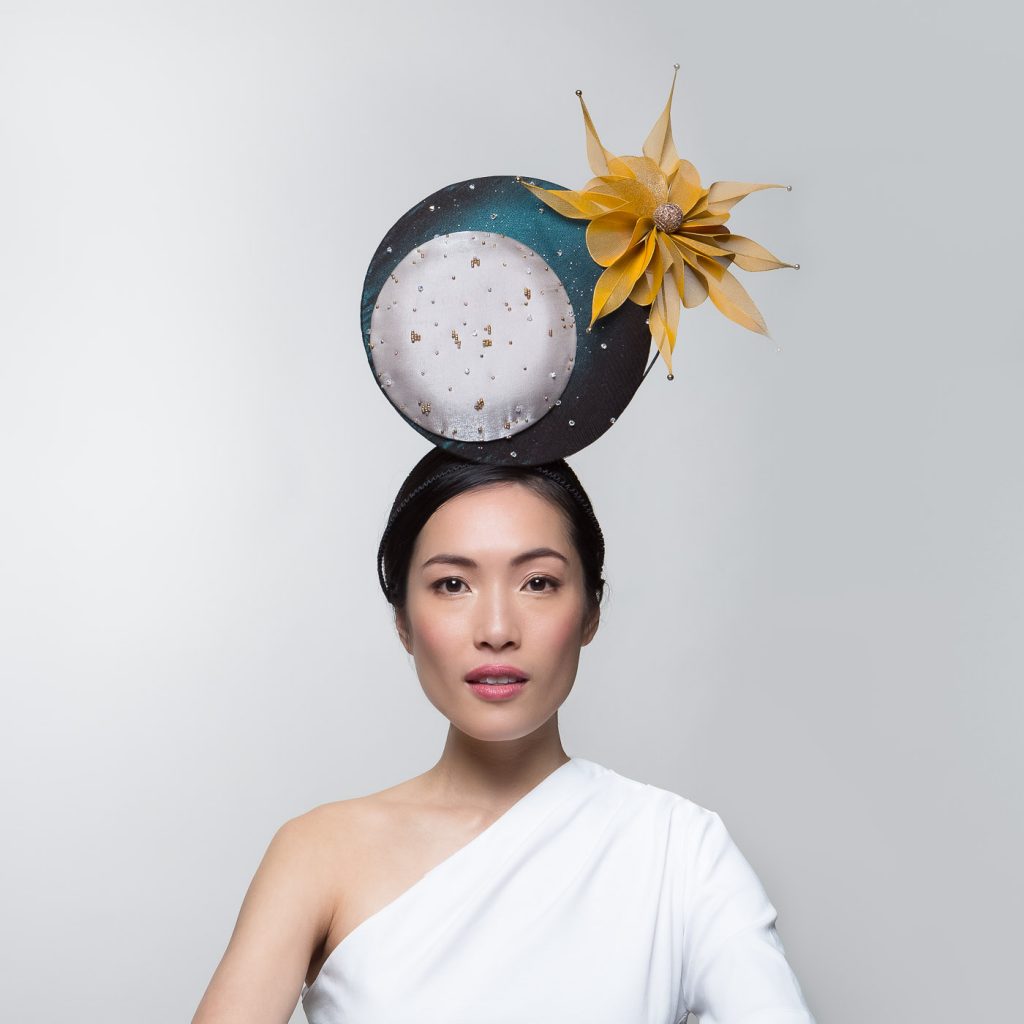 Karin Goodman 'As the Sun sets the Moon rises'
Day turning to night creating Counter Balance, hence, the headpiece portrays the night sky with twinkling Swarovski crystal stars and a full moon rising over the horizon, with a stylized golden setting sun. The theme is repeated on the reverse where the Sun has sunk lower and a small Red Blood Moon is seen above on the reverse of the main Sun image. The hat has been created using fabric, beading and dyed crin with glitter under the outer layer of tulle.
---
Jo Maree Millinery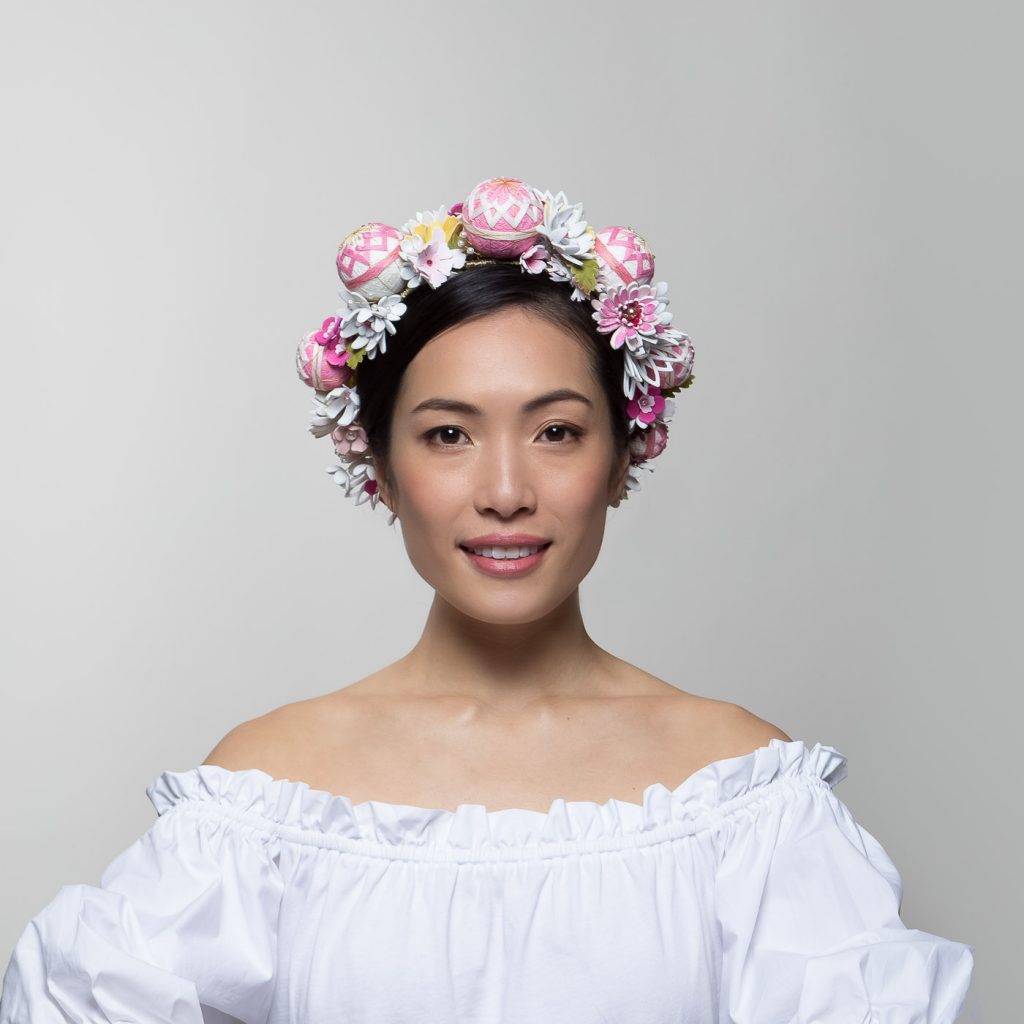 Jo Peterson 'Sakura'
The inspiration for my headpiece, Sakura, is based on in-yo, the Japanese equivalent of yin and yang. In-yo symbolises contrasting and counterbalancing forces which coexist harmoniously. I recently discovered the Japanese art of Temari; small hand embroidered balls and wanted to incorporate these into my design. I chose to highlight the in-yo concept of light vs dark on the temari using alternating pink and white colours in a traditional sakura (cherry blossom) pattern as my 'Counterbalance' design feature.
---
Millinery By Christine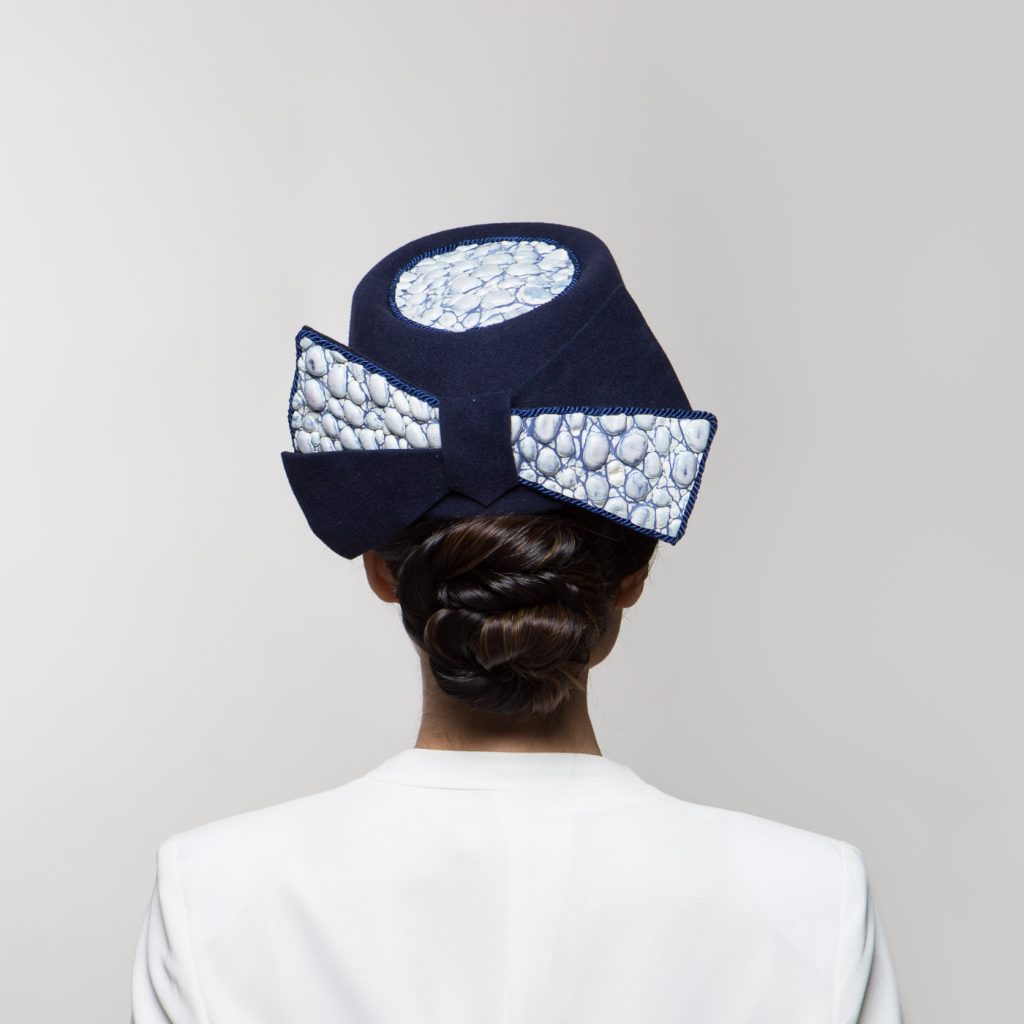 Christine Martin 'French Flair'
I wanted to show the "counter balance" in using the combination of felt and leather together to make a stylish and wearable ladies hat.

Using 20/20 as a foundation, I then blocked the felt shape and inserted the leather into the indented crown. I also used the combination of leather and felt together in the bow trim.
Helen Rose Millinery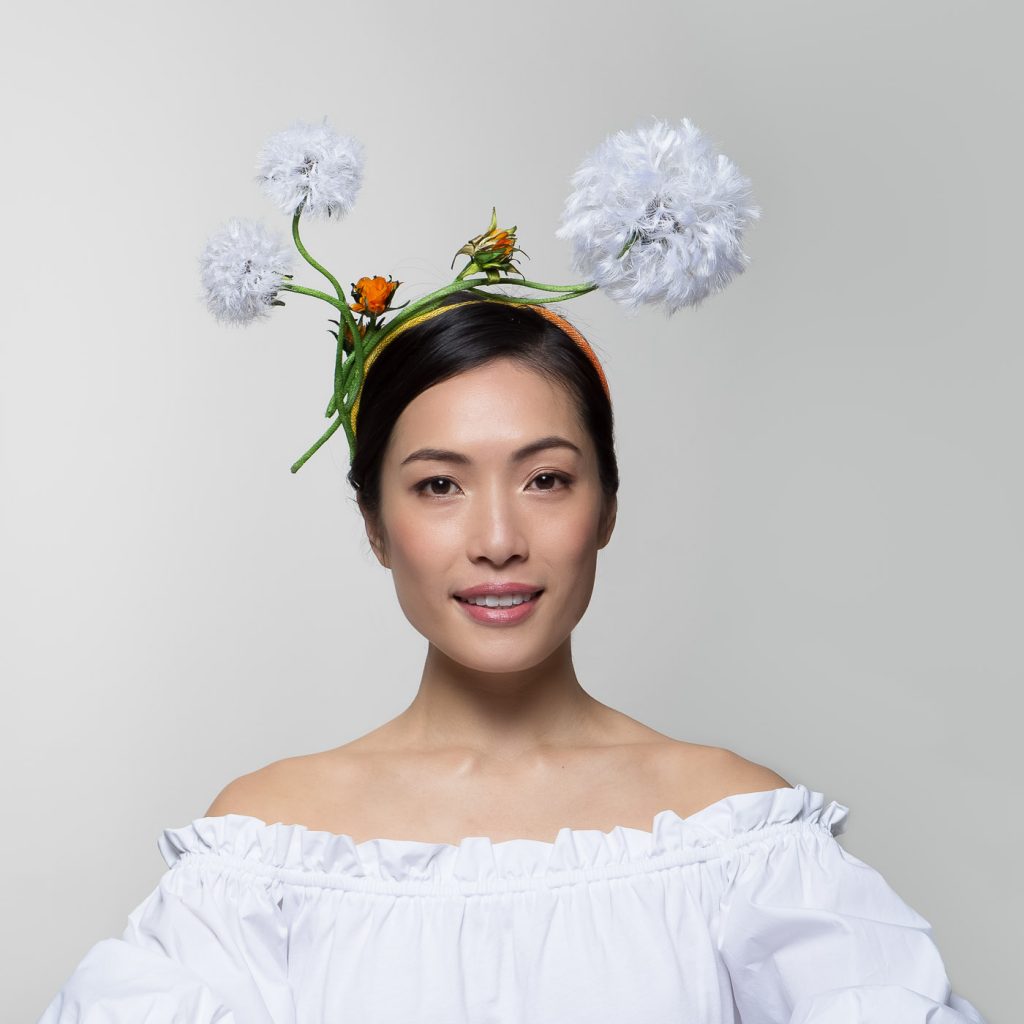 Helen Wilkinson 'Puffballs'
Sombana silk flower making is a technique I studied in Japan 8 years ago. I'm always searching gardens for new flowers to design. The Dandelion weed is something I've been curious to make for a long time. Believe it or not, the large dandelion is equal to the two small dandelions, the large has 300 hundred seeds, each seed is 3cm wide 4cm high, the small have 150 seeds each which are 1 ½ cm wide and 2cm high, the placement of the dandelion's on the handmade headband create counterbalance. The 3 Dandelions took approximately 27 hours to make.
---
Christine Lindsay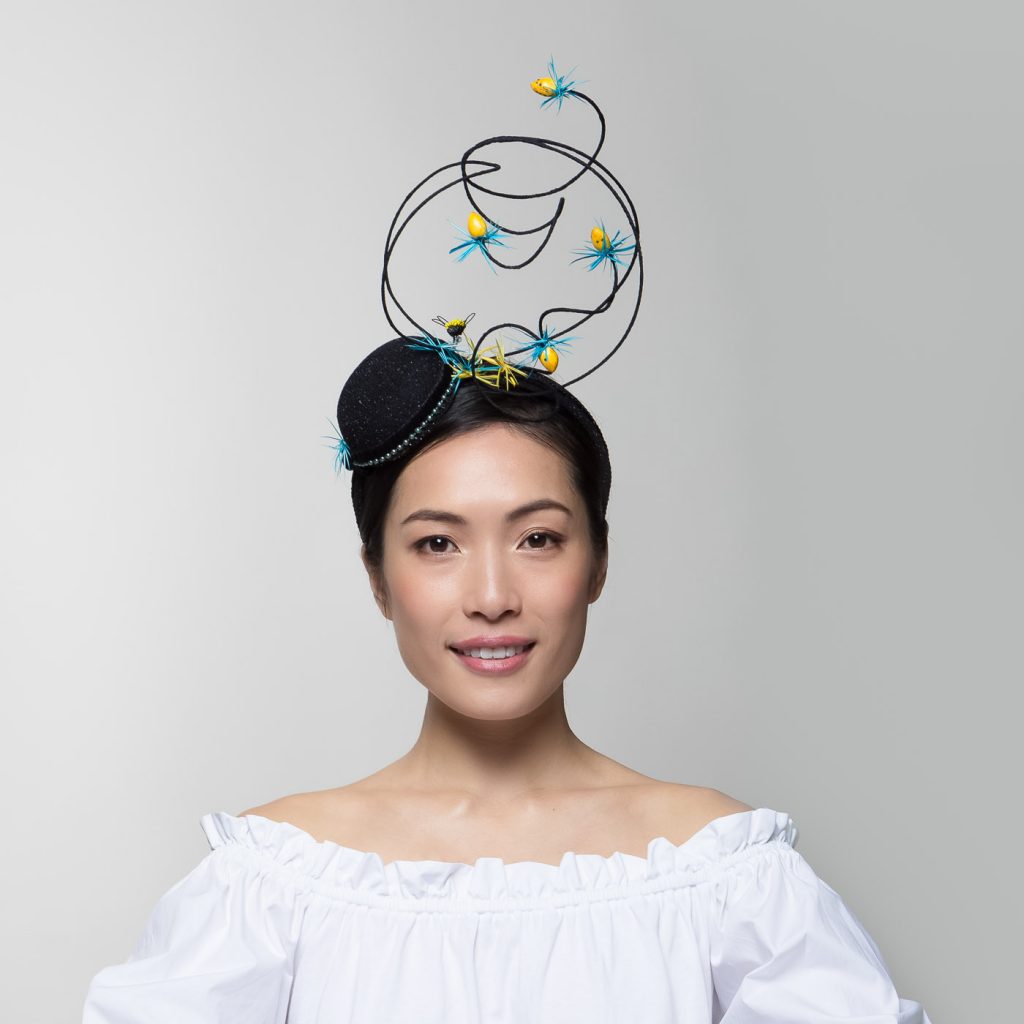 'Equilibrium'
Counterbalance is vital to the journey of life. Modern urbanisation must bring with it opportunities for nature, or the balance is tipped and threatens us all. As the glistening black expands; colourful nature spreads with it balancing two elements of modern life.
---
Jo Ramsay Millinery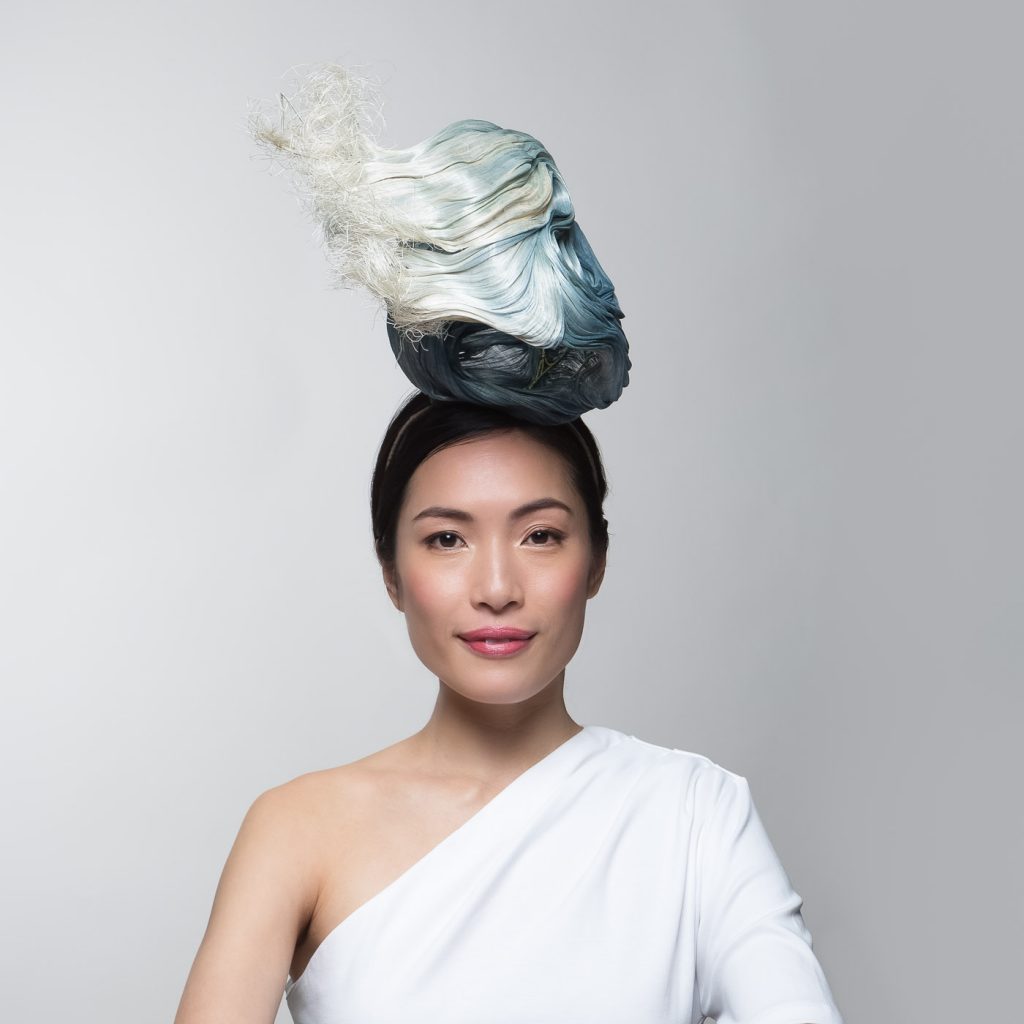 Jo Ramsay 'Spindrift'
Inspired by the ocean, this headpiece captures the counterbalanced moment of a wave breaking, as the wind creates the Spindrift.
---
Dezignz by Maree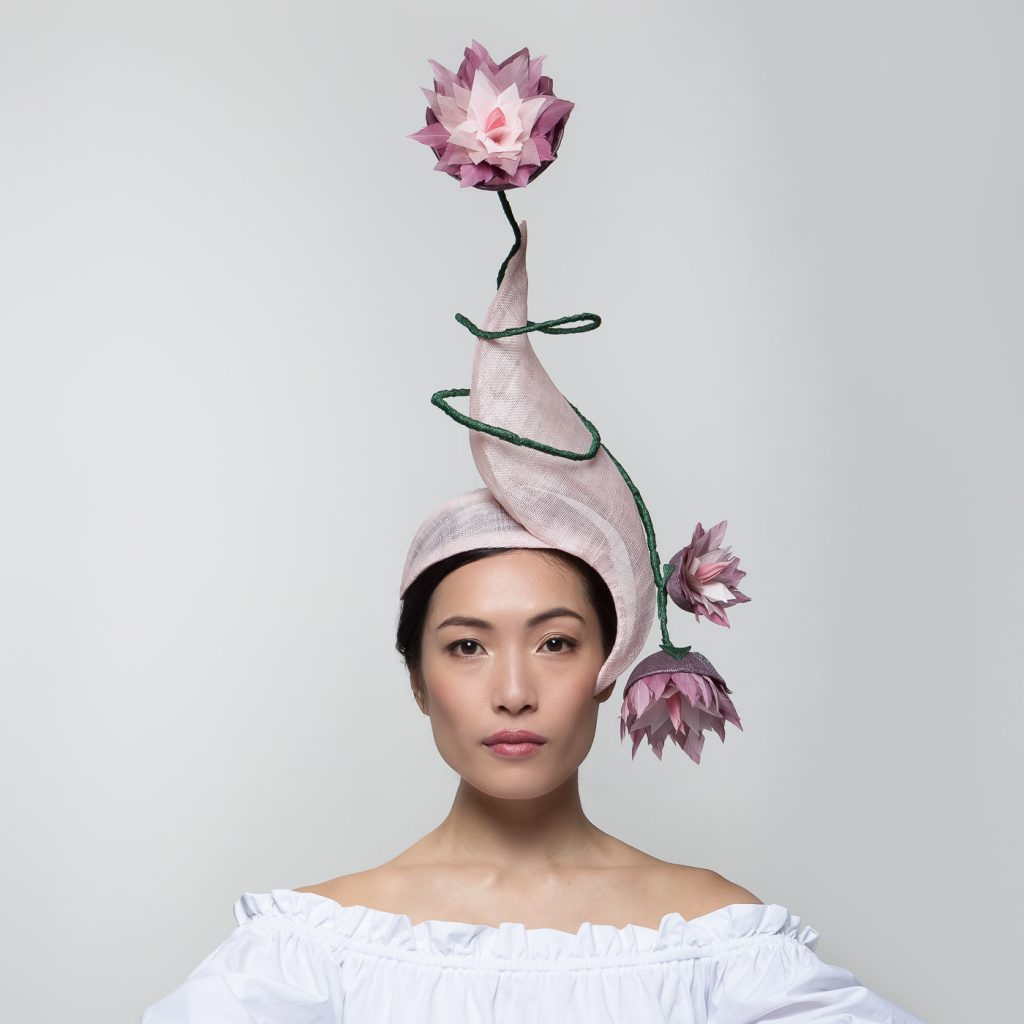 Maree Starkey 'Perfect Imperfection'
My entry is inspired by Mother Nature. Her designs are perfect imperfection, everything balanced and counterbalanced against each other to keep our earth functioning until the interference of the human race, now the counterbalance is unbalanced.
---
Leteisha Knecht Millinery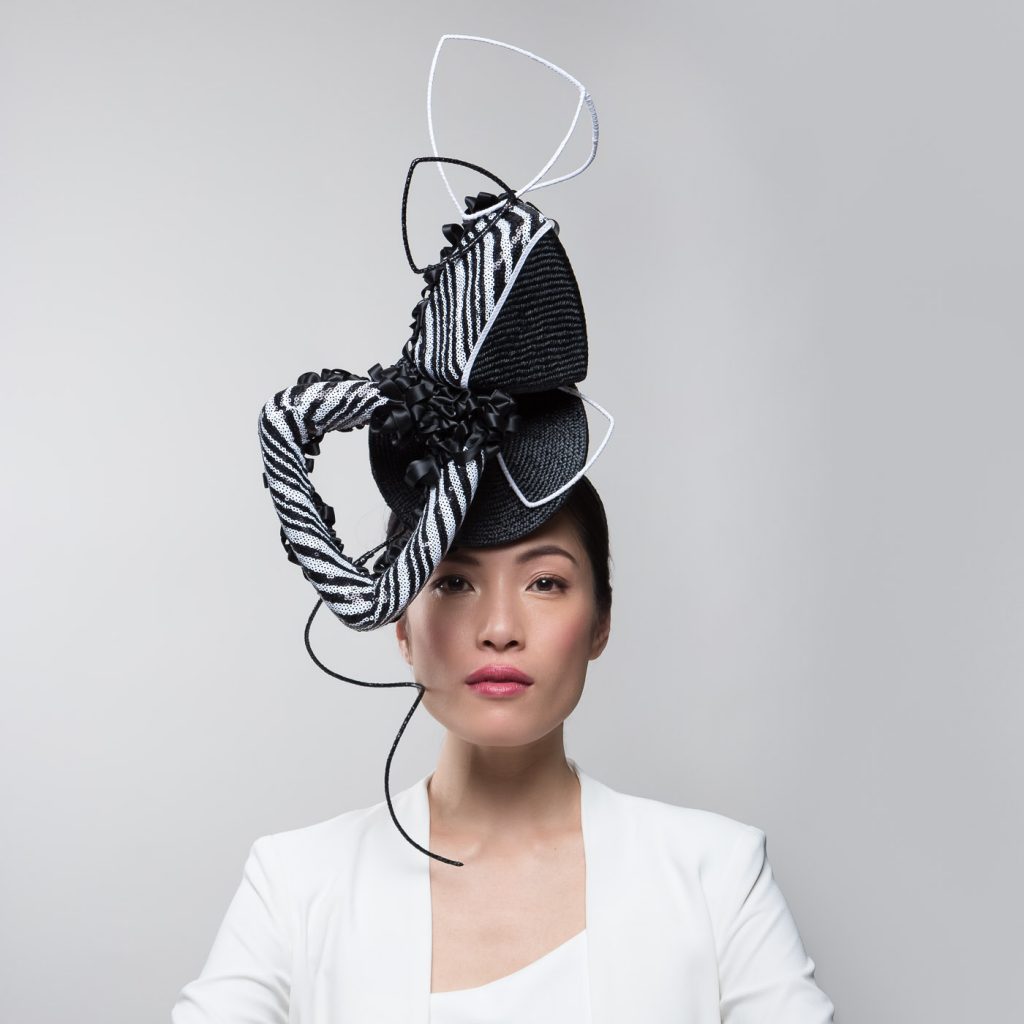 ---
Bonnetry Millinery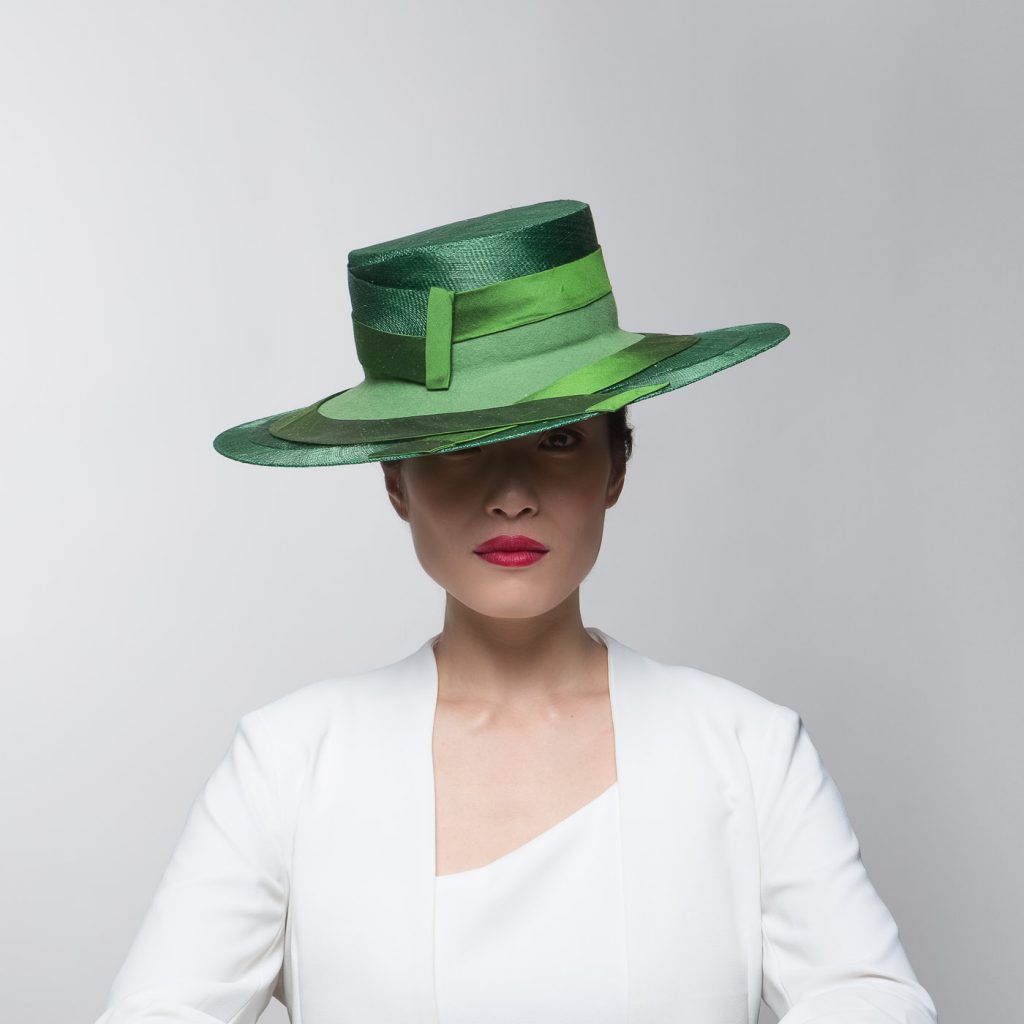 Jo Honan 'Dreaming In Three Green'
When entering a competition I want to show that my Hat has broad appeal, fits the profile and is marketable after the Award. After giving it a lot of thought, I decided I would look to the way that materials used to construct a hat are Counter Balanced, and demonstrate the transition of traditional fabrics, that are typically not usually used together, to create a balanced hat. Moving from the centre to the brim and crown, from heavy to light. From Felt to Sinamay. I always include some element of upcycle, and the felt on this hat is part of an
imperfect upcycled hat.
---
Belle Follie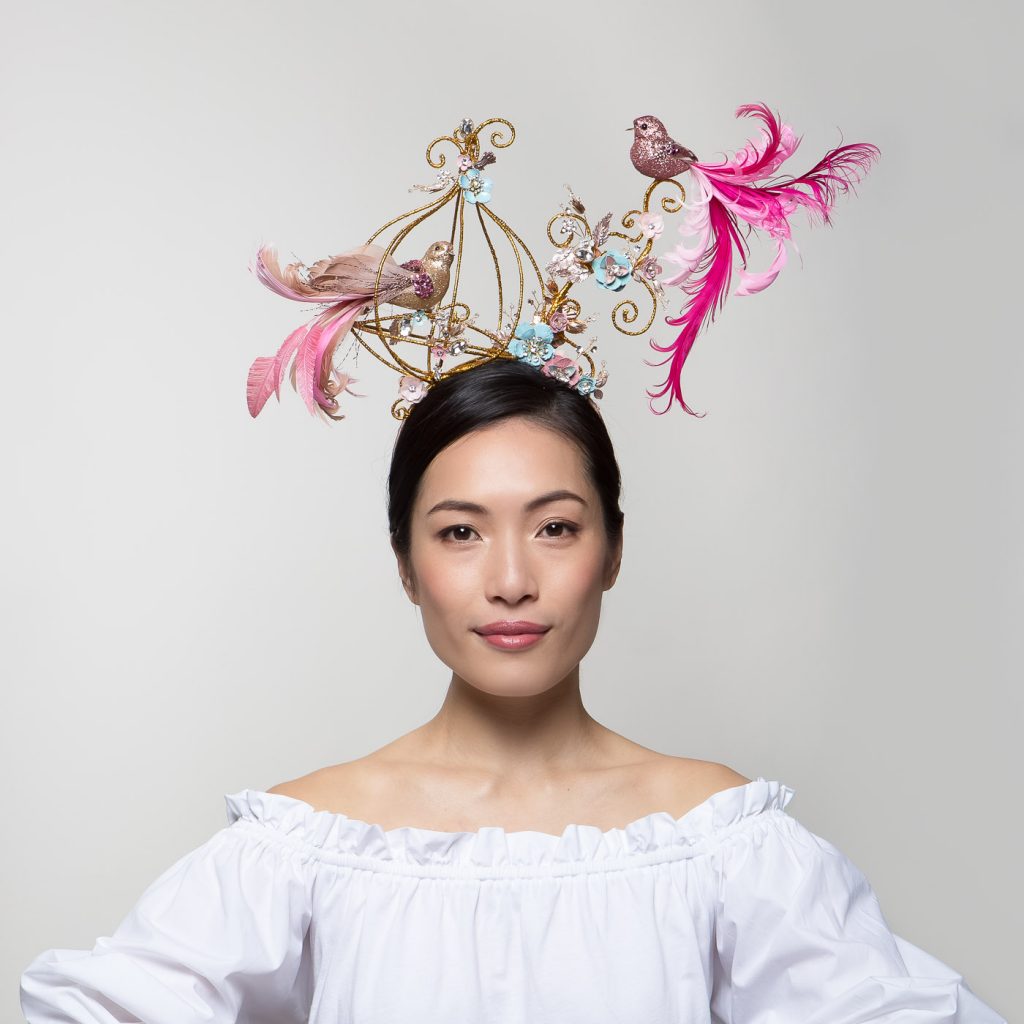 Wendy Diggles 'Freedom'
I wanted to show a counter balance between freedom and captivity, using two embellished birds , one in a cage one on the branch outside. I used mainly wirework , wrapping and embellishment in this piece.
---
Kathleen's Creative Millinery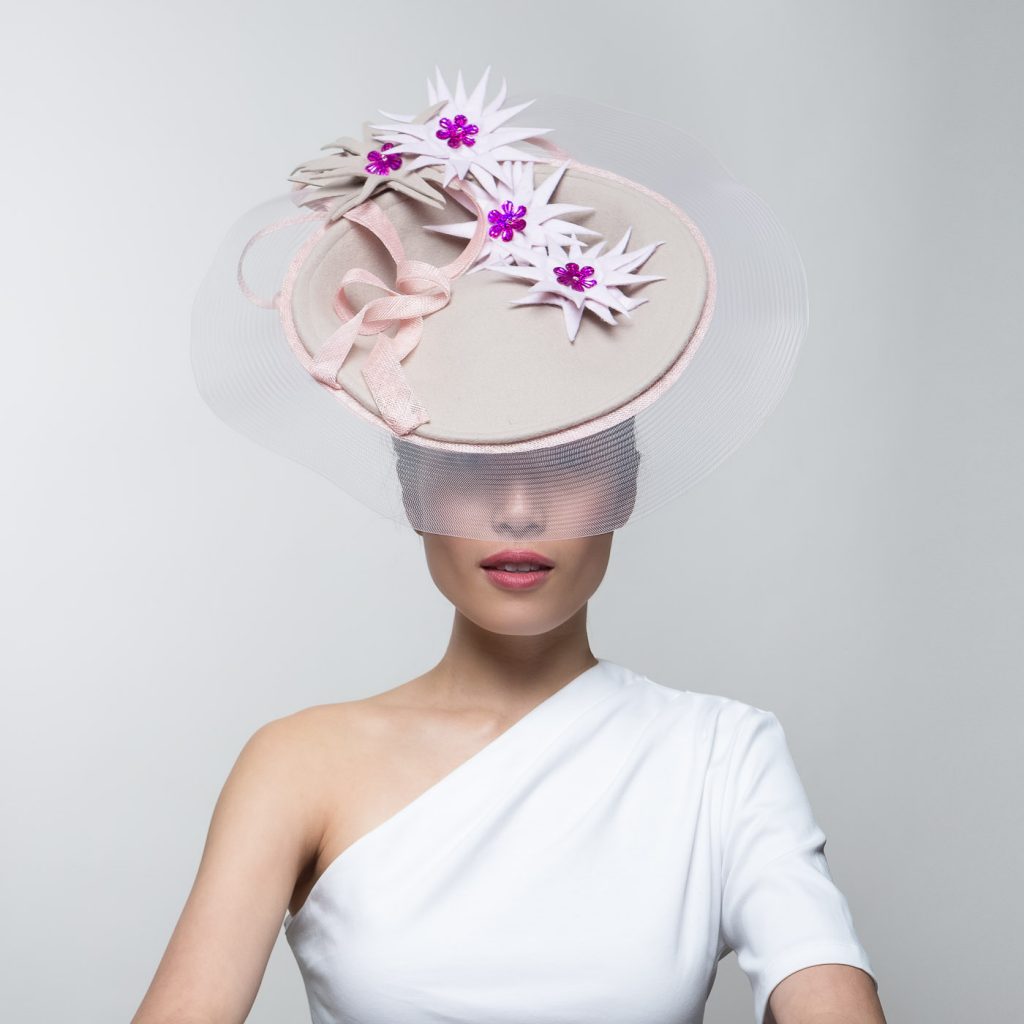 ---
Abigail Fergusson Millinery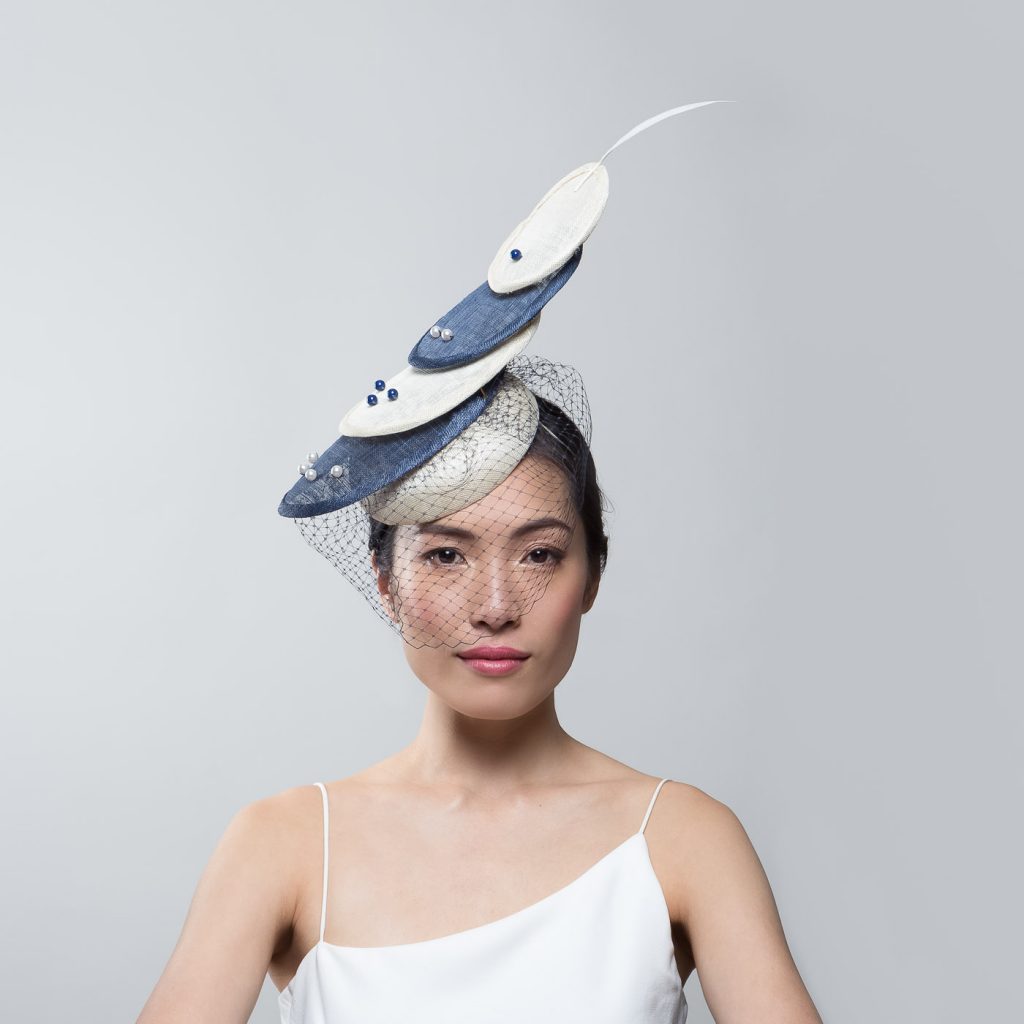 Abigail Fergusson 'Ascension'
I took inspiration from counterbalanced stone stacks, with larger lower rocks and additional pearls to counterbalance the weight of the upper rocks and pearls to create a structure that defies gravity. I also used the relationship of counterbalance in yin and yang in my design to counterbalance the light and dark colour theme.
---
Michaela Manning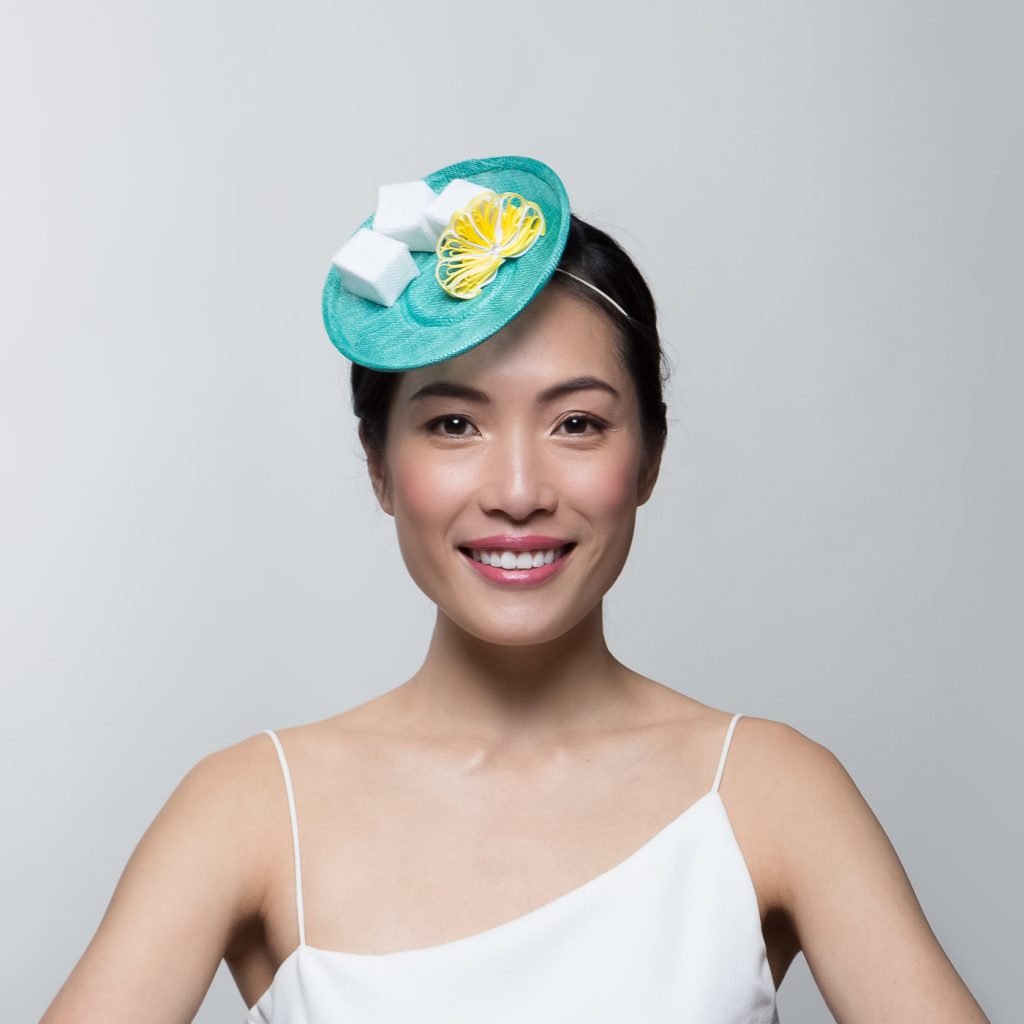 'SWEET and SOUR'
I took the theme of Counter Balance quite literally when deciding on a design for this headpiece, using sweet and sour in taste ie sugar and lemon. The majority of the headpiece is made of sinamay with fosshape. Ribbon was used to make the quilled inspired lemon.
---
Maja S. Milliner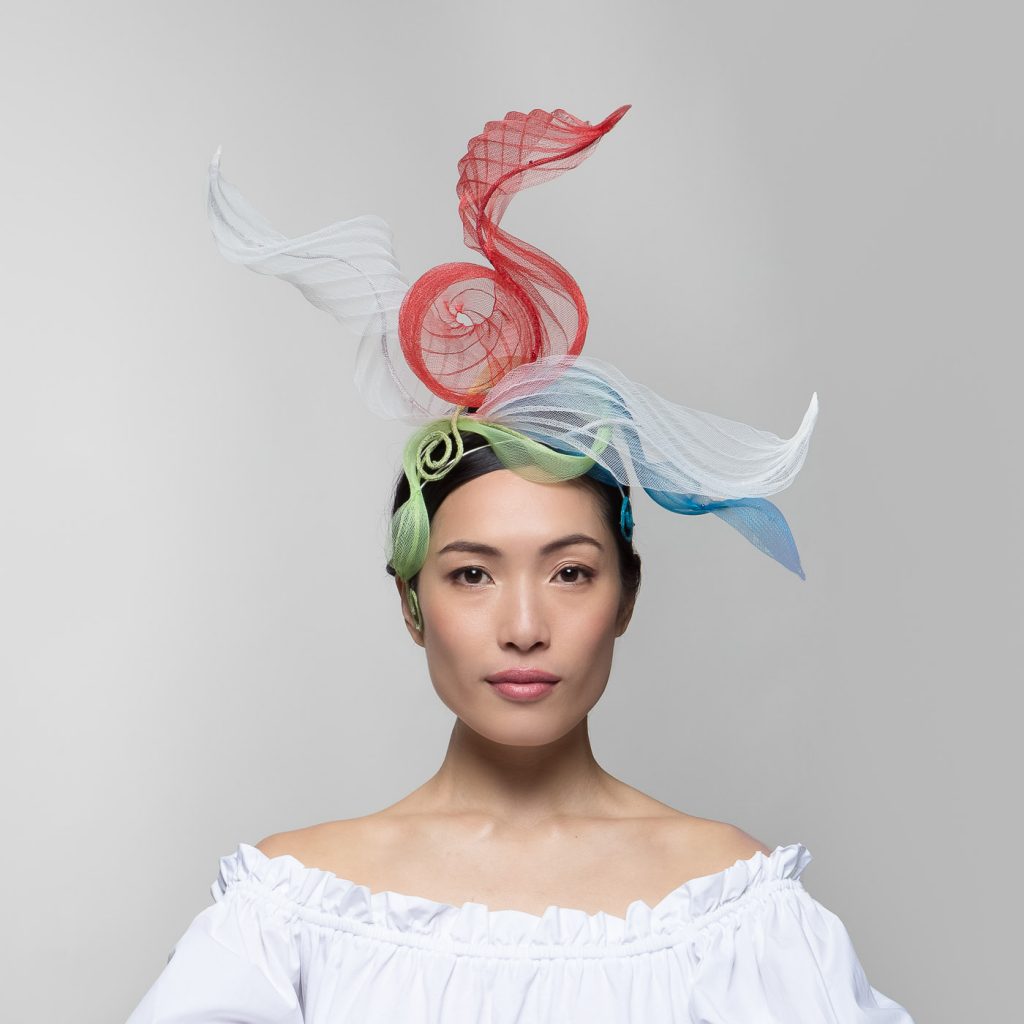 Maja Svensson 'Creative Equilibrium'
My sculptural headpiece Creative Equilibrium is an abstract interpretation of the theme – inspired by the four elements that are present all around us to create balance: Earth, Wind, Fire and Water. I wanted to explore and symbolize how the four elements balance each other and us, both physically and mentally. Not least in the creative process where we need that burning passion to create (fire), we must get the chance to set our imagination free like the wind, but also every now and then ground ourselves to stabilize ourselves (earth) and the healing and calming energy of water to keep us floating. I used millinery wire to create a headband as a base and foundation for the four element structures. I hand dyed a vintage swiss braid to match the crins and handsewn it onto both sides of the wire. I worked with various kinds of crin and shaped them in different ways to represent each of the elements. I also trimmed the creation with small glass beads.
---
Neil Grigg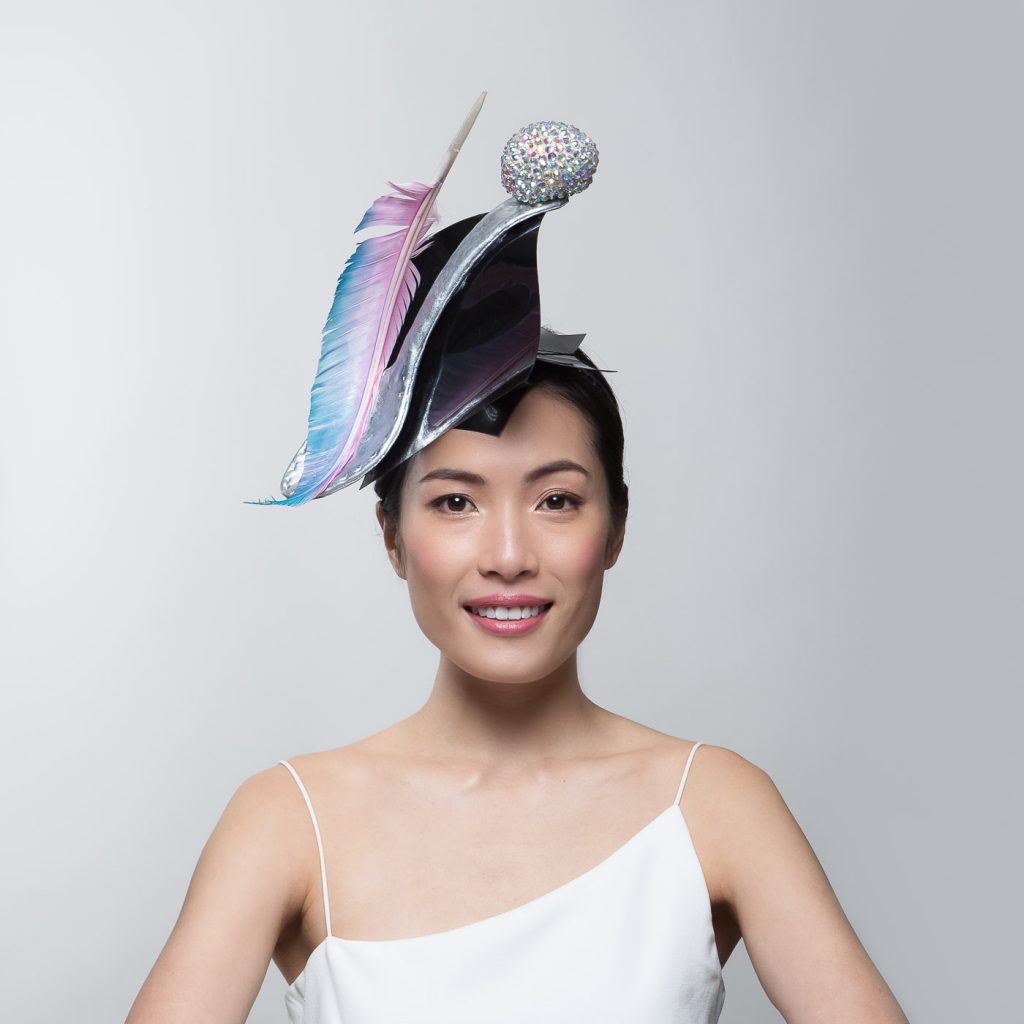 ---
Contempromental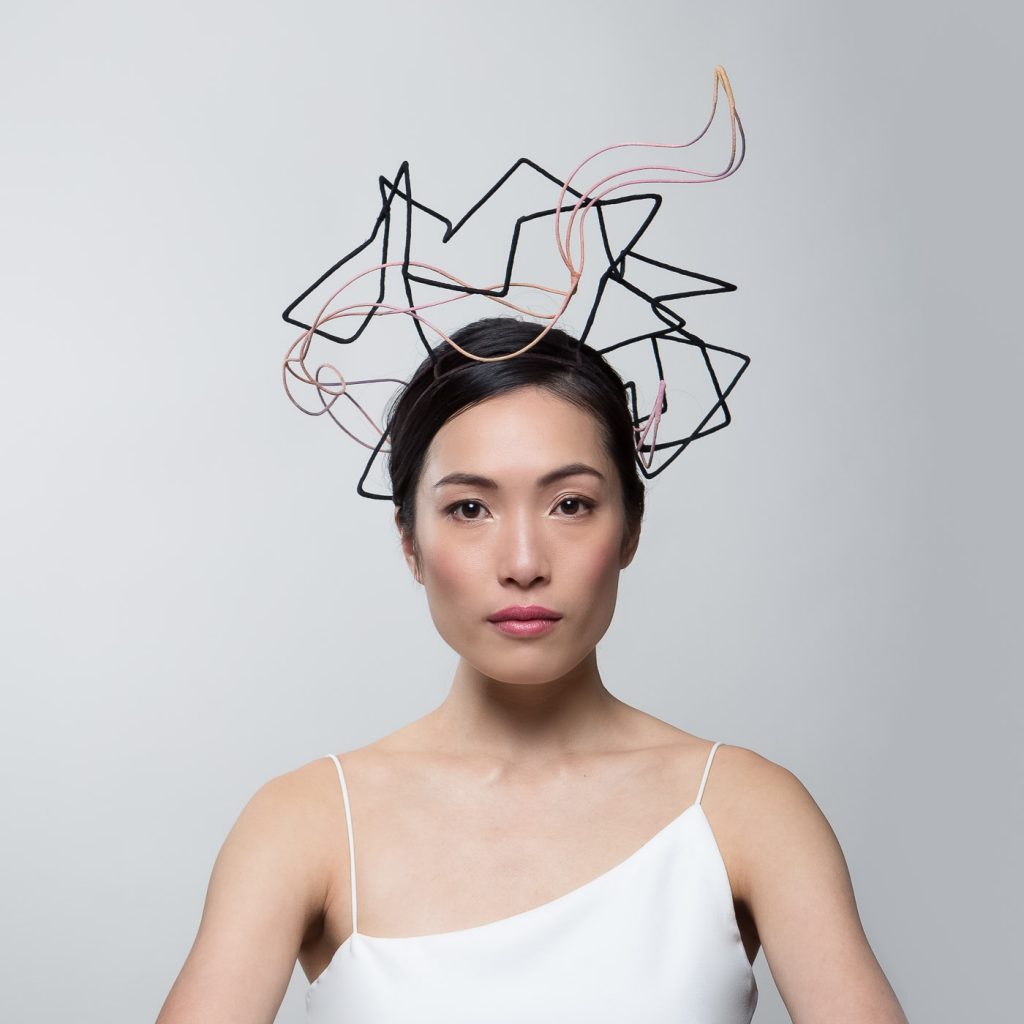 Laura Dunnington 'Cascading'
Jutting, angular rocks create a path for fluid water
The Yin and the Yang
A counterbalance of hard and soft that creates blissful harmony
---
Fabhats By Oksana C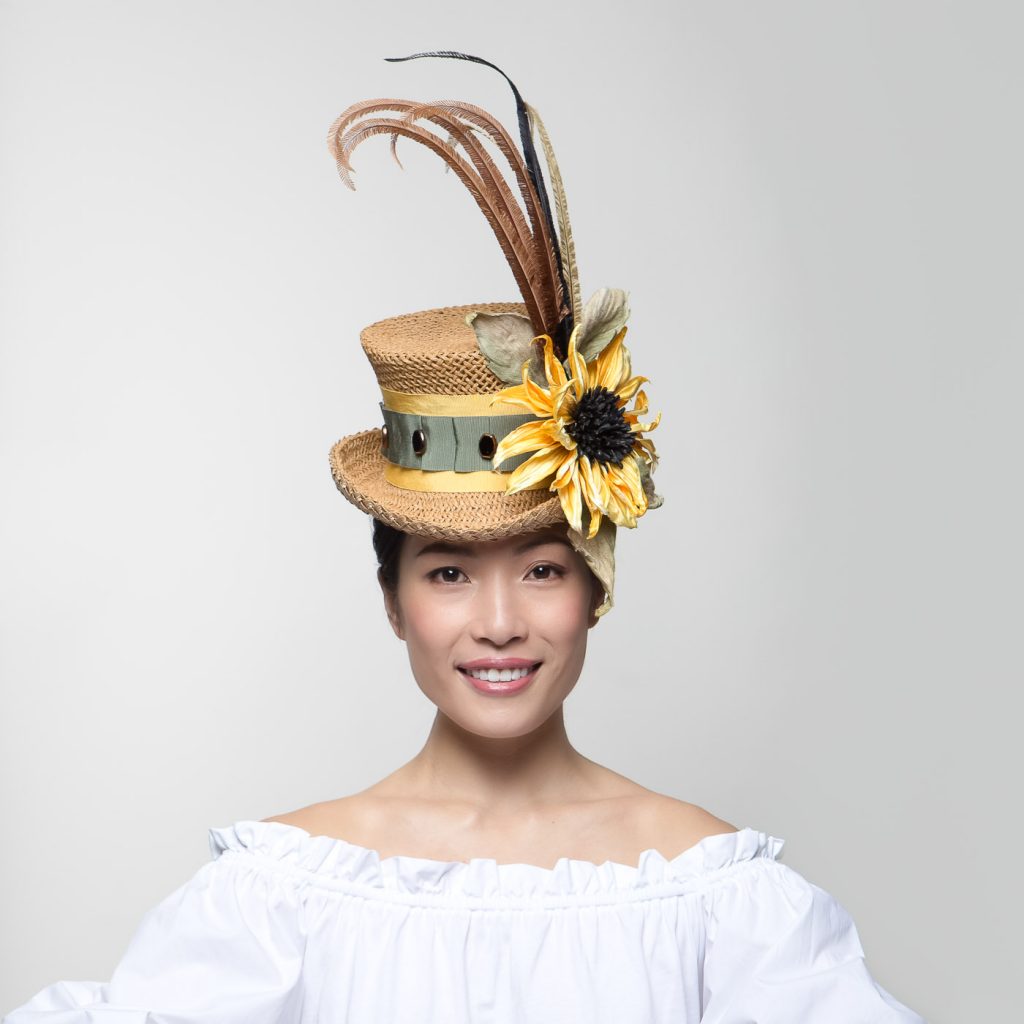 Oksana Caretti 'Sunflower Fields'
Sunflowers are my favourite flowers, they represent loyalty, strength and resilience. Russia and Ukraine always had the most beautiful sunflower fields and in 1996 American, Russian and Ukrainian officials planted sunflowers to mark Ukraine's complete nuclear disarmament. In the last 90 days Ukraine has been going through the most brutal unfair attack resulting in destroyed cities, lost lives, grief and pain. I wanted my hat to be a reminder of the lost counter balance between the 2 nations close to my heart, hoping they will be able to find the lost counter balance again and remembering that the only counter balance of war is death and the only counter balance of life is peace.
---
Felicity Northeast Millinery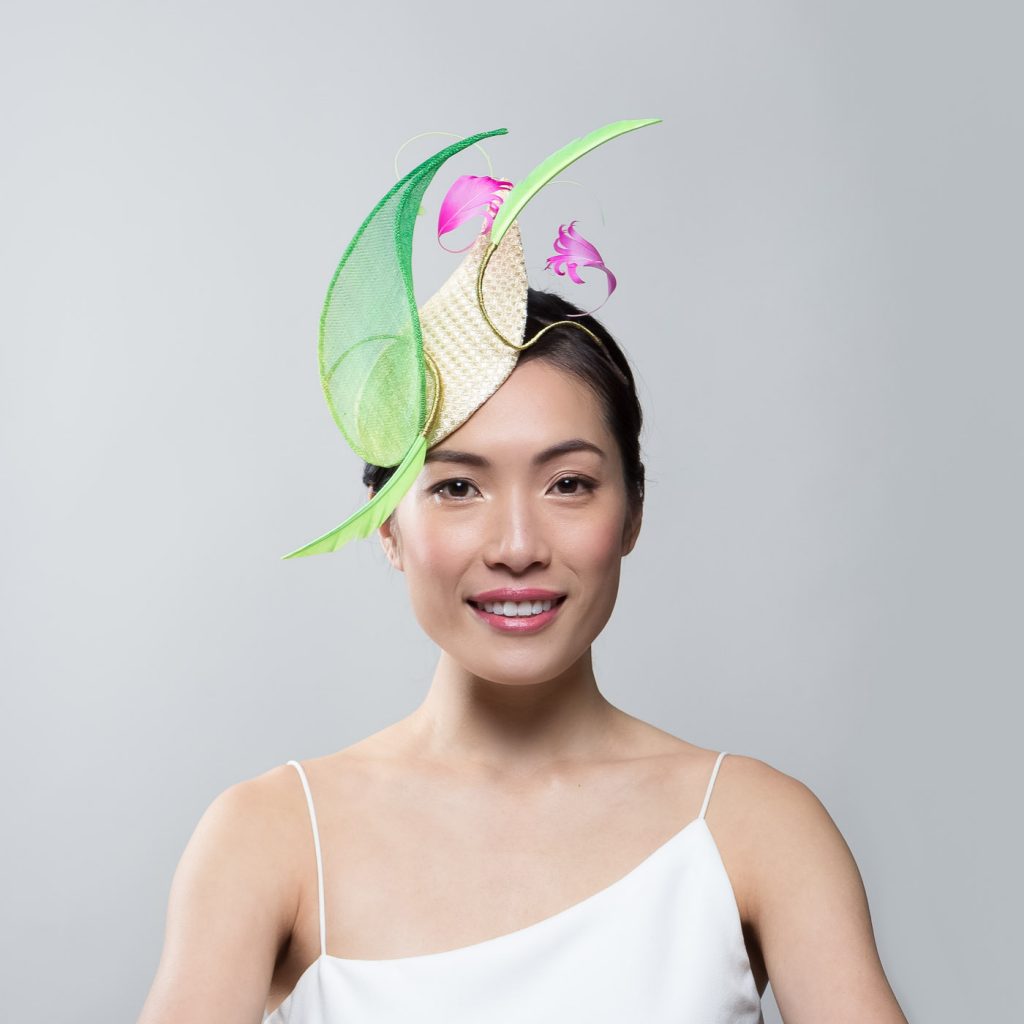 Felicity Northeast 'Same Same but Different'
This piece is a study in counterbalancing different traditional millinery materials. The gold teardrop; a metallic toned, solid material, with hard edges in contrast to the mirrored teardrop which is hand painted on a light, translucent natural material in variegated greens and finished with soft rolled edges. The theme continues with the feather techniques: sharp cut, bright hand dyed feathers with wired metallic stems vs soft whimsical hand painted feather swirls. The shapes within the pieces are designed to reflect the yin and yang symbol.
---
Hat and Crown Millinery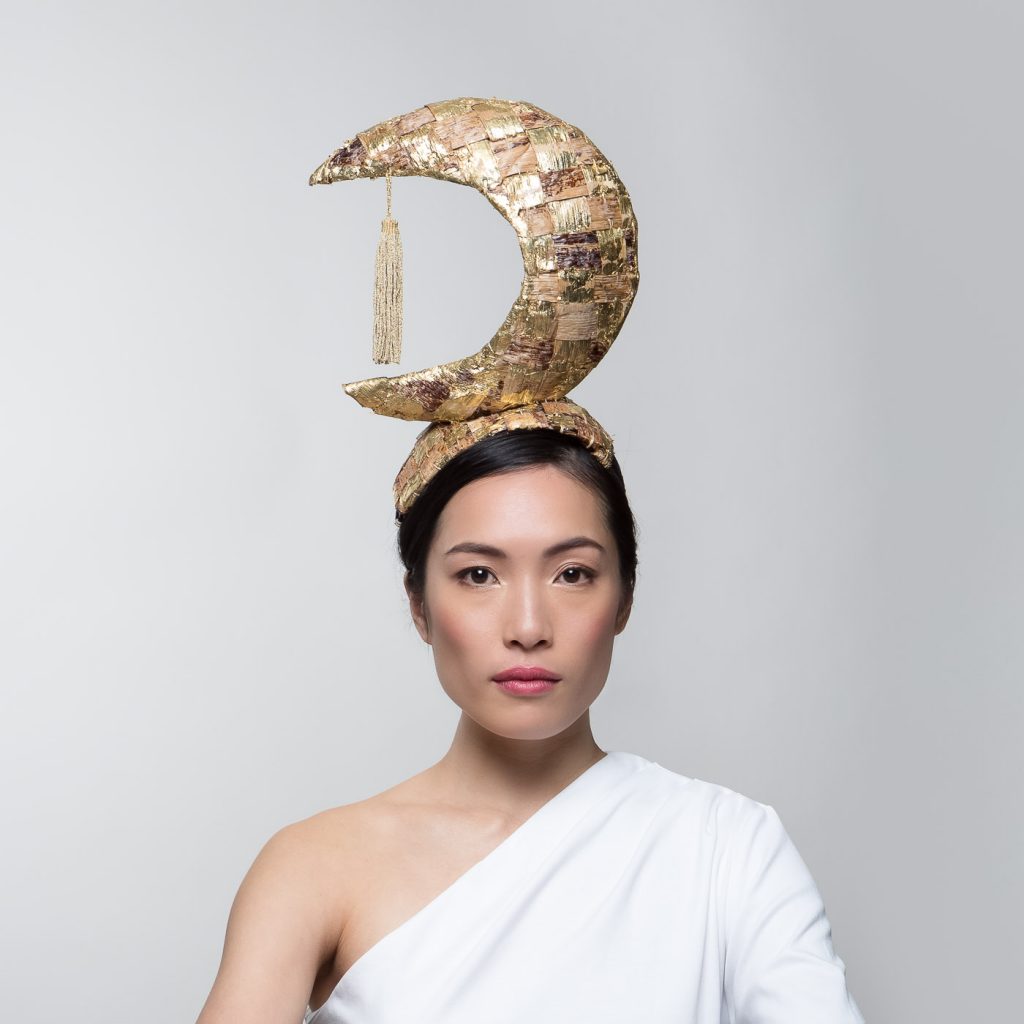 Joanne Phelan 'Cavendish'
And I think that the environment is one very strong way to counterbalance the chaotic nature of our life. (Minoru Yamasaki)
My piece represents the counterbalance of nature and industry. Nature is shown by shredding and then weaving dried banana trunks and industry represented by the use gold leaf and tassel. I have used traditional millinery techniques juxtaposed with the use of unusual materials… but still focusing on the feminine and wearability.
---
Morgan Millinery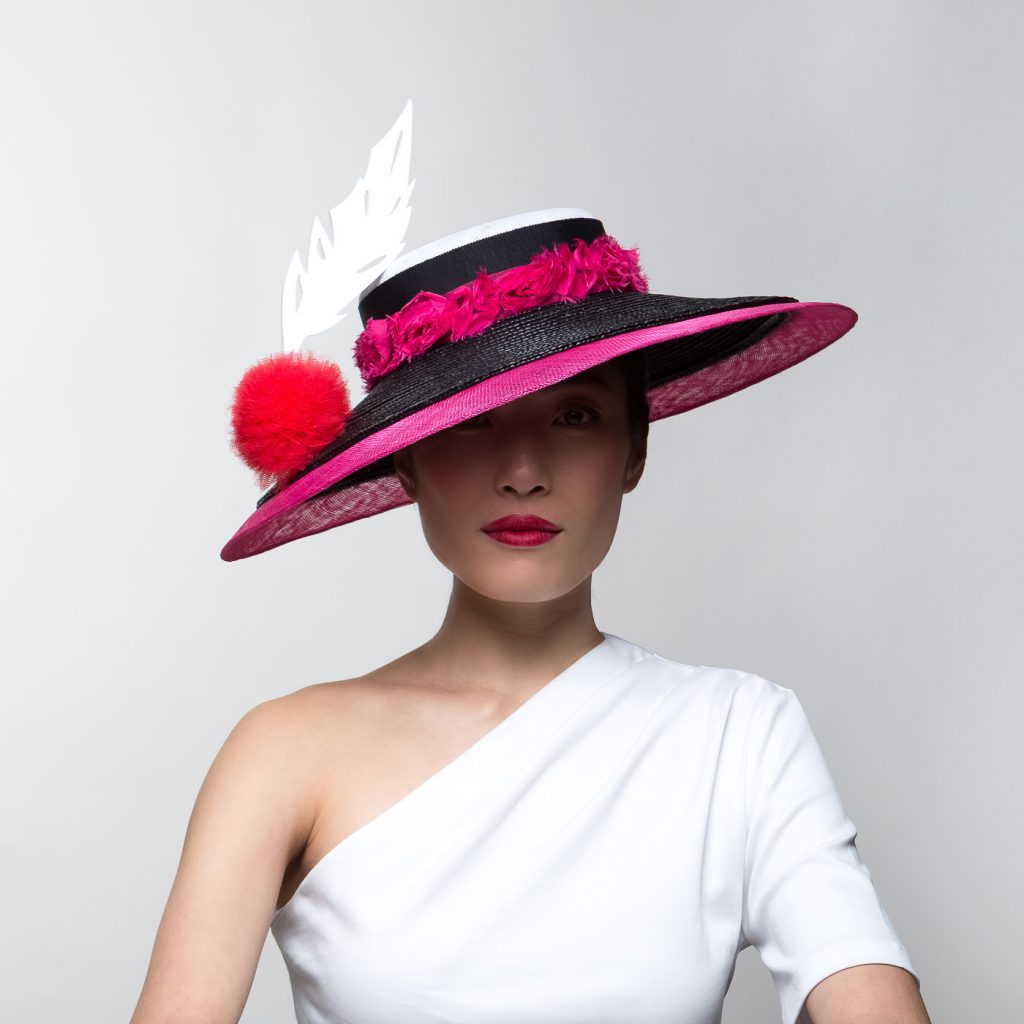 Alison Morgan 'Elizabeth'
My inspiration was to take a classical shaped hat and mix it up to be a counter balance using colour, texture and different levels of transparency. I wanted my hat design to be classical in shape, but also meet the theme of Counterbalance. As an example I chose a laser cut perspex feather as a counterbalance to a natural feather, but it also gave me the level of transparency I was after.
---
The House of Windsor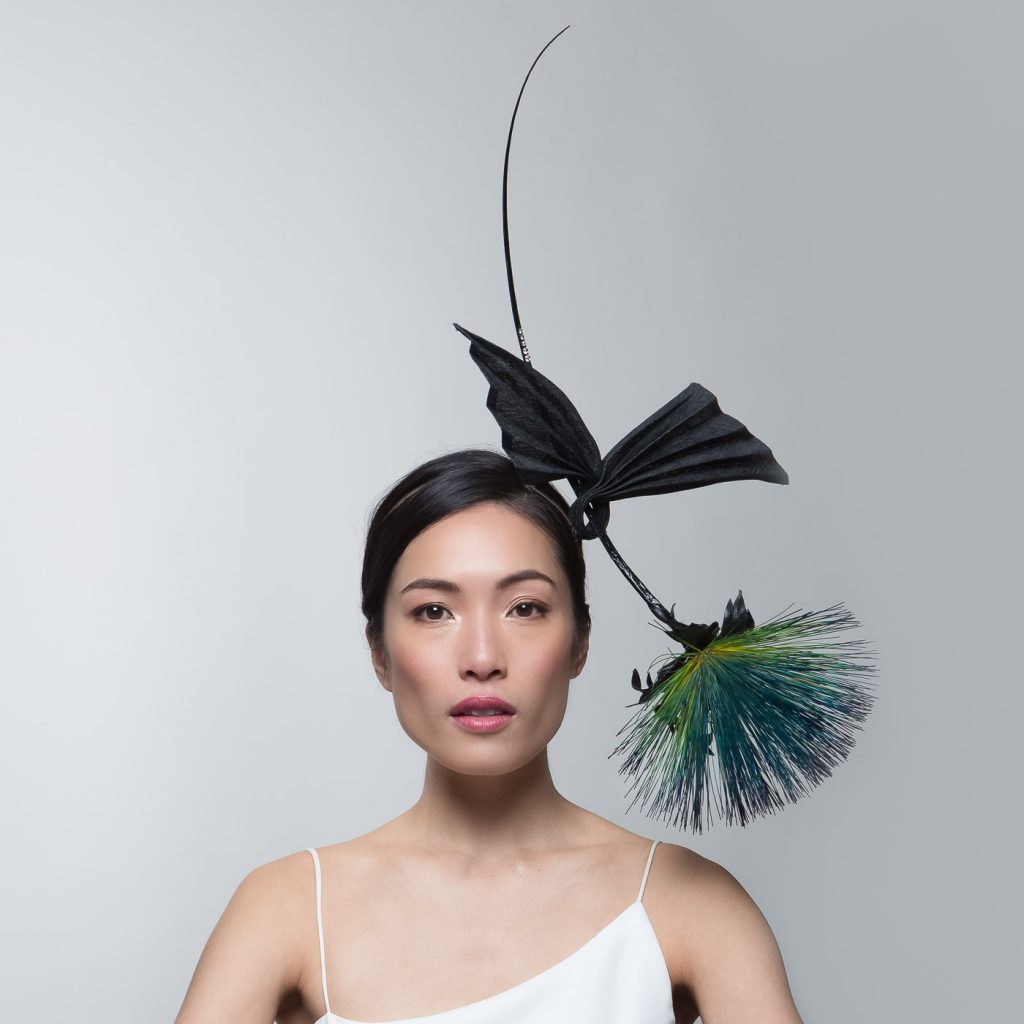 Brenda Wilson 'Nightbloom'
This idea is based around a dandelion flower but I have been inspired by the night time colours. The dandelion flower is a delicate balance of flower and stem which lends itself to the theme of "Counter Balance"
---
Sandy Aslett Milliner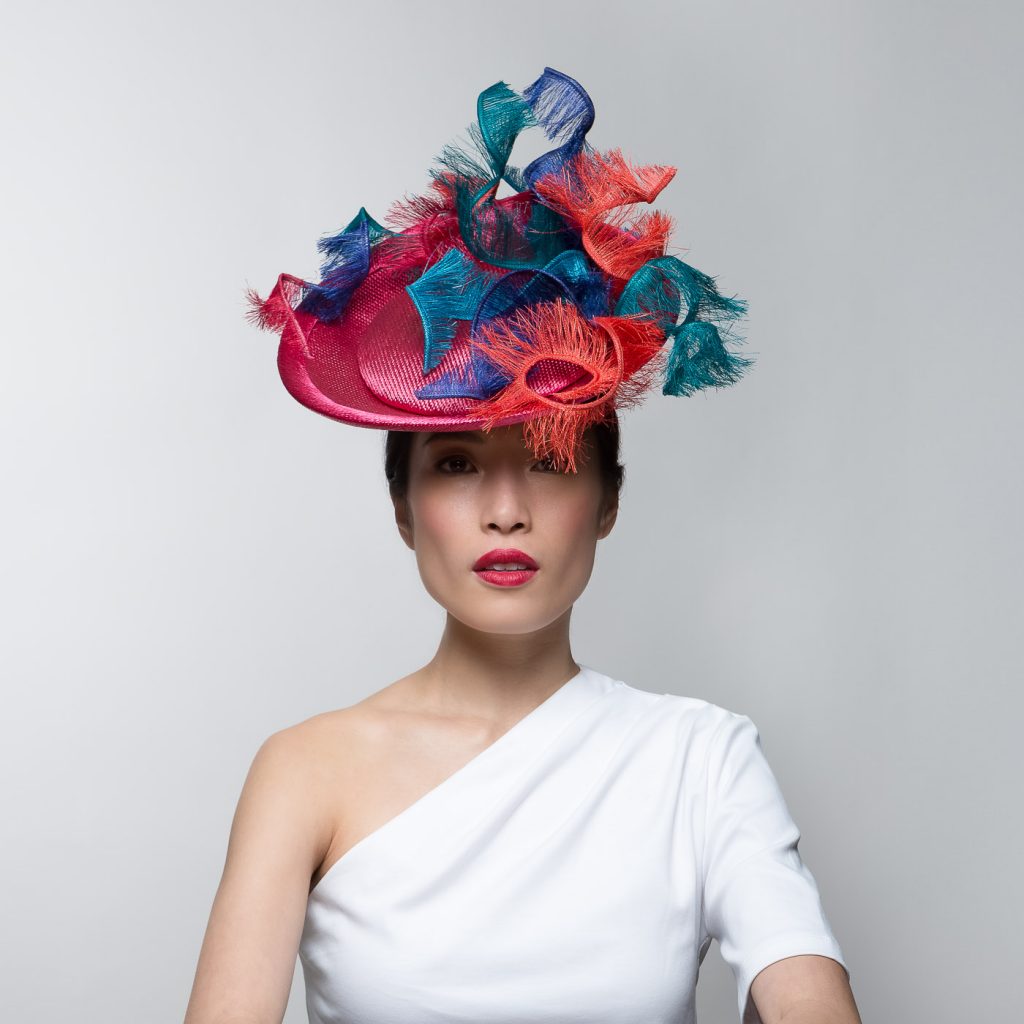 Sandy Aslett 'Equipoise'
Embrace an easy elegance centered around self-expression and individuality, and also defined by its versatility as saleable headwear. The opposing forces are equal and matched together to create a polished sheen on all materials used. Plus who doesn't love to introduce a splash of color with frayed edges of pinokpok to give a raw and somewhat ragged look to the design also counter balances the smooth surface and curves reflected on the upturned saucer, bandeau and base. Equipoise is easy to re-style in the trimming to portray another unique look.
---
Fiona Sullivan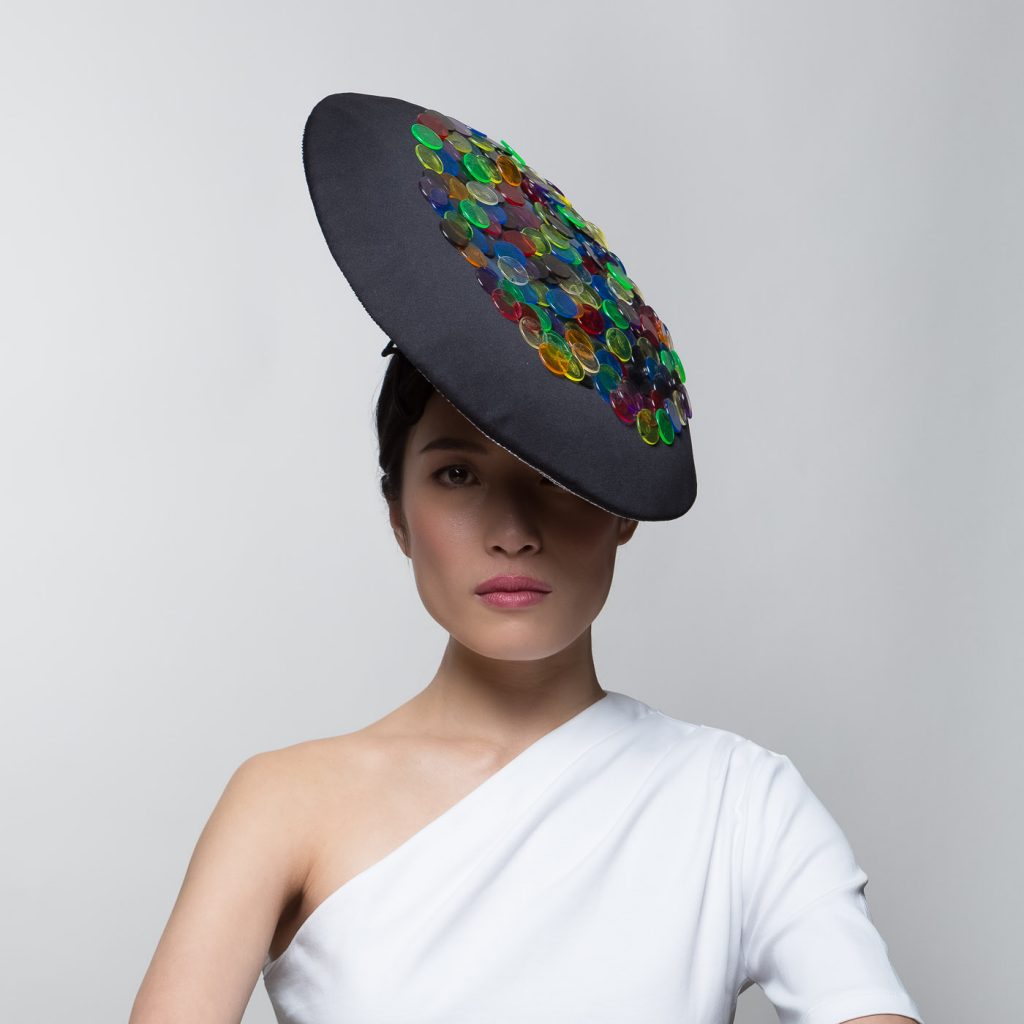 'Colourful Counters'
The 'Counter Balance' theme generated up quite a few thoughts in my mind from mathematical terms or to how it might relate to the world of Covid! I decided to lean towards using mathematical terms hence why I chose to incorporate maths counters into my design. I wanted my design to have a soft look, so I decided to make a fabric-covered fascinator hat using the technique of blocking materials then covering with fabric. To secure in place I used covered wire to hold in place on the head. The placement of the counters evolved from placing them on the fabric in different ways until I was happy with the overall placement and balance.
---
Phillip Rhodes Millinery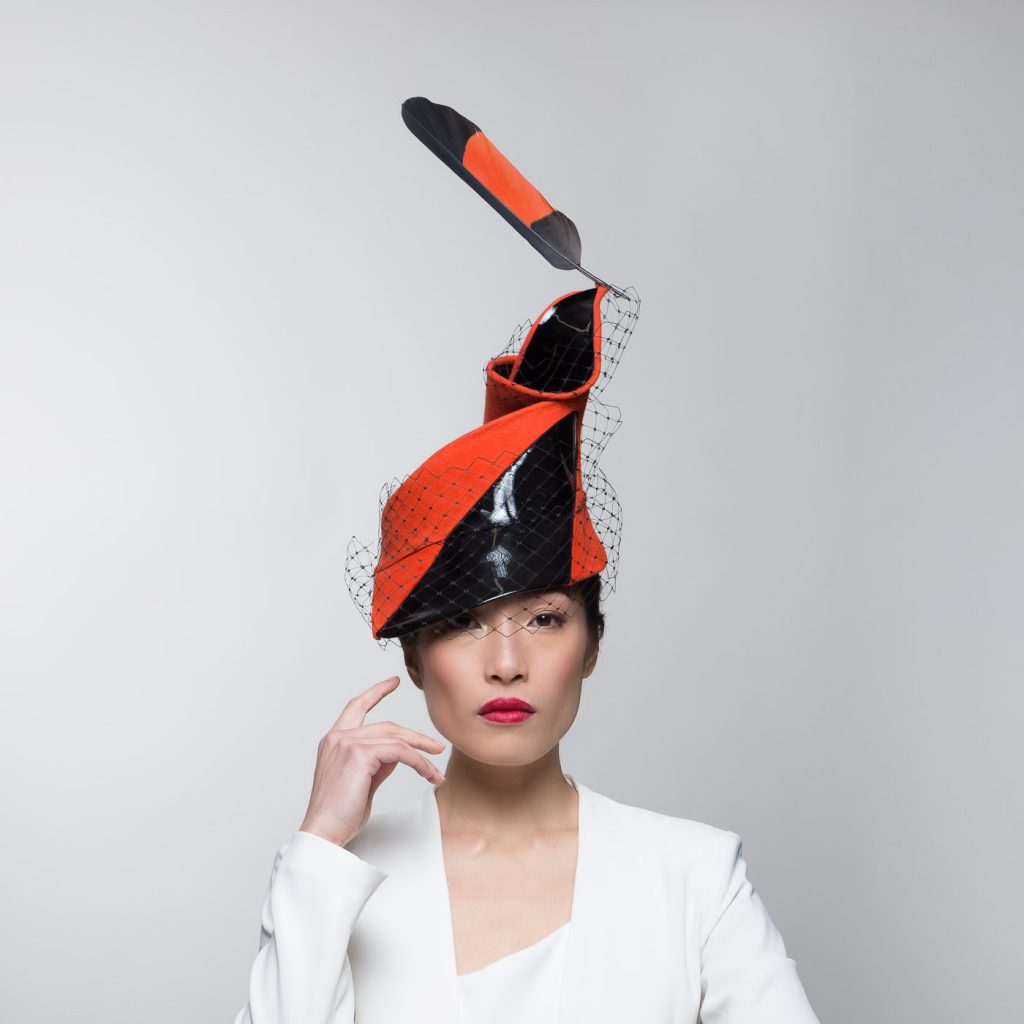 Phillip Rhodes 'Counterpoint/Counterbalance'
Modern times call for modern approaches.
---
Image Credits
Photo Production: Lisa Watt Productions
Photographer: Richard Shaw
Model: Finola Xie
HMUA: Amy Kenny
Sponsors
Thank you to the following sponsors for their support of the competition:
B-Unique Millinery, Best Western Motel Apollo Bay Motel & Apartments, Hatalk, Hat Atelier, Hat Blocks Australia, Hatlines, Hatters Millinery Supplies, Haute Dog Calendar, House of Adorn, Millinery Australia, Millinery.Info, Millinery Hub, Millinery Market, Hat Academy, The Fabric Store, The Hat Magazine, The Total Package, Yering Farm Wines.

Display Partners
We are pleased to share that the Top 10 will be displayed at Adelaide Hatters, Strand Hatters, Embellish Atelier, Brisbane Hatters and Avenell's of Bundaberg