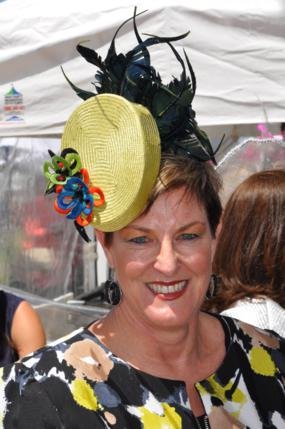 About Sandy Aslett.
The evolution of the "Hats by Sandy A" label has taken place in Sandy's tranquil studio in the foothills of Buderim on Queensland's Sunshine Coast, where attention to detail and high quality finish have become the benchmarks of her creations.
Sandy has a long history in the fashion industry and thrives on the challenge of creating a design to perfectly compliment her clients supplied garments.
Numerous "Fashion of the Field" wins and catwalk exposure at Mercedes Benz Fashion Festivals have ensured the "Hats by Sandy A" label will continue to evolve and grow.
A keen interest in traditional and vintage styles along with a passion for the latest trends ensures that her work is stylish and feminine.
Sandy has a thirst for knowledge and continues to study under some of Australia's top milliners while adding her signature touch to headwear that ranges from edgy and embellished to uncluttered and petite.
Sandy is available by appointment only M: 04000 22 303 or you can view her millinery designs at www.hatsbysandya.com.au
"Making Headlines Just for U"