In recognition of their outstanding contribution to millinery and
to the Millinery Association of Australia, a member is inducted into the Hall of Fame on an
annual basis. Prior to 2020, the Hall of Fame Award was bestowed every two years.
Our members are invited to submit nominations for Hall of Fame to the Committee for consideration.
---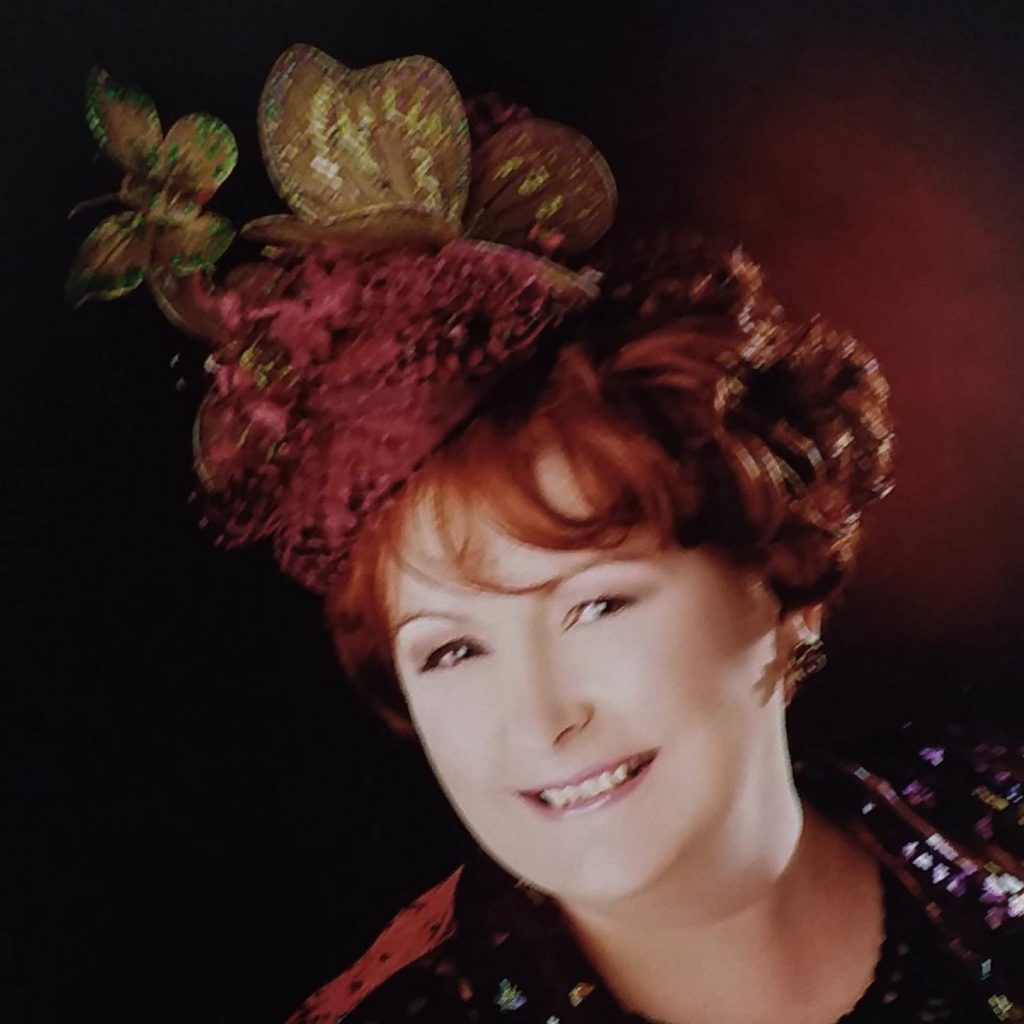 Michele Cameron has been heavily involved in millinery since taking her first classes in the late 1980s. Once hooked on millinery, she went on to teach at TAFE and was instrumental in creating their millinery syllabus.
She was on the original steering committee setting up the Melbourne Millinery Association in 1992 which then expanded into the national Millinery Association of Australia two years later. Michele has been a constant fellow member of the MAA, holding several committee positions including Public Officer for over 15 years until it was incorporated into the role of Secretary.
Michele trades as M & M Millinery; a result of partnering up in business with her long-time friend and mentor Mary Lock. When Mary passed away a few years ago, Michele honoured her memory by establishing our much-loved Mary Lock Encouragement Award for the student design competition.
During the Covid pandemic, Michele continued her millinery involvement by hosting both the Millinery Australia Local and International Stitch & Chat sessions, connecting milliners worldwide on Zoom. She has continued this connection post lockdown making hatty friends all over the world. And with Millinery Australia celebrating its 30th anniversary next year (2024) Michele is further involved joining the Archive Sub Committee who are tirelessly sifting through years of documents, reports and photos to compile material for posterity and future generations of Australian milliners.
Congratulations to the 2023 Hall of Fame Recipient – Michele Cameron.
---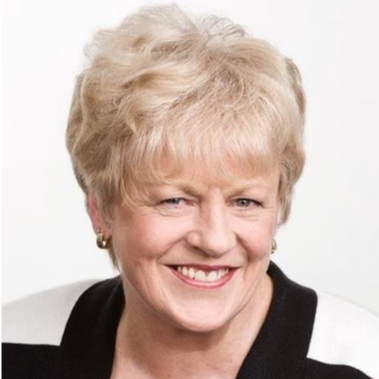 Lorraine Gill first became interested in hat making when she was designing dresses for bridal parties and mothers of the bride in Adelaide during the 1980's. Ladies were asking her to make bespoke headwear to be worn at these weddings, thus leading her to pursue her own millinery career.
She was first taught by Rick McGill at TAFE, currently milliner at the Sydney Opera and renown for the headwear in "Moulin Rouge" and "Star Wars" and has had tuition and mentoring from milliners such as Gwenda Baker of Adelaide, Jean Carroll of Sydney and Marie O'Regan of London. Lorraine then went on to become a millinery teacher herself commencing at TAFE SA in 1996.
She introduced the idea of bi-annual millinery conventions in Australia, with the very first "Hats Off to…" millinery convention in 2003. South Australia has also hosted "The Hats off to Adelaide" in 2005 and again in 2017 with other states staging conventions in between.
"The Hats off to…" conventions inspired the conception of the world events like International Millinery, Forum in Wagga Wagga, MIMC in Melbourne, the Millinery Meet-Up in USA and London Hat Week.
Lorraine has been making millinery for the past 30 years under her own millinery label "Lorraine Gill Creations". Her hats have enjoyed several placings in the top 10 in Melbourne Cup Fashions on the Field Millinery Awards and Hat Competition wins throughout the years.
She also has been an active member of the Millinery Australia Committee; participating in and organizing many events over the years, judging millinery entries at the annual Royal Adelaide Show, and running the millinery pop up shop "Studio Hats" along with other local milliners.
Lorraine Gill was inducted into the Millinery Association of Australia Hall of Fame in 2022.
---
Louise Macdonald
2021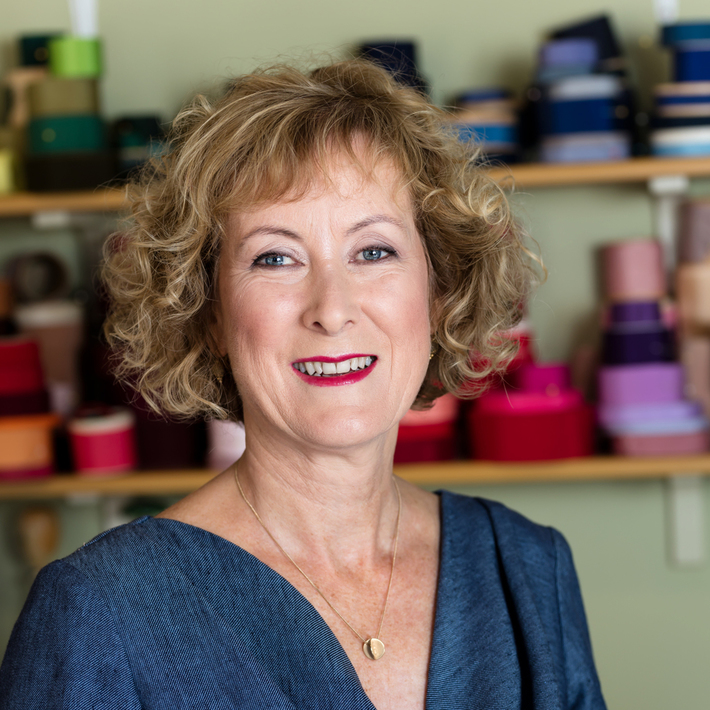 Louise Macdonald's millinery journey began in the UK in the early 1990s where she developed a passion to learn more about hat making and costume millinery at the Wimbledon School of Art. From there she gained employment with a period costume company in London creating set wardrobes for TV productions such as Pride & Prejudice and Persuasion and films including Howards End and The Remains of the Day. But after working in the UK for 5 years Louise returned to Australia and began her millinery business in the iconic Nicholas Building in Melbourne's CBD.
Louise has been a prolific teacher of millinery at her studio, at local colleges and universities and as well as hosting online workshops. She was influential in the creation of millinery.info which provides interviews and information for hat related events, alongside interesting insights into the millinery industry. She also initiated and contributed to the MAA Stitch and Chat group, not only for our members, but also to the international millinery community offering connection and support during various Covid-19 lockdowns around the world.
A credit to Louise's work came in 2016, when the National Gallery of Victoria purchased two of her pieces to be displayed at the 200 years of Australian fashion exhibition. Then earlier this year she was the recipient of a Silver Lord Mayors Commendation.
When the Millinery Association was just two years old in 1997, Louise became its Secretary. She then re-joined as a committee member in 2015 through to 2017 and now, in recognition of her contribution to millinery, she is the Millinery Association's Hall of Fame inductee for 2021.
---
Phillip Rhodes
2020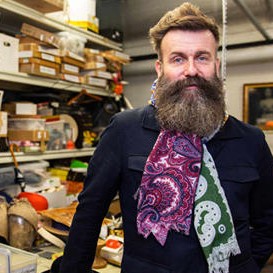 Phillip Rhodes first became interested in hat making at the tender age of 5 but didn't actually think of it as an independent career until he was employed in the traditional millinery workrooms of William Beale (Mr Individual Hats) in Melbourne in the 1980s.
His career in the hat world has seen him work both here in Australia and in the UK. In London he worked in theatre, films and television as well as in high end fashion and back in Australia he held the position of Head Milliner with the Australian Ballet and is currently working with the Melbourne Theatre Company and Victorian Opera.
Phillip has addressed gallery openings, charity events and been interviewed on radio. His work has been exhibited at the V&A Museum in London and is also held in the permanent collection of the National Gallery of Victoria. Images of Phillip's designs have been featured in Australian Vogue, Harper's Bazaar and Marie Claire and he has had a close association with Myer, David Jones and the Victorian Racing Club. He also caters for private clientele from his Melbourne workrooms.
Phillip has taught millinery extensively throughout the last decade, in addition to eight years as a at RMIT in their Bachelor of Design (Fashion) course.
He has been an active member of the Millinery Association of Australia since its inception in 1995. He was President in 2014 and again in 2015 and was inducted into the Hall of Fame in 2020.
---
Rose Hudson
2019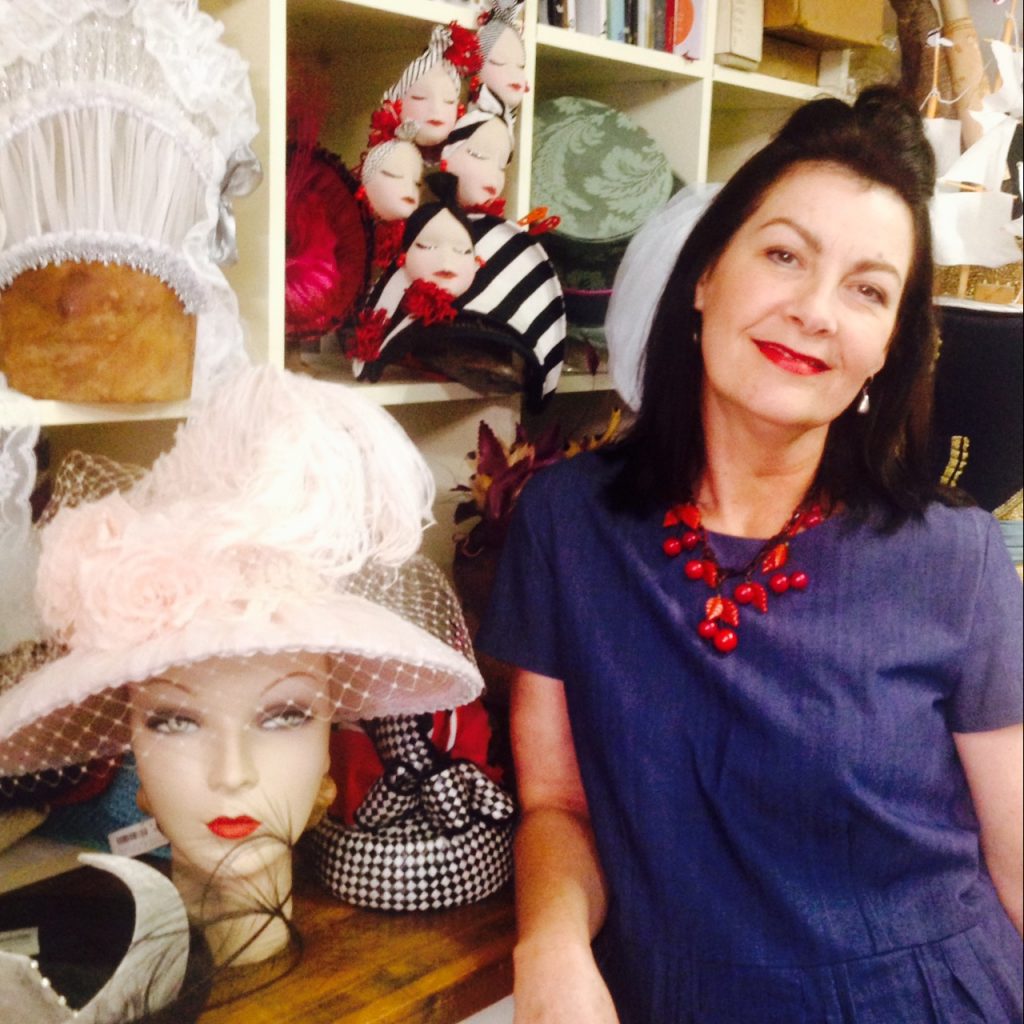 Rose Hudson began working as a milliner in 1979 and millinery has been her career ever since. A career that started as a trainee on the workroom floor and then rising up to become head of that very same workroom.
Rose's career has seen her dedicate many years to teaching and she has worked in theatre and has made hats and headwear for television and movies. She currently wears three hats however, in that she works as a freelance theatrical milliner, co-runs a millinery business and continues to teach millinery.
Rose was there 25 years ago, in 1993 as part of consultation committee when the Millinery Association was formed. She was President of the Millinery Association in 2017 and 2018 and inducted into the Hall of Fame in 2019.
She continues to be actively involved in the millinery community around Australia and is often invited to attend and teach at millinery events locally and overseas.
---
Elaine Mergard
2017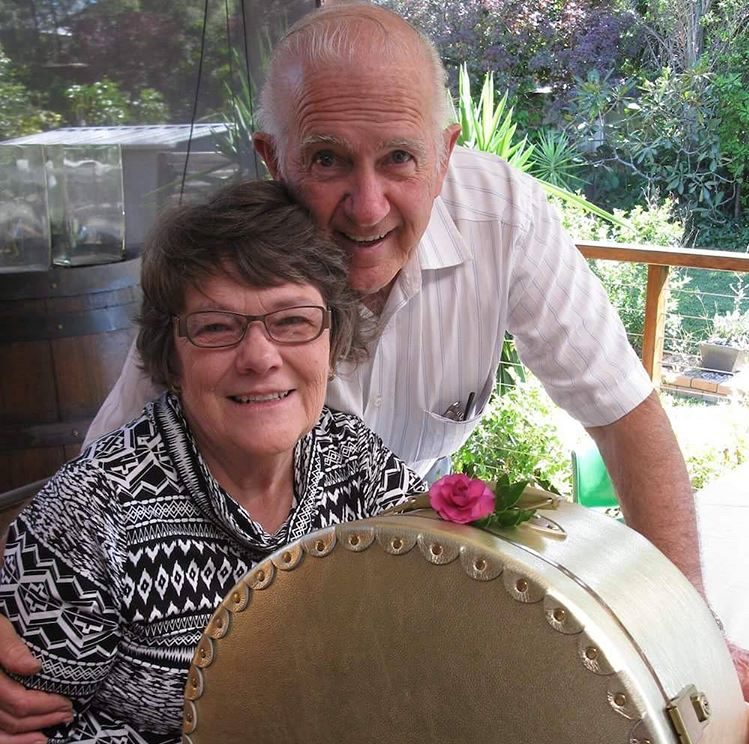 As a teenager growing up in the 1960s wearing hats was part of Elaine Megard's life. She loved wearing hats to church and to family weddings. During her training as a Home Economics teacher the subject of millinery was a requisite and it gave students the opportunity to style hats to co-ordinate with what was being taught in both dressmaking and tailoring classes.
In 1966, at the age of 20 and after making her first hat just 2 years earlier, Elaine commenced teaching millinery with Adult Education in Brisbane. In later years she went on to teach at TAFE colleges in Central Queensland and Sunshine Coast, at USQ and at the Queensland Museum during the 1980's and 1990's.
Elaine established Hat Academy and launched the website in 2012 with the help of her husband and son. Her goal for Hat Academy was to allow access to millinery education for those who were unable to access traditional TAFE training due to distance or time restraints. In her retirement she remains passionate about teaching millinery online to a younger generation so that heritage skills and tricks of the trade won't be lost forever.
Elaine was inducted into the MAA Hall of Fame in 2017.
---
Marea Bright
2015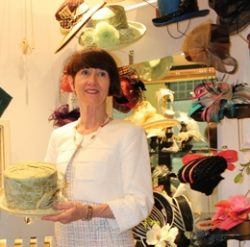 Hats have long been associated with the horse racing industry, so it's hardly surprising to learn that Marea is the fourth generation of a racing family. Her great-grandfather, Samuel Davis, rode Lantern to victory in the 1864 Melbourne Cup, her grandfather trained horses and her father and brother were jockeys. Marea also trained as a jockey and says it gave her a huge respect for the art of controlling a horse.
What she really wanted, however, was to take the reins of her own business, so in 1964 she started making hats. "My mother and I used to go to milliner's studios when we came to Melbourne when I was a child." I knew when I grew up I wanted to make hats and that's just what I did."
Fifty-five years later she's still making hats and has even made two handbags for the Queen when she was sought out by the Queen's then milliner Frederick Fox. "It was very exciting the day I saw a photograph of the Queen carrying my handbag."
Marea is a qualified milliner with a Diploma of Millinery and Design and she prides herself in the longstanding relationships that she has built and maintained during her extensive career.
Marea was inducted into the MAA Hall of Fame in 2015.
---
Waltraud Reiner
2013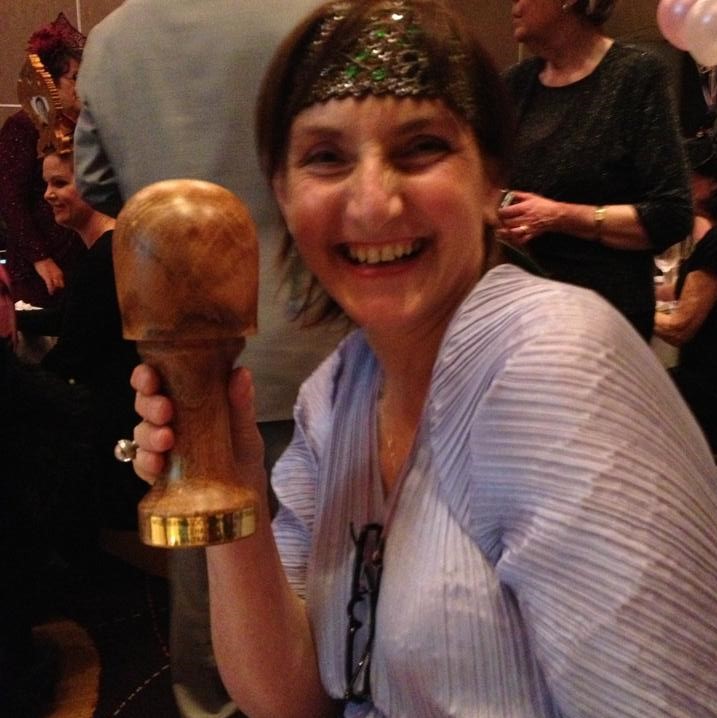 Waltraud Reiner has been working in millinery for over 30 years. She started out in Melbourne in the early 90's where she founded the Melbourne School of Millinery which she ran for many years and she was part of a team responsible for developing the core of the Cert II, III and IV courses in Millinery.
Torb & Reiner millinery suppliers was established by Waltraud in 2001, at first to provide a greater range of supplies to the students at the Melbourne School of Millinery, but then to the wider millinery community. She expanded the business to incorporate made-to-measure services and millinery workshops but sold it in 2016 to concentrate on other endevours.
Waltraud has been an advocate for emotional and mental well-being for many years and she uses hat making and weaving to support people. She conducts hat-making workshops throughout Melbourne, across Victoria and out to the far reaches of Australia in the 'Hatmobile' as an ongoing project addressing mental illness and encouraging conversation on the subject.
At present Waltraud is in her 3rd year of a psychotherapist masters degree.
---
Jean Carroll
2011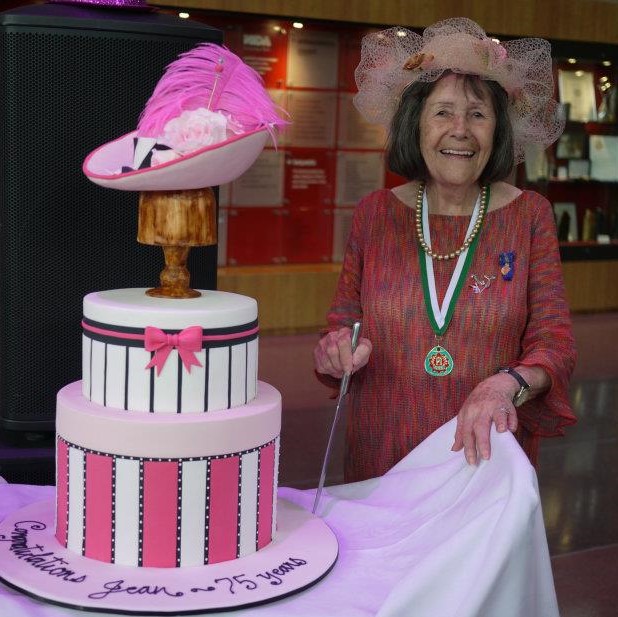 Jean Carroll was born in 1923 in Ryde, NSW. She started work as an apprentice milliner with Moray Millinery before she was 14 and didn't retire until the ripe old age of 89. Her first job was sewing in headbands, rolling up ribbons and veiling and running messages. The strict work environment allowed no talking!
She continued to make fashion hats until the mid-1960s, when hats lost their appeal. Women were no longer required to wear hats in church, so the once thriving industry went into rapid decline. Instead of giving up, as many milliners did, Jean simply changed careers within the industry and became a theatrical milliner, working in theatre, television, films and opera. She also shared her vast millinery knowledge with students from NIDA, TAFE NSW, the Australian Forum for Textile Artists (TAFTA), Fibre Forum, the International Millinery Forum and the "Hat's Off" Millinery conventions as well as teaching privately.
In 2006, Jean Carroll was awarded an Order of Australia medal for services to millinery and teaching and in 2011 she was inducted into the Millinery Association of Australia's Millinery Hall of Fame.
---
Gwenda Baker
2009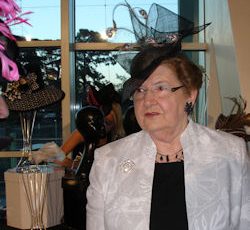 During World War II Gwenda left school at the age of 14. She was required to report to the Manpower Office and was allocated to G & R Wills to make gloves for the Forces. It is of interest that millinery didn't come under Manpower restrictions as the girls who worked there during the war were considered to be helping the war effort by making hats to keep up the morale of the women while their husbands and sweethearts were at war. Gwenda had always been interested in all aspects of fashion and when WWII ended, she began her chosen profession with a four year apprenticeship at JW Richmonds Millinery Warehouse in Gawler Place, Adelaide.
In 1954 Gwenda took six months leave to sail to England. She went to Luton, to visit the 'Home of Millinery' and was given a guided tour of the factory – a highlight of her trip. After 14 years at JW Richmonds, by which time Gwenda was involved with model millinery, she was invited to be in charge of the model workroom at Miller Andersons, a major department store at that time and made many exclusive creations for the women of Adelaide. While still at Miller Andersons, Gwenda was offered a millinery lecturing position at the Institute of Technology in Adelaide. It was a time when well-dressed ladies would not leave the house without a hat and gloves. Gwenda taught millinery and French flower making for 30 years ending her teaching career in 1992. She taught many students the art of millinery, several of whom went on to become lecturers themselves.
Now in her nineties, Gwenda is still passionate about the Art of Millinery and has been heartened that hats have recently made a resurgence, acknowledging the milliners of today for their inspired creations. The millinery world is her great love and she was both honoured and humbled to be inducted into the Millinery Hall of Fame in 2009.
---
Peter Jago
2007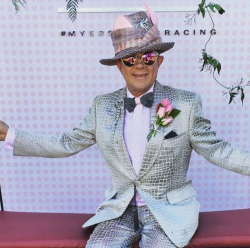 Peter Jago's entry into millinery was at the young age of seven when he helped his father make a Mad Hatter's top hat. Then later, at boarding school, wearing a boater as part of the daily uniform awakened his understanding of the functionality of hats.
The inspiration for his designs has always been Australian flora and fauna as well as his background in Papua New Guinea and its bird of paradise and native headdresses which have also always been a passion of Peter.
Once back in Melbourne, he was delighted to find antique markets full of millinery materials. He was a keen collector and designer and eventually applied for the position of assistant head milliner to Vera Gollige in the Australian Opera Wardrobe department. The prestige of the wardrobe was highly acclaimed due to the presence of its star, Dame Joan Sutherland.
Over the years, Peter has designed for the theatre, films, television, opera, ballet, and stage productions for people with special needs. He becomes animated with a glint in his eye when reminiscing about millinery and was inducted in to the Hall of Fame in 2007.
---
Mary Lock
2004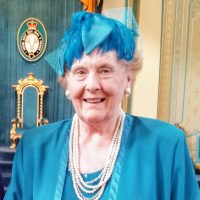 In January 1945 Mary was studying art and architecture at RMIT. WWII would soon be coming to an end and her mother felt that once servicemen returned home it would be difficult for women to gain employment or continue with further education. So, much to her consternation, Mary's mother arranged for her to start a millinery apprenticeship just before her sixteenth birthday.
Mary commenced her apprenticeship at an exclusive millinery salon in Melbourne's Royal Arcade. She worked under Miss Cravatt for 5 years learning her trade and afterwards sought employment in the millinery department at Buckley & Nunn. She worked there for 10yrs, not only making model hats, but also theatrical headwear for the principles at Her Majesty's Theatre.
After leaving Buckley & Nunn, Mary ran her own salon in Coburg and later went on to teach millinery at Emily McPherson College. She subsequently taught millinery at RMIT, Melbourne College of Textiles, Broadmeadows TAFE and from 1991 – 2018 was a senior partner of M & M Millinery.
During the early 90's Mary was a strong supporter of, and advocate to, Tanya Robinson (one of her students) in her efforts to start a local millinery association. Once established Mary attended all association events and particularly enjoyed mentoring students and new members.
The 'Mary Lock Encouragement Award' was established in her name and is awarded to an outstanding student each year as part of the MAA Student Design Award.
Mary was inducted into the MAA Hall of Fame in 2004.
Sadly, she passed away in April 2018 at the age of 89.
---
---
---