The Lillian Frank Myer Millinery Award was founded in 2006 and is a centre point for racewear millinery around the world. Hosted as part of the VRC Melbourne Cup Carnival, milliners are invited to showcase their skills through an open brief. In 2022 Millinery Australia is proud to showcase the work of members who entered the competition.
The competition was judged by a panel of experts that included milliner Stephen Jones OBE, Millinery Australia President Lauren RItchie and 2021 Millinery Award Winner Belinda Osborne.
---
Helen Wilkinson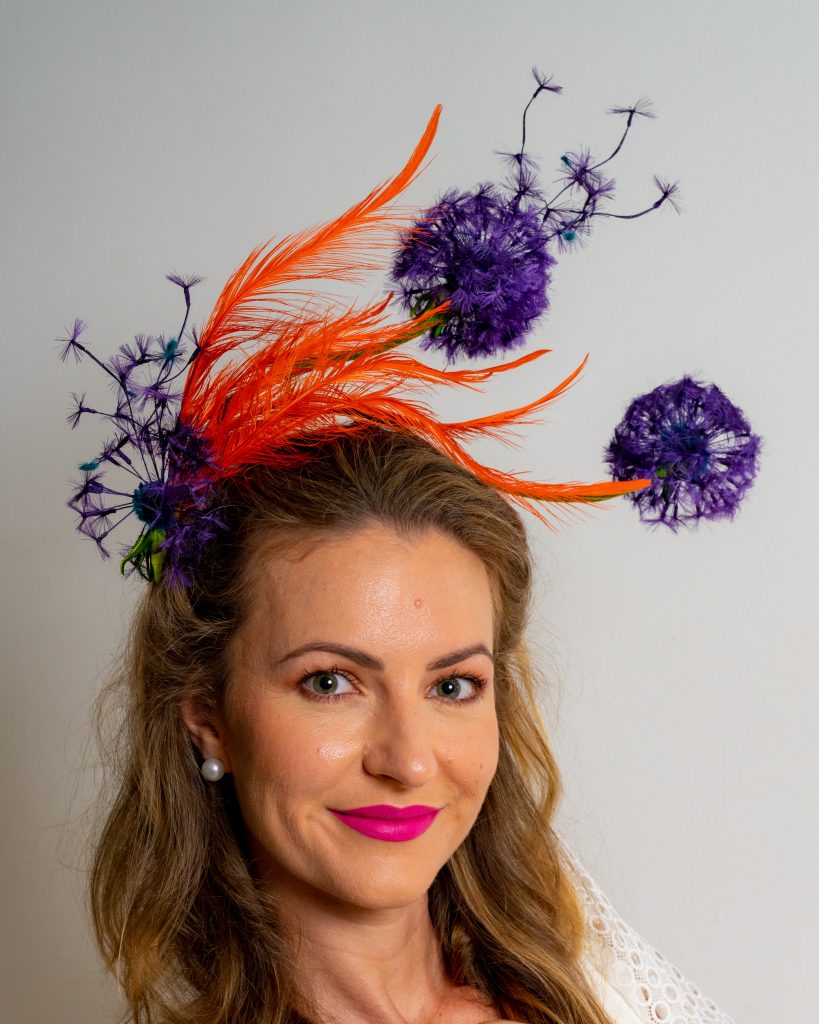 Helen Rose Millinery Whimsical dandelions
My inspiration for this piece begun with a passion for nature, it's all about wind and weeds. Wind represents change, especially in the tropics where I live, when the wind kicks up then there's usually a very big storm to follow creating change.
For the past 18 months I have suffered with a chronic back injury which caused me to only be able to sit for about 10mins at a time, this stopped me from creating millinery. A slow recovery has finally allowed me to start creating again and so I'm very excited to submit this piece into the 2022 Myer Fashions on the Field Lillian Frame AM MBE Millinery Award with Change as my main inspiration.
The challenge of the piece was to create movement representing wind allowing the seeds to fly.
There's hundreds of individual seeds created from Japanese silk that I dyed, cut, frayed and wound onto tiny little bits of wire.
The barbs of the feathers were purposefully separated to allow a rustic windy appeal for movement.
Brea Moreland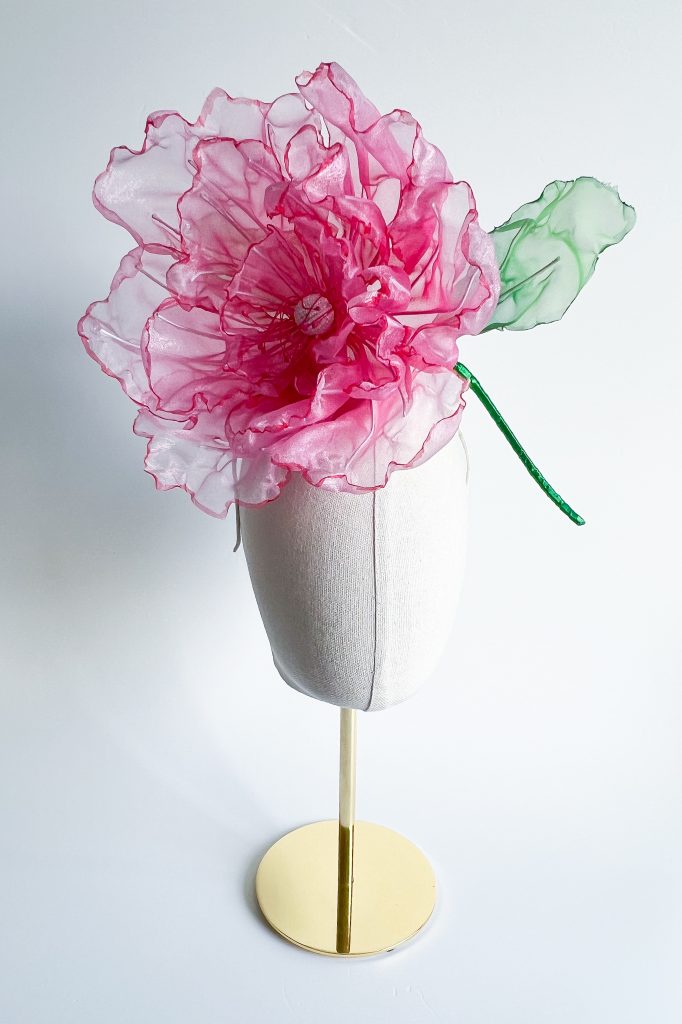 Brea Melissa Millinery In Search
My entry was about exploring new techniques and materials in millinery rather than the actual design itself. A few of the avenues I went down were; resin manipulation, silver-smithing and PVA-dipped wired flowers.
I also thought about using cooked rice paper, I like how it almost takes on the form of a rose petal when it bubbles up. But, I realised this option may be susceptible to bad weather?!
I remembered I once tried to make ribbon hair clips… impatience led to the polyester fibres bubbling up similarly to the effect of the cooked rice paper.
Pairing that and the inspiration I'd taken from seeing numerous large flowers on social media recently, my concept grew from there.
Possum Ball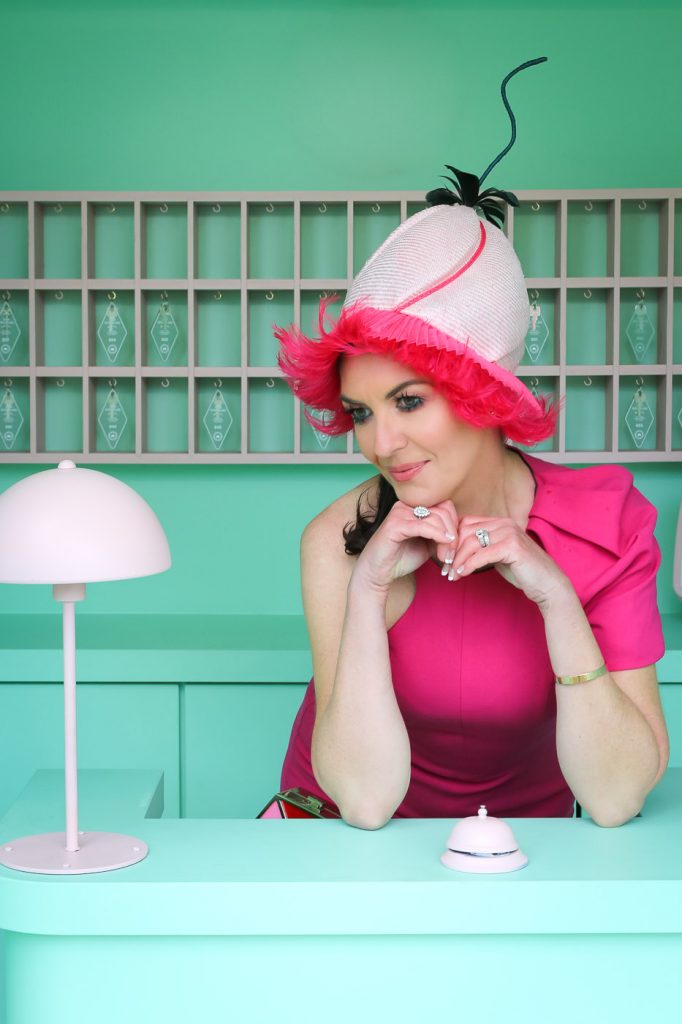 Possum Ball Millinery Rose Bud
Introducing Rose Bud, my entry into the 2022 VRC Myer Fashions on the Field Lillian Frank AM MBE Millinery Award.
The vision of a Rose Bud opening up is one of the most magical signs that Spring has arrived.
Of course Flemington Racecourse is as famous for its roses as it is for fashion and the Race That Stops a Nation, so I didn't have to look too far when researching a theme for my entry.
With the VRC encouraging sustainability to be a consideration for all entrants my piece was made entirely from materials purchased on the milliners marketplace, no new materials were used in the creation of my design.
"Have patience little Rose Bud for your bloom has just begun."
Tammy Gill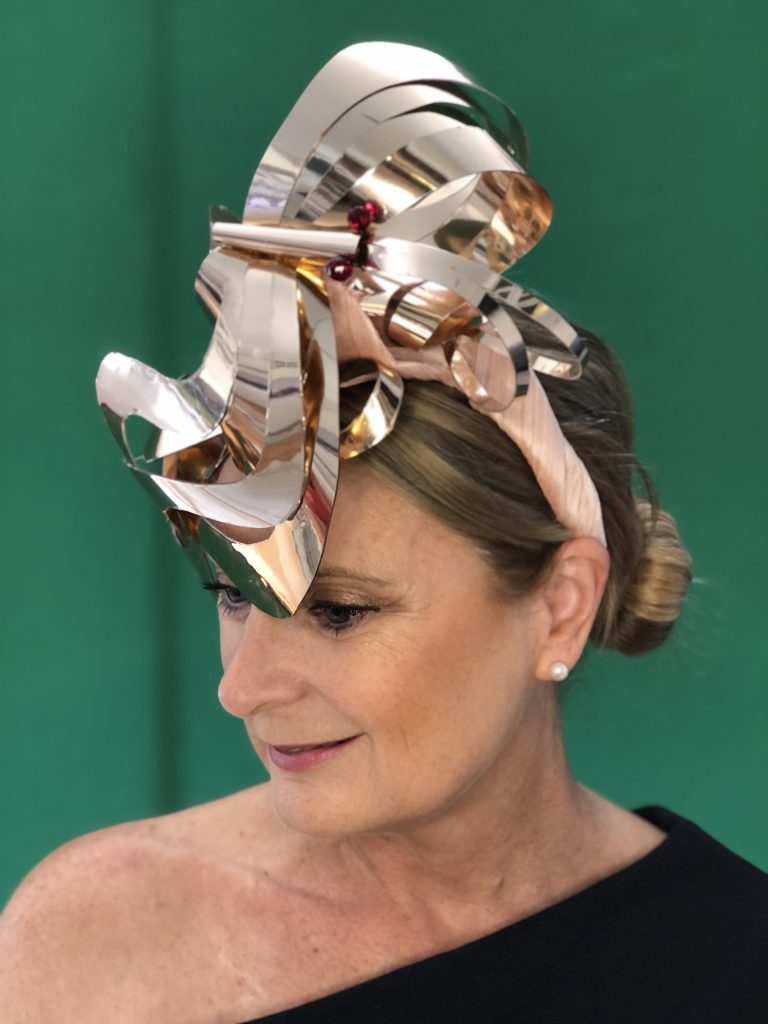 Tammy Gill Design Metamorphosis
My inspiration comes from the process of Metamorphosis and the work of Dutch fashion designer, Iris Van Herpen who also trained as an architect. My headpiece is constructed of PVC, gold vinyl and silk abaca with the concept being taken from the metamorphic phase of a caterpillar transitioning into a young butterfly and finding their wings. The materials i have chosen are contemporary light and flexible. The Cricut vinyl allows me to create patterns and shapes while retaining the integrity of the material and reinforce the sculptural qualities. I have chosen rose gold vinyl as it is metallic mimicking the variations of colour which you see in nature. It allows reflections of light which is a reference to the multi coloured qualities of the butterfly wings.
Lisa Watt
Lisa Hughes Millinery Elevate
I can often overthink designs, but not this year. Minimal materials, bold lines and a beautiful human wearing it, that was my goal.
I wanted reflect the joy of wearing something that uplifts you and makes you feel good in your own skin.
Georgia Skelton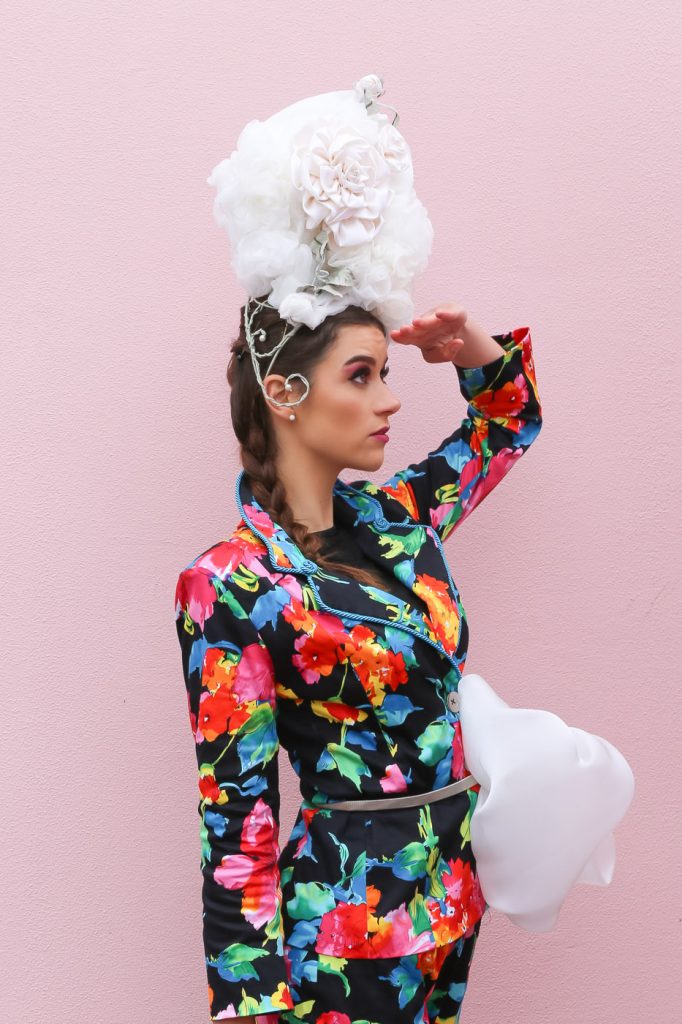 Georgia Skelton Millinery Antoinette
My inspiration for this piece was primarily Marie Antoinette and the hairstyles of the 18th Century. To develop this piece, I sourced fabric across several months from the recycle drawer at The Embroiderers Guild Victoria, with whom I am an active volunteer.
As an accessory to the piece, I made hand-held sunglasses using recycled glasses and a broken decorative chop stick and crochet.
I thoroughly enjoyed making this sustainable piece, which will be part of my exhibition in 2023.
Jo Peterson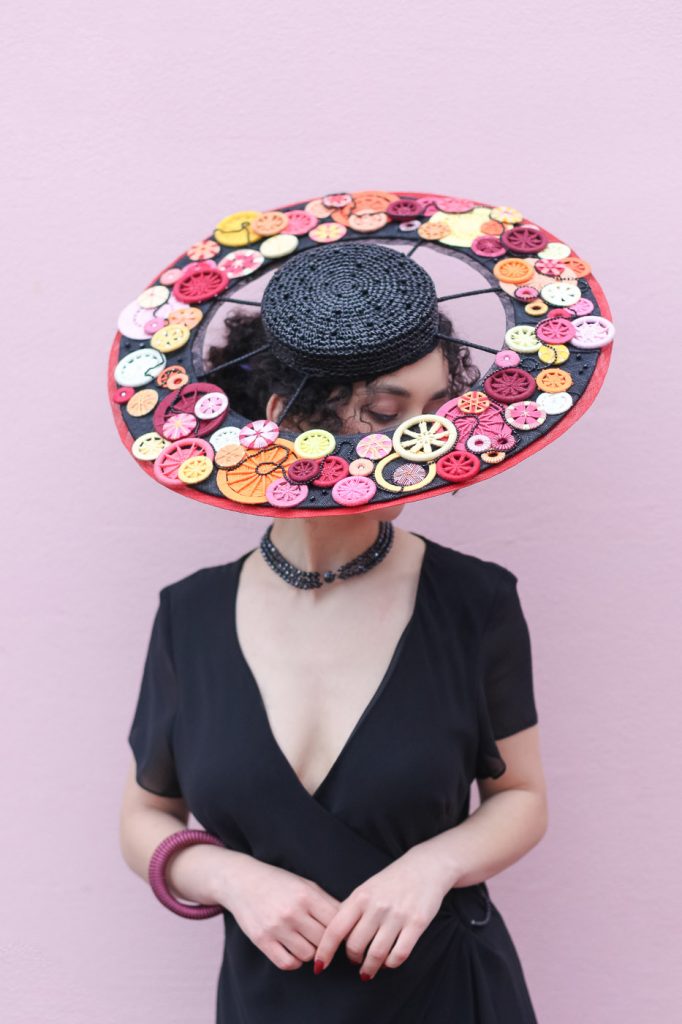 Jo Maree Millinery The Road Map Out
Leteisha Knecht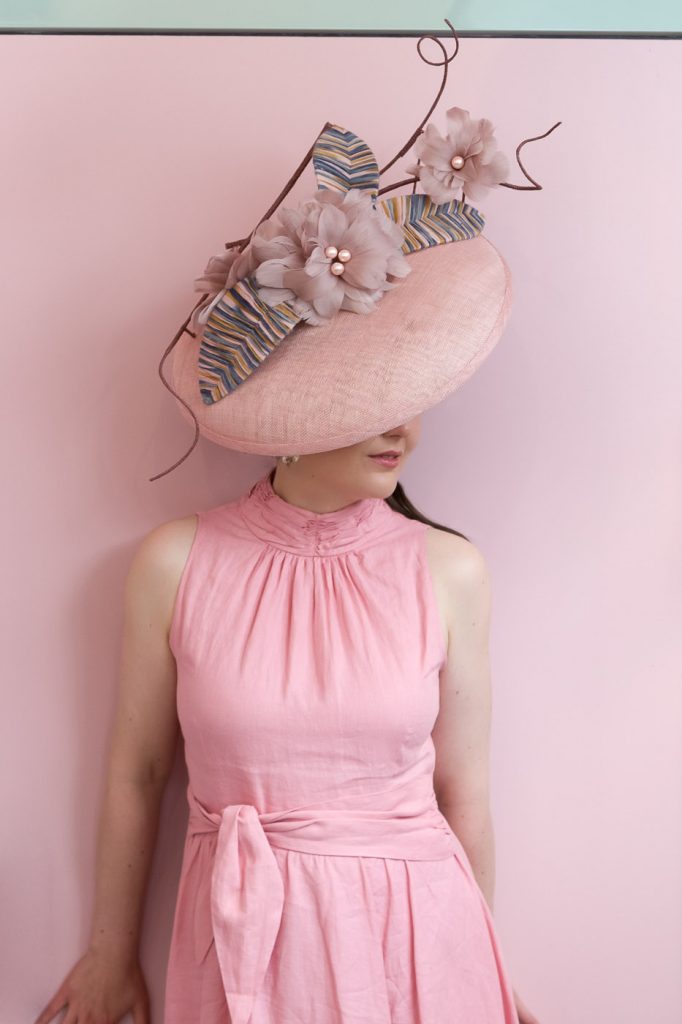 Leteisha Knecht Millinery Everlasting Blossom
Everlasting Blossom, inspired by the Dior big brim hats meets springtime with the florals of nature, taking a classic look into the modern world of fashion.
Felicity Northeast
Felicity Northeast Millinery Interlocked
The raw materials are often my source of millinery inspiration. Take the anatomy of the feather. The blade of the feather is made up multiple interlocking barbs. With this headpiece I wanted to explore other ways feathers could interlock and create geometric patterns. It's the Melbourne Cup so a splash of colour is required too. Made from turkey feathers a bioproduct from other industries..
Fiona Cooper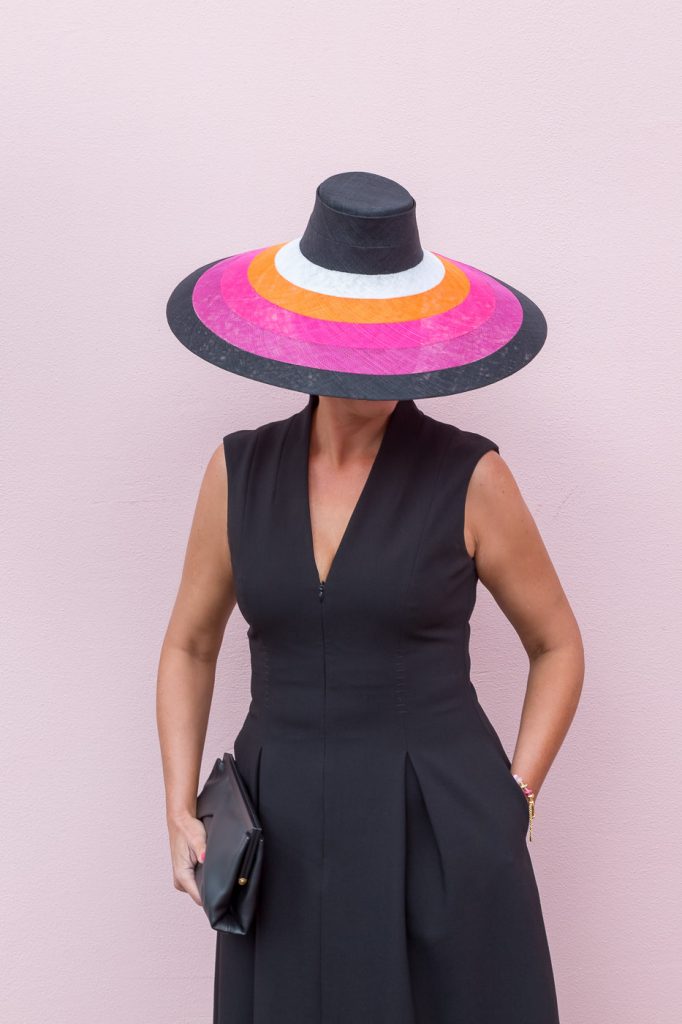 Millinery Laa Laa My Time
I called the hat I created for the 2022 Myer FOTF Lillian Frank AM MBE Millinery Award 'My Time' as it was inspired by the time I gift myself each morning before the rest of Melbourne wakes. 'My Time' is the moment I step outside to begin my daily exercise when I stop to explore my thoughts, plan my day ahead and to take in my surroundings. I am often rewarded with the most beautiful of sunrises, which welcomes me to a new day with an intense saturation of colour that is meant for my eyes alone.
My Millinery Award design reflects the intensity of colour seen in nature during the 'magic hour' before the sun fully hits the sky. I have mirrored these hues as graduated concentric rings within my piece. My aesthetic is that of clean, simple lines and allowing classic composition to speak for itself. This is where my graphic design background collides with my millinery design and presents engineering challenges throughout the execution process.
Created with only three materials and only one clearly visible – sinamay, with couture stitches, and wire just on the edge of the brim.
Catherine Storm Millinery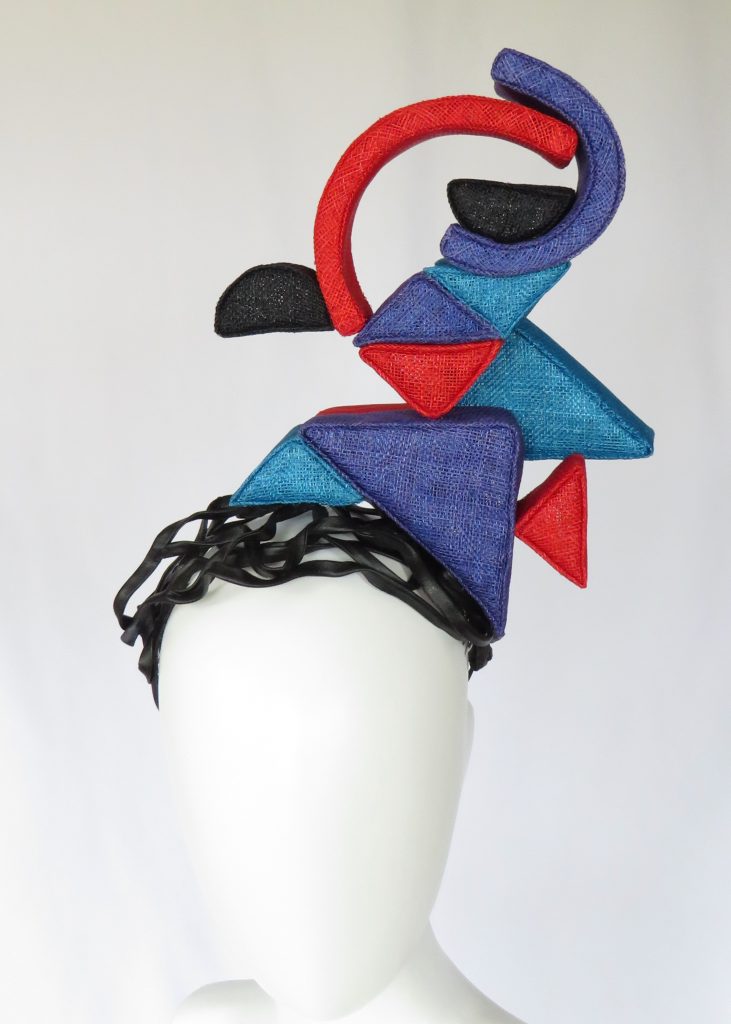 Catherine Storm Millinery Picasso Woman
Picasso Woman is inspired by the recent Picasso exhibition at NGV International Melbourne. Sinamay blocks in various shapes and sizes are brought together in a cubist style to create a woman's face.
Rachel Henry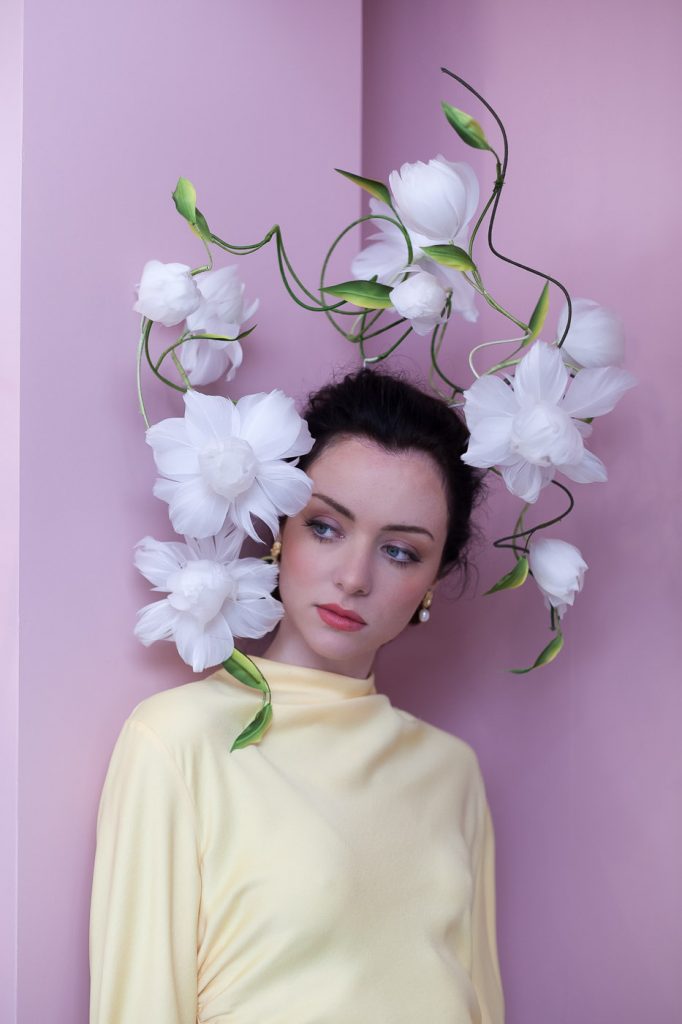 Rachel Henry Millinery White By The Gate
This year I wanted to create a hat that was visually beautiful and in line with my collection this season, which has heavenly-featured roses and orchids. This piece celebrates the simplicity of nature and the individualism and beauty that nature creates. It's made from a wired vine, wrapped in ombre silk thread with matching leaves and scattered with dainty white feather camelia roses.
Andrea Cainero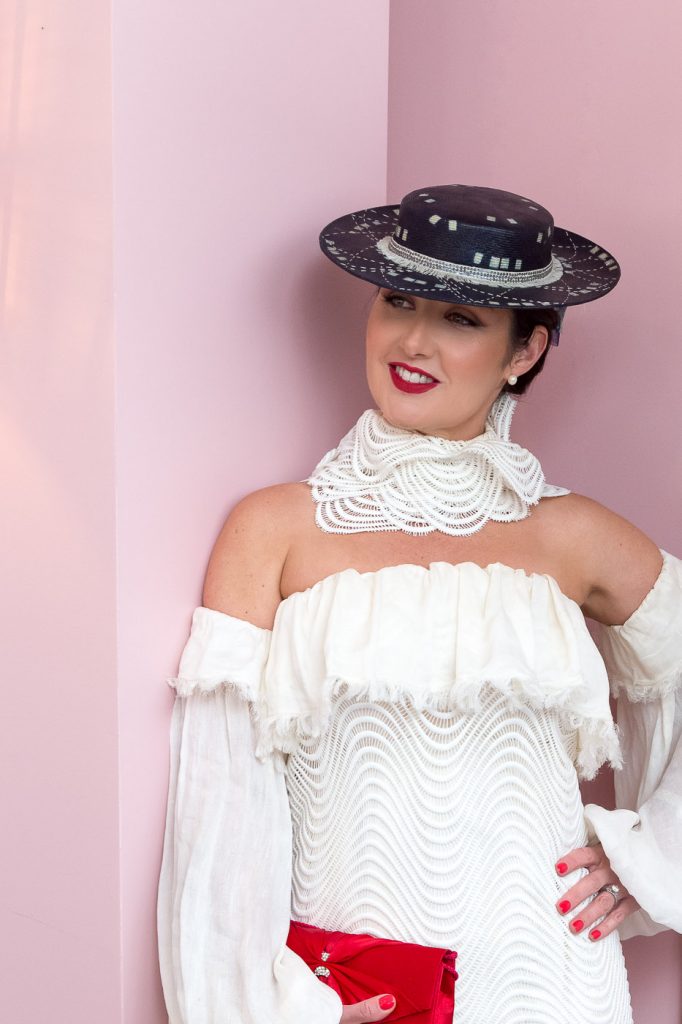 Somewhere Here Indigo Muse
Andrea Cainero of Somewhere Here's entry into the Lillian Frank MBE AM Millinery Award for 2022 focuses on drawing attention to Sustainability. The recent Clothing Data Report found that Australians are some of the highest consumers of clothing worldwide, and with Fashions on the Field having a focus on fashion in racing, she wanted to consider how this related to racing fashion.
This piece, titled Indigo Muse, showcases sustainability in both an environmental and social context. From upcycling vintage millinery, using natural indigo dye and traditional shibori resist dye techniques, taking inspiration from the Japanese mending Boro stitching, and paying homage to the heritage of the craft of millinery, this piece has been fully transformed from its original state.
Irene Moore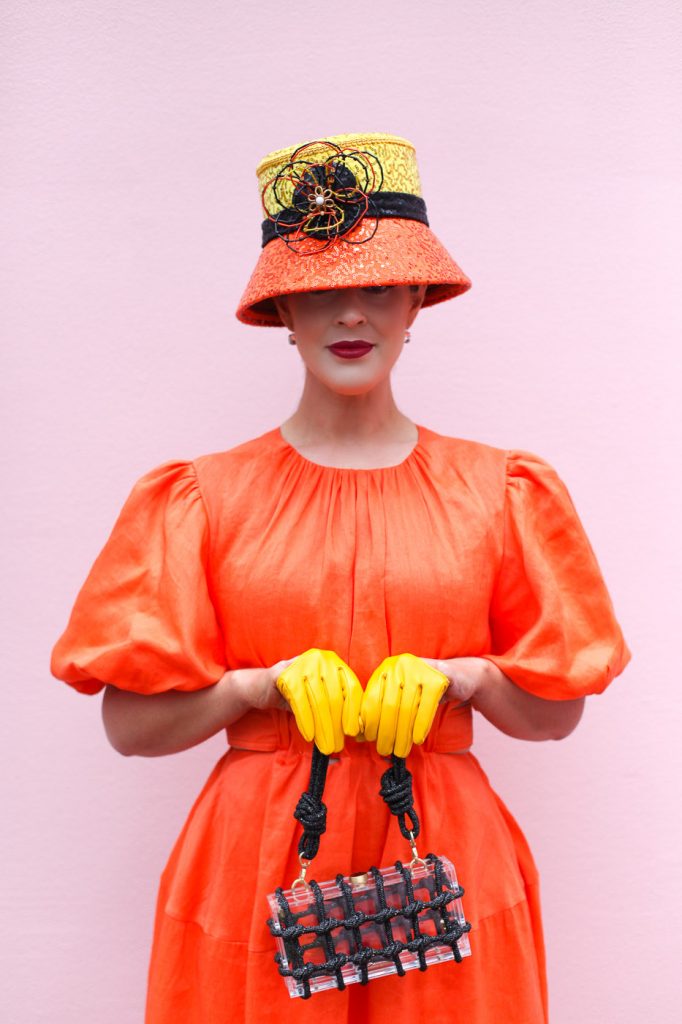 Moore Millinery Designs Alkira
As Fashion on the field is celebrating 60 years, and also honouring the late Lillian Frank AM MBE, who loved a statement piece, I decided to create a bucket hat that was invented in the 60's as a fashionable piece worn by many and has come back into style.
The similar colours chosen in my eyes acknowledges the Traditional Custodians of the land, which is how I came to the name "Alkira", the aboriginal word for "Bright & Sunny". For many it has come to mean a "happy place in the sun" and when I look at this piece, this is how I feel.