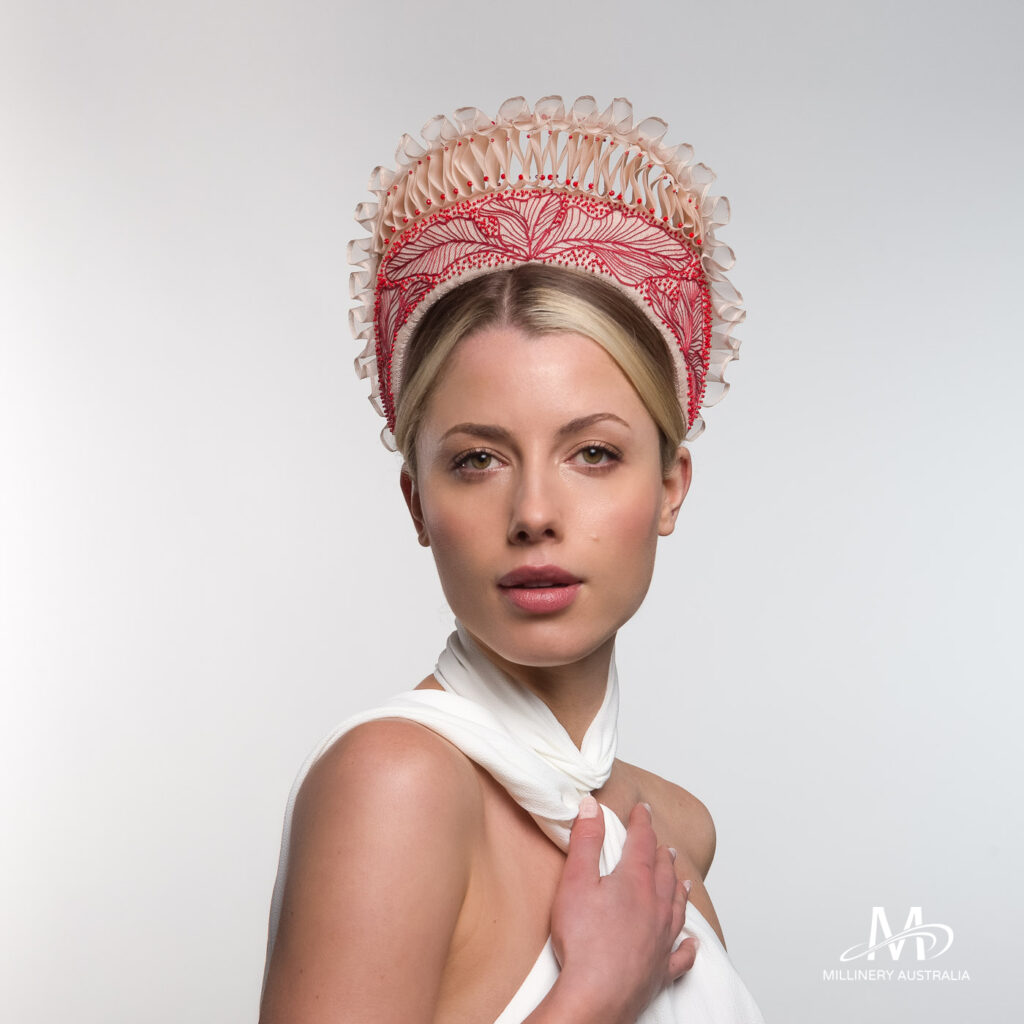 About Andrea Cainero
Most well known for her work as costume designer for iconic Australian band Empire of the Sun, Andrea Cainero is a costume and fashion designer, come milliner, who trained at the infamous East Sydney Tech, Fashion Design Studio TAFE NSW, where she is now also one of the Heads of School. Since resigning from her costume work and starting a family, she had an increasing pull towards finding a creative outlet that built on her extensive and diverse fashion and costume background, allowing her to create bespoke one off pieces ranging in style from classic with a modern edge, to the flamboyant and avant-garde.
Andrea found herself often dreaming of past travels 'somewhere' in the world, but also grateful to be 'here' where she is in life today. She recently launched her headwear business, Somewhere Here, a concept which combines her love of artisan couture fashion techniques with traditional millinery to create bespoke headpieces and hats with an edge.
Andrea Cainero is a multi award winning milliner and recently won the 2023 Millinery Australia Design Award. Her work has been featured in the ATC Style Guides since 2021, and she has collaborated with stylists Donny Gallela, Suzi Eskander and Jess Pecoraro to create headpieces for Jules Robinson, Emma Freedman, Rebecca Harding, Kate Waterhouse and Lucia Hawley.
INDUSTRY ACHIEVEMENTS
Millinery Association of Australia Design Award
2023 – Winner
2023 – People's Choice recipient
VRC Myer Millinery Award
2022 – Top 20 finalist
Royal Agricultural Society Arts and Crafts Competition
2022 – Winner and Standard of Excellence Spring Millinery
2022 – Highly Commended Winter Millinery
2021 – Second place Spring Millinery
2021 – Second place Wearable Art
Hattember Millinery Competition
2020 – Top 10 Millinery Category
2020 – Second place Wearable Art Category
Melbourne International Millinery Competition (MIMC)
2020 – Winner