The Myer Millinery Award was founded in 2006 and is a centre point for racewear millinery around the world. Hosted as part of the VRC Melbourne Cup Carnival, milliners are invited to showcase their skills through an open brief. In 2021 The Millinery Association of Australia is proud to have nine members who are selected to be part of the Top 10 of the Millinery Award.
The competition was judged by a panel of experts that included milliner Stephen Jones OBE, The Australian's Fashion Editor Glynis Traill-Nash, Editor-in-Chief of Harper's Bazaar Australia Eugenie Kelly and 2020 Millinery Award Winner Stephanie Spencer.
---
Peacock Millinery – Winner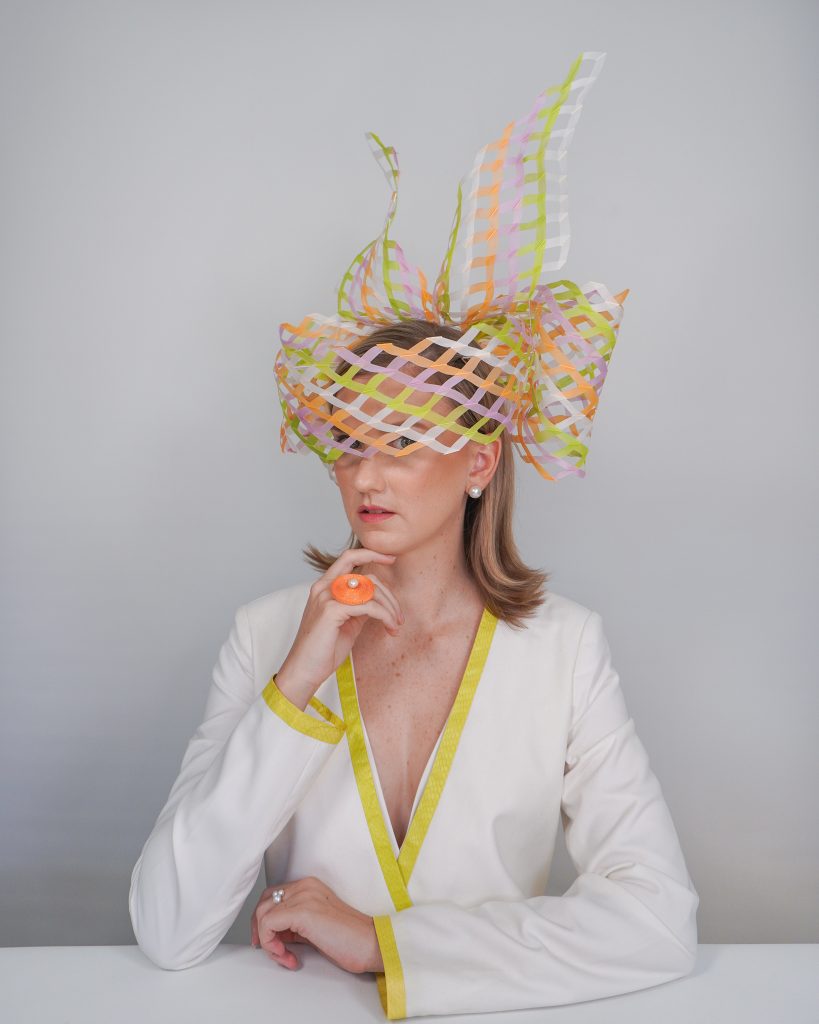 Belinda Osborne 'Forever Bound'
The inspiration for my piece came from reflecting on feelings of being bound or confined and the obligation of restraint put on us in these times.
---
Angie Jackman Millinery – Runner Up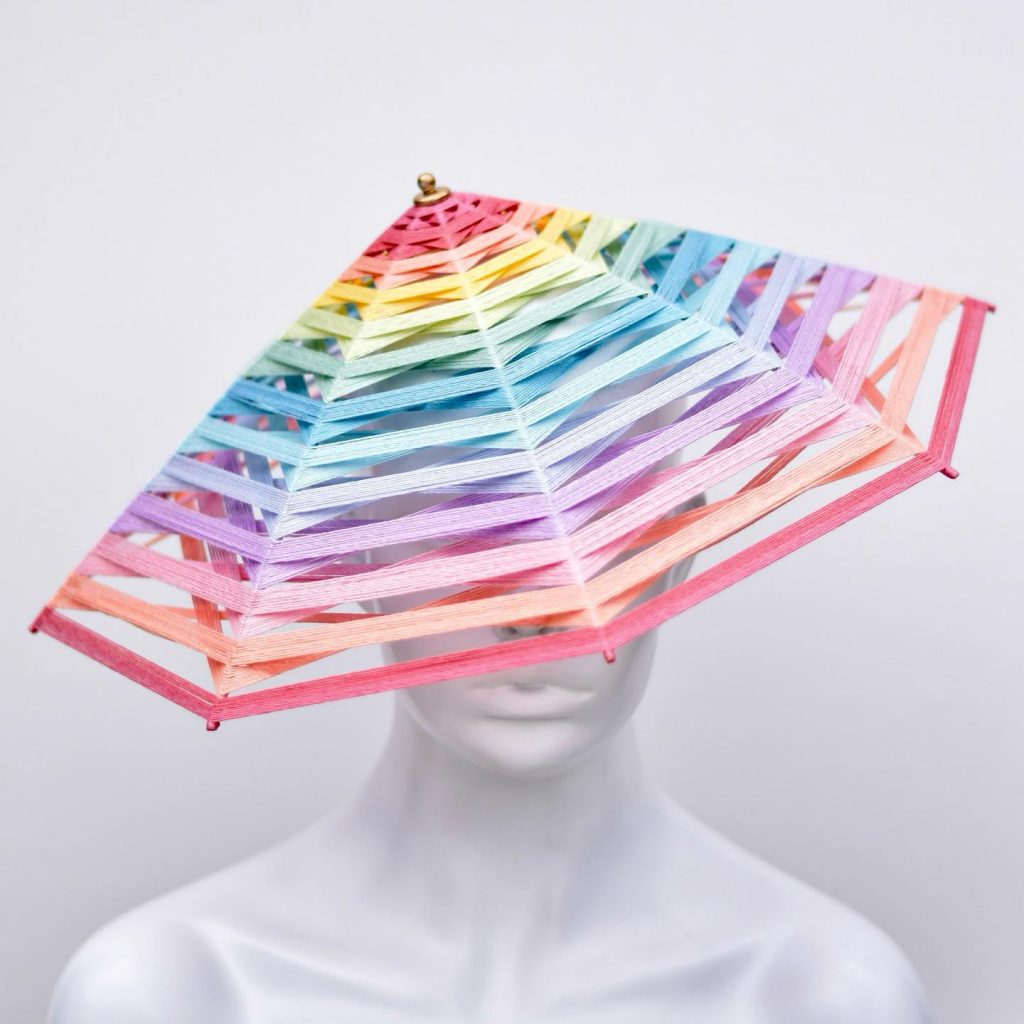 ---
The Sydney Millinery Co – Second Runner Up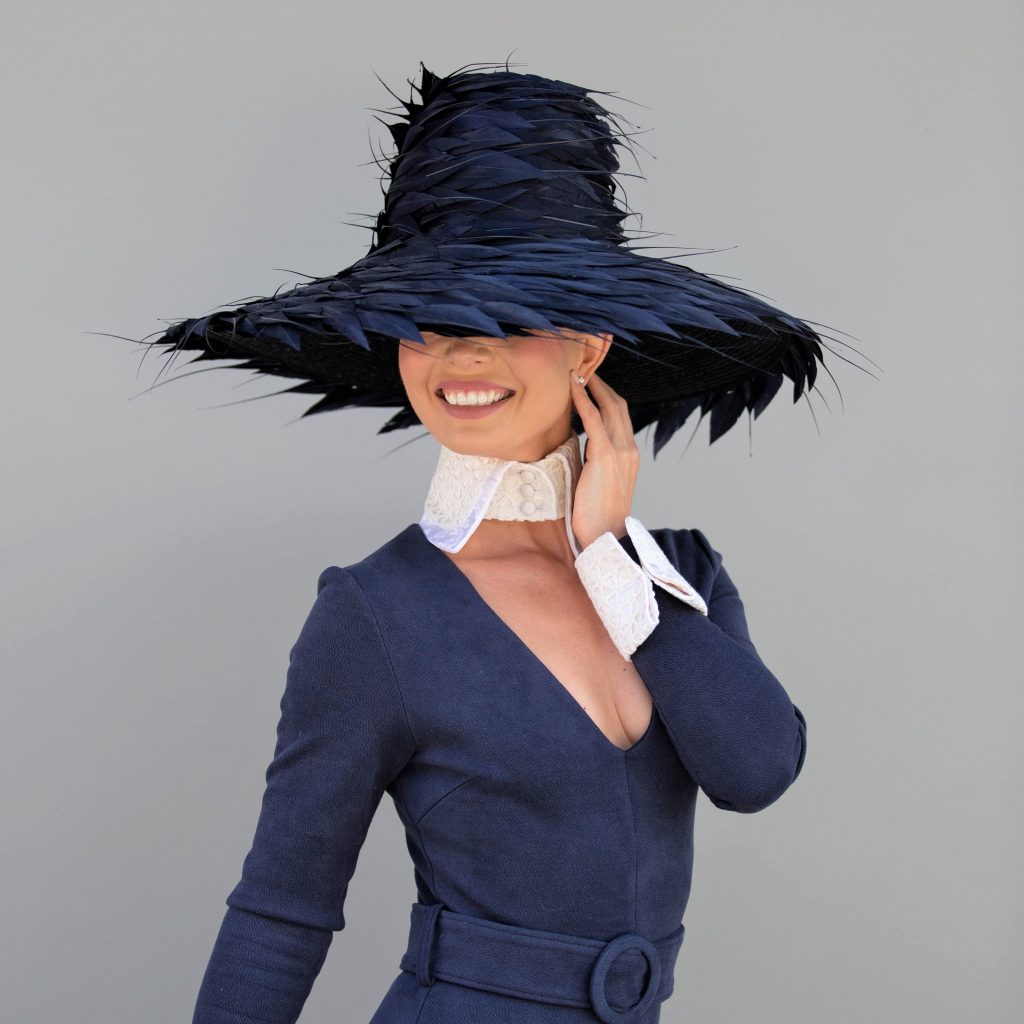 Carole Maher
Carole has taught this feathering technique since 2010 when she created the technique to build feather flowers and create light feathered hats. She has taken the concept one step further for this competition with this enlarged crown and brim in a classis Audrey shape. The crown is created using fosshape and is 5 cm higher & wider than a normal ladies crown. The brim is Milan straw. There are approximately 450 feathers trimmed, curled and/or manipulated. The feathers are attached to the body of the hat using a stitching and adhesive method.
Carole teaches this feathering class around the world and will host classes for the US, European and Australian market at the end of November and December.
"The inspiration for this hat is a Dior brim hat I made a couple of years ago and loved the simple design principles of repetition, direction, movement and silhouette. I wanted to take it further by using the same principles but exaggerating them".
---
Chris Mullane Millinery – TOP 10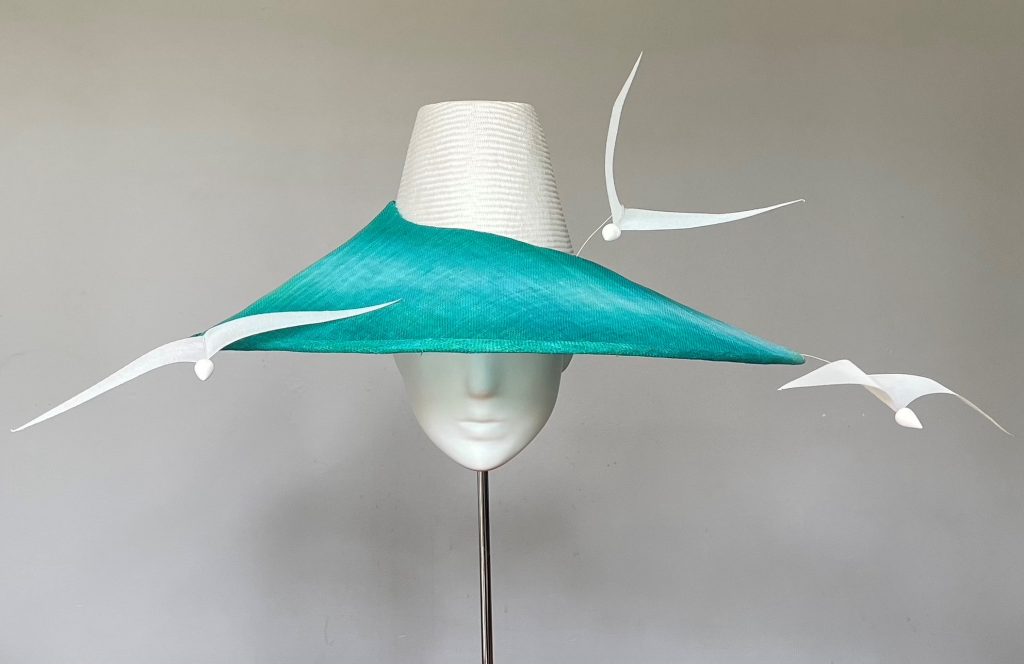 Chris Mullane 'Whitehaven Beach'
Inspired by the aqua colours of the swirling sands at Whitehaven beach.
With domestic travel being the only option at this time, realizing how lucky we are to have treasures like Whitehaven Beach in our own backyard.
---
Lisa Hughes Millinery – TOP 10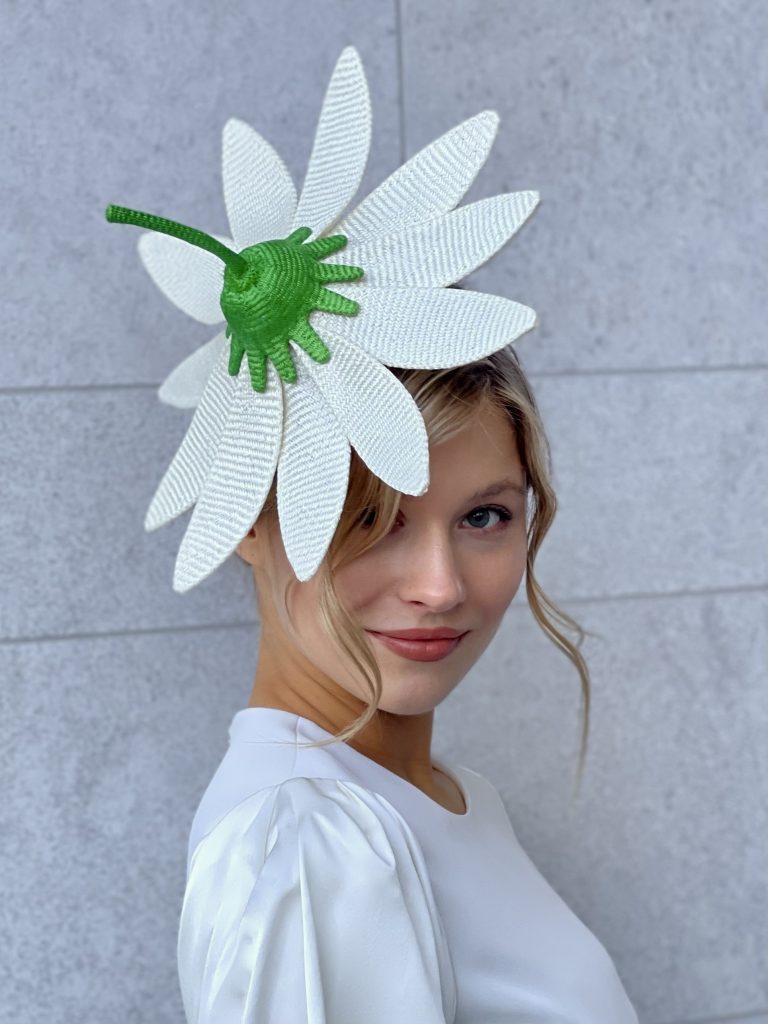 Lisa Watt 'Brighter Days'
All through the many lockdowns, my daily walks with my dog have been a constant source calm in my day. Recently I've noticed the daisies are in bloom. Every colour and every size decorating the front yards and nature strips of my neighbourhood, making everything look brighter. I started to wonder how I might make a daisy hat. I originally imagined the flower would face outwards but as soon as I placed one upside down on a fence post I knew I had my concept. I went to work to create 'Brighter days'.
---
Jo Maree Millinery – TOP 10
Jo Peterson 'Derby Dreams'
The colour black sends a message of strength and power, while white is indicative of innocence, peacefulness and optimism. The colours do not compete with each other. They complete each other!
There is a magical pairing that comes alive when my millinery vision and love of mathematics collide. The repetition in design generates a strong, sharp, yet simple silhouette which is how impeccable beauty in nature presents.
Black and white is a classic combination. It's quintessentially Derby Day. It's the stuff of which dreams are made!
---
Zia Pazza Headwear – TOP 10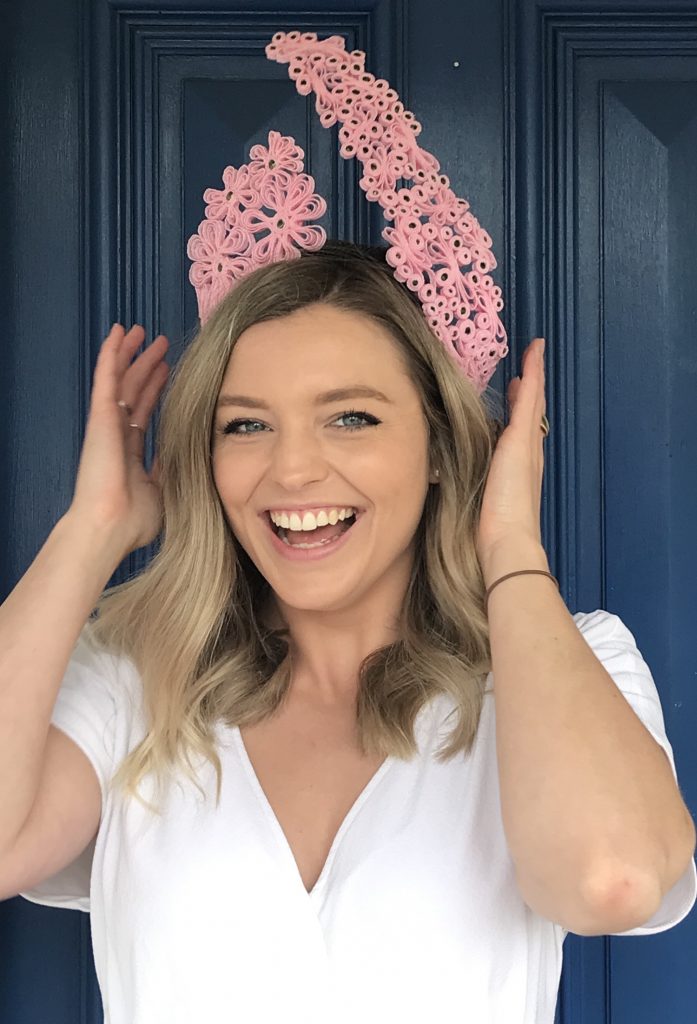 Lisette Margini 'Phoebe'
Building on the technique of my Grammar Mum piece for MIMC I have wrapped hand-dyed hemp braid around green crystals. The piece sits like a crown (corona) with a crossed over front. Named Phoebe after my niece as most of the construction was done on her birthday.
---
Lauder Taylor Millinery – TOP 10
Chantelle Westlake
Perched atop a fuchsia teardrop base, the structure provides a new perspective from every angle, while a scarlet feather detail delivers the final flourish. The result is a classic, structural style that would pair perfectly with polished trackside tailoring.
---
tHAT Millinery – TOP 10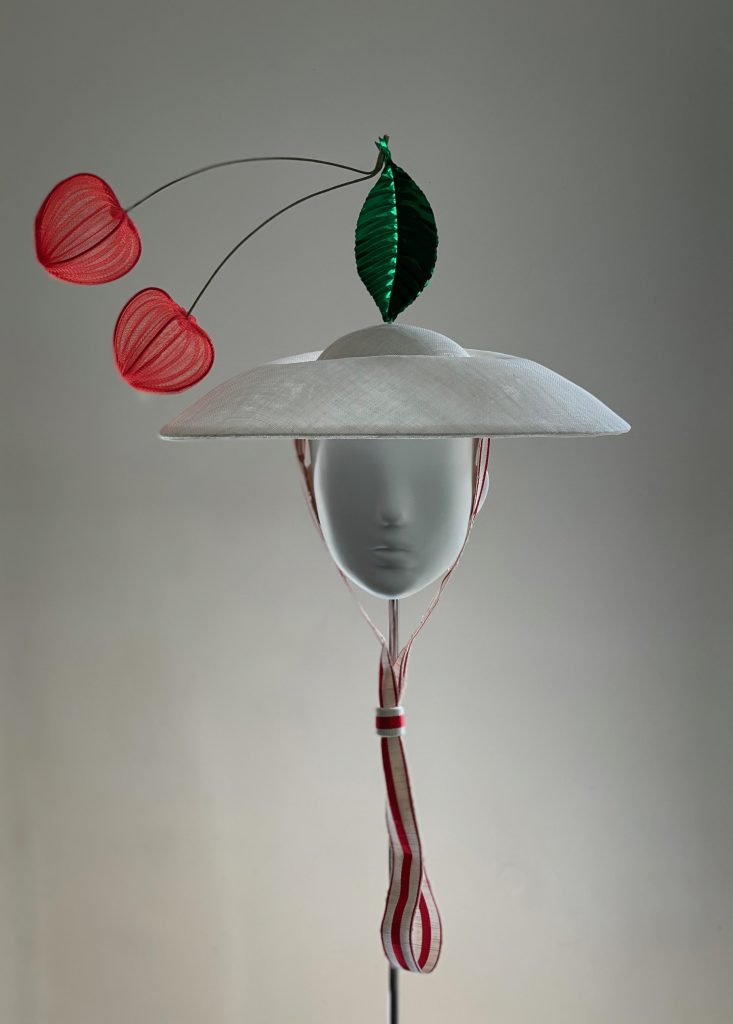 Enza Geddes
'Cherries' brings a sense of fun to classical hat making techniques with crisp sinamay and pleated crinoline being manipulated into a quirky-cool design. Using Cezanne's "Still Life with Cherries and Peaches" as inspiration, the finished product reflects Enza's dedication to her minimal approach.
---
Embelish Atelier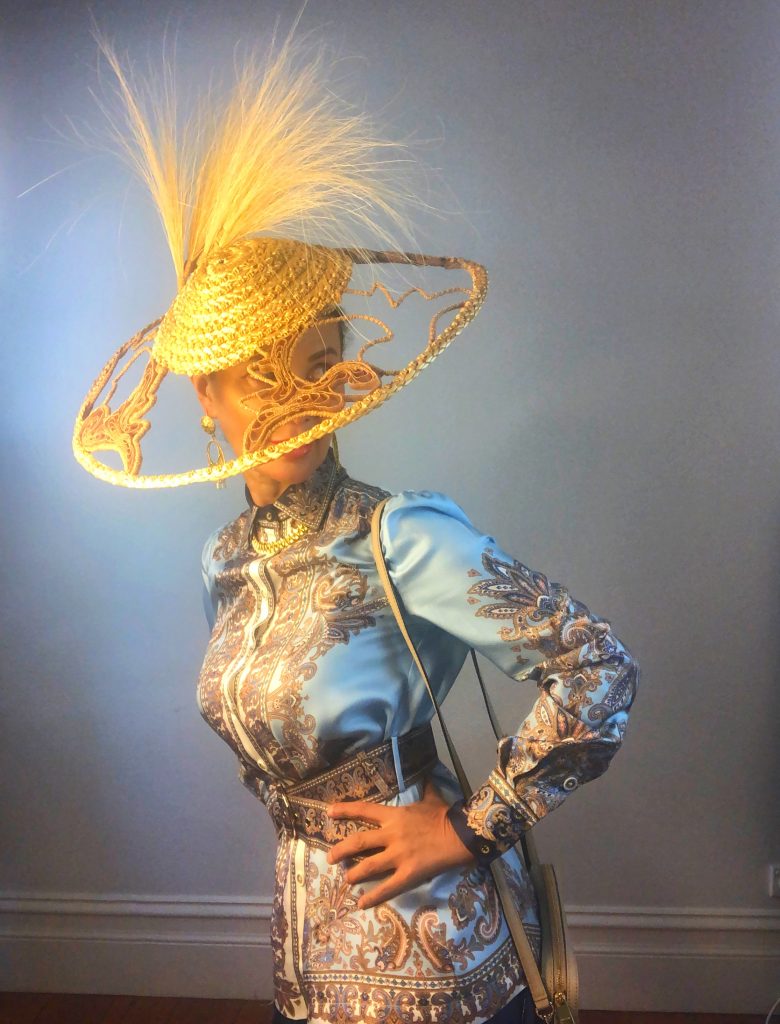 Catherine Kelly 'A Field of Gold'
Created from specially woven wheat straw braid and lovingly hand stitched. Inspired by ancient materials and traditional forms, symbolic of the fertility of the earth, renewal, rebirth and abundance and a longing for the freedom to be reconnected with nature and to walk in a field of gold – of opportunity and hope.
Catherine Storm Millinery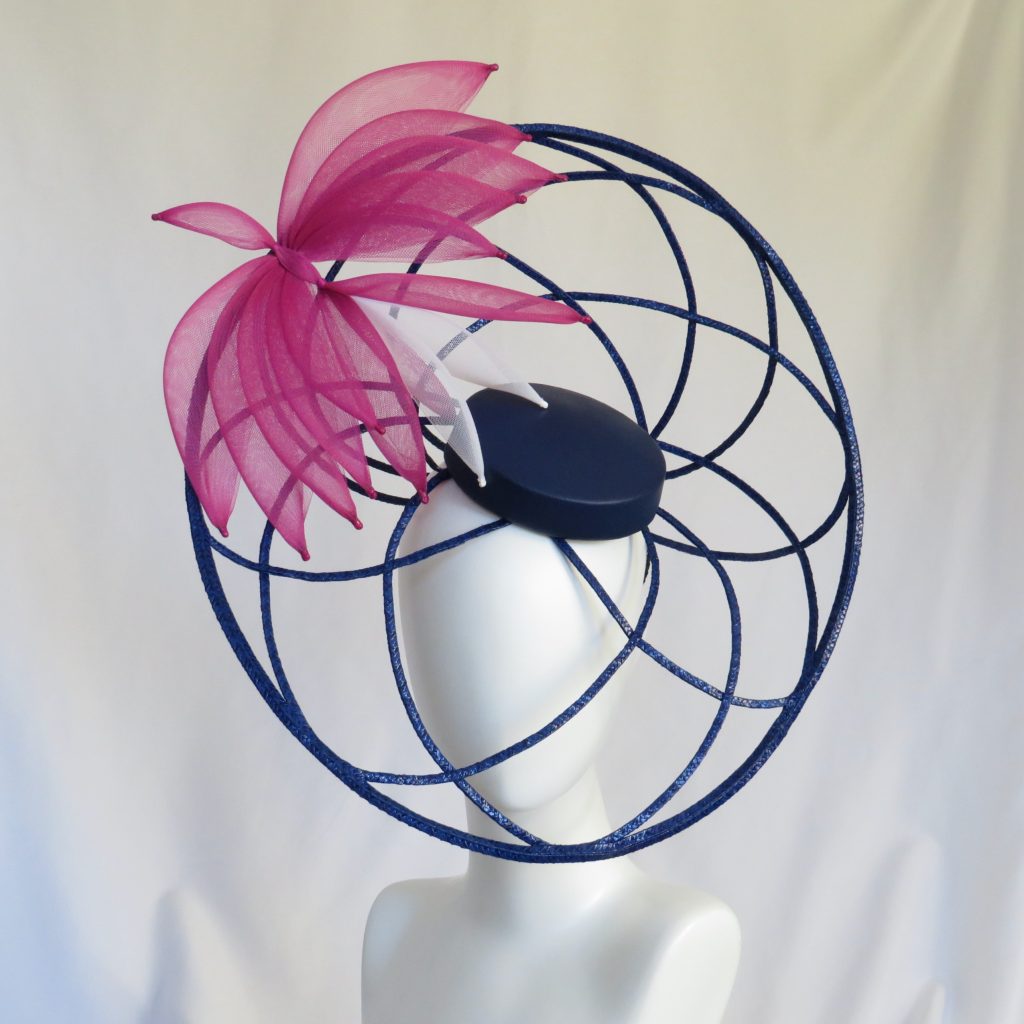 Catherine Storm '5K Blues'
'5K Blues' explores living with lockdowns 5km from home restriction. Over the many weeks of lockdown, we circled our local neighbourhood taking different paths on our daily walk. Living close to the beach meant our walks were enlivened by a changing variety of birdlife. Black swans and pelicans would be joined by herons and ibis. A flock of yellow-tailed black cockatoos visited for a few weeks and later the rainbow lorikeets arrived. Seeing the birds in flight lifted our spirits. The leather button is the arc's centre. Wired Swiss braid creates a circular geometric shape that encompasses the wearer's head. This represents the restrictions of lockdown. The flying bird in bold pink crinoline is outside the cage, with its delicate wings fluttering in the breeze. It symbolises both the joy the birds gave us as well as our hopes for freedom.
Rachel Henry Millinery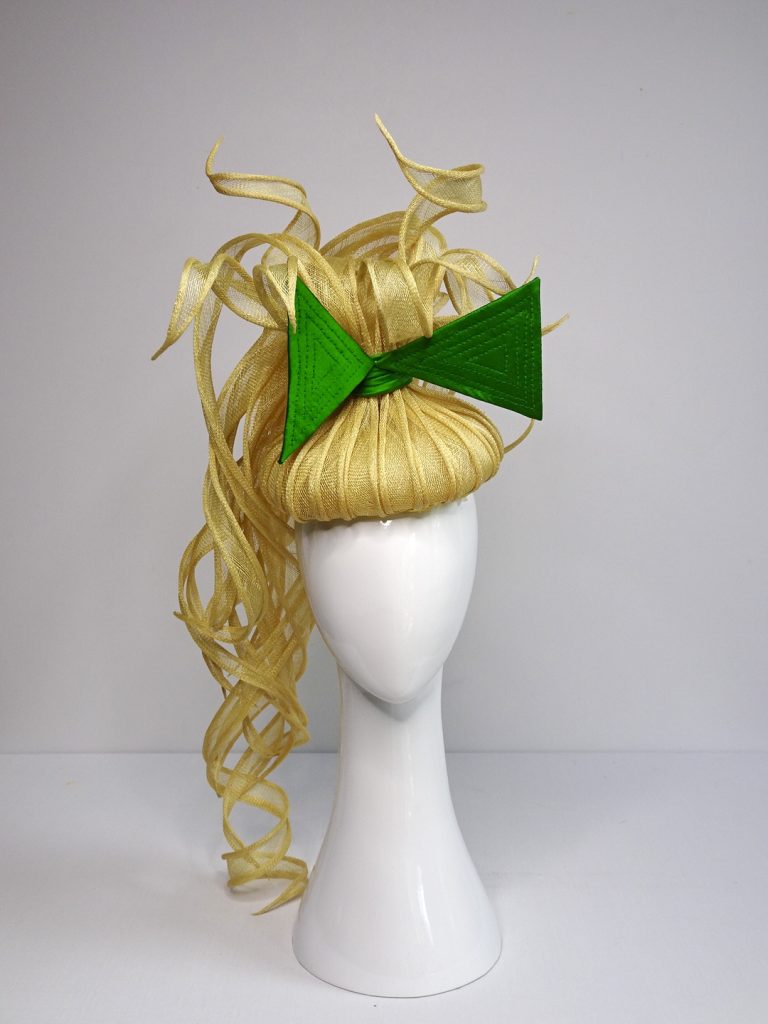 Rachel Henry 'Because you're worth it!'
For over 26 years fashion has played a large influential part in my career journey. Many hours have been spent pouring through hair journals, watching tutorials and travelling across the UK attending the latest seminars. The only focus was to observe & absorb the progressive change of wearable art in the form of your hair. And WHY? "Because you're worth it!" (For that has already been coined). I dedicated this type of wearable art to all those who celebrate the hairdressing industry and its incredible attitude towards making us feel good.
Abigail Fergusson Millinery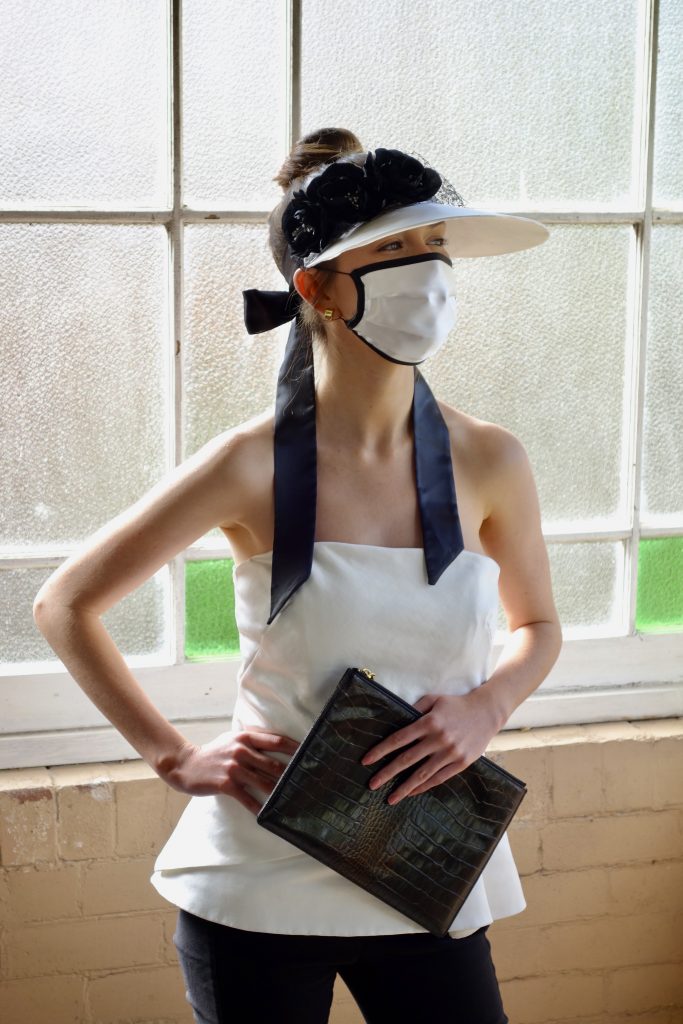 Abigail Fergusson 'Match Point'
I wanted to recreate a casual style hat and put a modern spring racing spin on it. I took inspiration from the sports visor often worn by tennis players and reworked it into an elegant design styled in a classic monochrome palette.
Helen Rose Millinery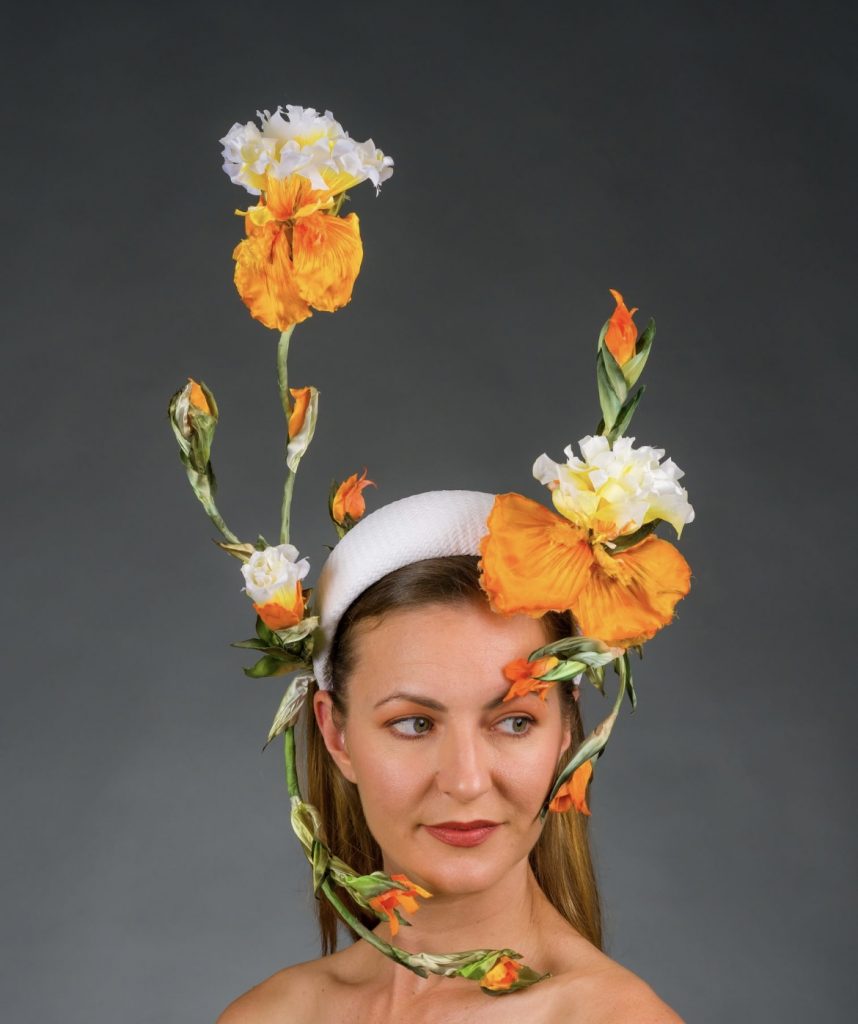 Helen Rose 'Irises'
After studying Sombana silk flower making in Japan 8 years ago it's been my mission to create stunning flowers that are not mistaken for store-bought flowers. I wanted to showcase my flower work differently to my usual way including the type of flower and decided on the classic Iris with my colour inspiration coming from a rare orange and yellow real flower. I've used some Ikebana ideas including the standing tall stem and the lengths of some of the stems to create line and balance.
Cynthia JonesBryson Millinery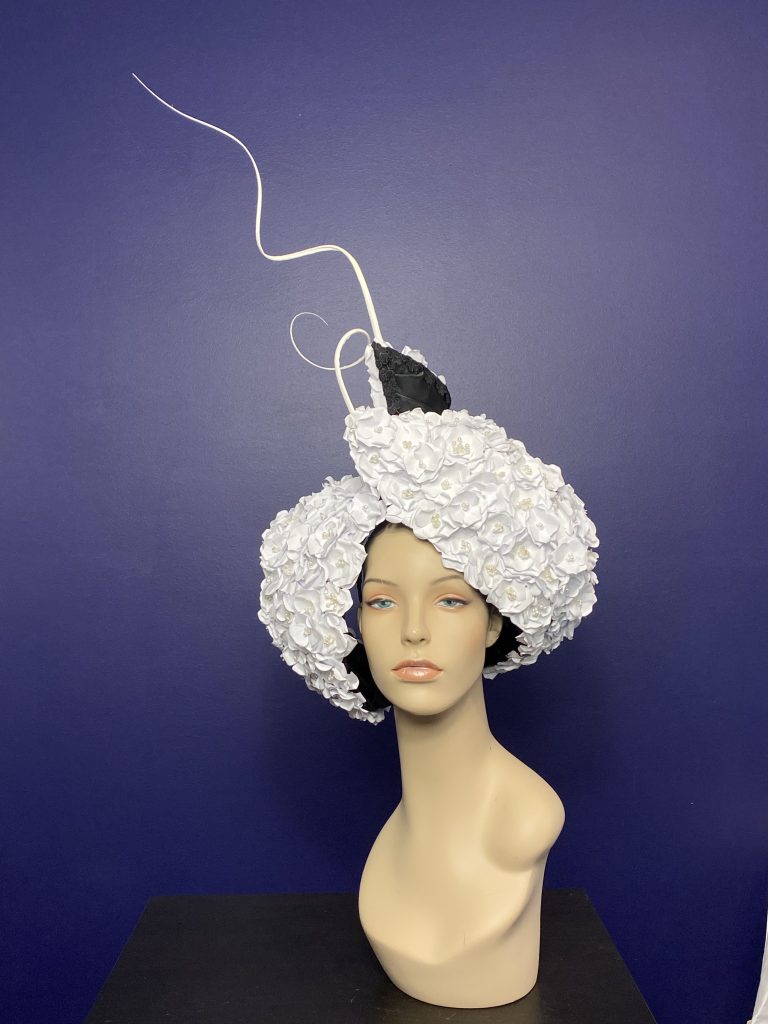 Cynthia JonesBryson 'Meena – I'm Not Invisible'
I was heartbroken watching events unfold in Afghanistan – I could go on with lots of atrocious cruelty but in short, the Taliban are trying to make women invisible. I wanted to create a piece to honour Afghani women. Taliban leaders wear black turbans so I decided to do a twist on a turban. Made from a wire structure it wraps around In a dramatic shape covered in white paper flowers to be very visible and lightweight. Here's to Meena a prosecution lawyer who had many men convicted for rape and domestic abuse. The Taliban have already murdered two of her female colleagues. Fearing for her life she now hides behind a burka and hijab moving between secret locations.
Felicity Northeast Millinery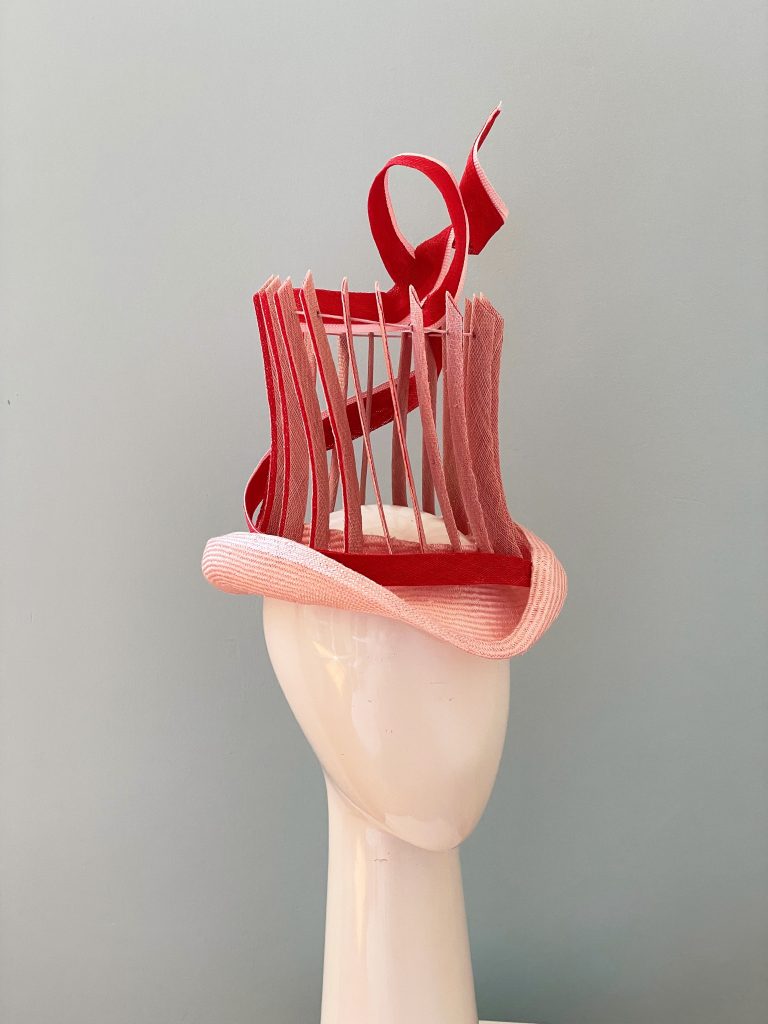 Felicity Northeast 'Little Topper'

I wished to create a piece that reflects fashion in 2021, a nod to slow fashion and sustainability while at the same time celebrating the enjoyment and creativity of the Spring Carnival. Inspired by the conformateur, a traditional tool used to measure the shape and size of your head. This millinery tool personifies slow fashion, sustainability and traditionally handmade millinery. My designs are often mathematical, creating repetitive patterns and negative spaces but I also wanted to infuse an element of surprise, creativity of fashion and fun of the Spring Carnival. So, as the hat turns, twisted patterns change and highlights in red appear and disappear Made with a combination of vintage braid and sinamay and parisisal straw. With no suitable block available the brim is free hand-formed.
Hatricks By Michelle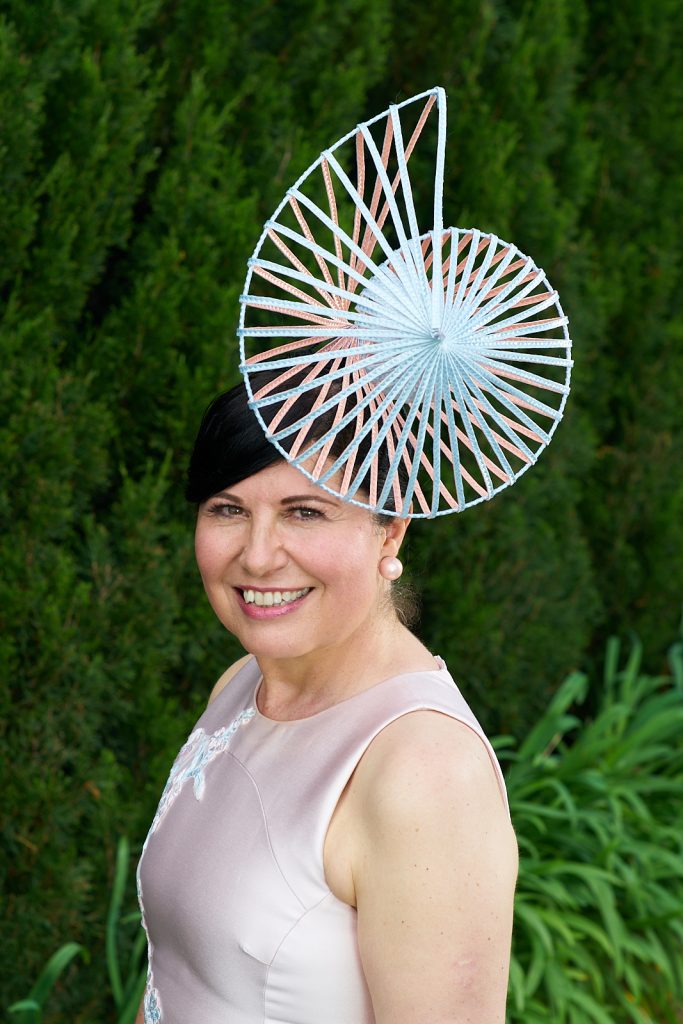 Michelle Robinson 'The Nautilus Shell'
2021 has been another difficult year, lockdowns continue and the risks and worry associated with the pandemic continue. However, this year has been very different as we prepare for the arrival of our first child. This has bought so much hope, excitement and anticipation to our life. I have experienced overwhelming love, fierce protectiveness and a sense of wonderment about our unborn child. I wanted to create a piece to represent some of these feelings. Considering the current Covid-19 situation I can't ignore the feelings of protectiveness, I feel like a shell protecting and nurturing our upcoming arrival. This piece is a nautilus shell, symbolic of those protective feelings. And that feeling of needing to protect our vulnerability is felt by many people in the current climate, even those who aren't expecting a child. So the nautilus is an expression of the strength and protectiveness which we all feel in the current environment.
Julie Herbert Millinery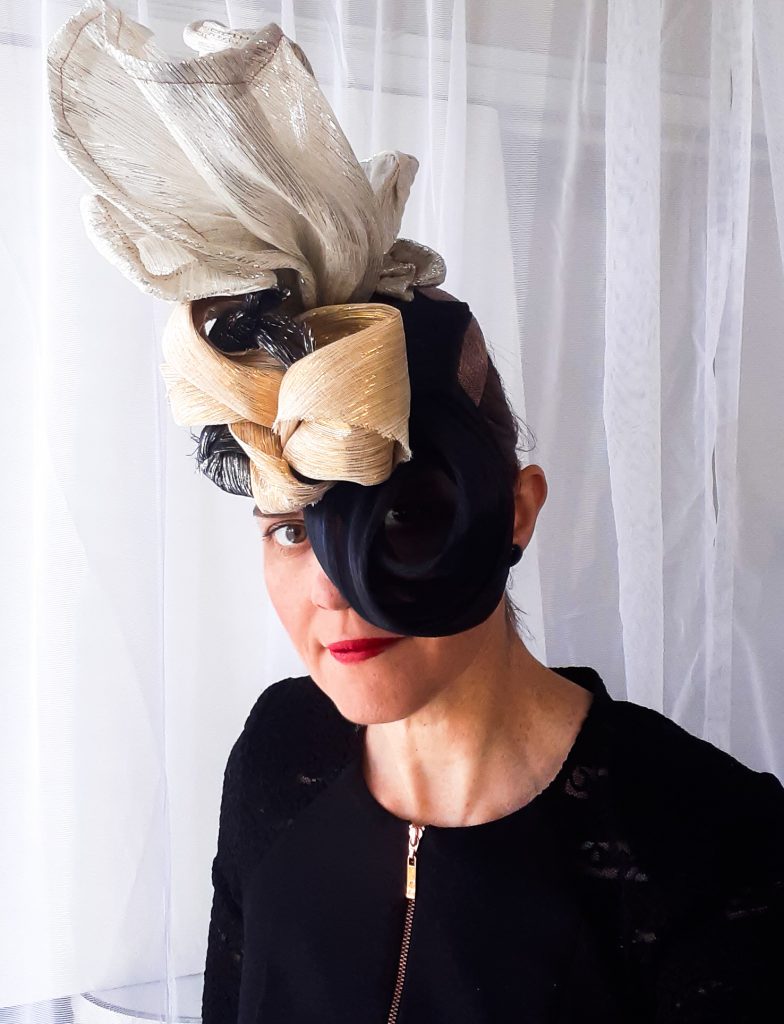 Julie Herbert 'Two Visions'
At night I have been going outside to look at the stars for a few minutes and just appreciating life – when in lockdown here in Orange NSW. When I do go outside I usually close my eyes and then shut my left eye and then I keep my right eye open (my cornea transplant eye!). I have a large amount of scarring over the cornea since my pregnancy 2 years ago my vision has changed and so in the night looking at lights and signs always looks like it's doubled and reflective – but to me now it's beautiful and so magical, and so my Millinery Award 2021 entry is 'Two Visions' of light I see with beautiful abstract waves and shapes and the glow in it was just amazing, and so I just knew I had to make a headpiece for the Millinery Award.
Leteishas Millinery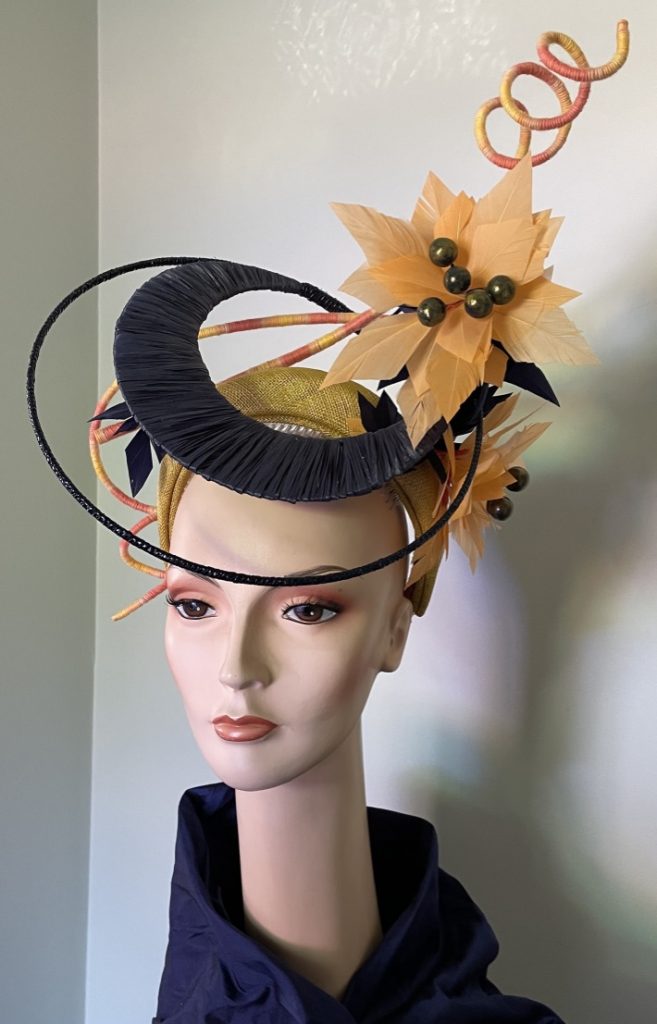 Leteisha Knecht 'Sunset'
My Millinery Award 2021 entry was inspired by colours in a sunset, seeing peace and beauty. Looking towards the future of opportunities of creating something unique from that vision, from seeing those colours in a sunset.
Quote- 'The sky speaks in a thousand colours' S.R Abbasi
Lauren J Ritchie Millinery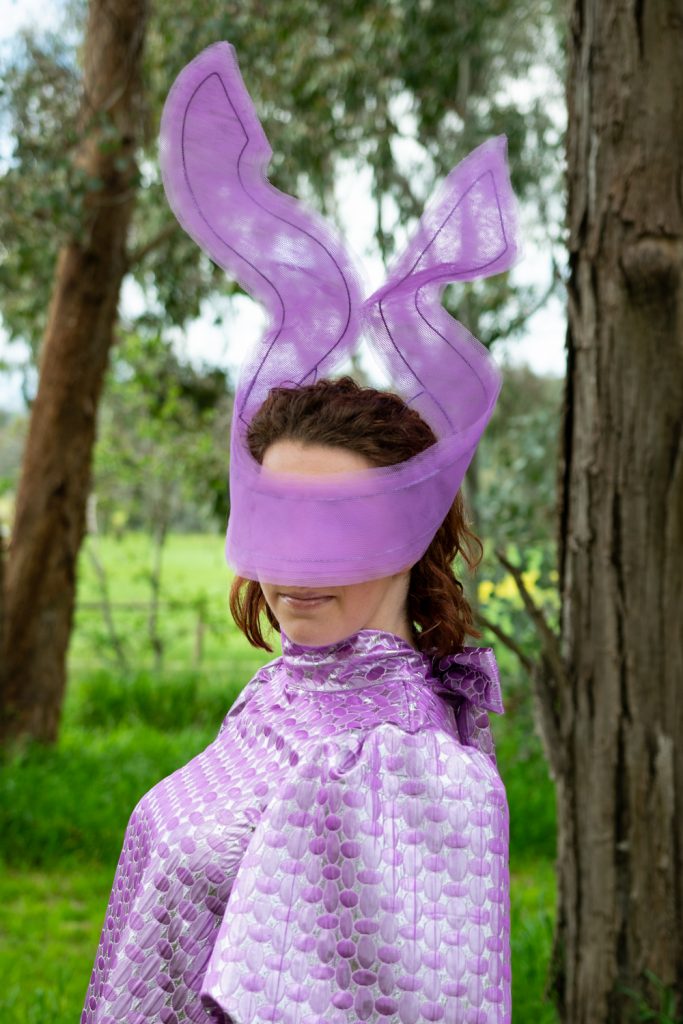 Lauren Ritchie 'With love from Laceby'
This stunning shape floats across the face offering a playful mystery to the wearer. The shaped tails move around the face and dance into the sky. The sweeping shape embraces and reflects the undulating landscape of the countryside near Laceby and the graduated edges provide a delicate and gentle finish.
Georgia Skelton Millinery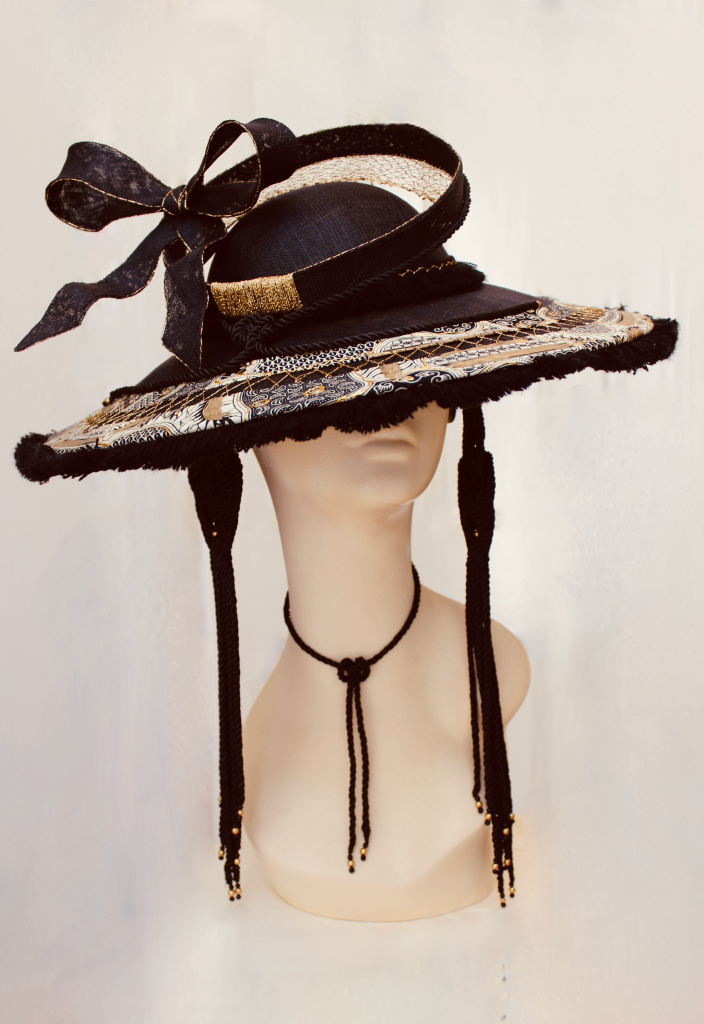 Georgia Skelton 'Dress to Empress'
Combining Korean history, traditional embroidery, macramé and "Versace" like fabric was the jumping off point of this piece. The Macramé braids and bow ringed topper are detachable, adding versatility for the owner. The result is a versatile twist on a classic named 'Dress to Empress'.
Millinery Laa Laa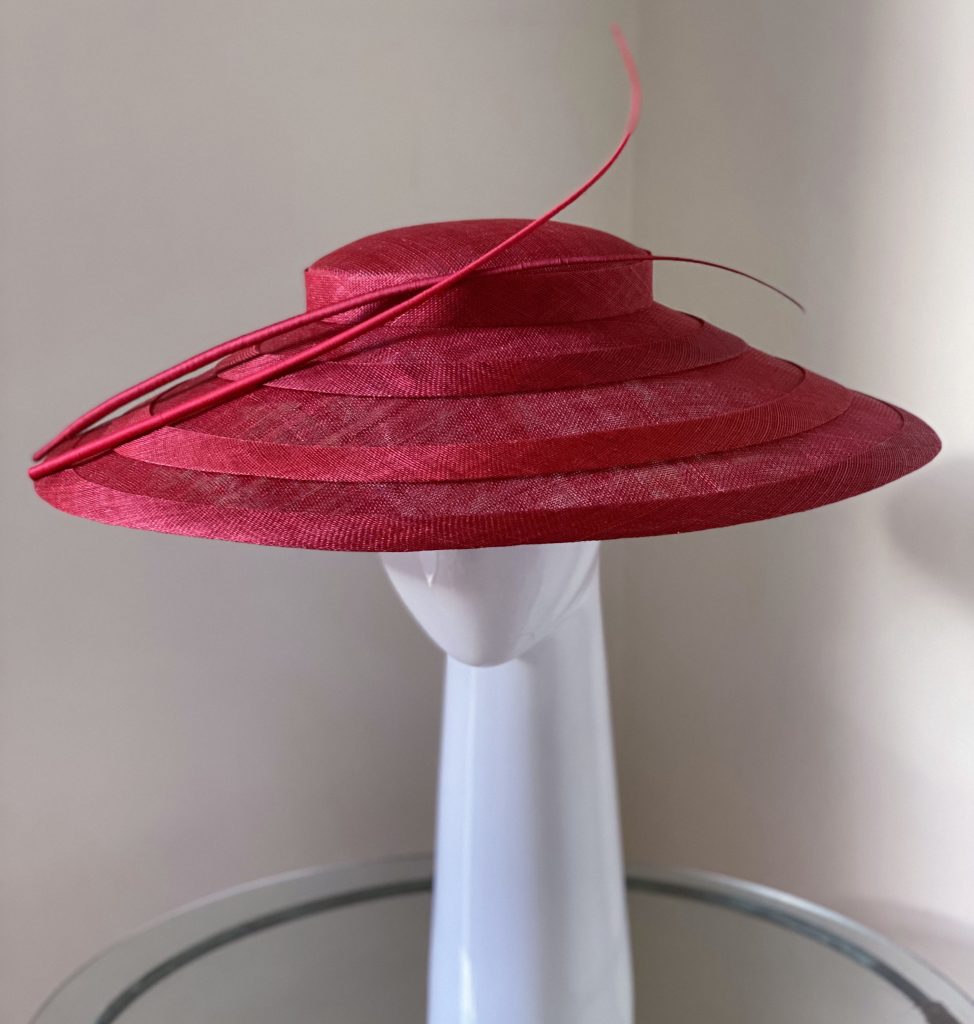 Fiona Cooper 'Paint the Town Red'
Red is the colour of extremes and has a range of symbolic meanings, including life, health, vigour, passion, courage, anger and love. 2020-2021 has been extreme and I've experienced negative attributes of the colour red during the pandemic. My design represents the constant feeling of going nowhere within a restricted radius. It is now time to follow the path out and enjoy the positive side of the colour red and PAINT THE TOWN RED – live life.
The VRC Release of the Top 10 of the 2021 Millinery Award is listed here.