The millinery trade has a long history overseas and particularly in Australia. But did you know that within the term millinery there are three types of categories? In the past, milliners adopted one of these distinct types and everyone knew where they stood and the work reflected this.
We ask ourselves of today's contemporary millinery – is there a place for all three types still? Let's explore this topic with commentary from our current President, Rose Hudson. Some milliners call themselves couture or bespoke, and others don't. Many hats these days are mass produced but if you shine the spotlight on Australian milliners, all three types of millinery are still represented in a more modern way and they are just as relevant. From the biggest to smallest of budgets, there is millinery for everyone. And this links back to why these millinery types existed in the first place.
So, what are Model, Semi Model and Ready to Wear?
Model Millinery
Model Millinery was and still is making a hat from scratch. Taking it from the imagination and making it a 3D reality for the client. The most glamorous of salons like those of Thomas Harrison or Ronald Bernarde in Melbourne, Australia were at the upper end of model millinery in the hey day of millinery fashion. They had gilt mirrors, leopard skin rugs, chandeliers and a frightening pomposity. Many other capital cities around Australia also had similar millinery salons just like these.
These salons of yesteryear usually had one velvet upholstered chair in front of the mirror. There were very few hats on display. The average women was too nervous to enter. The milliner or manager of the salon would discuss madam's requirements, take her head measurements (if it wasn't already recorded in a book somewhere) write some notes and take a small deposit.
The manager would then go upstairs or behind a curtain to a workroom where 3 or 4 milliners worked. Discussions ensued about the client's requirements and the head of the workroom (a hierarchy never in dispute) set about making a block first for the client. The block was made of sparterie and sometimes took a week to make. The milliner then started making the hat from there. All trimmings were handmade but the flowers imported from Europe and France. They were never made like milliners do today. There would be a first fitting, to make sure that the hat was what the client had in mind.
Two weeks later when it was completed the client was called for a final fitting and took her hat home. The average cost of a hat was like the equivalent of a week's wages. Rose Hudson recalls " I know this because my mother had her going away hat made by Ann Austin in the Block Arcade and this was the procedure and what it cost."
Semi-Model Millinery
So the average woman usually didn't go to a salon of a model milliner. They went to "semi-model" milliners. These milliners could be found in the city and they were in every shopping strip in every suburb too.
Magda Urban in East Brighton, Marie Therese Ward in Brighton, Elizabeth of Kew at Kew Junction, Belle's Bonnetts in Howie Place and Stella Long in the Block Arcade, where our current President Rose Hudson worked for a time. Every milliner has heard with delight the phrases "my grandmother was a milliner, my aunt was a milliner". Usually these women worked in little hat shops of the semi-model milliners. Rose recalls "The woman who trained me as a junior, had her first hat shop in Kew in the High Street. She had a fabulously successful business which she put down to a bus stop out the front. Women waiting would come in and browse. She made a fortune in the days when women wore hats everyday."
In these shops, the hats were blocked by hand but machine finished. Machine zig zagged wire on the brim edge, machine sewn bind on the edge. Machine sewn trimmings. A bit of glue, here and there. Bought flowers, pre-made linings sewn in. These were everyday hats for the average women. Semi-model because they were half hand made and half machine made.
Ready to Wear
The final category is ready to wear. These were hats blocked on a hydraulic hat press. Metal hat blocks, heated by either gas or electric element could produce many blocked hat shapes per hour. Machine sewn edge and binding, machine head ribbon inside, with simple trims either stitched or glued on. These hats were sold at Myer or David Jones and every little frock shop in the suburbs. Hats for church, hats for weddings, hats for work, hats for every day. People now sneer at ready to wear from a millinery perspective. It has developed a bad name in the last couple of decades. Some call it the "hot glue gun brigade".
However, many milliners realise that there should be an affordable option for every client who walks in the door. Many people who have never worn a hat all year will opt for a ready to wear hat as an economical way to buy and wear a hat. Model and Semi model millinery it isn't but to that person it could be a "gateway" hat for a younger race goer. Or a pretty headpiece to wear to a wedding. In a few years, when working in an established career, that same person might be looking for custom made creation from a milliner.
On Reflection
At the recent season of "Ladies in Black" by the Queensland Theatre Company (book written by Carolyn Burns, music and lyrics by Tim Finn based on Madeleine St John's novel, The Women in Black, directed by Simon Phillips) some of our Millinery Association members went to see the show as one of our member outings. Many members were delighted by the nostalgia the show evoked of the fashionable era of city shopping and department stores of the 1950's and 1960's. The show was not too sentimental but in fact "an echo of a different time in Australia's history".
As milliners, we sometimes focus of the fashionable hat days of a bygone era but this sentiment sometimes makes hat history seem far more glamorous than today. Maybe it was…but what can be said is that today, more than ever, milliners are still creating amazing hats and custom made head wear for clients, they are still making regular collections that tie in with the seasons and special events calendars and some are even making very affordable, ready to wear options at a lower cost for all clients and budgets.
Gone are the leopard print chairs and gilt mirrors, and Hello internet! Today's modern milliners offer all three types of millinery: Model, Semi-Model and Ready to Wear but in a contemporary way. And with the age of the internet and social media, it is now an endless fusion of fashion inspiration and design. The internet is filled with amazing pictures of vintage pieces yesteryear right through to today's cutting edge design and on trend style.
The future is bright, so be sure to check out our milliners directory here to find a milliner just right for you!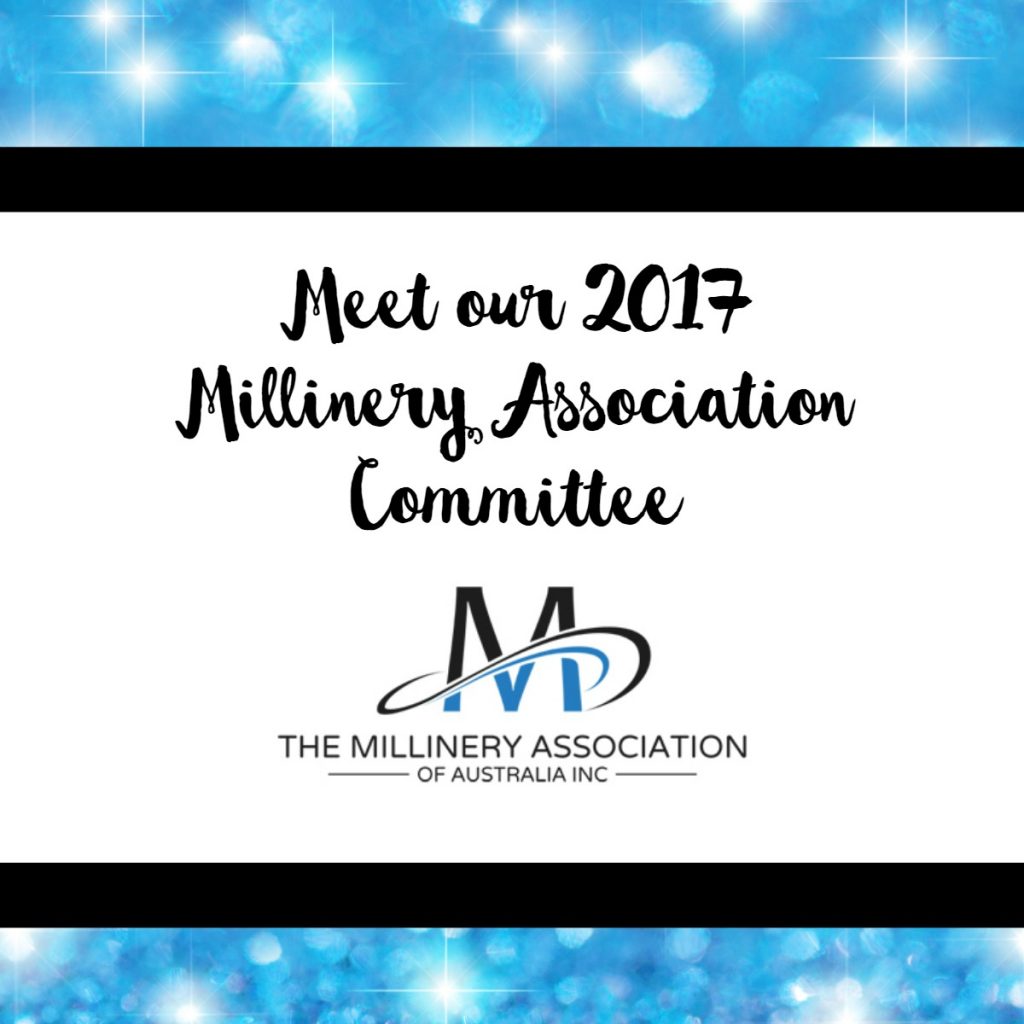 In November 2016, the Millinery Association Members voted at the Annual General Meeting and a new Committee was formed. We wanted to get to know our new Committee better so we asked them three questions.
What's your background in the millinery industry?
What do you hope to achieve by your appointment to MAA Committee?
What's something you'd like to share that we might not know about you?
Here are the 2017 Committees responses:
Rose Hudson, President (Victoria)
What's your background in the millinery industry?
I started as a junior milliner when I was sixteen. I haven't had another occupation all my working life. I raised two sons while working (I went into labour with my second son while packing the hats for Beauty and the Beast!). I went back to study when I was 45 (and still working) and got my VCE and entered RMIT as a mature age student. I completed a Professional Writing and Editing Diploma which has complemented my millinery work with writing notes and correspondence. I am a theatre milliner. Making head wear for the performing arts is my preference, but I make some race wear in October and the occasional bride. I enjoy teaching and imparting the knowledge I have gained in this industry. Millinery now is a mostly solitary pursuit and I like meeting and being with people.
What do you hope to achieve by your appointment to the MAA committee?
Becoming president was a very proud moment for me. Millinery has been my life. I decided to run for the committee position because I wanted to give something back. I've been in millinery for a very long time and it's been personally very rewarding, I hope to enable others to feel that way too. Whether you're the little guy working at home or someone with a brand, a big label and a shopfront, I want us all to derive satisfaction and happiness from what we do. I want to encourage high standards. I want us to do more social activities together, get to know one another better because if we are united and happy, we can achieve so much more with a shared vision. I know this committee shares that vision.
What's something you'd like to share that we might not know about you?
I come from a big noisy happy family. Can you tell? I'm used to making myself heard and fighting for attention. I won an Easter bonnet parade hat competition when I was in grade two (1970) at school for the best hat. My parents were both very creative, my mother and grandmother taught me to sew. My father was a gifted drawer and artist but told at a young age he couldn't make a living from that. He worked in a bank all his life and hated it. I vowed I wouldn't be the same. When I'm in my studio making hats, I couldn't be happier. I love my two cats, Ally and Dora.
Catherine Kelly, Vice President (New South Wales)
What's your background in the millinery industry?
A lifetime of wearing and loving hats for every occasion encouraged me to follow on and learn and experiment with making hats. I pursued Home Economics teaching as a career – and then specialised more in textiles and design, doing my first millinery class with Waltraud Reiner in London in 1989— and took my passion to realisation when I did the millinery course at Ultimo TAFE – and finally establishing Embellish®Atelier to take my first orders. Located in Rozelle, Sydney, with a beautiful shopfront and studio which satiated and combined my love and passion for interior design, restoration of a Historic Building, showcasing Millinery, and supporting and collaborating with other like minded artisans.
What do you hope to achieve by your appointment to MAA Committee?
By becoming vice president I am excited to be part of a collaborative and innovative team which I believe will improve the professional profile of the association and help establish and nurture long term relationships between members and with suitable partner Associations.
What's something you'd like to share that we might not know about you?
I was Runner up Miss Queensland Country Life Showgirl in 1983 – and wore a hat to every event during that competition.
Felicity Northeast, Treasurer (Victoria)
What's your background in the millinery industry?
About 10 years ago (after a past history of always having at least one art or textile project on the go) I completed a few short courses in millinery. I soon realised the enormous scope within this form of art and enjoyed the way it enabled me to incorporate many of my textile skills. I went onto complete Certificate IV at Kangan. For a few years over the Spring Carnival I worked with established milliners (and MAA members) while I continued practicing as a dietitian. It wasn't long before my millinery business grew and my passion for working in the area took over.
What do you hope to achieve by your appointment to MAA Committee?
Being part of the association initially provided me with informal mentoring, a place to address work related queries and has allowed me to form connections with like minded people which is especially important when most of us work alone. I feel I understand millinery from the viewpoint of a new graduate to a professional milliner. I have always appreciated the time and effort the committee volunteer to the MAA and now felt it was time I could contribute. I am basically better with numbers that writing so I put my hand up for treasurer. I wish to see us progress towards a comprehensive computerised accounting system that would aid us with budgeting and forward planning. But most of all I want to work with the committee and MAA members to ensure an active, professional progressive association that represents all members across Australia from fields of millinery.
What's something you'd like to share that we might not know about you?
Frequently after the Spring Carnival my heels are replaced for hiking boots. This year it was trekking through Patagonia (the southern tip of South America) in 80-120km winds. The scenery was wild, varied and totally amazing. One year we flew to Tassie straight after Oaks Day and I was soon in knee deep mud reflecting how life was different a few days ago. No glamour, couture hats, champagne or make up just mud, fresh air and a crumpled sunhat.
Lauren Ritchie, Secretary (Victoria)
What's your background in the millinery industry?
I attended a short course in Millinery at Riverina Institute of TAFE in Albury during my final year of High School with Elizabeth Hemsley. For my Tertiary studies, I followed this passion by completing Certificate II, III & IV in Millinery at Kangan Batman Institute in parallel with a Bachelor of Applied Science – Fashion Design at RMIT. During the first year of training I completed work experience with Louise Macdonald and have continued to work with her since.
What do you hope to achieve by your appointment to MAA Committee?
I hope to make a contribution to the Association to assist in its professional running to ensure that there continues to be a strong Millinery Industry into the future.
What's something you'd like to share that we might not know about you?
I am originally from Wangaratta and continue to play in a Swing Band called High Society Jazz Orchestra that is based in North East Victoria that performs at the Wangaratta Jazz Festival and this year at the Castlemaine Jazz Festival.
In alphabetical order by first name:
Debbie Kelly, General Member (Western Australia)
What's your background in the millinery industry?
I commenced creating millinery in 2006 and being based in Perth my only resource at the time was a book "From The Neck Up" by Denise Dreher and is still my go to resource for millinery techniques. It was not until 2010 that I took my first class with a Jane Stoddard with creating a leather headpiece that I fell in love with leather and in 2012 I attended the millinery conference at Wagga.
Since 2006 I have established a loyal clientele, both nationally and internationally with some of my designs being worn in the birdcage at the Melbourne Cup Carnival, the Royal Enclosure at Royal Ascot and worn by Fashion on the Field winners. I have enjoyed collaborations with Western Australia designers and Perth TV personalities. To date my most memorable highlight of my millinery career was being one of the designers invited to present at the Telstra Perth Fashion Festival on closing night last year. During 2011 and 2012 I was awarded several awards at the Perth Royal Show for my leatherwork. In 2014, I was nominated as a finalist in the Belmont Small Business Awards.
What do you hope to achieve by your appointment to MAA Committee?
I'm very honoured to be elected onto the 2017 MAA Committee and during my appointment it is my endeavour to set up policies and procedures for future MAA Committees and members. I believe that having these in place such a manual would be beneficial to all MAA members as it will set clear guidelines as to how to approach i.e. pop-up shop, holding events, sub-committees etc. Being a self-taught milliner I'm very proud to be a member of the MAA and to be elected on the Committee. During 2017 I am working on establishing more Perth milliners to join the MAA and hopefully hold a joint event under the banner of MAA.
What's something you'd like to share that we might not know about you?
Being self-taught and the lack of confidence with public speaking one of my biggest fears would be teaching fellow and up and coming milliners.
Georgia Skelton, General Member (Victoria)
What's your background in the millinery industry?
My Mother taught me to sew at a very young age, inspiring and encouraging me with all things crafty. I studied fashion design at Box HilI Institute, winning the student of the year award and subsequently studied millinery at Kangan Institute receiving an outstanding student award. Over the years I have taught at most of the leading Tafes in Melbourne and I am currently the Millinery mentor at Melbourne Fashion Institute. I started making hats to compliment my own race wear outfits when I married a racehorse lover.
What do you hope to achieve by your appointment to MAA Committee?
I hope to bring an inclusive of all vibe to the association and encourage and assist with the growth of the association both in numbers and keeping up with the times. I am happy as both a leader and a team player and will go where I am needed.
What's something you'd like to share that we might not know about you?
My passion for millinery is a natural extension of my fashion and theatrical background I was a dancer with the Australian Ballet Company and I think this infuses much of my work with a sense of drama. My Mum still inspires me today
Leighanne Crocker, General Member (Victoria)
What's your background in the millinery industry?
Started learning in 2008 and now running my own label Day Flower Millinery. I love hats and have always worn them, so naturally when I wanted to find a new career outside of the corporate world millinery was it! I love creating hats and my preferred way is to make a collection and sell them online. I like some bespoke work but cannot commit too much because of my other businesses. I feel millinery is the way I express myself creatively.
What do you hope to achieve by your appointment to MAA Committee?
I hope to bring my skills from other parts of my life. I include my strong desire to help people feel empowered to not only create a hat but have the ability to bring it to market too and make a thriving abundant life out of millinery. I am driven to bring millinery into the contemporary market place we live in and thrive! I want to collaborate, not compete and work smarter, not harder.
What's something you'd like to share that we might not know about you?
I am a qualified remedial massage therapist and essential oils lover! I love helping people find wellness and live their dreams. I took a break last year from millinery to get perspective which I really needed to do….. It really helped me immensely by investing in personal development and upgrading my business skills which I devote time to every week. I've found I've become much happier and enjoying my work a lot more but keep a better balance on everything.
Lorraine Gill, General Member (South Australia)
What's your background in the millinery industry?
I was teaching leather garment making at TafeSA during the time when everyone wear a lot of leather, (1980's) and with fashion being as fickle as it is, I had to find something to earn money for me and keep me self employed, so I took on bridal wear, which is 3 month fittings with the bride and her maids. The bride's mother usually attended the fitting and often decided, invariably, at the last minute that she needed some sort of head wear. The Millinery classroom was next door to my Leather garment classroom and visit into there to chat to Gwenda Baker, who is now a life member of MAA, wetted my appetite for the art of Millinery. The mothers of the bride's requests to make hats to match made it a necessity to learn and of course became addicted to it.
I studied at TafeSA in the early 90's. Started teaching in 1996 and am still teaching, having instigated the introduction of the nationally accredited Certificate II and a few years later, Certificate IV in Millinery. I, and three of my past students, have set-up an occasional or "pop-up" shop spanning over 20 years, and have been judging the entries at the Adelaide Royal Show for something like 15 years. I have been a member of the MAA for 12 years. I have won awards in local hat competitions and have been in the final 10 at the Myer Fashions on the Field Millinery Awards on 3 occasions and final 20 on two occasions.
What do you hope to achieve by your appointment to MAA Committee?
To help make the MAA truly national, promote the standard of millinery in Australia and encourage the wearing of hats. To extend my passion to educate and nurture upcoming millinery students to make sure that the art of millinery is alive and well in South Australia to the whole of Australia.
What's something you'd like to share that we might not know about you?
Adelaide started the Hats off Conventions in 2003 when social media was not available.
Louise Macdonald, General Member (Victoria)
What's your background in the millinery industry?
I have been working as a milliner since 1990. Following my diploma at Wimbledon School of Art in Costume Interpretation, I was lucky enough to get a full time job as milliner working for Cosprop, a period costume company in London where I made hats for mostly film and television productions, with a little bit of theatre thrown in! All were period productions, so this gave me a good grounding in historical headwear. After working there for 5 years I returned to Melbourne and set up studio in the Nicholas Building where I've been working as a sole trader since 1995. My focus now is more formal occasion headwear and millinery education.
What do you hope to achieve by your appointment to MAA Committee?
I've been a member of the MAA since 1996. Initially I was secretary for a year or two, when we had only a handful of members! Over the last ten years I have tried to facilitate professional development within our membership by being a convenor of the Hats Off to Melbourne Convention in 2008, and since then organising professional development programs and workshops with Ian Bennet, Lauren Martin, Paul Anthony and Bridget Bailey. I joined the committee at the end of 2015 and was re-elected this year. My aim on the Committee last year and this year is to continue with professional development of our members through guest speakers at meetings, encourage participation of interstate members in the Association and work on presenting as a professional organisation so we can extend the reach of our members to other organisations that will enable our aims.
What's something you'd like to share that we might not know about you?
About a year or two ago I started learning the Ukulele, and I LOVE it! No I'm not ready to give you a performance, but it gives me the joy that I guess people feel when they first start making hats. It feeds the soul! If I practice I get better!! My dog is an avid admirer of my playing!
Sandy Aslett, General Member (Queensland)
What's your background in the millinery industry?
Approximately 9 years in millinery learning and now still up-skilling to keep up with the latest techniques, trends and designs. Before then I was a Regional Industry Career Adviser for Australian Industry Group bringing Industry & Education together and working on projects in Construction & Manufacturing, so that was nothing to do with millinery trade but promoting qualification as a career option.
What do you hope to achieve by your appointment to MAA Committee?
Re-adjusting attitudes in regard to the public perception of the Association. Play a part to increase awareness of millinery in Australia and internationally whilst promoting our own Aussie tutors as best in the world. Using my expertise in business and project management to assist in the benefit for the Association.
What's something you'd like to share that we might not know about you?
Was honoured with an Australia Day Award for sport as I played hockey for Queensland for 13yrs and also was chosen as a Shadow Player for Australia.
For more information about our Committee and all our amazing Millinery Association Members checkout our Milliners Directory: http://millineryaustralia.org/milliners/