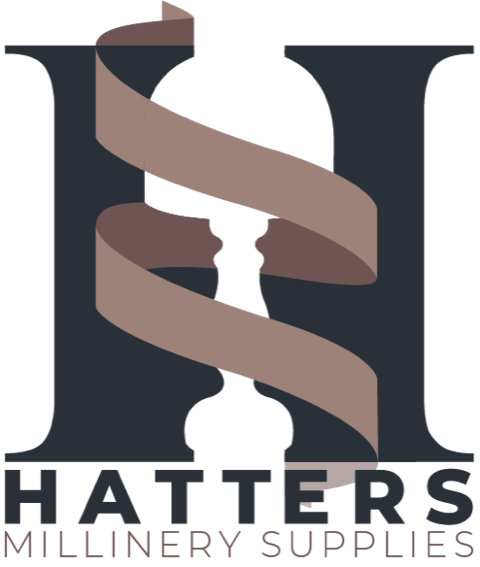 Hatters Millinery Supplies
About Hatters Millinery Supplies
Hatters Millinery Supplies is Australia's oldest millinery supply business. They are proud to carry on the traditions and practises of Australia's original millinery supplier, S.A. Brown. It supplies quality millinery products for your creativity in partnership with, and located within, Embellish Atelier, a French inspired shop in beautiful historic Rozelle, just a few minutes from Sydney CBD. Since 2017, Catherine Kelly's shop, at 128 Victoria Rd, has hosted a retail section for all of the Hatters Millinery Supplies that you have come to love. 
Hatters Millinery Supplies specialises in a wide range of quality millinery materials to spark your millinery creativity. Including the finest felts, woven straws, millinery hoods and capelines as well as sinamay, petersham, decorative ribbons, veiling, flowers, blocking fabrics, feathers and thermoplastic materials.
We are exclusive distributors in Australia for Salmon skin leather in addition to the beautiful range of Tressa Swiss braids. We look forward to supplying you our quality materials and millinery education to enhance your creativity.
Shop on-line or in store and our mail order service, both local and international, is our key priority. We are well known for our efficient and fast delivery times and this is our key focus for customer satisfaction. Honesty, integrity and authentic customer relations are the values we pride ourselves on every day.
The annual millinery competition 'Hattember' is sponsored by Hatters Millinery Supplies. The Hattember competition is a charitable effort which raises funds for the John Skipper Kelly Fund. The JSK Fund is a cause close to our hearts, which provides leadership opportunities, mentoring and support for young people from a range of backgrounds. Create something magical each September with the Hattember Competition! Using your imagination – and Hatters Millinery Supplies materials – create a hat, headpiece or artistic accessory that will blow us away!