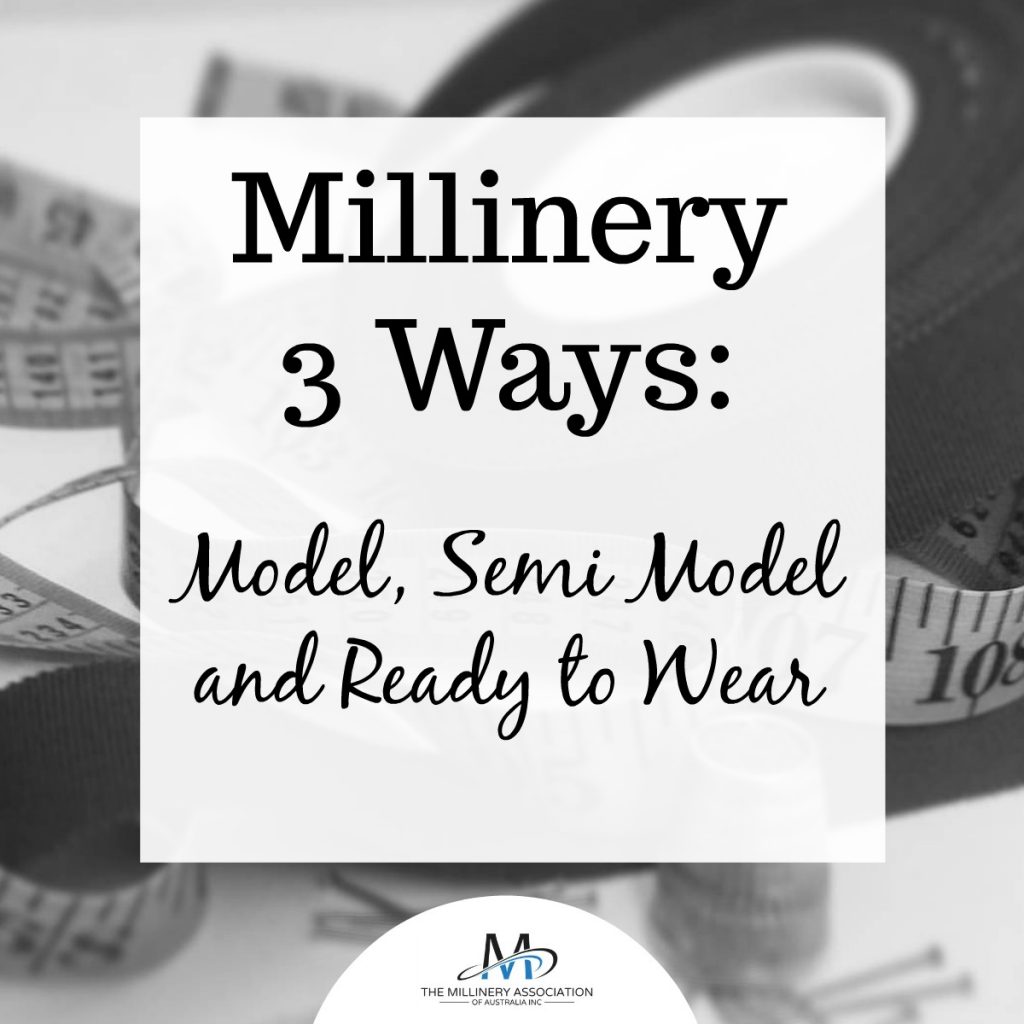 The millinery trade has a long history overseas and particularly in Australia. But did you know that within the term millinery there are three types of categories? In the past, milliners adopted one of these distinct types and everyone knew where they stood and the work reflected this.
We ask ourselves of today's contemporary millinery – is there a place for all three types still? Let's explore this topic with commentary from our current President, Rose Hudson. Some milliners call themselves couture or bespoke, and others don't. Many hats these days are mass produced but if you shine the spotlight on Australian milliners, all three types of millinery are still represented in a more modern way and they are just as relevant. From the biggest to smallest of budgets, there is millinery for everyone. And this links back to why these millinery types existed in the first place.
So, what are Model, Semi Model and Ready to Wear?
Model Millinery
Model Millinery was and still is making a hat from scratch. Taking it from the imagination and making it a 3D reality for the client. The most glamorous of salons like those of Thomas Harrison or Ronald Bernarde in Melbourne, Australia were at the upper end of model millinery in the hey day of millinery fashion. They had gilt mirrors, leopard skin rugs, chandeliers and a frightening pomposity. Many other capital cities around Australia also had similar millinery salons just like these.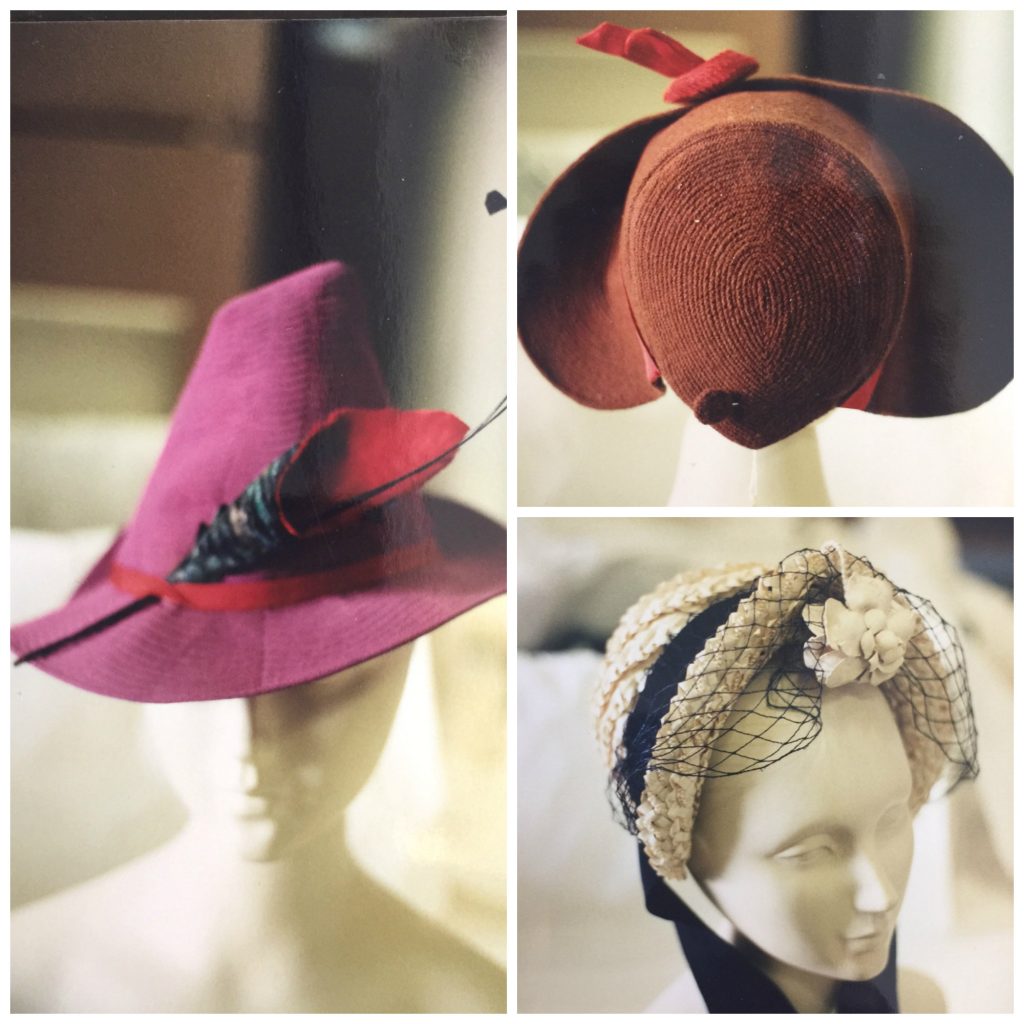 These salons of yesteryear usually had one velvet upholstered chair in front of the mirror. There were very few hats on display. The average women was too nervous to enter. The milliner or manager of the salon would discuss madam's requirements, take her head measurements (if it wasn't already recorded in a book somewhere) write some notes and take a small deposit.
The manager would then go upstairs or behind a curtain to a workroom where 3 or 4 milliners worked. Discussions ensued about the client's requirements and the head of the workroom (a hierarchy never in dispute) set about making a block first for the client. The block was made of sparterie and sometimes took a week to make. The milliner then started making the hat from there. All trimmings were handmade but the flowers imported from Europe and France. They were never made like milliners do today. There would be a first fitting, to make sure that the hat was what the client had in mind.
Two weeks later when it was completed the client was called for a final fitting and took her hat home. The average cost of a hat was like the equivalent of a week's wages. Rose Hudson recalls " I know this because my mother had her going away hat made by Ann Austin in the Block Arcade and this was the procedure and what it cost."
Semi-Model Millinery
So the average woman usually didn't go to a salon of a model milliner. They went to "semi-model" milliners. These milliners could be found in the city and they were in every shopping strip in every suburb too.
Magda Urban in East Brighton, Marie Therese Ward in Brighton, Elizabeth of Kew at Kew Junction, Belle's Bonnetts in Howie Place and Stella Long in the Block Arcade, where our current President Rose Hudson worked for a time. Every milliner has heard with delight the phrases "my grandmother was a milliner, my aunt was a milliner". Usually these women worked in little hat shops of the semi-model milliners. Rose recalls "The woman who trained me as a junior, had her first hat shop in Kew in the High Street. She had a fabulously successful business which she put down to a bus stop out the front. Women waiting would come in and browse. She made a fortune in the days when women wore hats everyday."
In these shops, the hats were blocked by hand but machine finished. Machine zig zagged wire on the brim edge, machine sewn bind on the edge. Machine sewn trimmings. A bit of glue, here and there. Bought flowers, pre-made linings sewn in. These were everyday hats for the average women. Semi-model because they were half hand made and half machine made.
Ready to Wear
The final category is ready to wear. These were hats blocked on a hydraulic hat press. Metal hat blocks, heated by either gas or electric element could produce many blocked hat shapes per hour. Machine sewn edge and binding, machine head ribbon inside, with simple trims either stitched or glued on. These hats were sold at Myer or David Jones and every little frock shop in the suburbs. Hats for church, hats for weddings, hats for work, hats for every day. People now sneer at ready to wear from a millinery perspective. It has developed a bad name in the last couple of decades. Some call it the "hot glue gun brigade".
However, many milliners realise that there should be an affordable option for every client who walks in the door. Many people who have never worn a hat all year will opt for a ready to wear hat as an economical way to buy and wear a hat. Model and Semi model millinery it isn't but to that person it could be a "gateway" hat for a younger race goer. Or a pretty headpiece to wear to a wedding. In a few years, when working in an established career, that same person might be looking for custom made creation from a milliner.
On Reflection
At the recent season of "Ladies in Black" by the Queensland Theatre Company (book written by Carolyn Burns, music and lyrics by Tim Finn based on Madeleine St John's novel, The Women in Black, directed by Simon Phillips) some of our Millinery Association members went to see the show as one of our member outings. Many members were delighted by the nostalgia the show evoked of the fashionable era of city shopping and department stores of the 1950's and 1960's. The show was not too sentimental but in fact "an echo of a different time in Australia's history".
As milliners, we sometimes focus of the fashionable hat days of a bygone era but this sentiment sometimes makes hat history seem far more glamorous than today. Maybe it was…but what can be said is that today, more than ever, milliners are still creating amazing hats and custom made head wear for clients, they are still making regular collections that tie in with the seasons and special events calendars and some are even making very affordable, ready to wear options at a lower cost for all clients and budgets.
Gone are the leopard print chairs and gilt mirrors, and Hello internet! Today's modern milliners offer all three types of millinery: Model, Semi-Model and Ready to Wear but in a contemporary way. And with the age of the internet and social media, it is now an endless fusion of fashion inspiration and design. The internet is filled with amazing pictures of vintage pieces yesteryear right through to today's cutting edge design and on trend style.
The future is bright, so be sure to check out our milliners directory here to find a milliner just right for you!