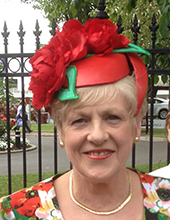 About Lorraine Gill
From her Studio in the leafy suburb of Highbury, which is nestled in the foothills of Adelaide's north-east, Lorraine Gill specializes in creating exclusive "one off" millinery designs ranging from the most casual beret or cloche, to the elegant confections to dawn the heads of a wedding party or guests, and in between you can include the more outrageous and funky creations which are worn to the likes of Melbourne Cup.
She is a participating Milliner for Studio Hats, which is a "Pop-up" hat shop, trading at the Metro Shopping Centre, Unley Road, Hyde Park, S.A. prior to Adelaide and Melbourne Cups. However, she is more than happy to consult with her clients, by appointment, at her Highbury address any time.
Lorraine is a self-professed millinery addict and enjoys passing on her skills with her teaching, which she has been doing since the early 1990's for TafeSA.  She was among a small group of Adelaide Milliners who instigated the inaugural "Hats off to Adelaide" Millinery Convention in 2003, an event which is now a biannual Convention being well patronized each time by more than 200 delegates, who thirst for skills and knowledge to improve the standard and quality of work produced by Australian Milliners.
Her "millinerytechniques.com" website is an educational website which she would like to develop more to promote the art of millinery to budding milliners all over the world.
Her Certificate 1V qualifications and her many years of practical experience and teaching have enabled her to perfect her skills to produce unique hats for all seasons, with attention to detail.
While she creates a collection of individually designed headwear each season, her clients are invited to consult with her to create that exclusive hat especially made to order.