Welcome to Millinery Australia's 'Boldly Different' exhibition.
Created especially for Melbourne Fashion Week 2021, it is a showcase of couture millinery as wearable art. Sixteen of Melbourne's most talented milliners let their imaginations run wild. The result is a demonstration of the quality and breadth of talent in Melbourne millinery today.
Millinery encourages originality and flair. With a hat or headpiece, the wearer can adopt a new persona, transform an outfit, stand out from the crowd and express their individuality.
Millinery Australia – the mark of quality
---
Catherine Storm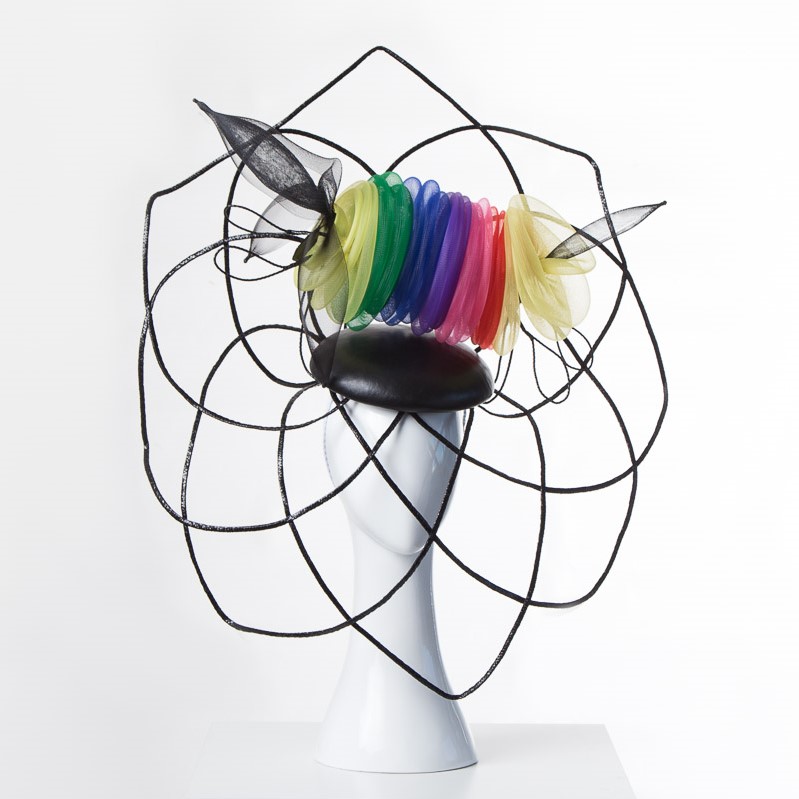 Dachshunds are the boldly different breed of the dog world.
Half a dog high and a dog and a half long. With the bark of a doberman and mind of a fox. They have no concept of size or disadvantage.
Fiercely loyal and protective. Resilient, tenacious and brave. And admired wherever they go. Who needs a rampant lion on a family crest when you can have a dachshund?
Chris Mullane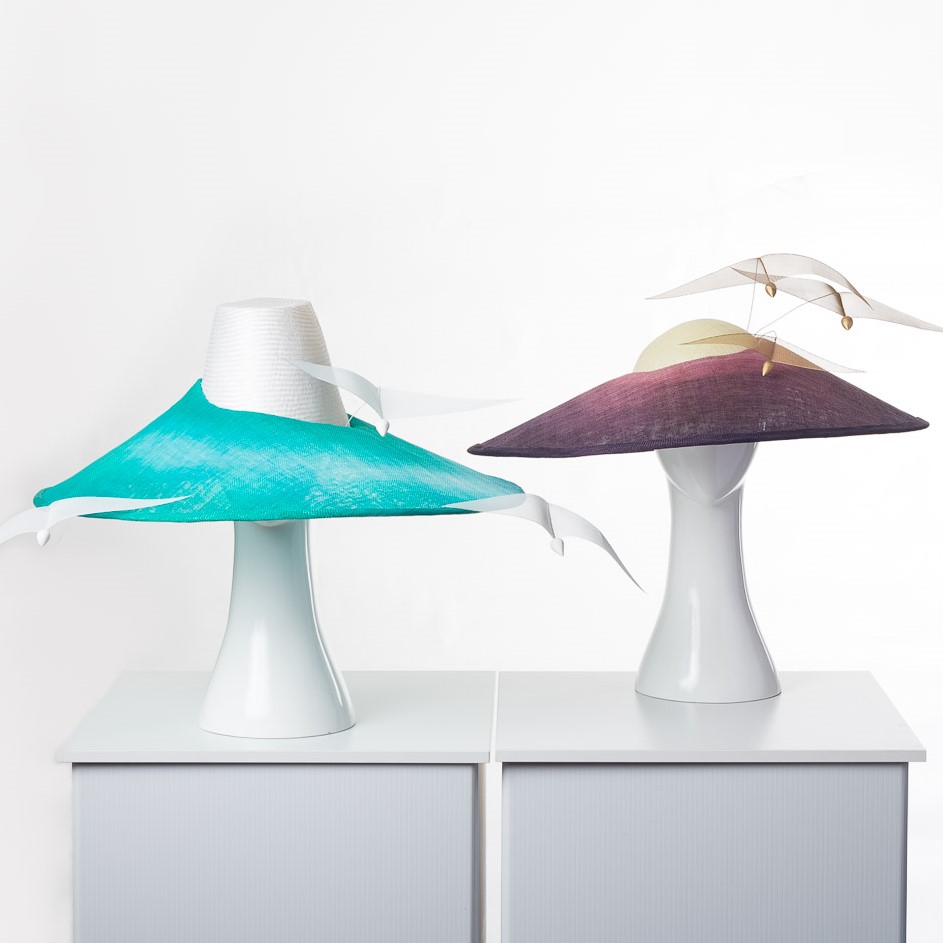 I have created two statement headpieces, that combined, tell my story of travelling in our own backyard during the pandemic and witnessing views that took my breath away.
The 'Whitehaven Beach' inspired piece represents the beautiful aqua waters and swirling sands of this iconic beach. I wanted to capture the serene and uplifting feeling you get when viewing this gorgeous part of Australia.
The 'Sunset' inspired piece allows the colours and shapes to do all the talking, with the yellow crown representing the sun. The beauty of sunsets are they allow you to get lost in the moment and literally watch time slow down.
The birds are universal symbols for freedom. Freedom to travel.
Enza Geddes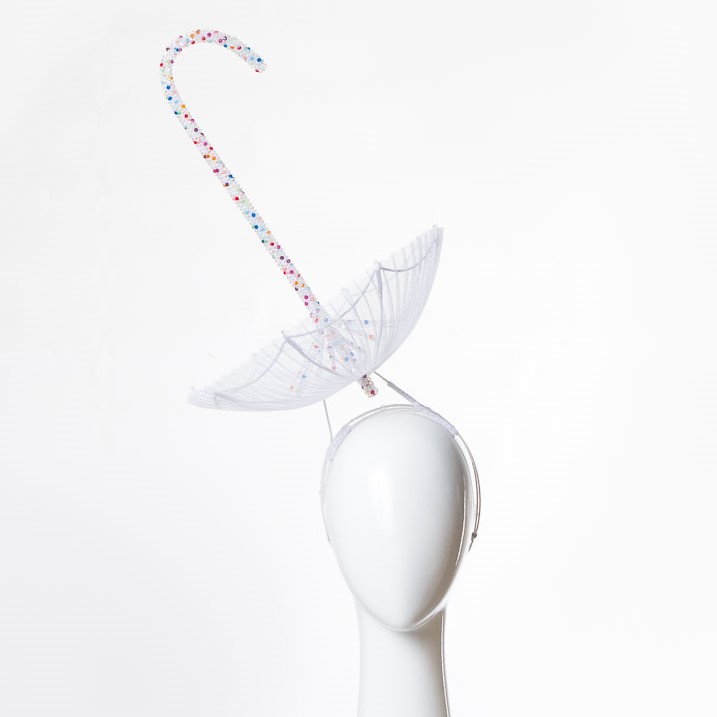 Inclusion is the action or state of including or being included within a group or structure. Everyone, regardless of their sexual orientation or gender identity deserves equal access to opportunities. This umbrella is a representation of gender inclusion for the LGBTQIA+ community.
This piece was constructed using wire for the handle, shaft, ribs and stretchers and pleated crinoline for the umbrella's canopy. Crystals cover part of the internal framework with the addition of coloured crystals to represent individuals who identify as Lesbian, Gay, Bisexual, Transgender, Queer/Questioning, Intersex, Asexual.
I am grateful for this opportunity to express and share my interpretation of differences in a boldly but subtle way.
Felicity Northeast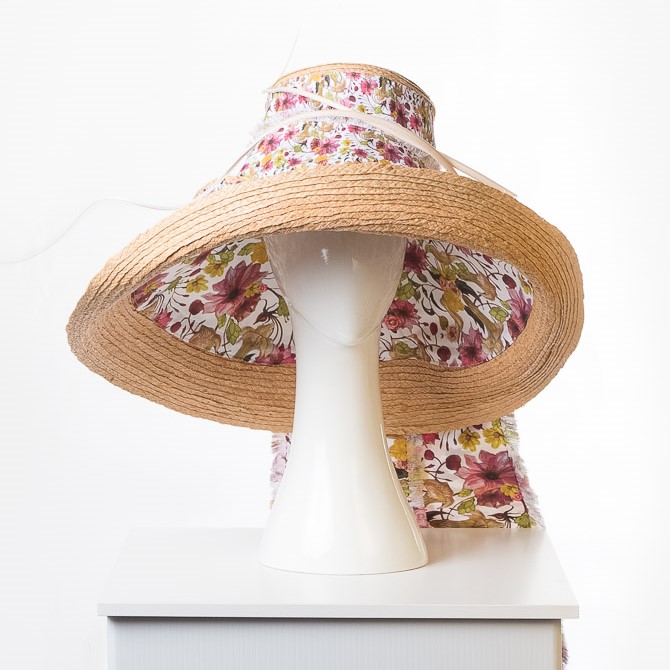 Designed to have a few adventures, this summer sun hat is made to be repurposed, deconstructed and reconstructed. After the limelight of Melbourne Fashion Week, the hat will be taken apart and transformed into three summer sunhats: a travel hat, a bucket hat and a wide brimmed hat.
Where will this hat go? On so many more adventures…
I began the sustainable summer hat collection last year as I connected with local artists in lockdown. Each year I plan to incorporate an artist print and this year's gorgeous 'the bell flower' print was designed by Estelle Michaelides.
Georgia Skelton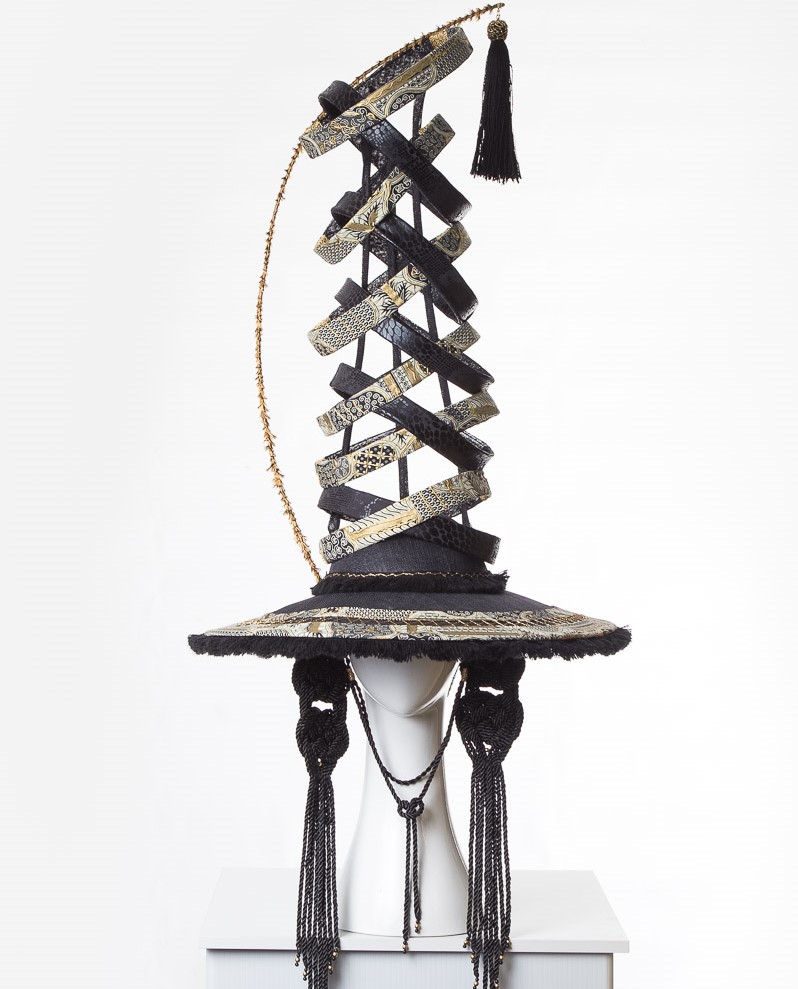 The inspiration for this piece was late 19th century Korea. Elites during this period wore a traditional cylindrical hat known as a 'gat' to represent their social status.
The creators of these hats were admired artisans, each having mastered a complex series of techniques. The 'Empress' is a homage to those artisans and their willingness to grapple with complexity in design and the macramé pigtails are an attempt to expand on the design blueprint of the Korean artisans.
The 'Empress', much like the artisans of the past, is my attempt to advance the art form.
Jo Peterson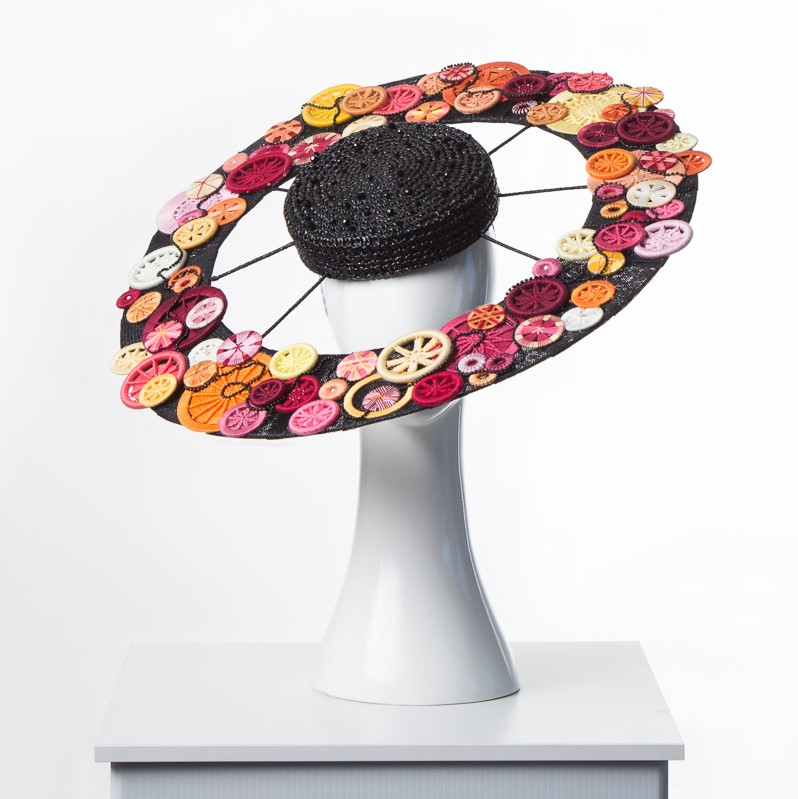 Melbourne, the city I love. My design was inspired by its tumultuous pandemic journey. It features a large circular brim covered in black sinamay symbolising our feelings of uncertainty as we collectively travelled the same eerily familiar path with each successive lockdown.
Colourful, hand-crafted Dorset buttons reflect Melbourne's cultural diversity and the interconnectedness of community. Deliberately overlapping each other signifying the support and strength shared with those around us.
My individual journey as a concerned (and frightened) wife, mum, sister, daughter, friend and nurse is captured by the meandering chain. I was not always sure of the right path to navigate to keep myself, and those closest to me safe, but thankfully got there in the end!
And what of the 'hidden gems' of lockdown? The good things we learned or rediscovered during Covid. Crystal and pearl embellishments depict connecting with family, time on the couch, Netflix, nana naps, jigsaw challenges, trivia nights on zoom and many virtual cocktail hours.
Laura Dunnington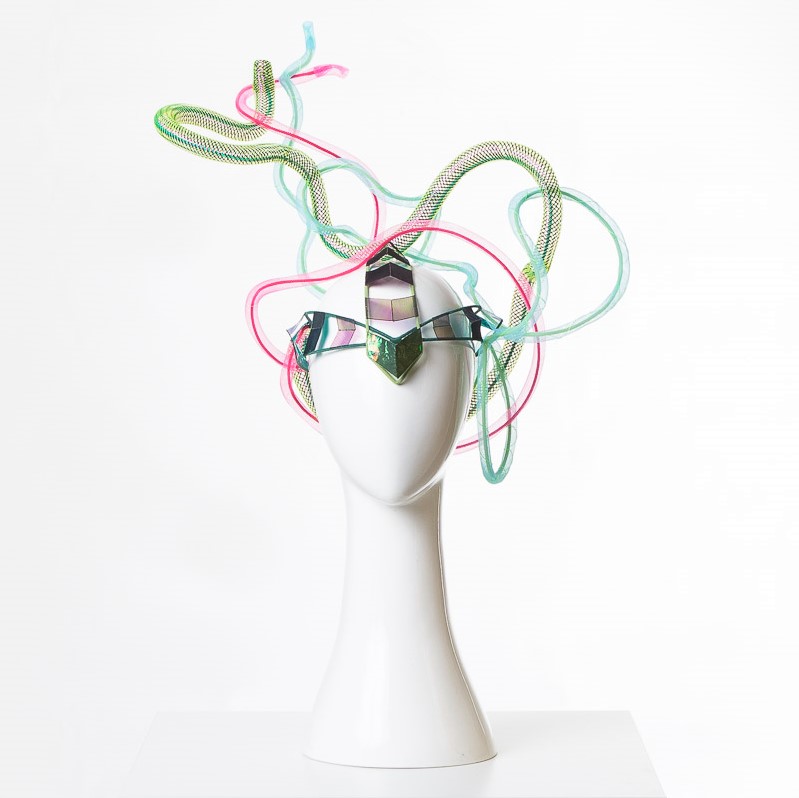 Flowing colours and lines intercept and disperse in a visual representation of sound. Activated by the viewer's taste and past experience. Soundscape celebrates the individual, all of whom are Boldly Different.
Lauren Ritchie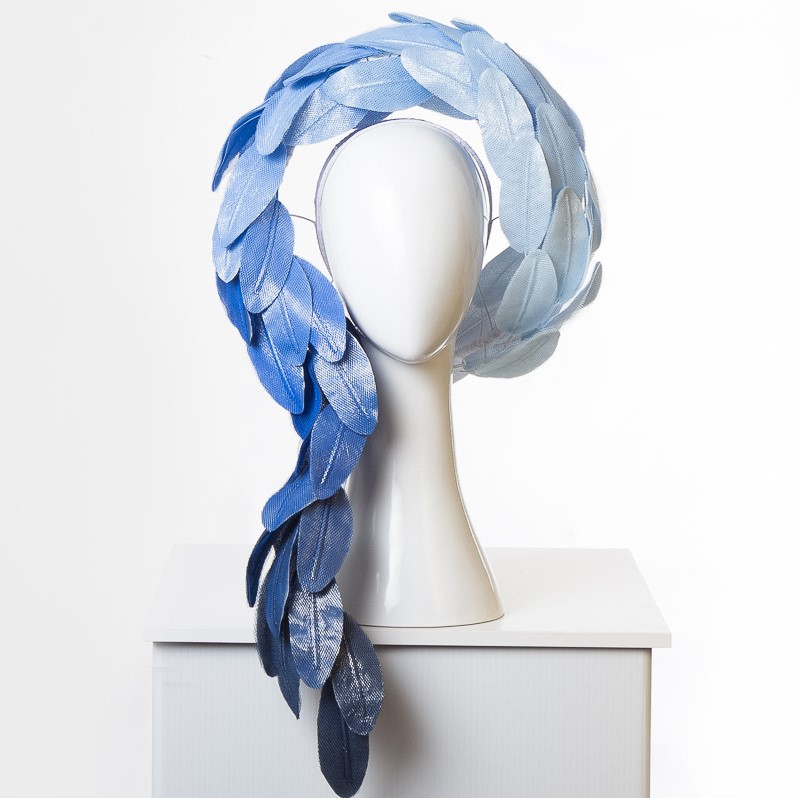 This piece is inspired by the stunning vibrant blue feathers of the Fairywren of the Maluridae family. The vivid feathers provide a sense of confidence and courage for this small bird, fitting of the 'Boldly Different' theme of the exhibition.
Using a complex wire base, the flowing shape is suspended above the head. Each delicate feather shape is constructed by hand with a considered layering of materials and attached individually to create a shape that sweeps through the sky. The gradient feather shapes transition from white at the back, moving over the shoulder to a beautiful mid-blue tone across the head and glittering navy feature at the front. The combination and variation of colours create movement which emulates the Fairywren flying through the surrounding landscape.
Lisa Watt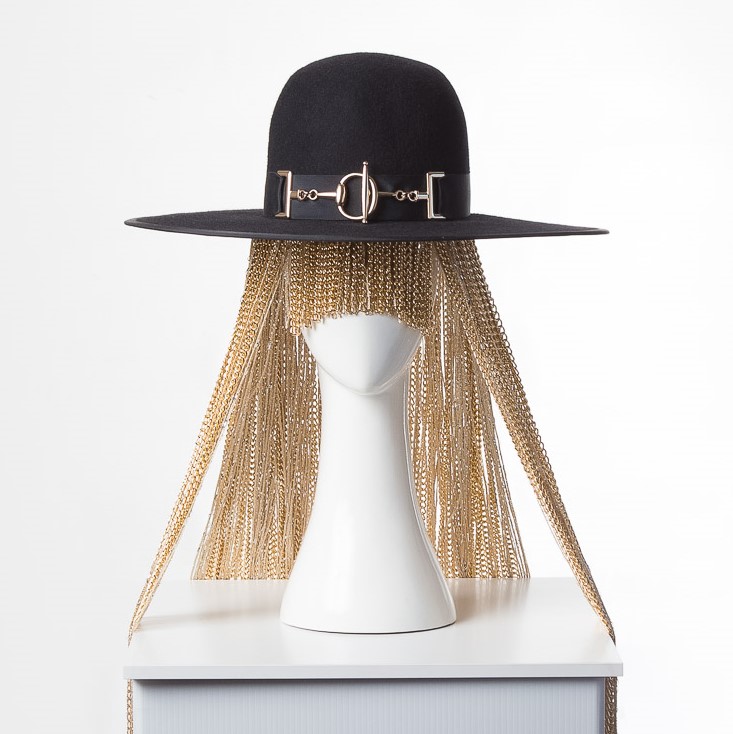 We all cover things up now and again.
For most of us, it's small things: concealing regrowth; dressing from the waist up in online meetings; telling people we're fine when we're not.
In the news we hear about more serious cover-ups: hidden payments; undisclosed donors; shredded documents.
Our veneer may shine but the burden weighs heavy.
Lisette Margini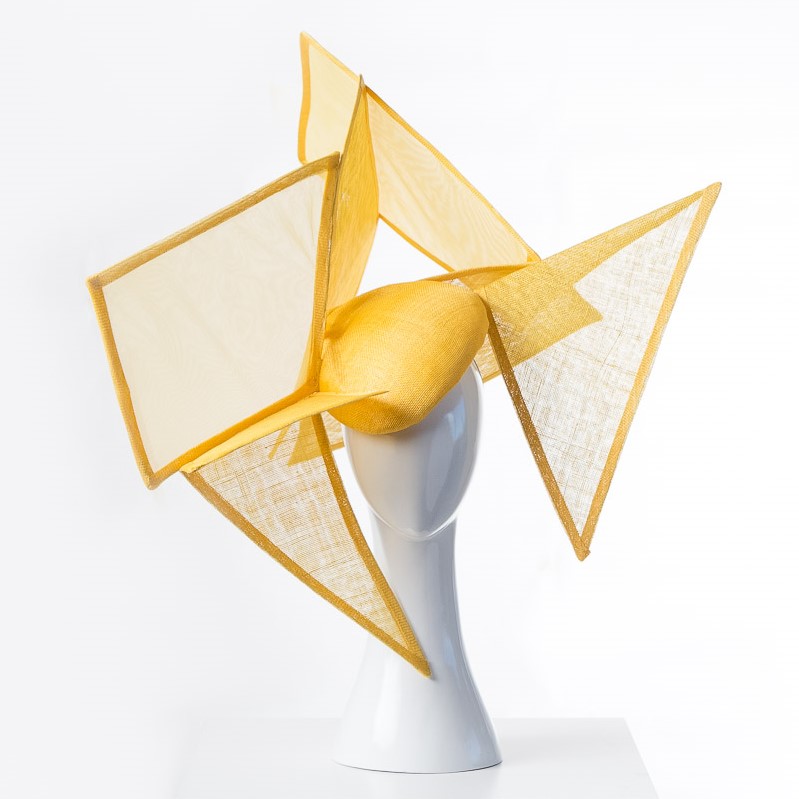 Boldly Different means only one thing to me…'Vault' AKA 'The Yellow Peril', Ron Robertson-Swann's sculpture installed in the City Square in 1980, the year of my return to Melbourne to study.
'Vault' was so bold and different it divided Melburnians to the point that it was removed. When teaching it was always a favourite topic to explore in our unit – What is Art?
My hat reflects the set of angular segments placed together to show fluidity of the sculpture as a piece of wearable art.
Louise Macdonald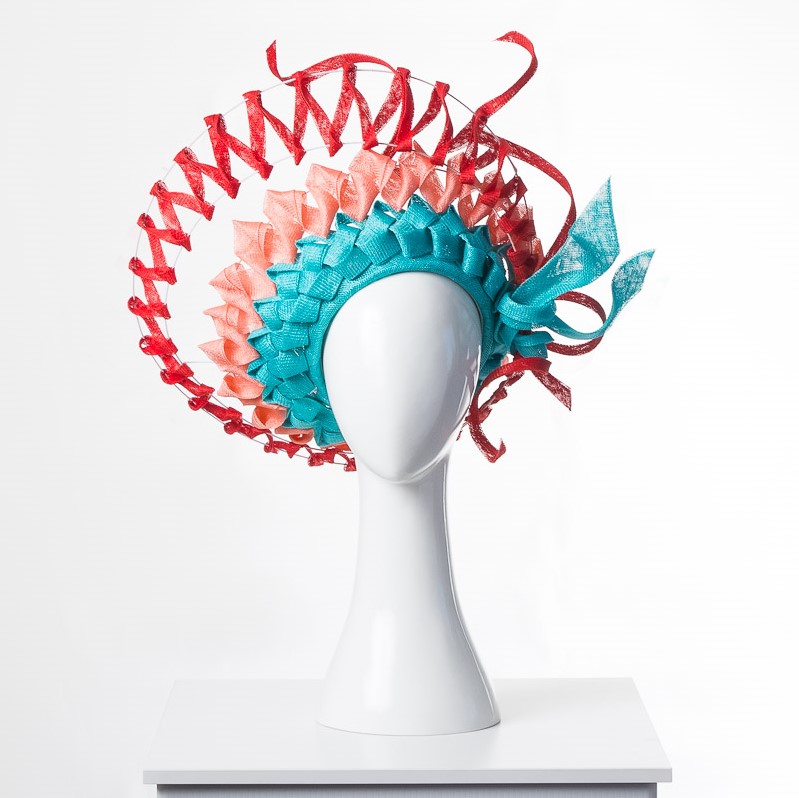 Straw fabric used by milliners is often hand woven by weavers in China and the Philippines. As a tribute to these workers, Louise has 'woven' a contemporary hat employing patterns and techniques often seen in ribbon cockade work popular in the 1920's.
A juxtaposed colour palate, bold with pastels, warm with cool is the result of utilising left over scraps of straw and recycled materials from previous Melbourne Fashion Week exhibition pieces.
Louise's studio is located above the construction of the Metro Tunnel Town Hall station in Swanston St. Its acoustic shed is decorated with a colourful mural by Emma Coulter which gave more inspiration in the making.
Phillip Rhodes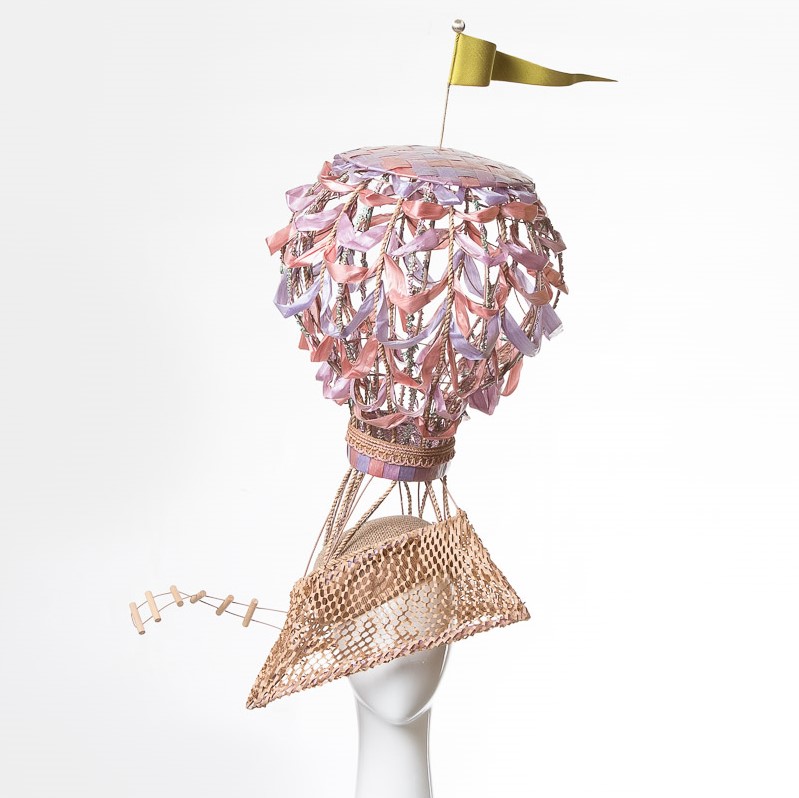 Birds flying high
You know how I feel
Sun in the sky
You know how I feel
Breeze driftin' on by
You know how I feel
It's a new dawn
It's a new day
It's a new life
For me
And I'm feeling good
Dragonfly out in the sun, you know what I mean
Butterflies all havin' fun, you know what I mean
Sleep in peace when day is done, that's what I mean
And this old world is a new world
And a bold world
For me
And I'm feeling good (Briscusse/Newley)
Letting go is easy yet the hardest thing to do. Two years on we should know what we don't want or need. It's a balloon let it go.
Possum Ball
My piece is called 'Heart of Melbourne' and represents just that, Melbourne's great big heart! I have used the many shoes on this piece to represent all the feet that have not been able to walk around this fabulous city of ours during the last 18 months through our many lockdowns – it sure has been quiet in town but the Heart of Melbourne has remained beating and the Heart of Melbourne is ready to welcome all back to our beautiful city with much love.
Rachel Henry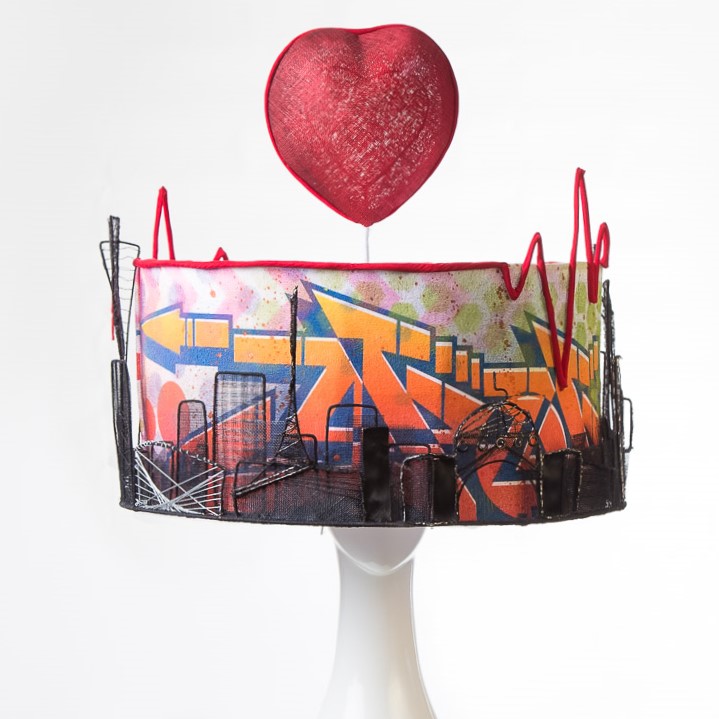 This piece was created out of the love of our city. A city that we have missed of late; an architectural melting pot, separated by secret laneways, each containing bursts of colour from the mesmerising street art. Melbourne…the inspiration for my piece.
The instantly recognisable Melbourne skyline. The city's silhouette is made from multiple layers of sinamay and detailed wire work, finished with tulle, threaded lines and glass beads. The centre is made from canvas, covered in graffiti art (as a collaboration with graffiti artist Daniel van de Wiel of It Stands Out) representing the famous Melbourne laneway art.
Sandy Forrester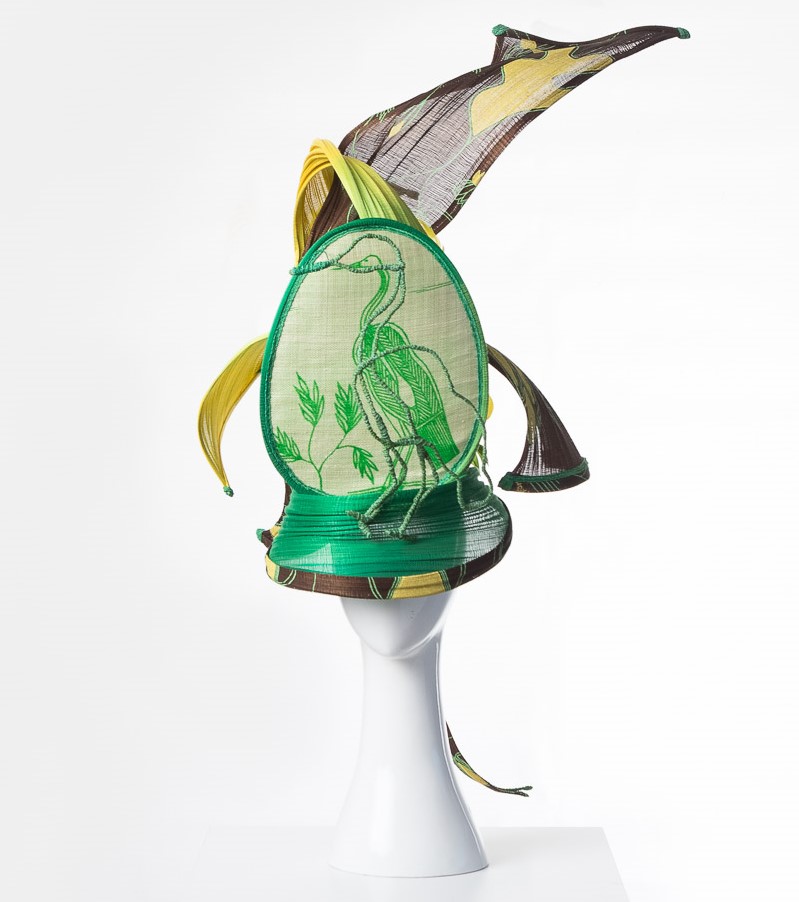 My inspiration is the beautiful indigenous artwork featuring the food and birdlife in West Arnhem Land, combined with the Bangarra Dance Company Dreamtime story of the Brolga (Gudurrku) an ancient Dreaming about a young girl who goes to a sacred ground and transforms from human to brolga, it is the original Swan Lake.
Waltraud Reiner commissioned a selection of the First Peoples Artwork to be screen printed on two different straw mediums to later on sell through her (then) millinery supply business.
I acknowledge the Artists from West Arnhem Land: Egret – Artist: Gershom Galagarr Mamme (Food) – Artist: Selina Nadjowh
Wendy Scully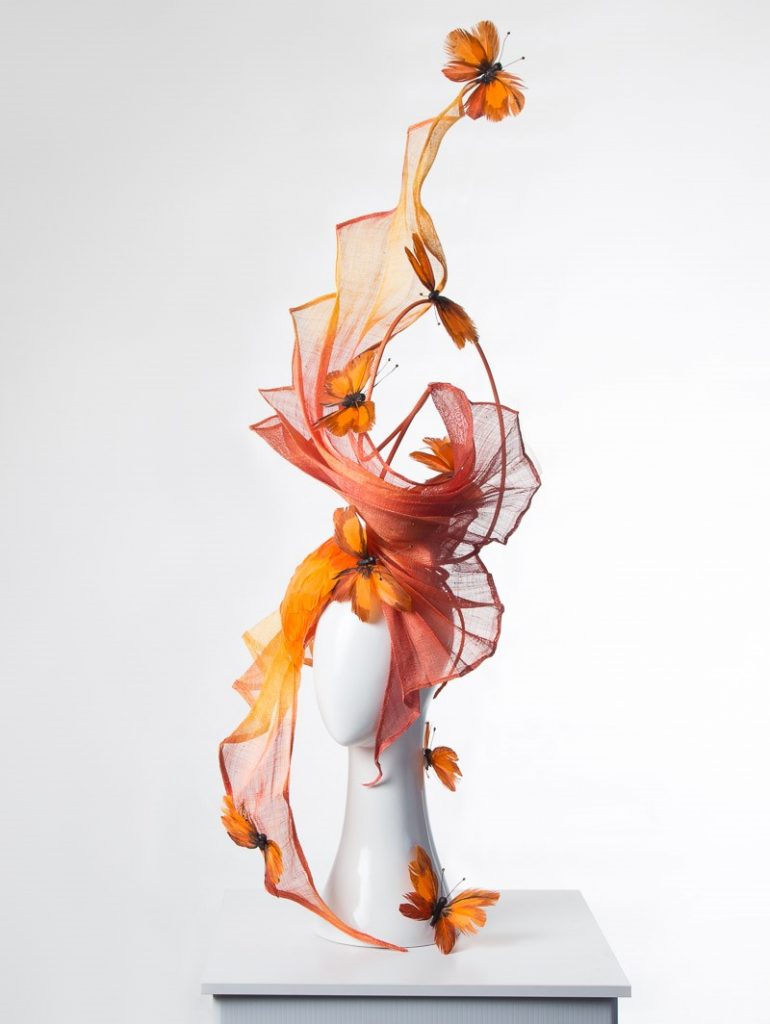 This simple sinamay fabric, in hombre colours of yellow to orange gave life to my imagination, showing its pure sculptural quality in an expression of line, form, repetition and shadow. It is a 'Boldly Different' headpiece, something outside the traditional hat box. I focussed on manipulating this light weight material to enable it to soar on a delicate wire structure.
The hat base shape on which the sinamay structure balances is covered in hand dyed feather tips.
The colours and feel of the hat inspired me to research butterflies and I have created my butterflies in feathers. I sourced their colouring from the endangered Coppersmith butterfly from the Melbourne area.
---