The 2022 MAA Student Design Award celebrates the work of the Student Members of the Millinery Association of Australia. The theme of this year's award was 'Magic Happens'.
Judging criteria for the competition included originality and creativity, relevance to the theme, quality of workmanship, degree of difficulty and wearability in terms of comfort and stability.
The judging panel included Rose Hudson, Laura Dunnington and Kim Fletcher with Michele Cameron awarding the Mary Lock Encouragement Award.
Thank you to Georgia Skelton for managing this award. Congratulations to all of the students who entered!
---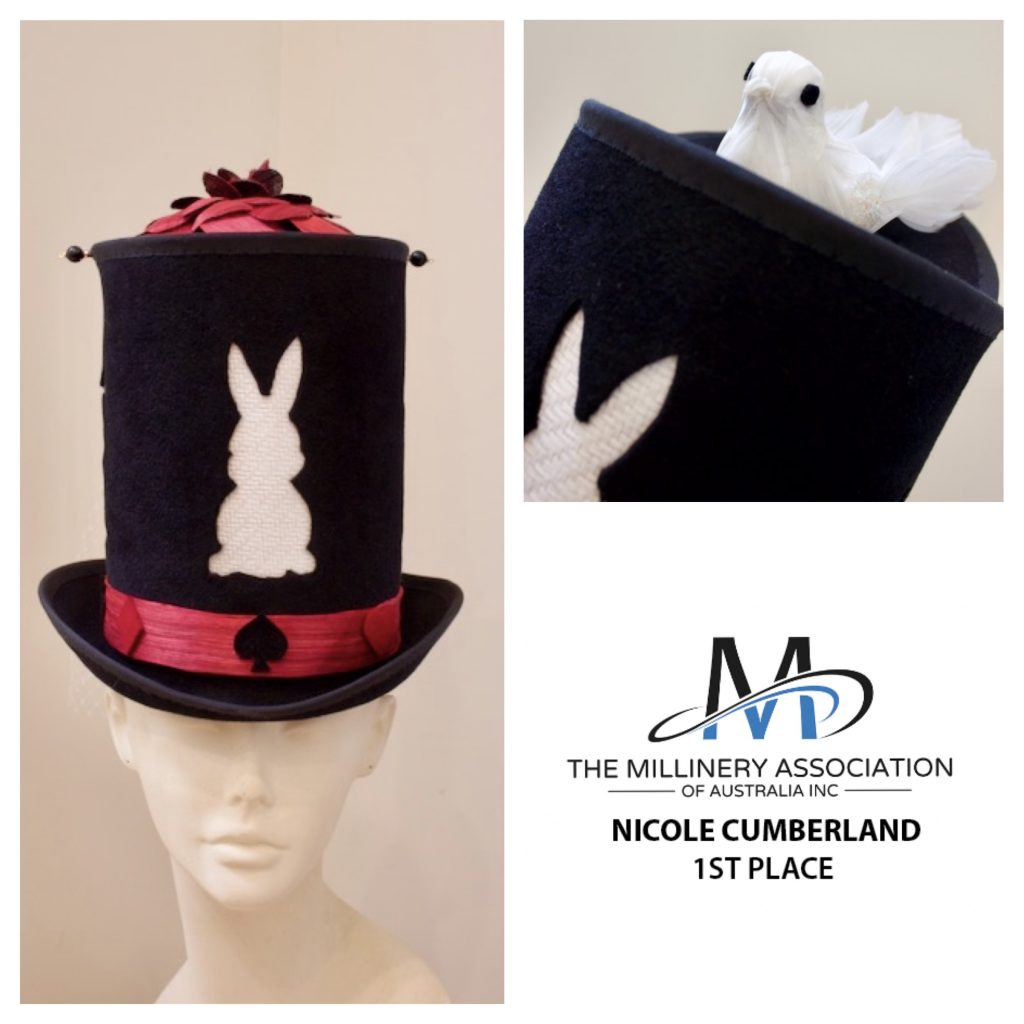 Nicole Cumberland
1st Place
Hoodwink
Cliché as it may seem I couldn't go past a magician's hat! My inspiration was to depict the magician and what their hat reveals. The silhouette of rabbits shows
them hiding inside. Card tricks, and of course the flowers they always pull from the hat. No magician is complete without a cape and bow tie. I also wanted to
have a reveal! Gently push the back of the crown down to see what else the magician is hiding in the hat. I was conscious that the inside of the hat could be
seen so it had to be finished in the same way as the outside.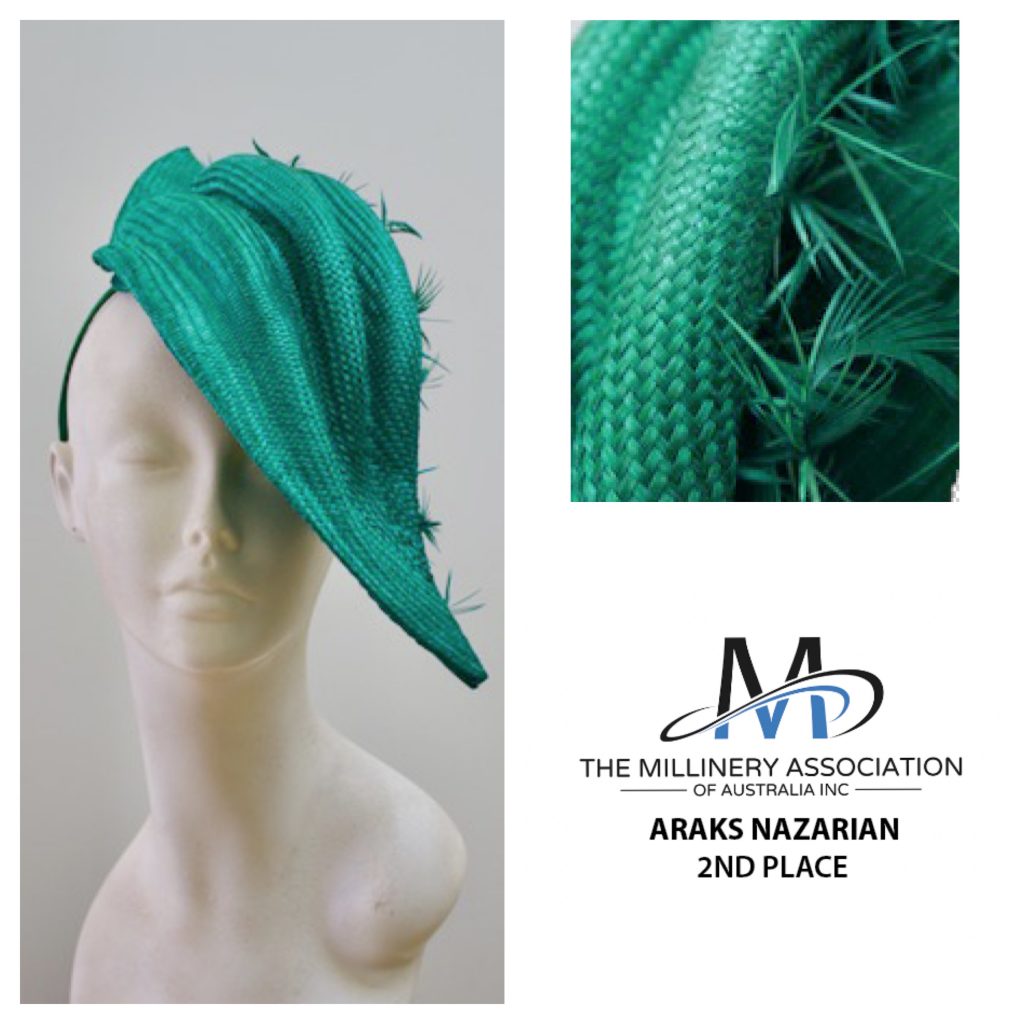 Araks Nazarian
2nd Place
Daintree dreaming
You feel the air cool your lungs; a bird is calling in the distance
and the sun disappears above the canopy of densely populated rainforest.
Since I was a child, the rainforest has been a magical place for me. The lush green environment with all its flora and fauna is my magical wonderland. In most recent years, we have been forced into the confines of our homes to stay "safe" yet our mental health has diminished, with an increased number of people I hold close to my heart telling, revealing their struggle with anxiety and depression.
I myself suffer from anxiety. Usually manageable, but sometimes it feels like the whole world is crashing down around me. Some people chase tornados, I chase rainforests. Once I step into my wonderland, there is a release, all the negative bursts out of my being, and I am at peace. Sometimes I cry, sometimes I sit there for hours and don't even whisper a word. This to me is magic.
I hope the wearer of this piece can embody the sense of peacefulness which the rainforest gives me. And with its swooping shape can channel all positive and sound energy back into all of us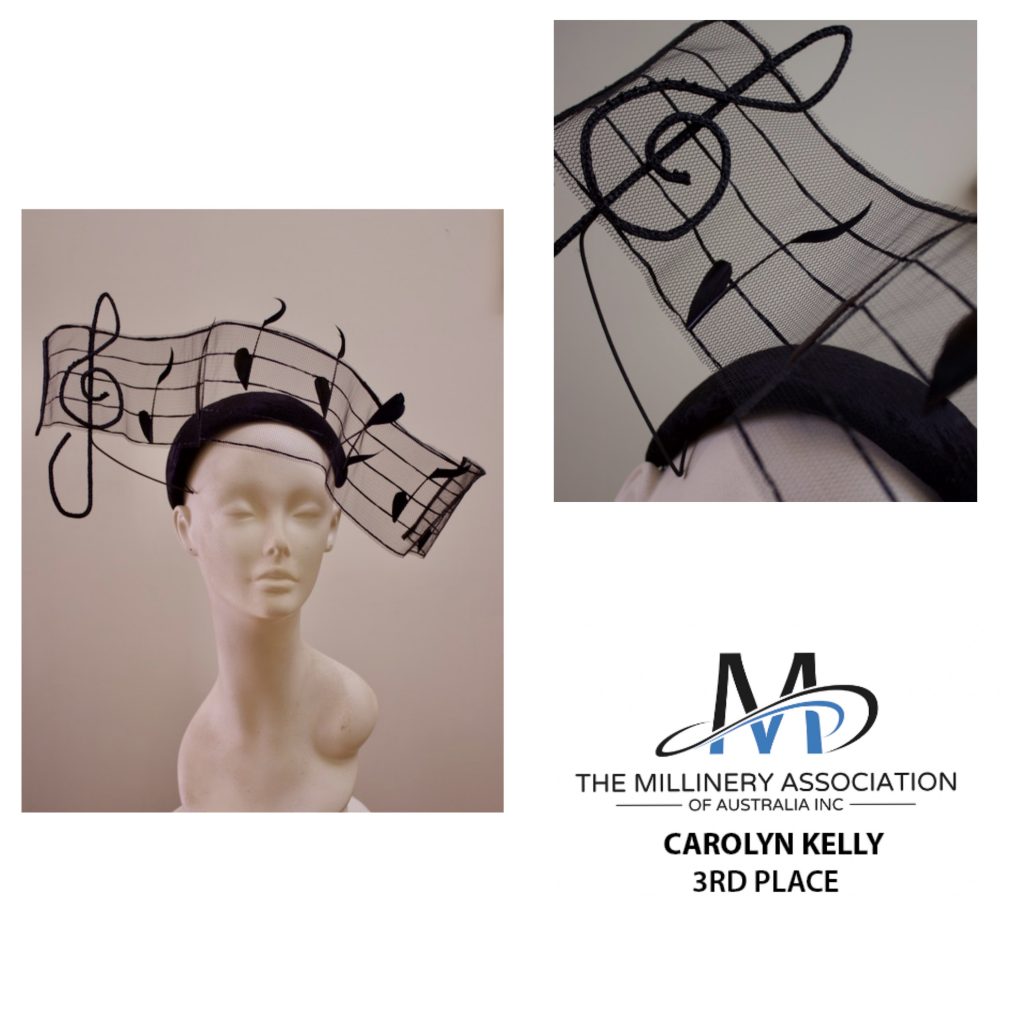 Carolyn Kelly
HIGHLY COMMENDED
Magic Happens
For me music makes magic happen. When your down it can lift your spirits
It can bring you memories you thought forgotten Can make you cry, and break your heart Or make you laugh and dance and sing. Most importantly it can unite us. It can join souls together from all over the world in concert, all for the joy a song can bring them. And for the time that they listen they are a family with a single love. Surely that has to be magic.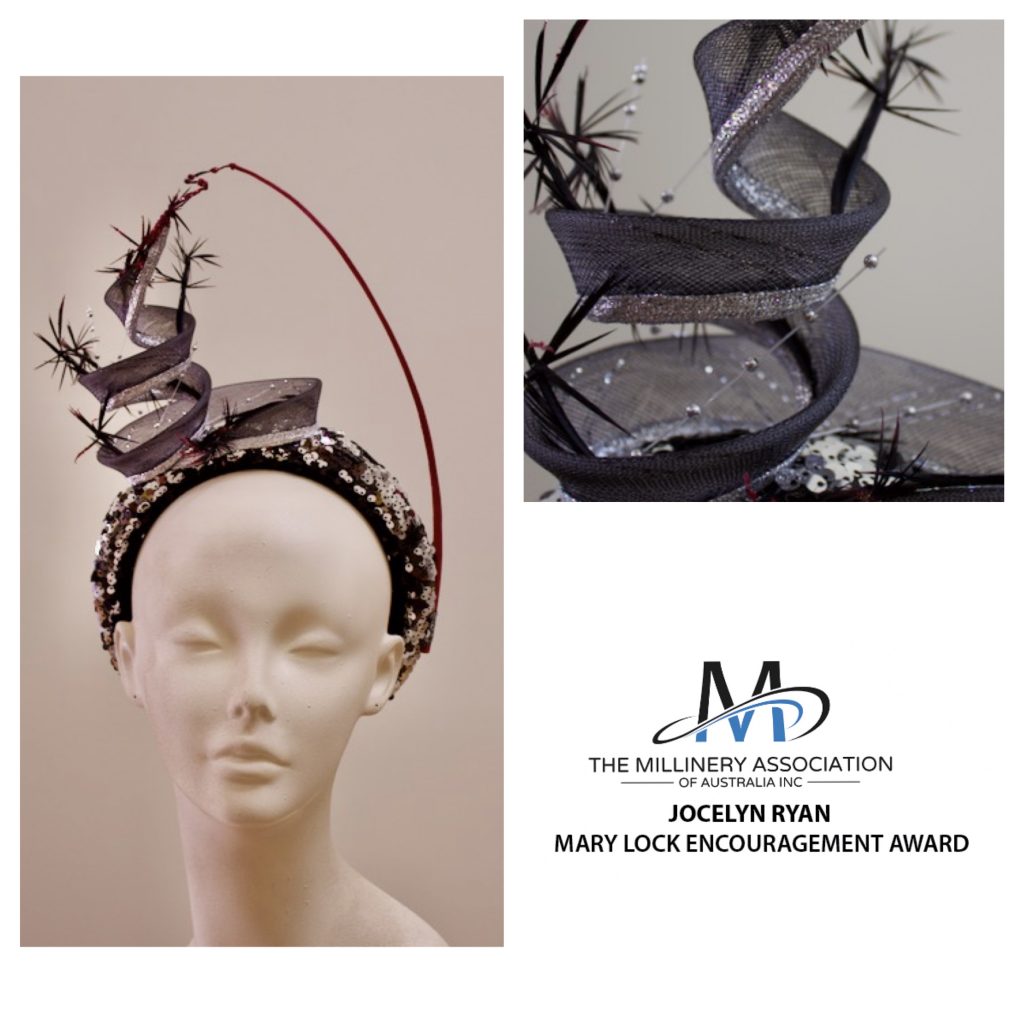 Jocelyn Ryan (ACT)
MARY LOCK ENCOURAGEMENT AWARD
My Walkabout Trail
We have travelled Australia one side to the other,
With kids in the backseat saying 'are we there yet mother?'

Experiencing vast cultures from state to state,
While always hearing the common language 'g'day mate'.

We have cruised on blue oceans deep as can be,
Seeing all sorts of sea-life and whales bubble feed.

Trekked over mountains and green forest trails,
Places so remote you can't even get emails.

Alas, home is where we are now, living life is upside down.
With COVID numbers climbing high, we still struggle to travel around.

Current isolation is where we are at, with kids, husband and the cats,
I now wander in my head, creating instead a world full of wonderful hats!

Materials Used – sinamay, crystals, Aboriginal print cotton chiffon, braid and satin.
---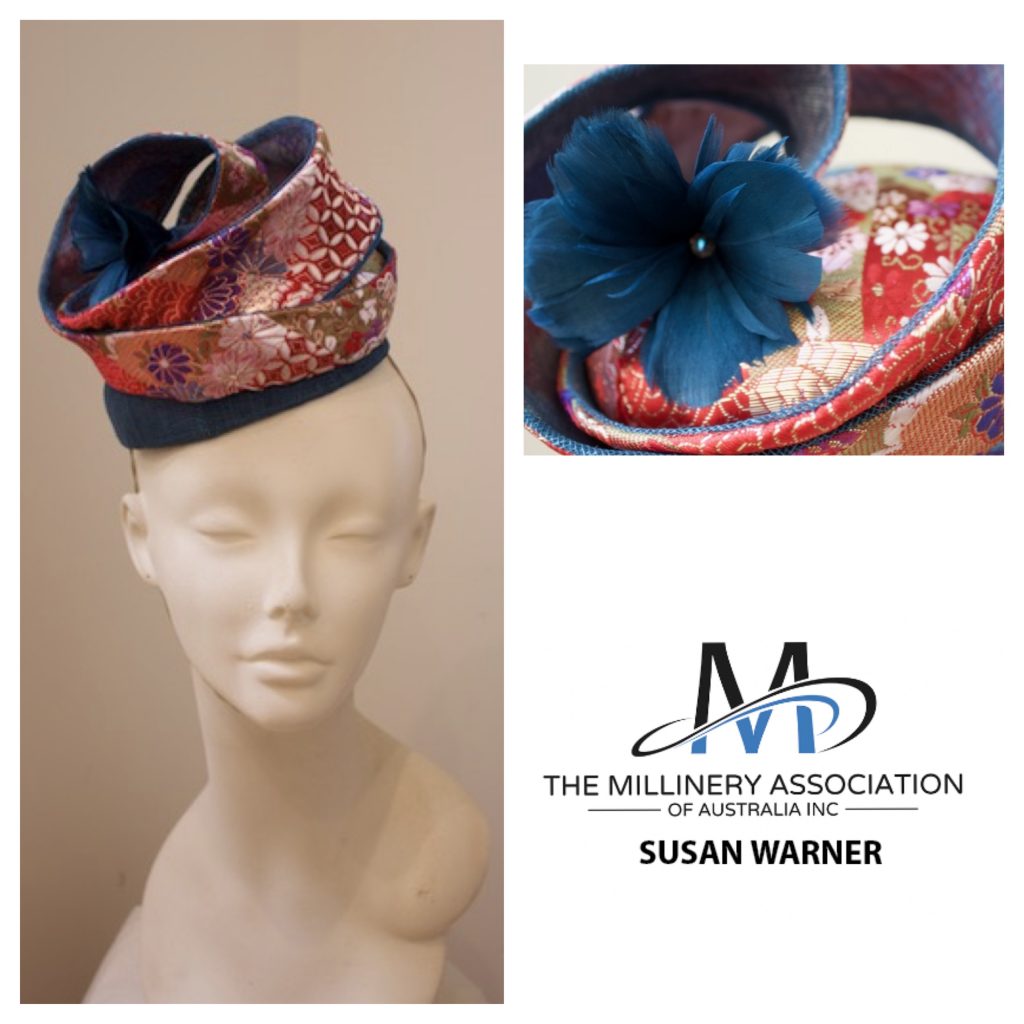 Susan Warner
New Beginnings
The union of two that fit together perfectly. The band of love that joins the two together with a developing seed of hope blossoming within. A technique I am building on. This is a story about my daughter. Deciding to start a family is such an exciting time. But when it doesn't go to plan, it can be devastating. The impact of miscarriage is wide reaching. We are all affected. We are in the second trimester as I write this, and we are all hopeful for our little baby girl to hold on for dear life so we can all meet her and love her forever.
I dedicate my piece to all that are hopeful to start a family.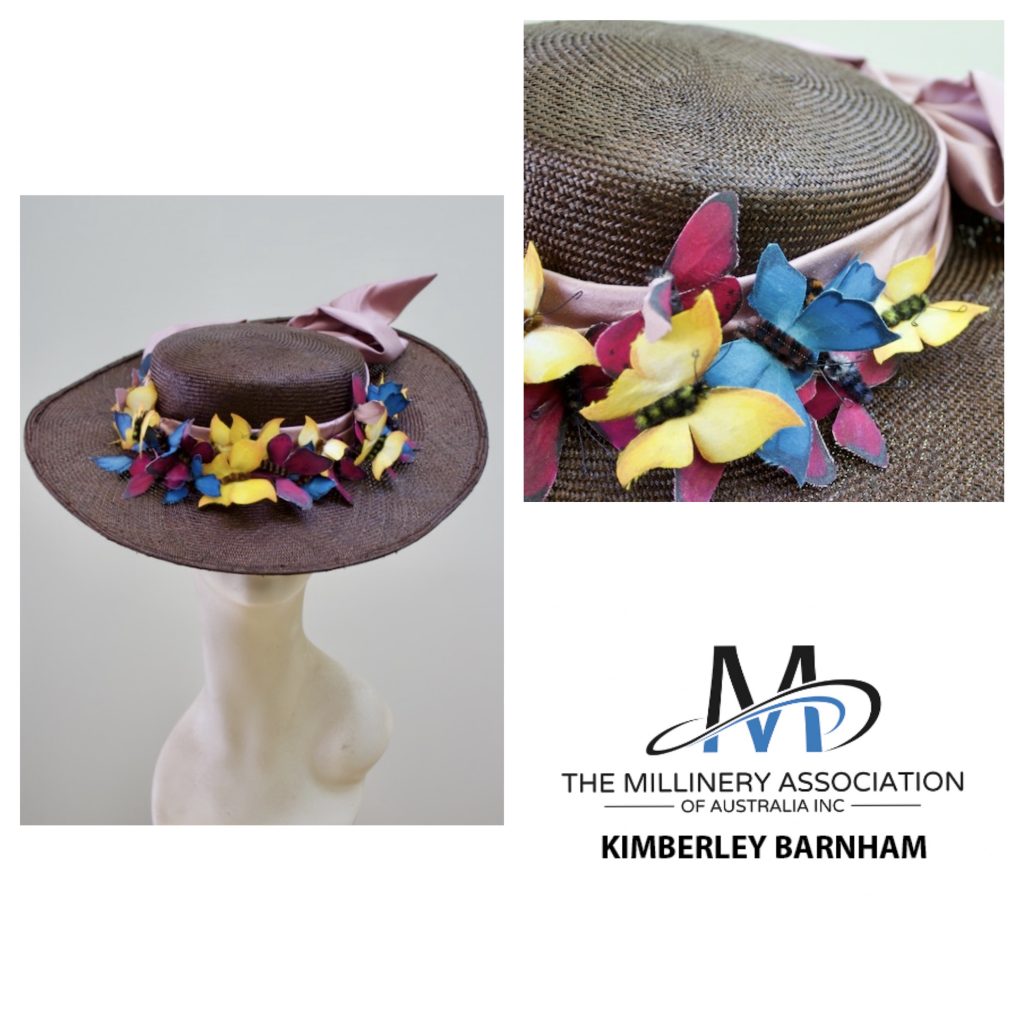 Kimberley Barnham
Butterflies in flight
Butterflies in flight emphases' how 'magic happens' in the everyday. It is in the little things in nature that inspire ewe with their breathtaking beauty. This imaginative boater is hand sewn. The butterflies are supported on the inside with a piece of buckram. The bottom crown has been folded up over the buckram and finished by hand as invisibly as impossible. The brim edge to has been hand sewn. The butterflies are made from two layers of scrap dupioni and painted with water colour pencils.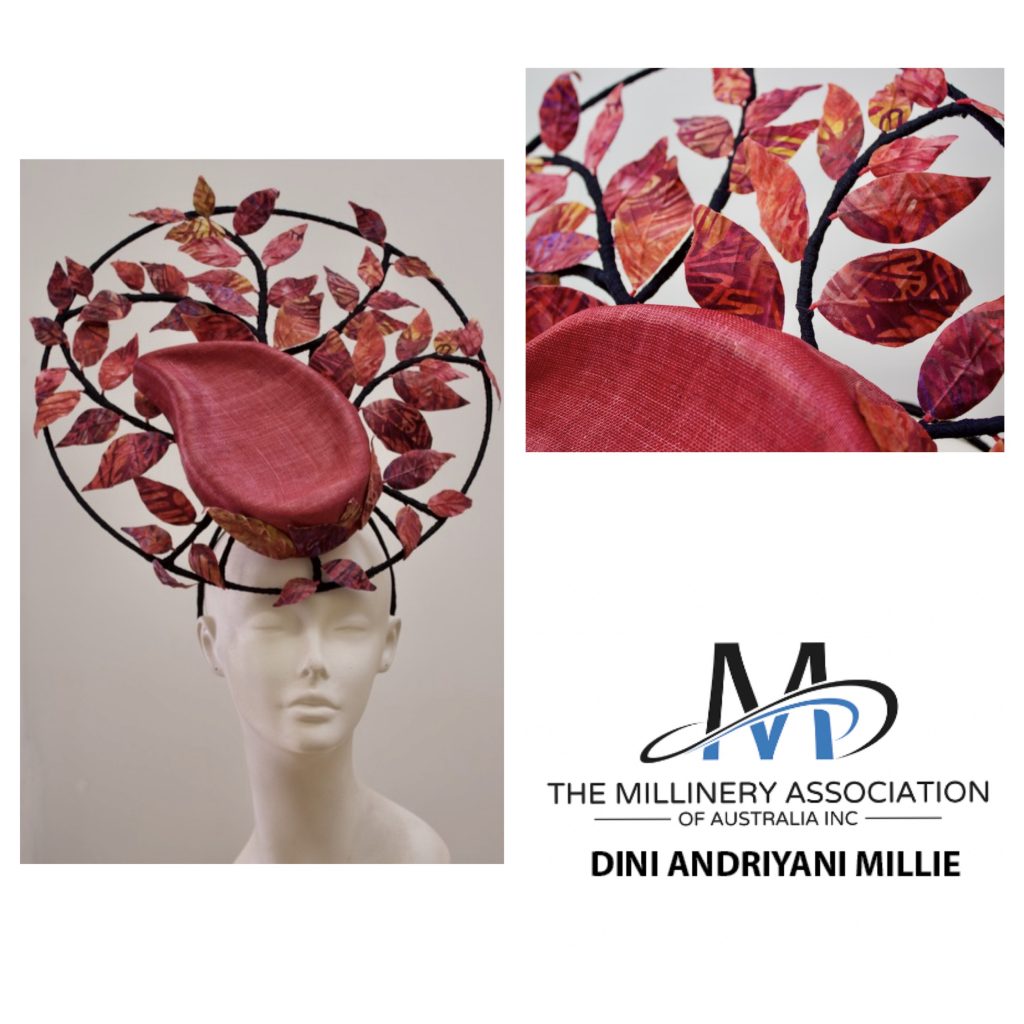 Dini Andriyani Millie
Autumn Magic
I chose the theme AUTUMN MAGIC because Autumn is something I never experienced before coming to Australia. I like to see the color of the leaves changing before falling to the ground. The atmospheres suddenly change, like I'm standing in different World. Walking through the fallen leaves, making cracking sound, I feel like a child having a new experience. I can sit there for ages, enjoying this magic moment in time before winter. My Design is inspired by the color and shape of Autumn leaves. Somehow, Bali Batik captures the color of Autumn leaves.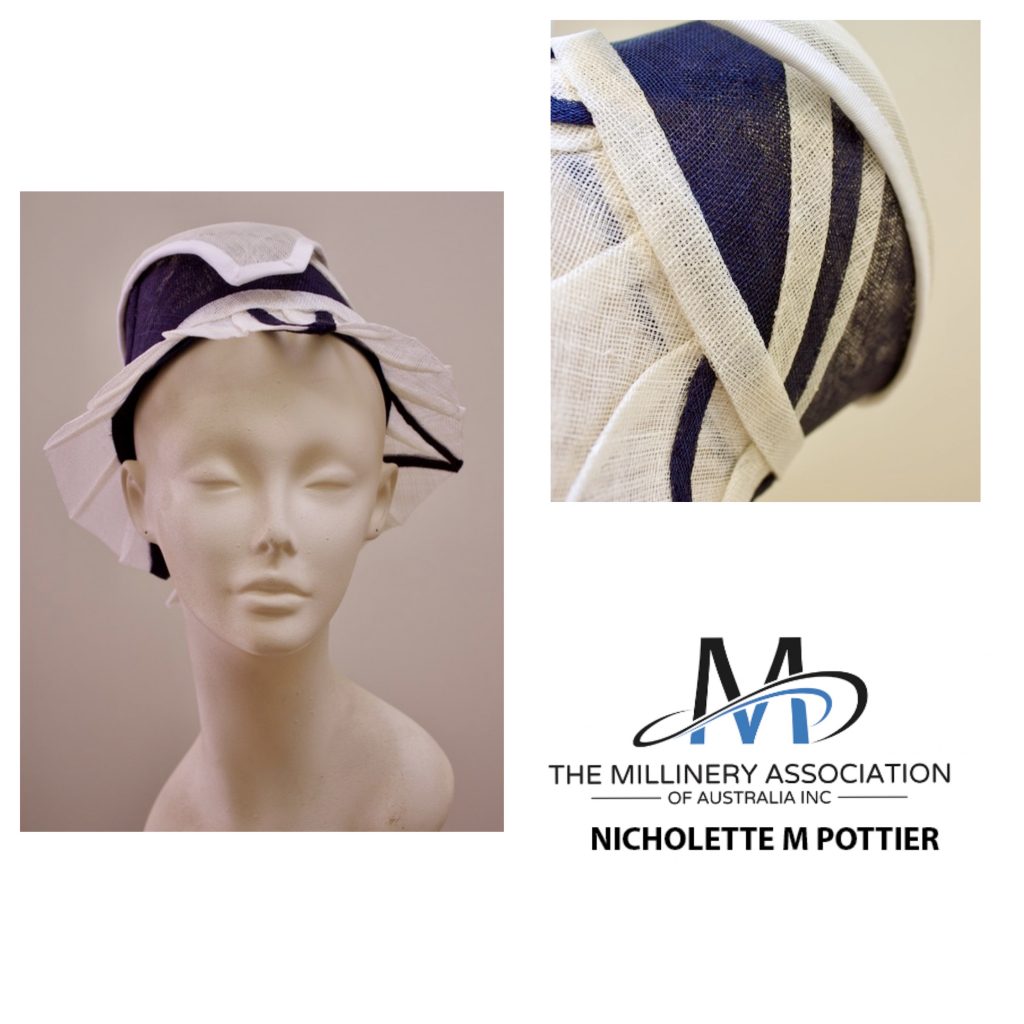 Nicholette M Pottier
V
"Magic Happens" around us every day in subtle and sometimes missed opportunities. Everything about the way this piece came together is an example of this. From starting the process two days before having to mail it out, to not having a formal design. But more often, than not, my journey making art of any form comes down to lessons in the process which enhance and often distinguish them as unique. My aim was to create an artistic, bold, balanced, modern piece, with an elegance which lends itself to a provenance of beautifully hand-made headwear, I hope this is evident.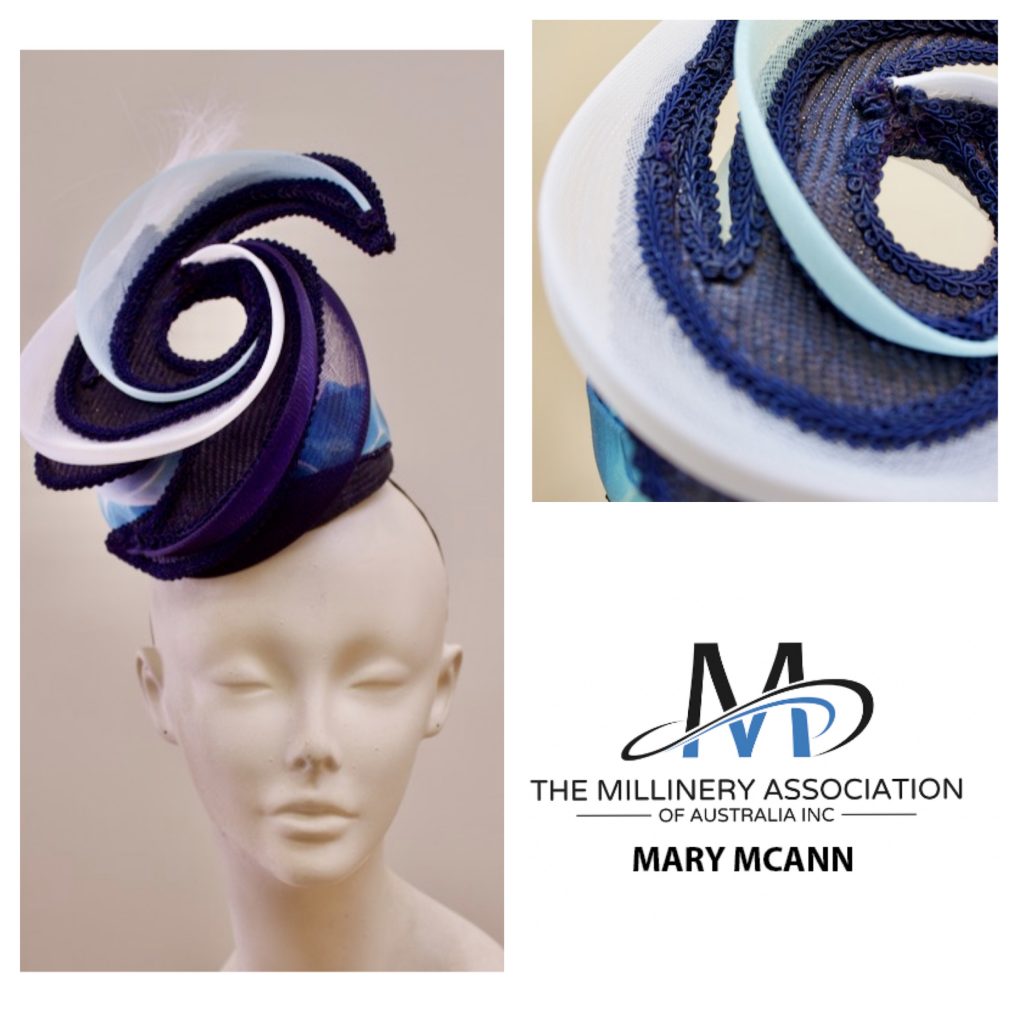 Mary McCann
Waves of Serenity
Majestic, yet serene. Ocean waves trigger a mental state of calm and contentment. After suffering physical and mental exhaustion due to a high-pressure work environment, I was drawn to the South Coast of NSW, to be with my family and to rest and recuperate. I find the hypnotic murmuring pulse of waves lapping onto the beach, very magical. The waves lure me into a mild meditative state of calmness.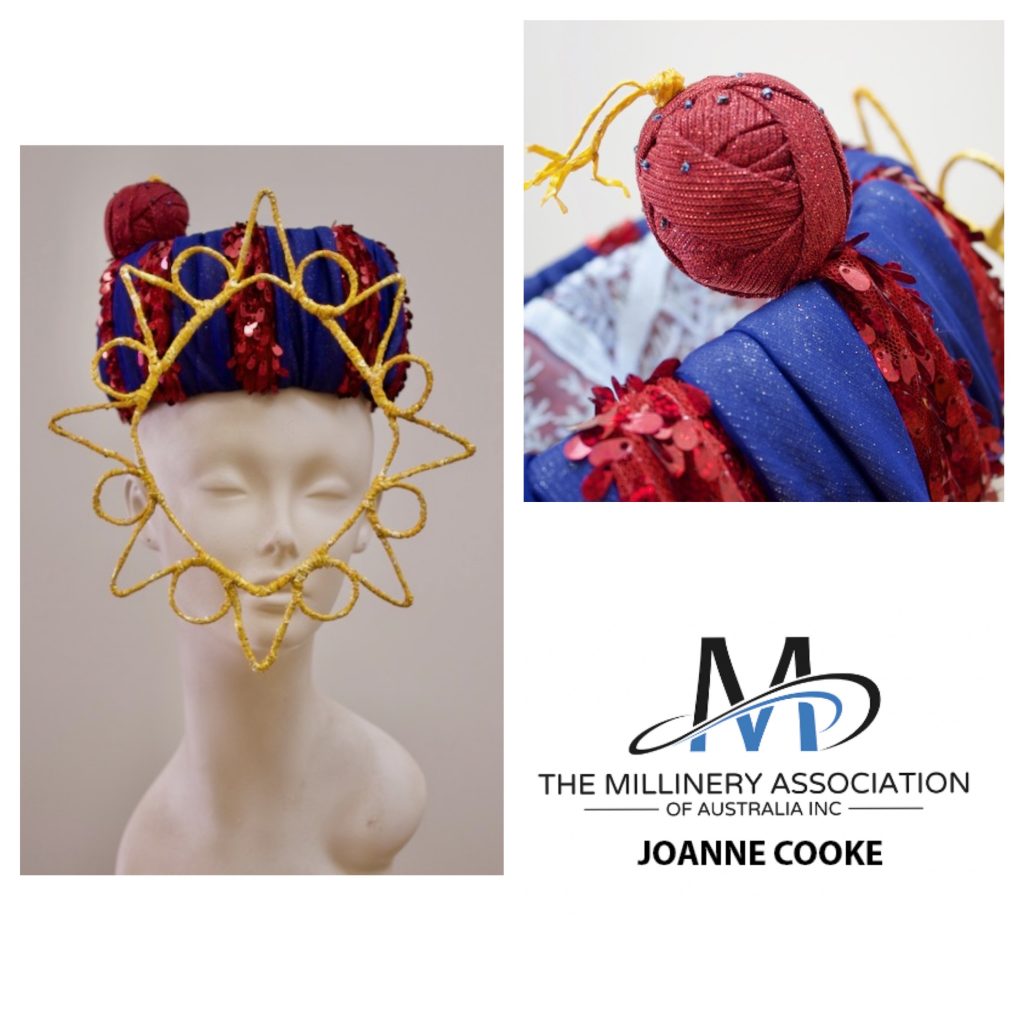 Joanne Cooke
Mirror Mirror
As a passionate costume creator and self-confessed Disney Nerd, MAGIC HAPPENS instantly conjured images of Medieval princesses, crowns, puffy sleeved gowns, rich fabrications, castles with magical mirrors. An idea developed of a soft crown based on the classic 'Snow White sleeve' with red inverted pleats,
using offcuts from ballgowns. Finally, a unique magical element. A wired MAGIC MIRROR is suspended in front of the wearer, framing the face of the fairest one of all.
Oh, apple anyone????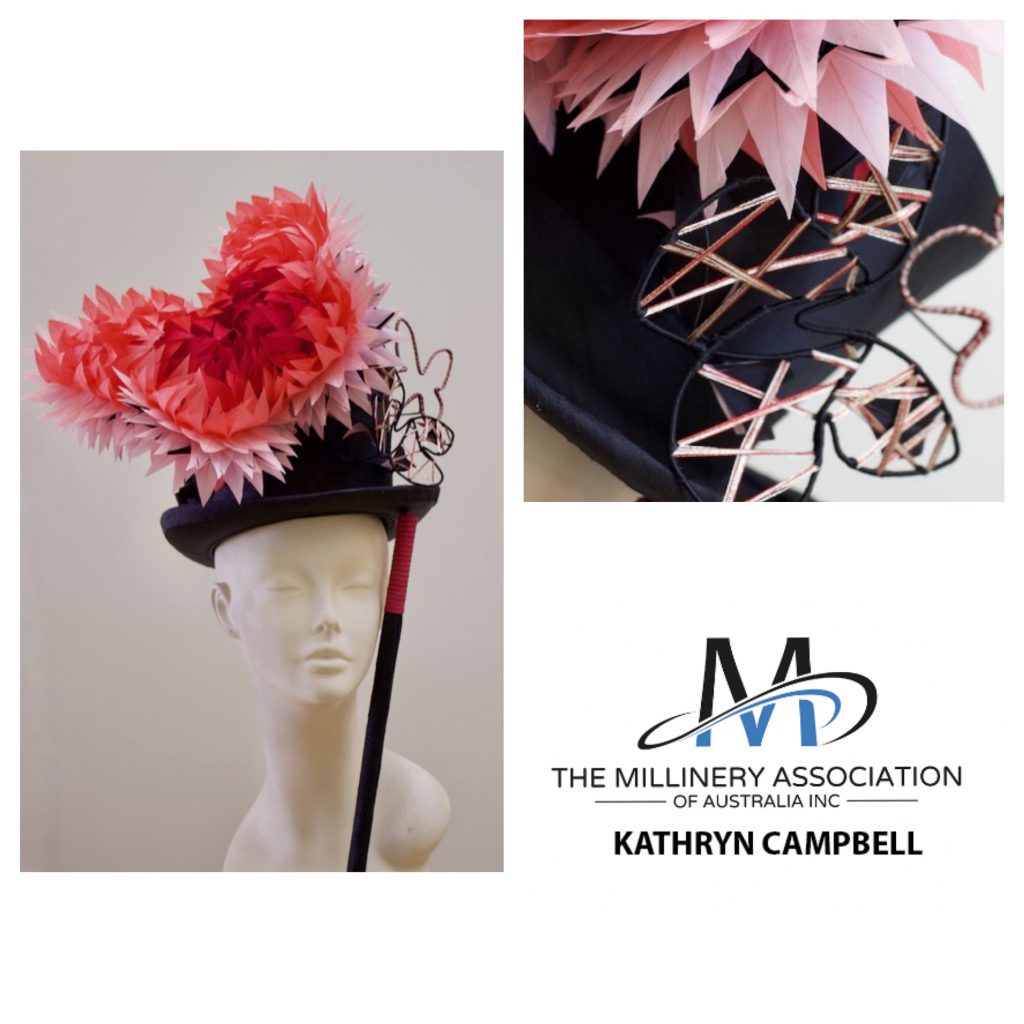 Kathryn Campbell
Rhopalocera Abracadabra
Like the mystery of an emerging surprise from the Magician's top hat, so too does the world of nature provide an astounding display of magic. The Butterfly has long been considered a magical creature in folklore and legend, associated with transformation, ritual, and growth,
as the caterpillar metamorphizes from (some might say) a mundane veracious creature, in to one of spectacular beauty and grace.
It all starts with a little magic, so with the tap of the Magician's wand, this piece represents that metamorphosis, following the path of a Butterfly, from a mere hint, through to its emergence in full colour and splendour, as though it had been conjured out of a Magician's top hat, and now rests in place waiting for its next journey.
……And just like that, Magic Happens.
.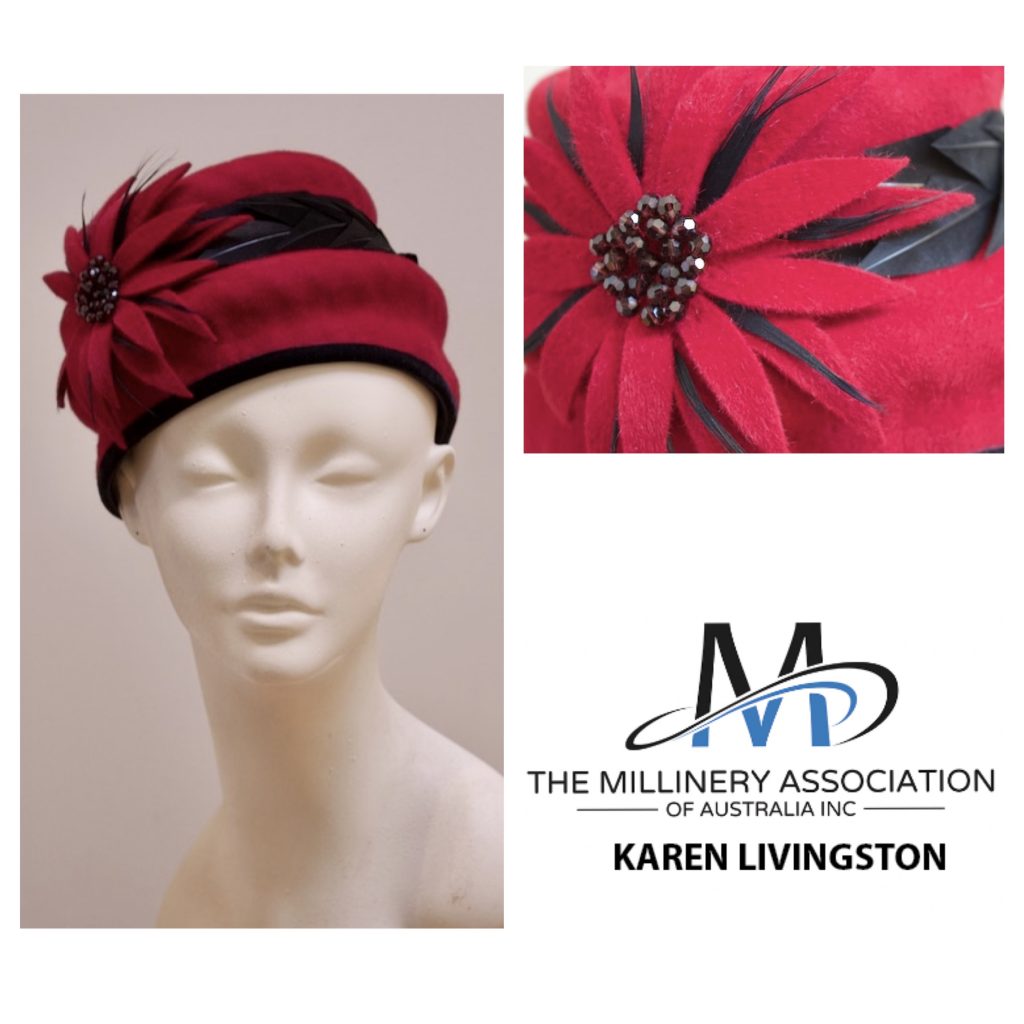 Karen Livingston
Garnet Adaption
Millinery is making magic happen every day! Yes, I could have gone down the road of a top hat or fairy tales etc. but taking a plain dome hat block and adding an everyday item such as rope to completely change the shape is magical in itself and this is what I have done here.
.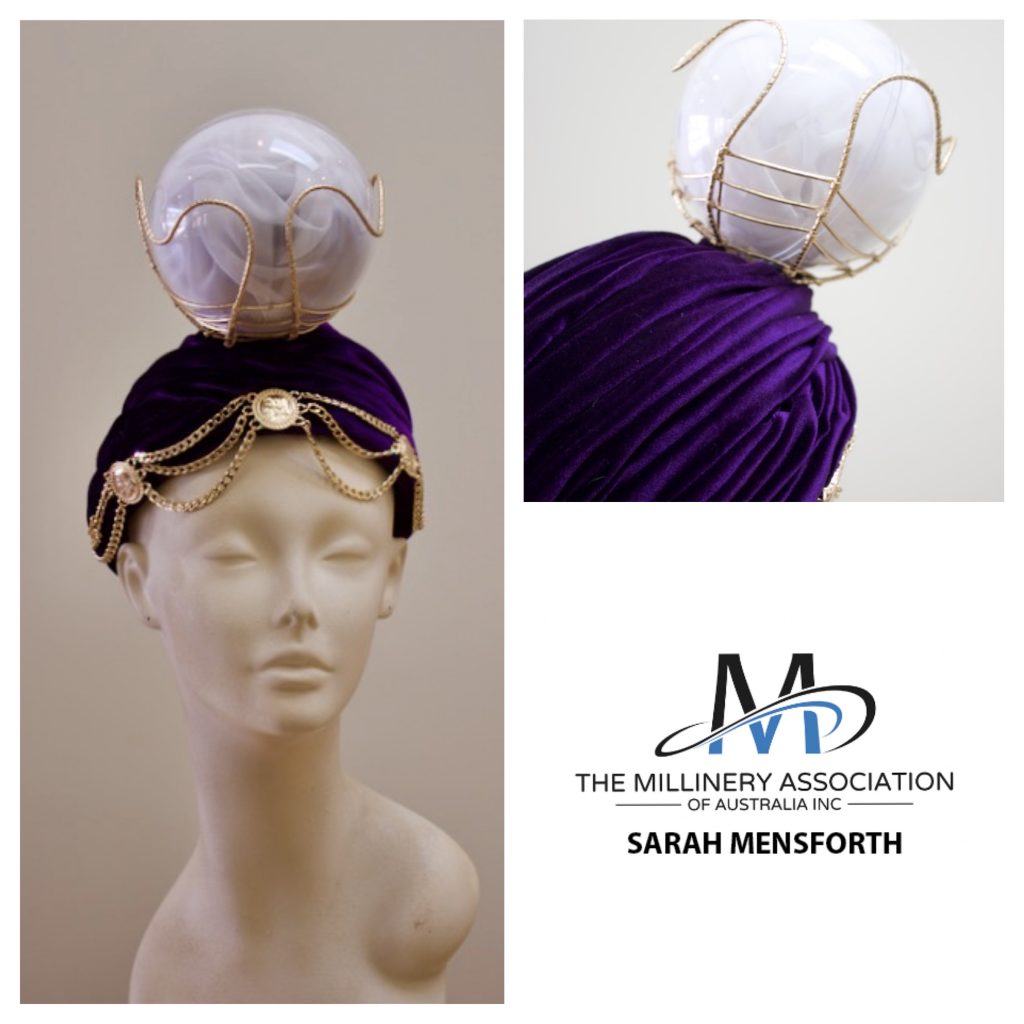 Sarah Mensforth
Let me look into your future
When I think of magic happens, I think of a gypsy fortune teller using their crystal ball to see into someone's future. On top of the turban is the "crystal ball" filled with organza to give the cloudy effect that only the fortune teller can interpret. The wire, holding the ball in place, is shaped in the form of a love heart to represent the romance often sought after. The base of the heart wrapped in a web which symbolises the deceit and lies missed by those who only focus on the heart.
.
---
Sponsors
Thank you to our display partner the Embroiders Guild of Victoria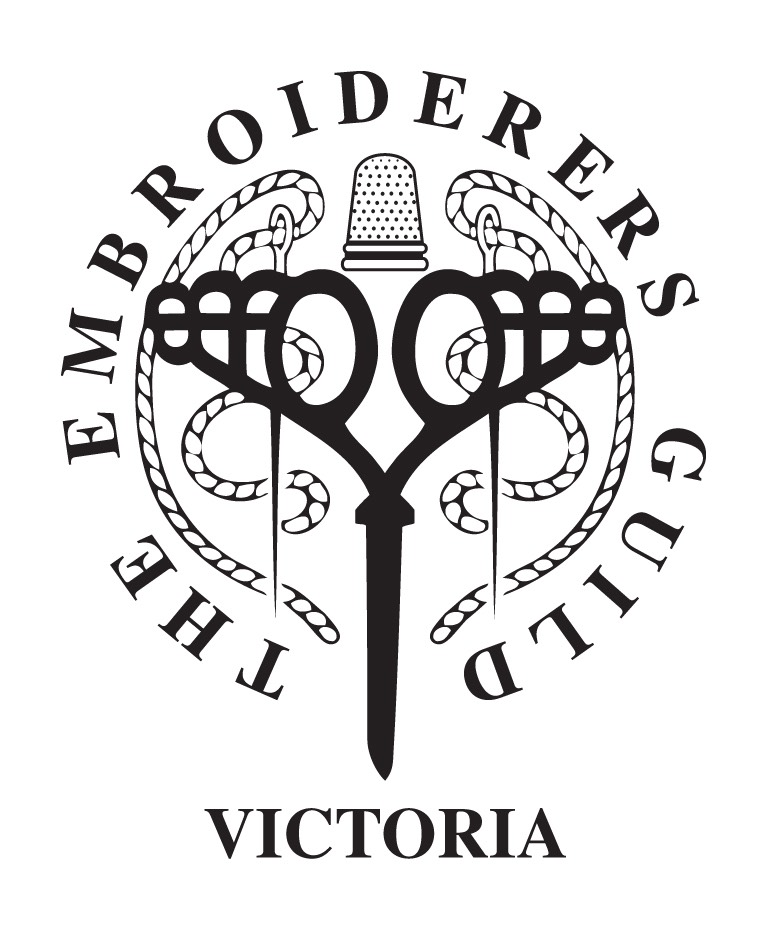 Thank you to the following sponsors for their support of the competition:
Millinery Australia, Hat Academy, Hat Gossip, The Fabric Store, BUnique Millinery, Hatalk, House of Adorn, Hat Atelier, Hatters Millinery Supplies, Millinery.Info and Michelle Cameron of M&M Millinery