The 2021 MAA Student Design Award celebrates the work of the Student Members of the Millinery Association of Australia. The theme of this year's award was 'My Tribe'. 
Judging criteria for the competition included originality and creativity, relevance to the theme, quality of workmanship, degree of difficulty and wearability in terms of comfort and stability. 
The judging panel included Robbie Rivett, Felicity Northeast and Jo Peterson with Michele Cameron awarding the Mary Lock Encouragement Award.
---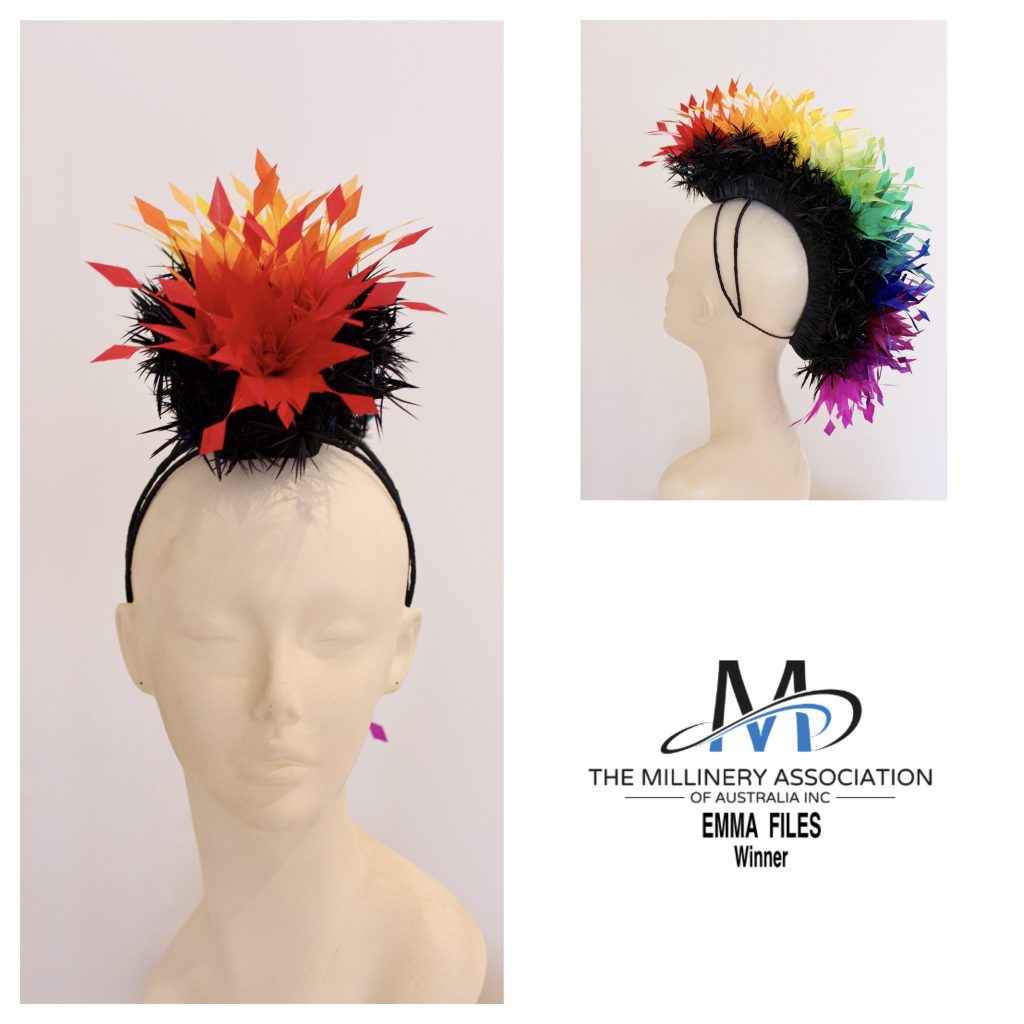 Emma Files (QLD)
WINNER
Rainbow for Eli
'Rainbow for Eli' represents the power of a tribe, my friends, their families and our community who have united to rise for Eli. We all came together and created something beautiful when faced with the truly heart wrenching journey of childhood cancer. To my beautiful friend Jackie and her amazing boy Eli, a rainbow of colours represents love, comfort, hope, friendship and strength. My tribe came together for one of our own, we told their story and we helped to make a difference when fear and sadness burned within us all. Rainbows will forever belong to Eli and they will always remind me of how grateful I am for my tribe. Jackie and Eli, you are my inspiration for this piece.
Materials Used – goose nagoire feathers, satin ribbon, millinery wire, wooden beads and spiky feather biots.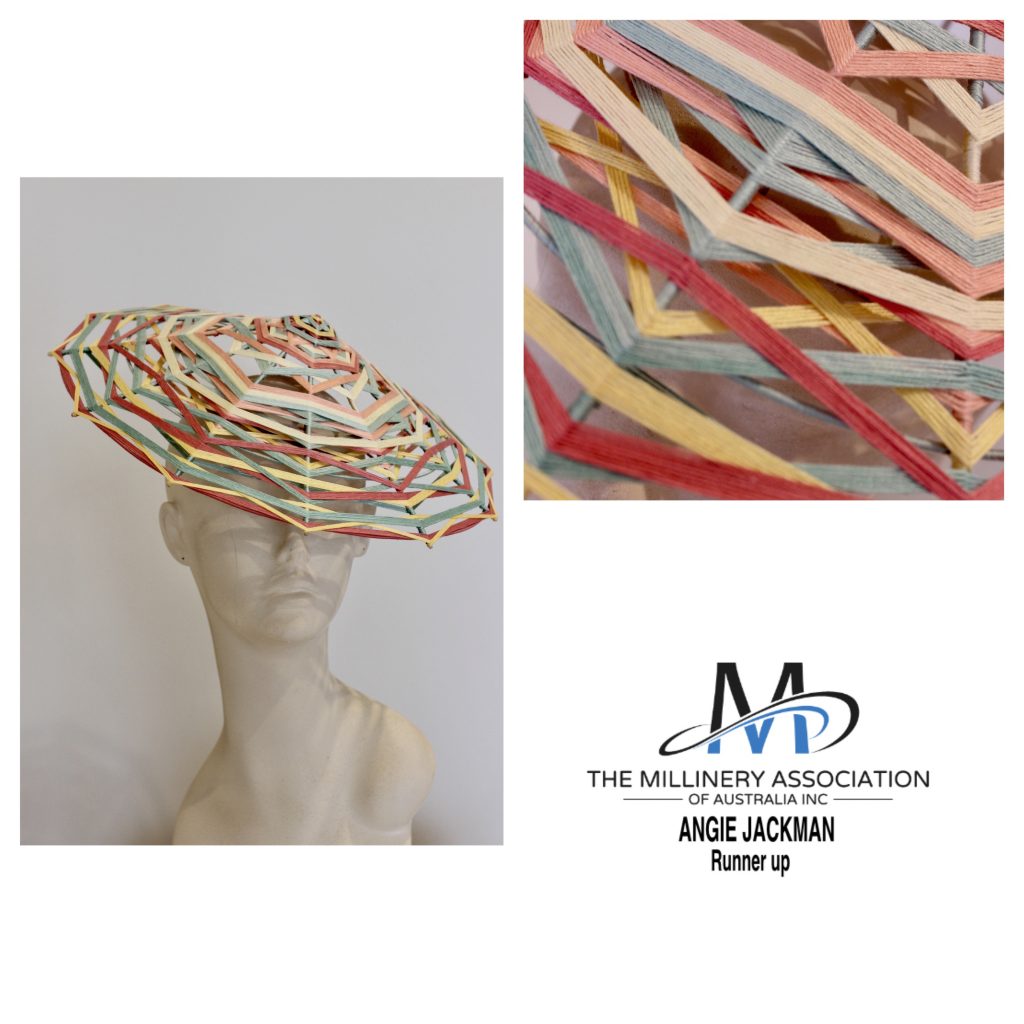 Angie Jackman (VIC)
RUNNER UP
Mandala
My tribe is made up of the women in my life that support and encourage me. As an individual I have many roles. My mind feels like it is in a constant chaotic state of overdrive. But to the outside observer it may appear orderly and balanced. I have chosen my design inspired by a woven Mandala, as a representation of the strongest friendships in my life and the intertwined chaos of my everyday existence. I am a lover of symbolism, patterns, history and geometry. The Mandala has been used in many cultures to tell a story and represent aspects of life. Mandalas for meditation purposes date back to the 8th century. Mandala (Sanskrit for 'circle') in modern times is used in therapy to represent wholeness and the human desire to regain a sense of self and recognise one's place in the word. Something I have repeatedly pondered throughout the past year. The three hues represent myself and my two closest friends, the core of my tribe. Each quite different but complementary. Supporting each other forming a strong framework. Intertwined, yet separate, layered and complex. Taking effort to construct, but worth the investment. The materials and shape are influenced by my favourite Australian Milliners that have encouraged me and pushed me to grow at times when I am full of self-doubt. Those are my people. That is 'My Tribe'!
Materials Used – wire, embroidery thread, braid and wooden dowel.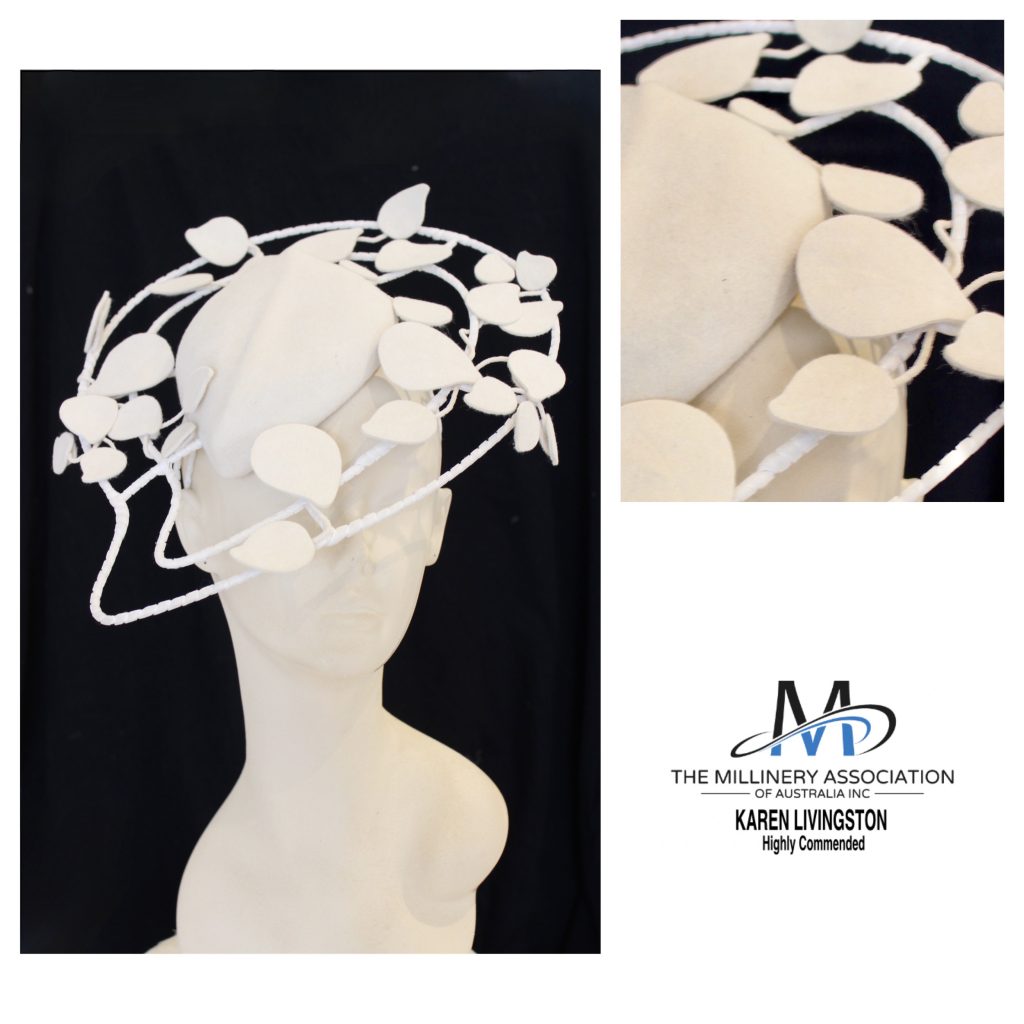 Karen Livingston (NSW)
HIGHLY COMMENDED
The Matriheart
At the heart of my very large family is the Matriarch -my wonderful mother Elsie. She is strong, loving and very supportive. A breast cancer survivor of 11 years and living life at 85 years young. The white in my design represents my mother's homeland and its harsh winter snow. She immigrated to Australia from Scotland with my father along with four young children in tow. This piece is her! Her children, our children and their children. The Matriheart.
Materials Used – fur felt, wire, ribbon and satin.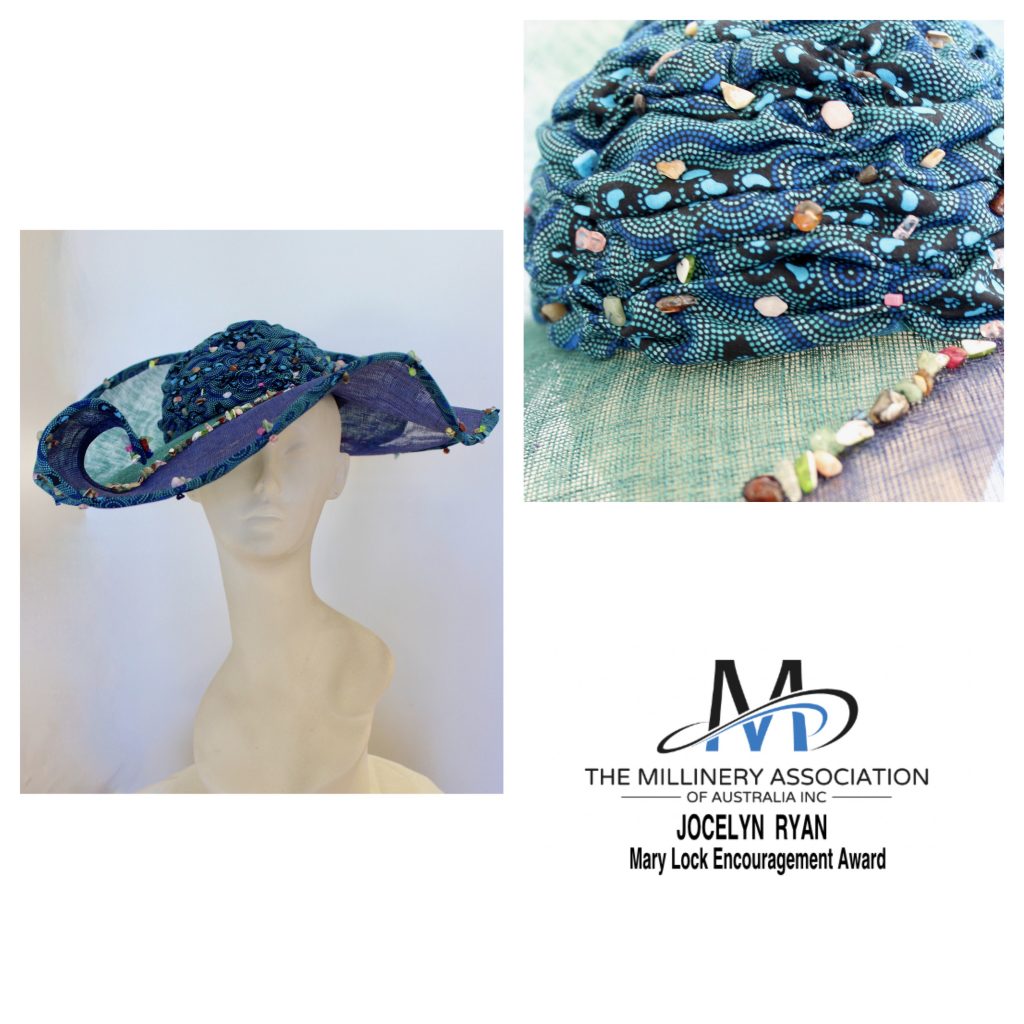 Jocelyn Ryan (ACT)
MARY LOCK ENCOURAGEMENT AWARD
My Walkabout Trail
We have travelled Australia one side to the other,
With kids in the backseat saying 'are we there yet mother?'

Experiencing vast cultures from state to state,
While always hearing the common language 'g'day mate'.

We have cruised on blue oceans deep as can be,
Seeing all sorts of sea-life and whales bubble feed.

Trekked over mountains and green forest trails,
Places so remote you can't even get emails.

Alas, home is where we are now, living life is upside down.
With COVID numbers climbing high, we still struggle to travel around.

Current isolation is where we are at, with kids, husband and the cats,
I now wander in my head, creating instead a world full of wonderful hats!

Materials Used – sinamay, crystals, Aboriginal print cotton chiffon, braid and satin.
---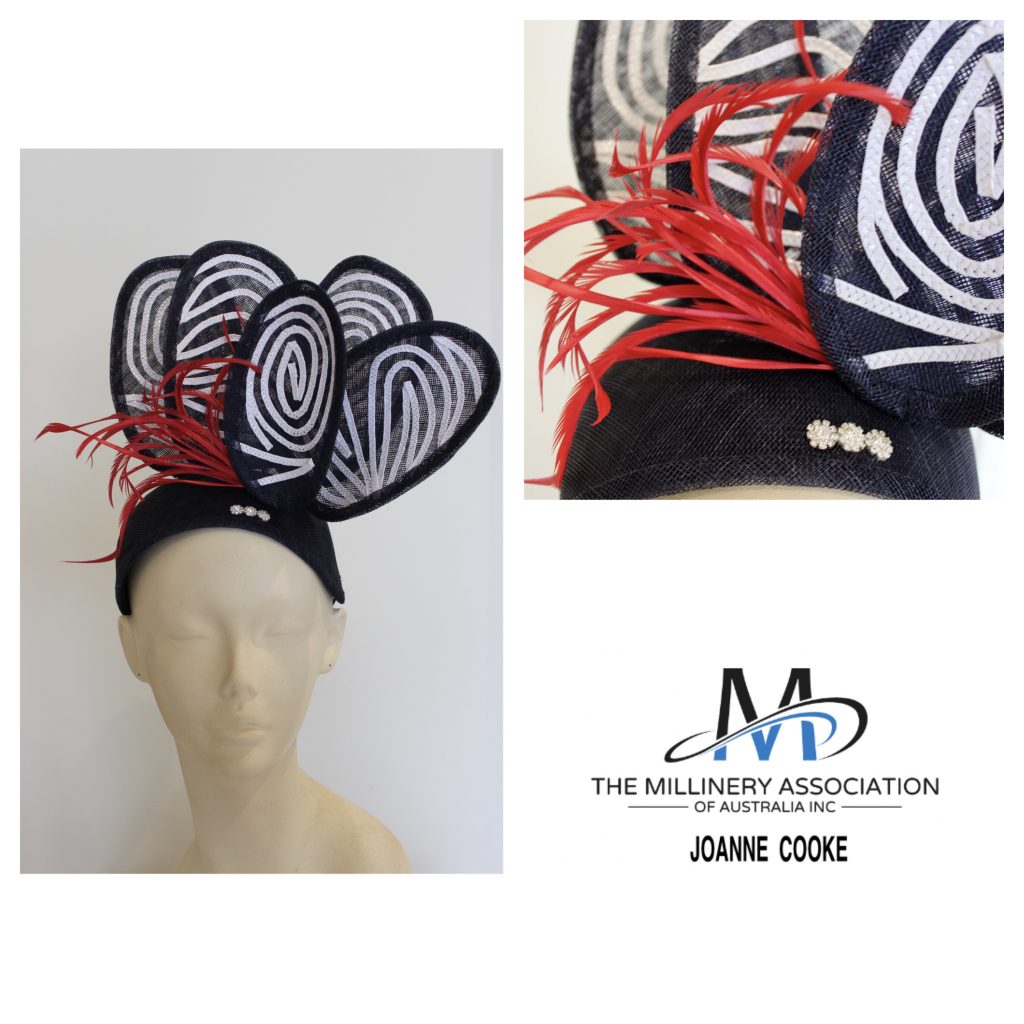 Joanne Cooke (NSW)
Catch Me if You Can!
Study Textiles and Design or join the Police Force? What a decision to make at 19 years of age. After many nights watching Quincy MD back in the 80's off to the Police Academy I went. So began my journey within an amazing tribe of NSW Police (and of course this meant wearing a hat). The journey I had as a Police Officer, the things I saw, both beautiful and horrid, seeing the best and worst of humanity, can't help but make me feel part of a dedicated tribe of community minded people. As a young detective, my interest in forensics led me to a position with the Forensics Unit, specialising in fingerprints. My new tribe of amazing investigators, doing our bit to solve serious crime, whilst studying the science of fingerprints. On starting my family, my own tribe, I rediscovered my passion for textiles, costume design and creation and my lifelong passion for hats. A year ago, I accidently fell into studying millinery and thus have found my new tribe. So very excited to be surrounded by amazing mentors and creatives.
Materials Used – plain weave sinamay, single starbright braid, hemp braid, biot feathers and diamantes.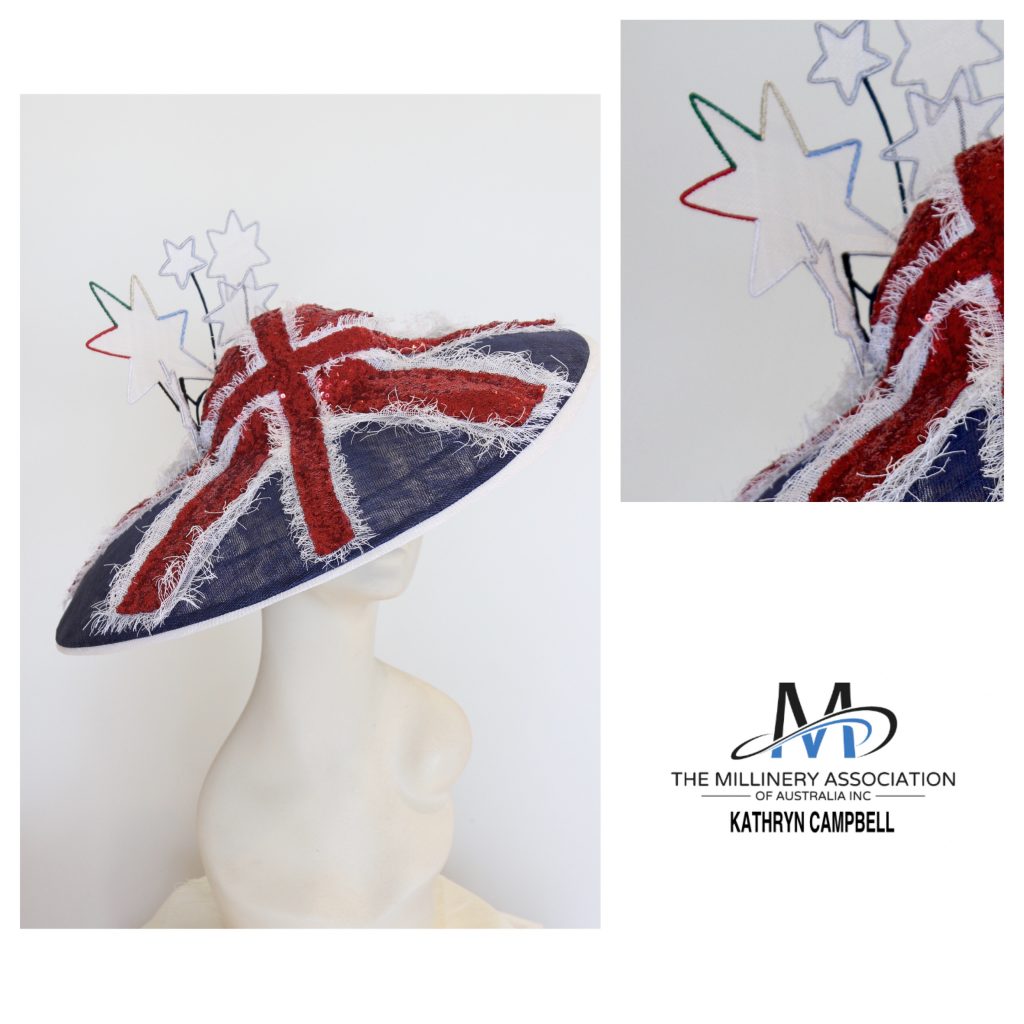 Kathryn Campbell (VIC)
Returning Home
I moved away from Australia with my husband and two small children in 2009 in search of a change of scenery and a family adventure. We spent many wonderful years living in the heart of one of Asia's busiest cities, Singapore and then on to the city that never sleeps, New York. Singapore and the USA are both quite unique countries, incredibly and overtly patriotic. When I moved back to Australia in 2019, determined to reignite my passion for millinery, I quickly realised just how fortunate I was to be home in Australia, to feel a sense of belonging, understanding and opportunity. A feeling not fully appreciated as an expat and foreigner. It took time away for me to gain a deeper understanding of the value of being an Australian, to understand what is means to be an Aussie, to be grateful for my Australian Tribe. As a proud Aussie, I wave the Australian flag!
Materials Used – sinamay, starbright braid, embroidery thread, wire, tulle and ribbon.
Short Explanation of the Piece
Australian Flag with the 6 stars, representing the Southern Cross and the Commonwealth Star, with six points representing each of the States, and the 7th, all of the Territories. Of the official State and Territory colours, the following colours are representative – White [ACT & NT]; Black [NT]; Silver [Victoria]; Bottle Green [Tasmania]; Sky Blue [NSW]; Red [SA], and Gold [QLD].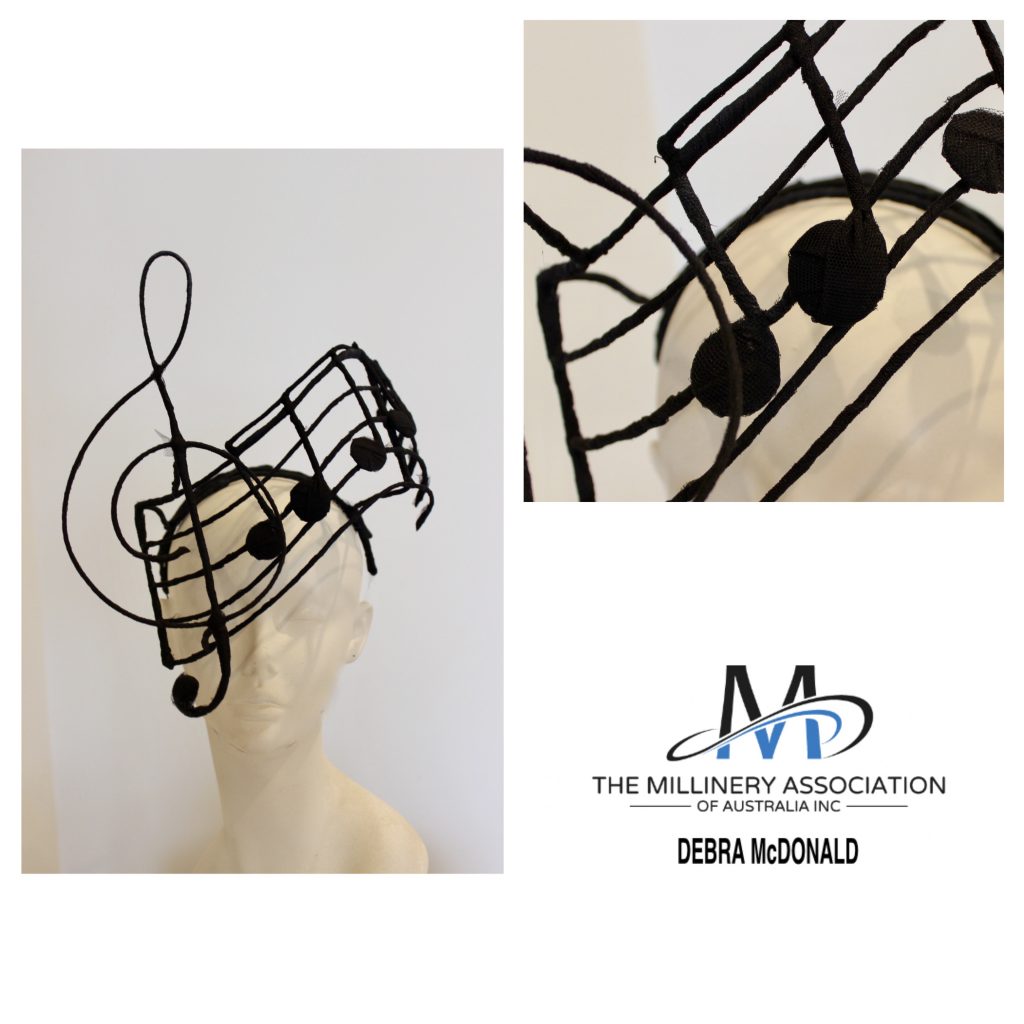 Debra McDonald (VIC)
RONDO ALLA TURCA
The McDonald sisters were raised to have kind hearts, brave spirits and fierce minds, bound together by our love of music and dance no matter how far apart we were. 'Rondo alla Turca' was a piano piece I studied for classical piano over 30 years ago and it still rings true in my heart as it represents both the ferocity of my maternal grandmother and the delicacy of my paternal grandmother who I would visit every Friday night after my music lessons.
Materials Used – soldered wire work wrapped with tulle.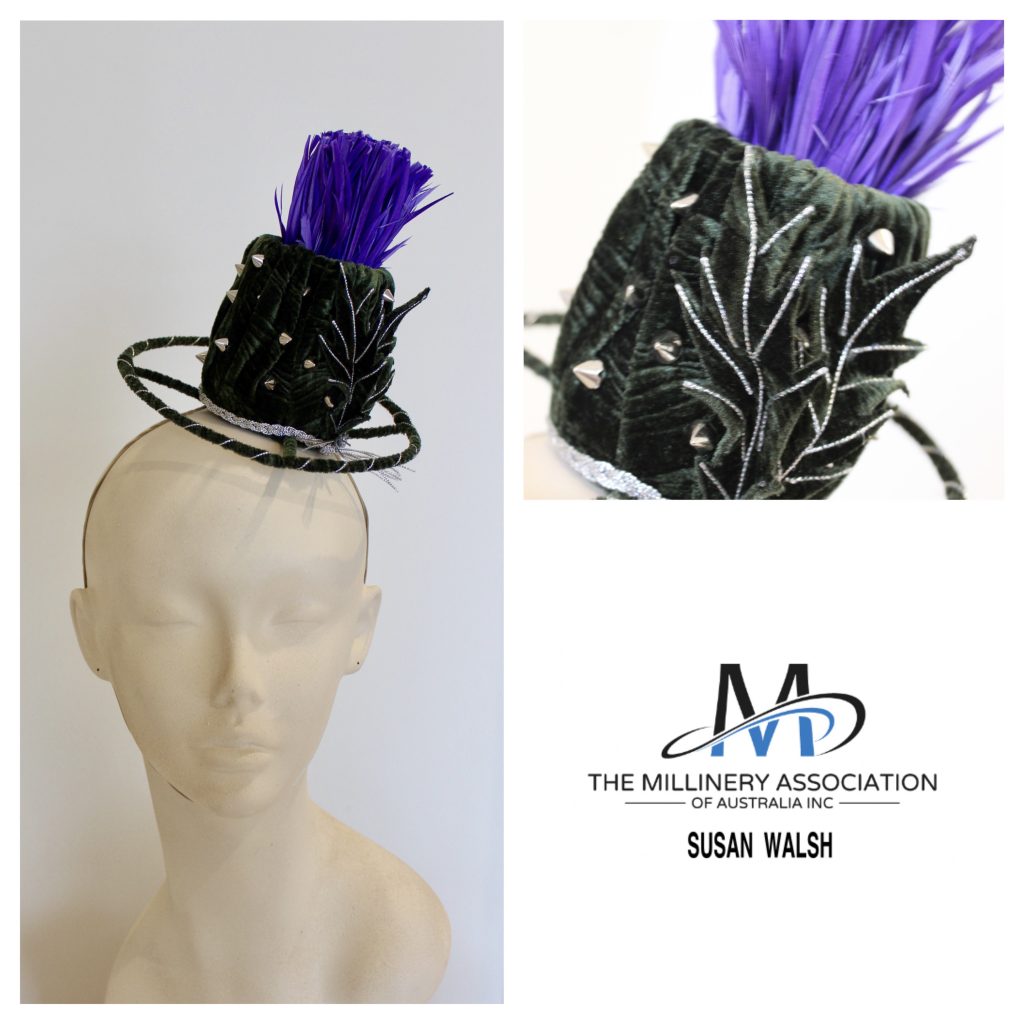 Susan Walsh (VIC)
SCOTTISH THISTLE
The inspiration and story behind my entry is my grandmothers' Scottish heritage. Both my grandmothers taught me to sew, knit and crochet from a very young age. And they encouraged me to be creative and helped to shape the person I am today.
Materials Used – fosshape, stretch velvet, biot feathers, wire, silver beads and braid.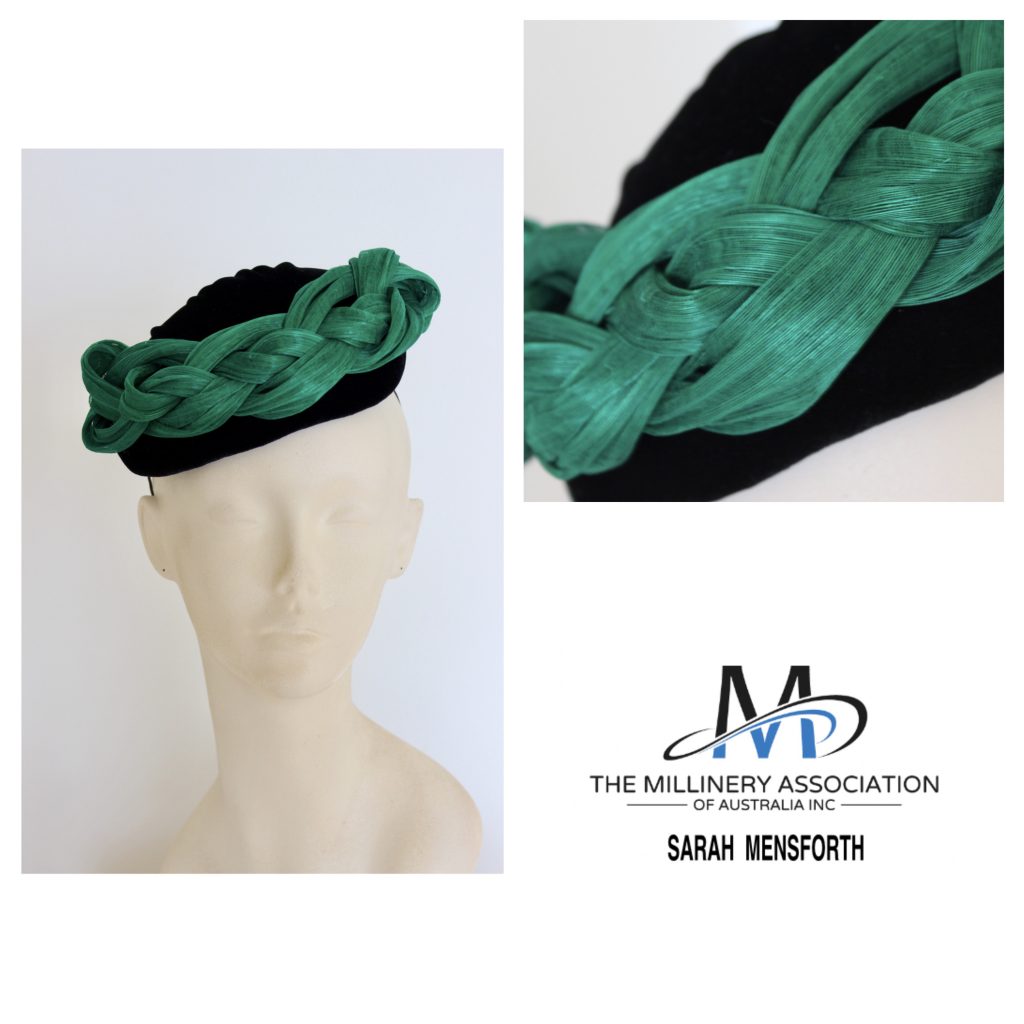 Sarah Mensforth (VIC)
FIELDS OF ATHENRY
The inspiration for my piece comes from the story of my family, the Scanlons. My Grandad and Nanna came to Australia from Ireland where they settled in the western Melbourne suburb of St Albans. The area was home to many other Irish settlers and my family kept the Irish custom of the open home, where everyone was welcome, alive and thriving. My upbringing was full of Irish dancing and music which is represented by my piece. The green Celtic knot, made from silk abaca, not only conveys the cultural identity and colours of my Irish heritage, but to me it also represents the smooth motions and structure in traditional Irish dancing.
Materials Used – blocking net, black velvet, wadding, petersham ribbon, polyester and silk abaca.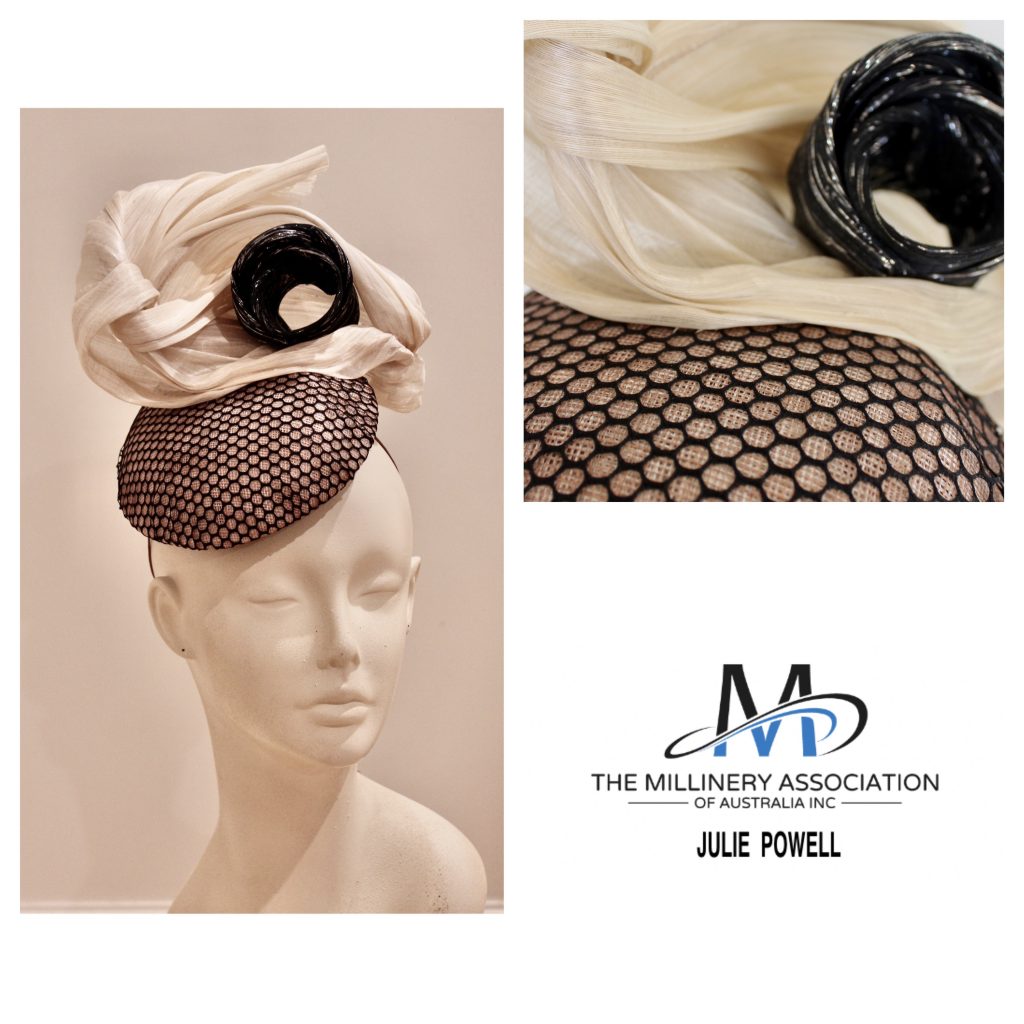 Julie Powell (NSW)
VISIONARY
The 'Visionary' headpiece I created is about goals and my vision. Ever since I was young, I focused on my goals, to do what I am passionate about and to focus on completing the particular goal. To empower myself in achieving the best and to just have fun. This included being an archer and striving to go to the Olympics and to travelling in my 20's and now in my 30's to continue to be a creative mind in millinery. But I also have a corneal transplant and so even with the obstacles of my vision, I continue to go forward in my goals and having the support of my family and friends that are with me always. The base colours are brown sinamay, my pupil colour, the black mesh with holes represents the holes from a shield I use when I go to the ophthalmologist appointment every 6 months to read the vision ophthalmologist and the silk abaca represents my right eye as this is the eye I have had surgery on. Even though my vision has deteriorated I am even more focused on my goals, passion and to achieve the ultimate in my life.
Materials Used – sinamay, mesh, wire and petersham ribbon for the base in a 3D teardrop blocked base and the trim is silk abaca.
.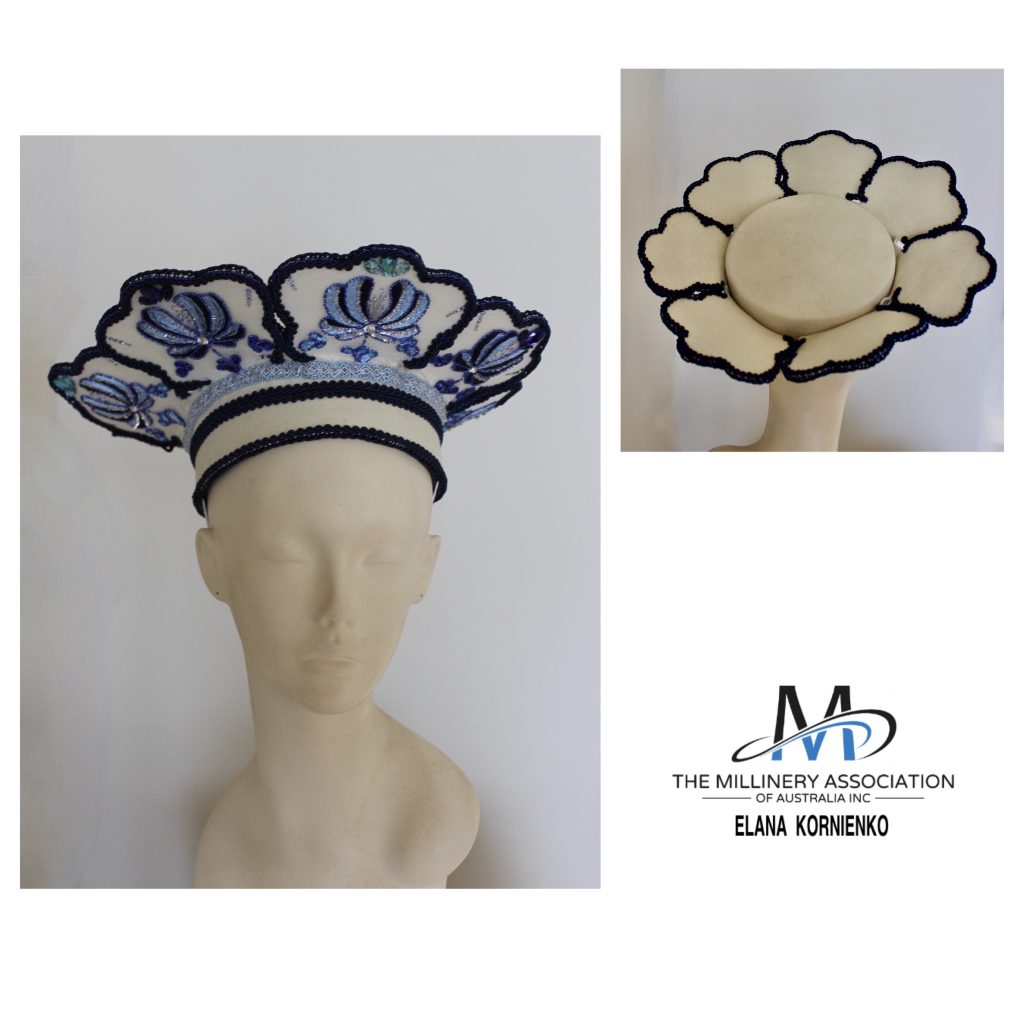 Elena Kornienko (SA)
GRAND DUCHESS
From Wikipedia the kokoshnik is a traditional Slavic headdress worn by women and girls to accompany the dress sarafan. The kokoshnik tradition has existed since the 10th century in the ancient Slavic city of Veliky Novgorod. It spread primarily in the northern regions of Great Rus and was immensely popular from the 16th to the 19th century. It is still an important feature of Slavic dances and folk culture to this day and has influenced the Kokoshnik style of architecture. The word kokoshnik first appears in 16th century documents and comes from the Old Slavic "kokosh", which means a 'hen' or 'cockerel. The earliest headdress pieces of a similar type (rigid cylindrical hat which completely covered the hair) have been found in 10th to 12th century burials in Veliky Novgorod in Great Rus.
Materials Used – felt, sequins and beads.
.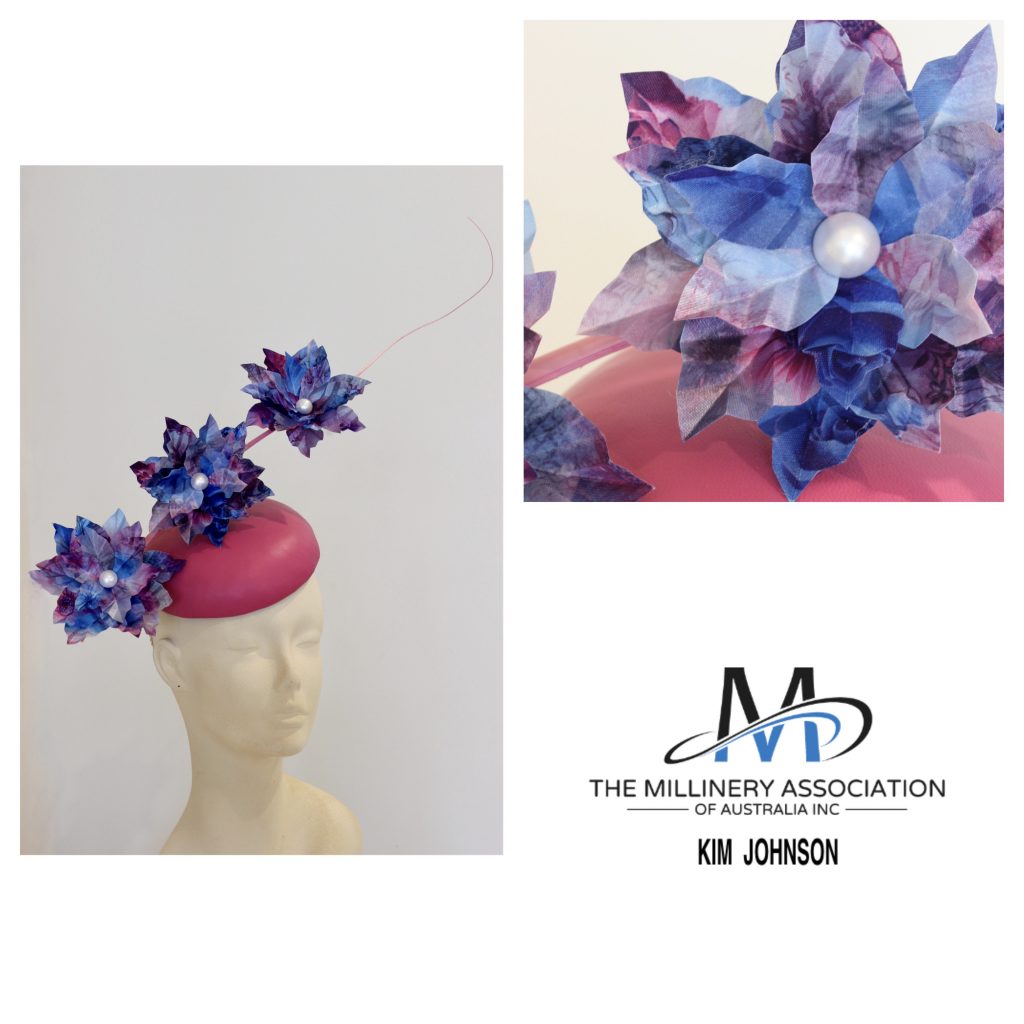 Kim Johnson (NSW)
PASSION FOR PETALS
My inspiration for 'Passion for Petals' is my family, ie: 'My Tribe'. We are a family of florists. Our passion for petals is very strong. The family business has grown to three generations; hence the three single flowers in my headpiece. My parents started the business in the 1970's, my sister and I have been in the business for over 30 years and now our children are continuing the passion. My passion that I have for floristry has extended to my new interest, millinery. My creative juices that flow in every creation in floristry now extends into millinery. It is a very exciting time.
Materials Used – fosshape, soft nappa leather, quill and the flowers are made from fabric from a deceased estate.
.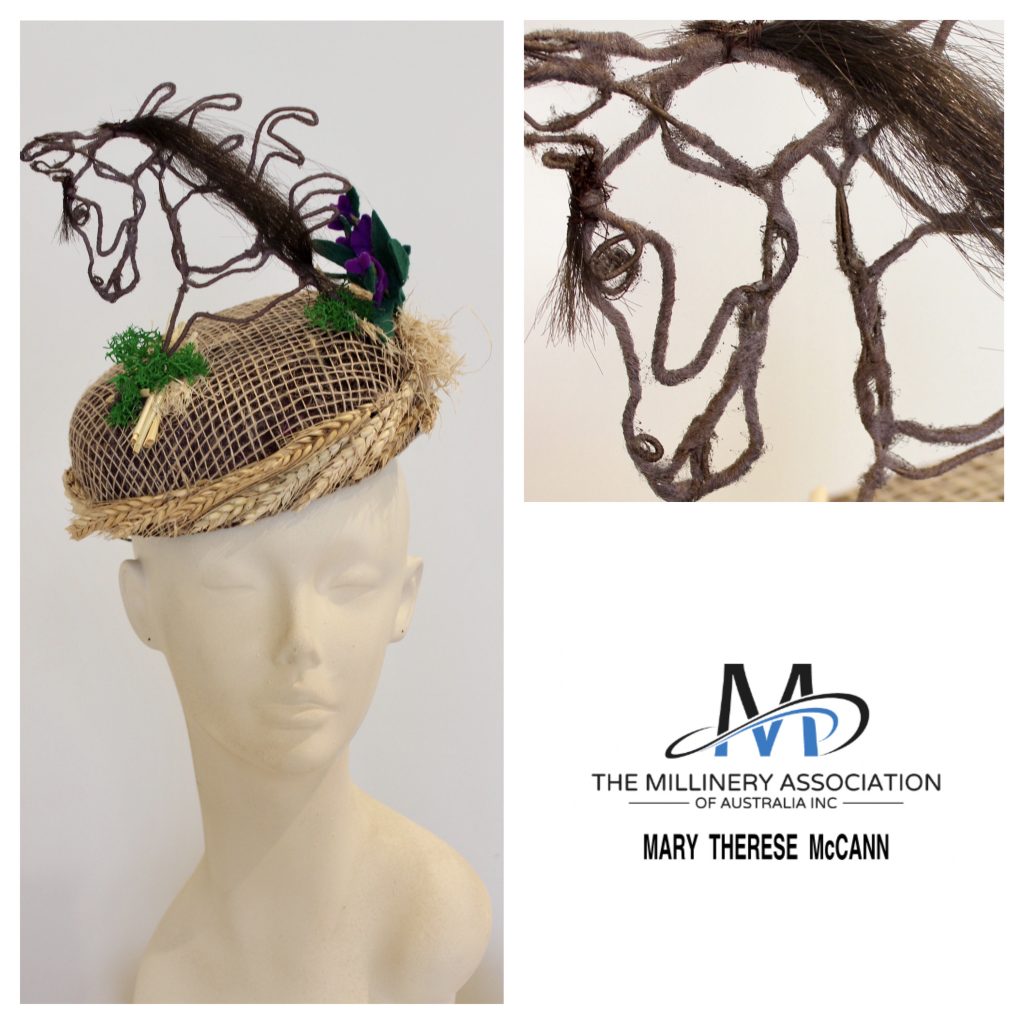 Mary Therese McCann (NSW)
AVOCA HISTORY
I want to honour my late stepfather Herbert 'John' Moffit (1930-2020) and the home and lifestyle he provided for my late mother, my siblings and I. Avoca was the name of his property. It was a livestock and crop farm. Horses were bred for harness racing. Located a short distance from West Wyalong, NSW. Life on the farm was peaceful. I was taught many skills to assist with farming the land. My piece is inspired by my childhood spent on the farm amongst the horses, particularly John's champion horse 'Avoca Victor' and the crops tended.
Materials Used – velvet, hessian, wheatgrass, moss, raffia wool, wire, hair braid and handmade felt lavender.
.
---
Sponsors
Thank you to the following sponsors for their support of the competition:
Michelle Cameron of M & M Millinery, Hat Academy, The Millinery Association of Australia, HatTalk, House of Adorn, Hatters Millinery Supplies, Phillip Rhodes, Millinery Hub, Georgia Skelton Millinery and Embroidery Guild of Victoria.