Velour Felts with Tracy Chaplin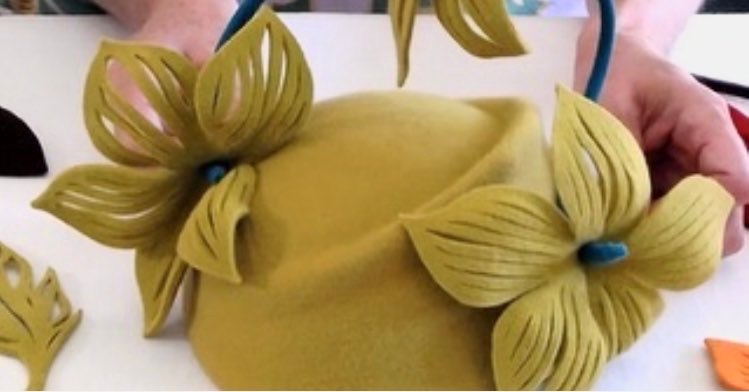 Learn how to cut, sculpt and manipulate velour felt (or pre-stiffened wool felt) with renowned international milliner, Tracy Chaplin, to create a variety of winter hats, headpieces, brims and fabulous trims. Wiring your fancy brim and invisible stitching techniques for the brim edge, including attaching your trims, will also be covered in this session.
The techniques taught in this class can be applied to a variety of hat designs including smaller hand sculpted hats, brims and retro vintage styles and the effects achieved are similar to what you can achieve with laser cutting.
Tracy will introduce the session in person to our MAA members and then the 2 hour live stream workshop to follow will focus on a series of techniques that will be clearly shown with examples and design inspiration. A demonstration of a small hand sculpted hat design will also be included.
Students can interact with Tracy in real time via the chat function on zoom while the workshop is in progress and MAA moderators will ensure that you can concentrate on learning while your questions and concerns are being addressed. At the conclusion of the workshop Tracy will be available to answer any questions or concerns you may have. This session will last approx 45 minutes.
Workshop is open to all fellow, life and student members. If you would like to take part in this class please click on the Eventbrite link here to reserve your spot in this fabulous class. Once payment has been made you will receive a zoom link and supplies list.
DATE: Wednesday April 19, 2023
TIME: 7pm – 10pm (Mel/Syd)
COST: $95 per student (inc. EventBrite booking fee)
Book your ticket here