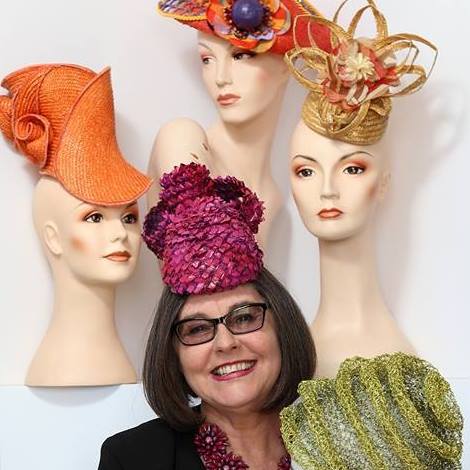 About Susan McArthur
Susan McArthur is a Tasmanian based milliner who adores the hat. Inspired by her great-great aunt (a milliner in Toorak in the 1930s) she has worn hats all her life. In 1990 Susan began creating hats and through a visual arts degree developed millinery through painting sculpture and design. She has attended millinery master classes with national and international milliners – Richard Nylon, Ian Bennet and Bridget Bailey.
Inspiration comes from flowers in her garden, native birds and former careers in the mining industry and the military. Hand painted motifs and feathers may decorate while sculptural form can be reminiscent of open cut mining and military helmets. Through knitting copper wire Susan introduces notions of protection and the beauty of diversity.
Susan's creations are regularly showcased at Melbourne Spring Fashion Festival, Melbourne Spring Racing Carnival and the Tasmanian Racing Carnival. They have also featured in Fashions on the Field at the World Cup in Dubai and graced the Royal Enclosure at Royal Ascot in the UK.
With the racing season just around the corner Susan is happy to help you find that perfect hat.