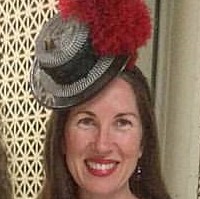 About Sinead Howard
Sinead is an emerging milliner based in Melbourne.  Sinead's vibrancy and enthusiasm for millinery coupled with a
love for the ever dynamic fashion industry is displayed in headpieces that are both timeless and on trend with the current season.
Currently working in a studio in the Nicholas Building Melbourne with Milliner Louise Macdonald or by appointment from my home studio.
Sinead was placed in the top ten finalists for the Millinery Association of Australia's annual design award in 2018.
Also in 2018 Sinead show-cased some of her  creations in the Parici Womens Connect fashion parade during the Virgin Australia Melbourne Fashion Festival (VAMFF).