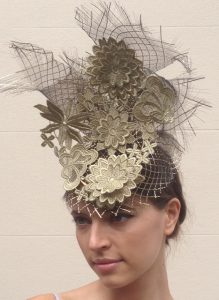 Location
12 Macleay Street, Potts Point NSW 2011
Contact Details

(02) 8004 8601


0403 952 788


jane@janestoddart.com.au


www.janestoddart.com.au


instagram.com/janestoddartmillinery

About Jane Stoddart
Jane made her first hats in the early eighties in London, then returned to Sydney to spend a two year apprenticeship with long-established milliner, Lois Easton Graham, mastering traditional model millinery techniques. She has been one of Sydney's leading couture milliners for over 30 years.
Jane's hats have been sold through leading department stores, select retailers, the annual MAA Pop Up Shop, and will be available from East Village Hats in New York for Spring 2017.
They are also available from her online shop http://www.janestoddart.com.au/online-millinery-shop/, and from her Potts Point Sydney studio, by appointment.
Her hats have been exhibited in London and France, soon to be exhibited in New York, and she has twice been among the final selection in the prestigious Hat Designer of the Year competition.
Jane has taught millinery design and technique at the Whitehouse School, Raffles KvB and TAFE Sydney Institute at Certificates II, III and IV levels. She has been invited to share her millinery skills at conventions both national and international, including the International Millinery Forum in Wagga Wagga, Hats Off to Melbourne and Brisbane, and the Millinery Meet Up in Tennessee, US. She has presented millinery classes in Hong Kong, London, Ireland, France and Spain. She will be presenting classes in New York, Toronto, Los Angeles and Hong Kong in 2017. She offers a regular schedule of weekend studio workshops in Sydney, including many renowned guest tutors such as Ian Bennett, Lina Stein and Christine Rohr. See details of her up coming classes at http://www.janestoddart.com.au/millinery-classes.html.
Her popular online millinery lessons are available on Hat Academy.
Jane's hats are clean and restrained, preoccupied with form and line, and often accented with strong contemporary trims. She is well known for her innovative use of lace and leather in millinery. Colour palette is subtle but interesting. Her customers regularly appear in Fashions on the Field at major race meets in her bespoke pieces, and have won many awards including Best Dressed Lady and the Longines Prize for Elegance.
« Back to all Milliners