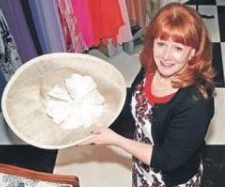 Location
WA
Contact Details
About Greta Vom Berg
The creation of the Cappelli di Moda label in 2005 was a long held dream for aspiring milliner
Greta vom Berg and a natural progression from the 'love of wearing hats' to creating them.
Cappelli di Moda is a sea change for this Corporate Executive who, after thirty-five years in
the working for some of largest and most respected blue chip energy and mining companies,
went 'back-to-school' to learn the craft from some of the most acclaimed international and
local milliners.
Greta designs bespoke pieces but always has a range of ready-to-wear hats, fascinators
and head pieces on hand for the surprise occasions. Selections of unique accessories are
sourced to help clients coordinate their outfit for that individual look.
Recognising that not everyone wants to collector's piece sitting in the wardrobe, Greta can
offer a tailored hat hiring service for the glam; hat or fascinator for that once-in-a-lifetime
special event or alternatively, why not remodel an existing piece.
Greta works from her home studio and has a showroom as well for accessories and apparel
for clients to explore.
My desire is to create a total Cappelli di Moda experience
where my clients enjoy the planning of their outfit just as much
as the end product.
0478 003 110        cappellidimoda@iinet.net.au        cappellidimoda@iinet.net.au
Western Australia
« Back to all Milliners