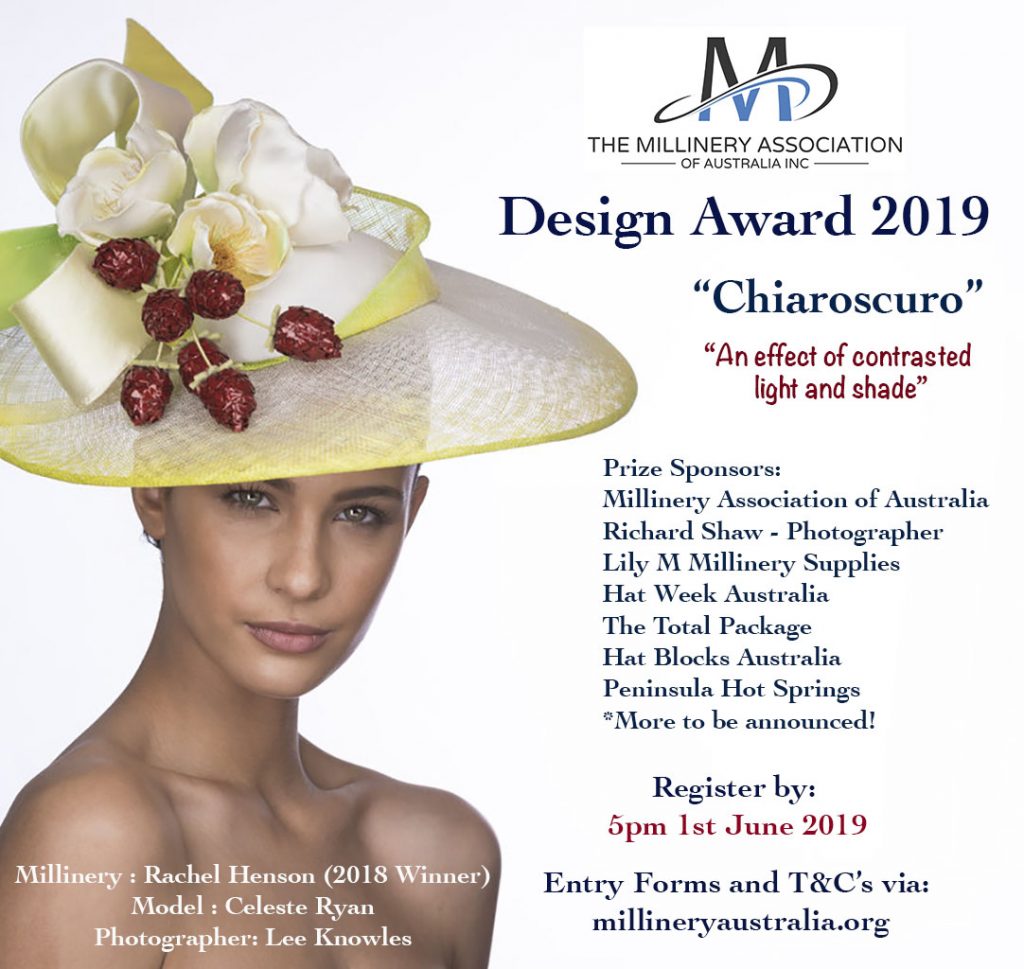 MAA Design Award 2019
7 Jun 2019
About the event
Registrations for this event have now closed
DESIGN AWARD 2019
Terms and Conditions
1. Only one entry allowed per person.
2. Submission must be an original design made by the person entering the competition.
3. Hats should be entered under the maker's actual name and not under a business name. No millinery labels
are to be attached to your submission. Anonymity is key.
4. Entry fee is $80. This can be paid by direct deposit to the Millinery Association of Australia Inc bank account.
Millinery Association of Australia
BSB: 033549
ACCT: 110275
Please remember to use your name on your deposit for reference purposes. Entry fee includes professional
photos using a model, hair and makeup plus return postage of your submission at conclusion of the
competition.
5. Closing date for entry form and entry fee is Saturday, June 1, 2019 at 5pm.
6. Entries must be received by Friday, June 7, 2019 by 5pm by mail or delivered in person. Late arrivals will not
be considered. Please send submissions to:
Rachel Henry
1A Sussex Street
Seaholme, Vic, 3018
7. Submission must not have been entered in any other competitions or have been featured in print or on social
media platforms prior to the start of the competition. Images of your design must not be uploaded to social
media until after judging has taken place. This will occur on Tuesday, June 18, 2019.
8. Your millinery entry can be made from any material(s) of your choosing; however, it must be in keeping with
the theme for this year, CHIAROSCURO.
9. There is no over all size regulation to your millinery submission, however, it must be received inside a box not
exceeding measurements of 50 x 44 x 35 cm.
10. We advise that entrants should consider an average head size of 57cm when designing their hat or
headpiece. Please include a photo of how you would like your design to be worn on our model to assist with
correct placement. Model's hair, eye and skin colour will be announced as soon as details are finalised.
11. The MAA will take great care of submissions, but are not responsible for damage, loss or theft of items.
12. The MAA may use photos for any media/advertising purposes at its discretion, including but not limited to,
online and print media. Entrants will receive high resolution images of their submission for their own use and
are encouraged to promote the competition on Instagram and Facebook.
13. Finalists/winners will be chosen by a panel of appointed judges. Their decision is final.
14. Finalists/winners agree to make their designs available to be exhibited in Melbourne and around Australia at
the sole discretion of the Committee of the Millinery Association of Australia.
15. Prizes are not redeemable for cash and cannot be resold, transferred or exchanged.
16. The stated cash values of prizes is approximate and is subject to change.
17. The top 10 finalists designs will be made available to be shown at MAA displays and / or events after the
competition has finished.
Checklist:
1.Deposit your registration fee in the Associations account by Friday 14th June 2018
Westpac Bank
The Millinery Association of Australia Inc
BSB: 033549
Account No: 110275
Please record name /design with payment – if unable to record your name then email the details of your payment to: treasurer@millineryaustralia.org
2. Supply a label with your name and postal address for return post and send it in with your entry.
3. Entry must be must be supplied inside a box not exceeding measurements of 50 x 44 x 35 cm. It will be returned in the same box it is delivered in.
4. Include a photo of your piece on a mannequin head to show us how the piece should be placed on the head. Print if off and send it in with your entry.
5. Ensure no identifying labels are on entry. Any identification on entry will result in disqualification.
6. Entries must be received by Friday, June 7, 2019 by 5pm to:
Rachel Henry
1A Sussex Street
Seaholme, Vic, 3018
No entries will be accepted after this date
it is advisable to get a tracking number for your entry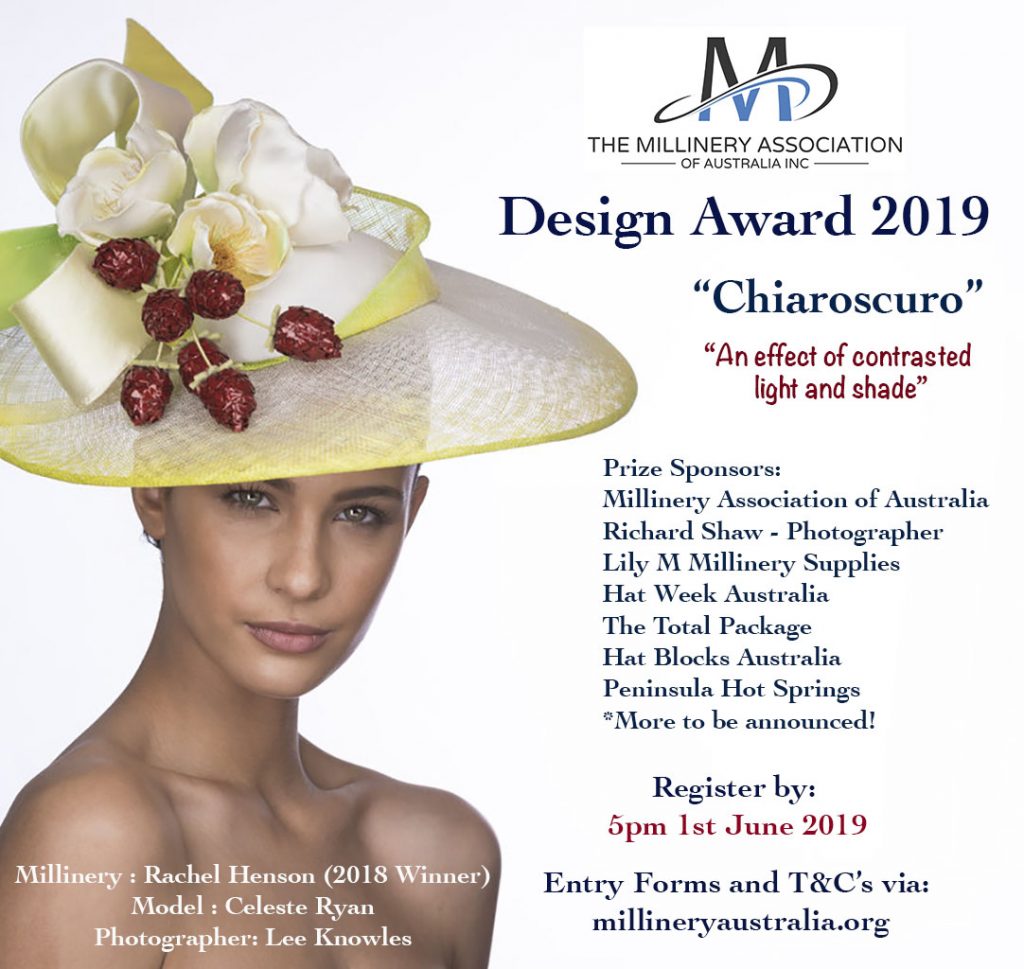 Map & Location
VIC