2015 Hat Talk "Transitions"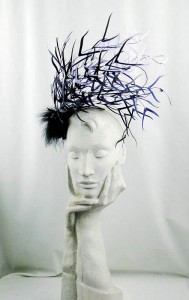 We congratulate Joanne Rolfe, a  member from Narranderra NSW, for winning  2nd prize in the 2015 Hat Talk "Transitions" hat making competition. A truly beautiful headpiece and deserved winner.
Jo-Anne Rolfe (Australia) used feathers, wire and acid dye to create Native Birds excitedly flit home at evening's creep, a headpiece which represents the transition of day into night.
"Jo-Anne's feather work is excellent and her headpiece is light, airy and delicate. It is simple yet effective, a feat which is not easy to achieve, and has a real sense of the movement of the birds. This movement, along with the way that Jo-Anne has coloured the feathers, conjures up vivid images of the transition which occurs in the Australian bush at the end of each day."
Jo-Anne has won a £250 voucher for Guy Morse-Brown Hat Blocks – www.hatblocks.co.uk and a 1 year subscription to HATalk e-magazine.
Oaks Day Competition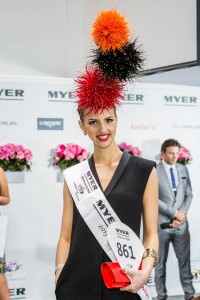 Congratulations to Cynthia Jones-Bryson the winner of the 2015 Myer Millinery Award a The Millinery Association of Australia member.
Photo by Lee Sanders
International Millinery Festival in Caussade
Media Release – 24 July 2015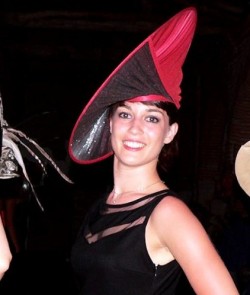 Melbourne Milliner wins prestigious International Millinery Award
Catherine Ellen, owner of The Essential Hat, was awarded 1st prize at the International Millinery Festival in Caussade, France on 18 July, as reported in the French newspapers:http://www.ladepeche.fr/article/2015/07/19/2146140-hier-soir-les-champions-du-concours-international-designes.html
Catherine's hat, l'Accordion, was chosen out of hundreds of entrants from all over the world.  This win highlights the exceptional talent abundant in Australia and in particular, Melbourne.
The Essential Hat is a renowned hat shop in its 18th year in High Street, Prahran East.  You can visit to buy or order hats all year round and be assured you will have the choice of classic and cutting edge designs either made in their onsite workshop or chosen from their extensive range of local and European milliners.
You can find Catherine Ellen at The Essential Hat, 507 High Street, Prahran East, Vic, online at www.essentialhat.com or call for further information +613 9530 2266. Email enquiries info@essentialhat.com.  The Essential Hat, where restrained elegance meets creative extravagance.