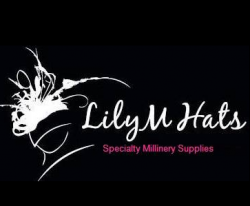 LilyM Millinery Supplies
Millinery Supplier
Location
QLD
Contact Details

+61 5494 9299


+61 0419 511 799


 brenda@lilymhats.com.au 


www.lilymmillinerysupplies.com


facebook.com/LilyM-Hats-and-Millinery-Supplies-192706074114463/


instagram.com/instagram.com/lilym_millinery_supplies/

About LilyM Millinery Supplies
LilyM Millinery Supplies  is a supplier of exquisite millinery supplies. We have our sourcing office in Hong Kong which is in the hub of the fashion industry where style and class is designed and where all the manufacturers can produce the latest designer laces and materials. We have a feather factory in the middle of China where our quality of feathers is of a very high standard and where new and exciting designs of our feather flowers are produced.
As milliners ourselves, we know that using the best quality products you can design and create a masterpiece. It was because of this passion, that we went sourcing the best supplies throughout Asia and the Philippines.
We specialise in our laces, feathers and more recently in the finest dyed, stiffened sinamay and Buntal Mats. We have designed our own 'Scintilla' range of silk Abaca. We have customers from around the world that source our supplies for the uniqueness, quality and good value.
Products
Hats, Fascinators, Bridal headpieces and Millinery Supplies; Guipure Laces, straw, Buntal, felt, sinamay, feathers, silk abaca, Embellishments and trimmings
Brenda Treasure – Sunshine Coast and Melbourne 
Mobile: 0419 511 799
Brenda Treasure – Hong Kong 
Mobile: +852 5665 9382
Email: brenda@lilymhats.com.au
Lynda Schloss – Brisbane 
Mobile: 0413 379 338
Email: lynda@lilymhats.com.au
« Back to all Milliners