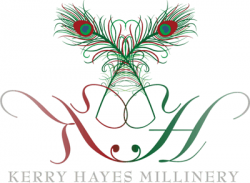 Location
Taylors Hill VIC 3037
Contact Details

0434265140


kezhayes@hotmail.com


http://www.kerryhayesmillinery.greenlabit.com.au/

About Kerry Hayes
Kerry Hayes studied at Kangan Batman Tafe in Melbourne and graduated in 2008 as a mature age student and was fortunate enough to have had many great master milliners as teachers who shared their individual talents with those who were willing to learn and be different.
Kerry was Inducted into the Stonnington Fashion Hall of Fame on the 8thOctober 2009. She was also included in The History of Lust in 2012 with Paris Kyne.
Her addiction and love affair with millinery has allowed her to create individual hats, which are designed with elegance to compliment your face shape and outfit to be worn, Kerry believes that your face is what people connect to so your hat must also be memorable, she believes that our hat is just as important as our smile don`t hide behind it, show it off as it is a part of who you are.
After a long absence due to illness she is now back creating her very different designs.
« Back to all Milliners