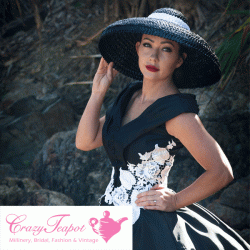 Crazy Teapot – Brenda Lui
Location
22 Newton St, Andergrove QLD 4740
Contact Details

0411491412


info@crazyteapot.com


www.crazyteapot.com


www.facebook.com/CrazyTeapot/


instagram.com/crazyteapot

About Crazy Teapot – Brenda Lui
Brenda Lui Milliner for Crazy Teapot specialises in both Racing and Bridal Millinery. Creating unique custom designs for clients is Brenda's specialty along with creating cutting edge Racewear Millinery collections for Spring/Summer and Autumn/Winter each year.
Currently based in Mackay in Central QLD, Brenda offers to meet with clients either in person at her studio or correspond virtually via Facebook and email for added convenience. A qualified Fashion Designer since 2000 who crossed over to Millinery in 2007, Brenda has very strong sewing and design skills, knowledge and background that fit perfectly with Millinery Design.
Studying with Master Milliner's such as Waltraud Reiner and Elaine Mergard has ensured Brenda's skill set is of a high standard within the millinery trade. Brenda holds a wonderful passion for creating unique and quality designed hats and headpieces with much attention to detail and is always happy to work with the client's vision and budget to create something amazing.
« Back to all Milliners