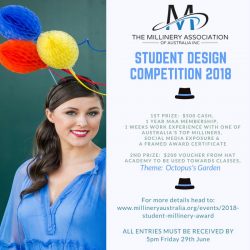 2018 Student Millinery Award
5pm 30 May to 29 Jun 2018
About the event
MILLINERY ASSOCIATION OF AUSTRALIA STUDENT COMPETITION 2018 
THEME : AN OCTOPUS'S GARDEN"
The type of hat will be open . Anything from everyday to costume.
This will open it up to all students regardless of what stage they are at, what materials they have experienced or what their area of interest is eg: costume, bridal, racewear, streetwear, fashion 
The judging criteria will be
Creativity /25
Wearability /25
Degree of difficulty /25
Quality of workmanship /25

OUR JUDGES: Catherine Ellen : The Essential Hat and founder of MIMC
Sandy Forrestor: Founding Member of The Millinery Association of Australia Inc.
Rachel Henry : Emerging  Milliner
Last year our association adopted a tiered membership system, which for the first time includes student members. Students are the future of our organisation, milliners who will one day take on what current and past members have put in place.
Of course, the benefit of young members involvement for us is the injection of vitality and fresh ideas, which complements the older members experience and skill.
With this in mind we are holding a millinery competition for students with their work to be showcased online and the winner announced at our Winter White Gala during Hat Week Australia, which runs from 6th-13th July.( TBC ) I
Prizes for the winning entry include, $500 prize money, one year student level complimentary membership, social media exposure, framed certificate for winner and a week's work experience with some of Australia's top milliners. (experience only  prize does not include travel and associated expenses).
Second prize is a $200 voucher to Hat Academy for the class of your choice.
Please deposit your entry fee by  the 20th June 2018 using your surname/comp as the reference
Millinery Association of Australia BSB 033549 ACCT 110275
For students who are members of the association at the time of entry, fee is $30.
If you wish to become a student member please complete the enrolment form on our website.
http://millineryaustralia.org/details-and-application/
For non student members fee is $55
Entries must be received by
Georgia Skelton
5pm Friday 29th June –
P.O Box 2155 Oakleigh Victoria Australia 3166
No entries will be accepted after this date
­
Map & Location
VIC